511 Views
Standard End Table Dimensions (with Drawings)
August 3rd, 2021 1:50 PM
Share
We're committed to finding, researching, and recommending the best products. We earn commissions from purchases you make using links in our articles. Learn more here
End tables offer aesthetic appeal as well as functionality. When decorating your living space, finding an end table with the proper dimensions can be challenging. Use this as a guide to find the perfect width, depth, and height for your next end table.
Standard end tables range from 18 to 24 inches tall or 1.5 to 2 feet. On average, they have a width of 16 to 22 inches. End table depth varies by style, but the average is 22 to 24 inches.
What Is the Average Size of an End Table
When looking for your next end table, it's critical to consider all of the dimensions. The average end table ranges in width between 16 to 22 inches and height 18 to 24 inches. In addition, they typically have an average depth of 22 to 24 inches.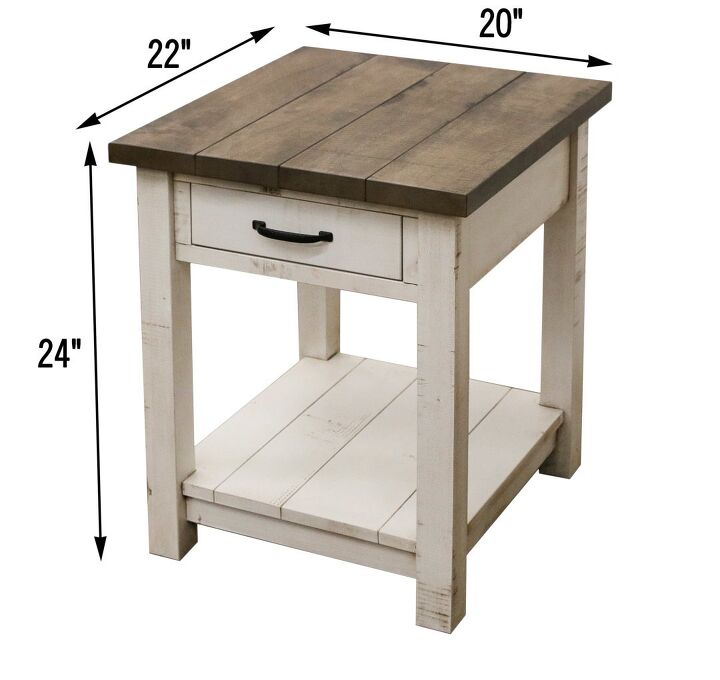 Source: Dutch Craft Furniture
How to Choose the Right End Table for Your Space
To choose the right end table for your space, consider the depth and width of the end table. There are more than 45 types of tables.
End Table Width
While the average width of an end table is 16 to 22 inches, there is no set rule for how wide the table should be. Instead, you should choose the width of an end table based on the functionality you want to receive from the table.
Wider tables can hold more items, while tables with a shorter width have more limited space. To make the best decision, find a balance between what you want the table to look like and its functionality.
End Table Depth
The rule for end table depth is it should correspond to the depth of the sofa or chair it's next to. If the end table depth is shorter or longer than the sofa or chair, it can throw off the balance of the room. Check out the standard chair dimensions.
End Table Height
Typically an end table should rest at or just below the arms of the furniture it's next to. In order to choose the right table, measure from the floor to the top of the armrest. Keep in mind that the standard height of an end table is 18 to 24 inches tall.
Accordingly, a taller couch will require a taller end table. If your couch's arm is 18 inches tall, you'll want an end table that is between 16 and 20 inches.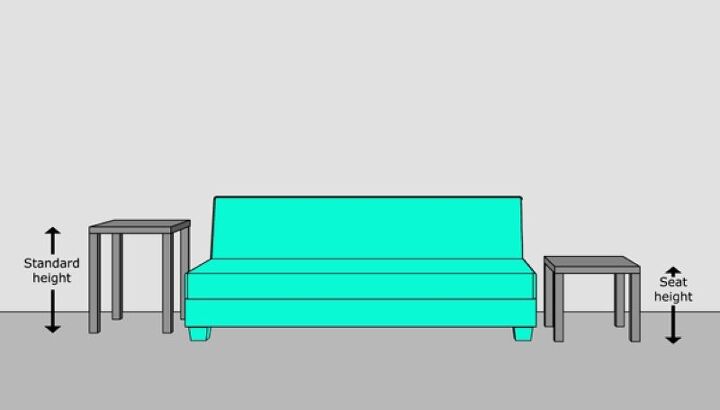 Why Is End Table Height Important?
End table height is significant because of two factors: aesthetics and functionality.
Visual Appeal
The material and design of your end table are major factors when determining the piece for your space. For example, the height of the end table can impact the overall look of your room. As mentioned before, if the end table is significantly taller or lower than the couch, it can throw off balance.
Functionality
Ergonomically speaking, an end table that is the correct height will be easier to use. Depending on how you plan to use your table, you want to make sure you can use it comfortably. Whether for stacking books or for decoration, an end table that is too short or too tall could limit efficiency.
How to Pair a Couch and End Table
As long as your end table height is within two inches of your couch's arms, it will work for the space. If you have an oversized sofa or loveseat, opt for a more substantial end table to fit with the furniture. On the other hand, if you have more ornate furniture, a minimalist-style end table is a good option.
If you keep in mind the table height rule, it won't affect the look of your space visually or functionally. Some designers say not to buy an end table that is two inches above the arm of your couch. But, of course, this is ultimately your decision and what you prefer aesthetically.
End Table Placement
So, where should you place your end table within your living room? It may not seem important, but placing your end table in the wrong spot can limit the functionality of the space.
Typically, you place end tables on one or both sides of the living room couch and next to any armchairs. Pieces should display a symmetrical look so that the space is unified. Ensure that you place the end tables within two inches of the edge of the chair or couch.
Types of End Tables and Their Dimensions
Depending on your personal style, there are several types of end tables available to you.
Nesting Tables
Nesting end tables was a style that started in the 1980s. While it may seem like with multiple tables, you would get more functionality; you typically don't. There are no shelves, drawers, or compartments, so while they look functional, they usually aren't.
However, they come in handy in small spaces where you can't always keep a table by each seating area. In this case, the tables stay together, taking up the same footprint until you pull them out as needed.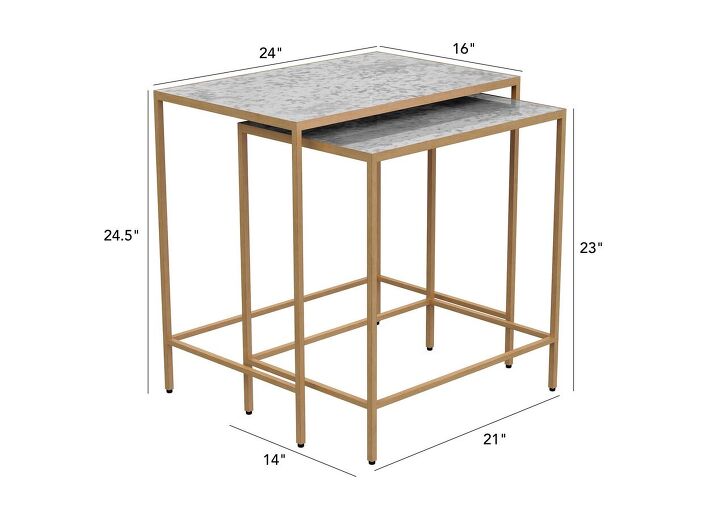 Most retailers, including Ethan Allen and IKEA, sell nesting tables of various sizes and styles.
This Ethan Allen set of nesting tables comes in a set of two. The taller table has a height of 24.5 inches, length of 24 inches, and depth of 16 inches. The smaller table has a height of 23 inches, length of 21 inches, and depth of 14 inches.
IKEA offers a set of three tables that you can use as nesting tables, side tables, or a long coffee table. The tallest table has a height of 19.625 inches and a depth of 15.75 inches. The middle-sized table is 18.875 inches tall and 14.625 inches deep.
The smallest table is 18.125 inches tall and 13 inches deep. Each table shares a depth of 18.875 inches.
Drum End Table
A drum end table is a cylindrical table that comes in various styles, materials, and sizes. This style table was designed in the 1970s by Milo Baughman as an attempt to offer a table in its simplest form.
IKEA offers a drum side table featuring brushed bronze finished steel. The drum side table has a height of 24 inches and a diameter of 22 inches.
C-Table
A C-table is an end table designed so that the bottom of the table tray slides over the arm of the chair. You can use a C-table in family rooms for resting snacks or drinks, thanks to its very utilitarian design.
IKEA offers the Flottebo C-Table that can be attached to the corner of the sofa. This tabletop can also be angled so that the user can use it as they need. This table has a height of 25.2 inches, a width of 10.6 inches, and a depth of 12.6 inches.
Round End Table
A round end table is a good option as it offers an elegant solution for most spaces in the house. This table can range from 18 to 24 inches in diameter, but the 22 inch round table is most common. A round end table is a great way to break up the look of typical square or rectangle end tables.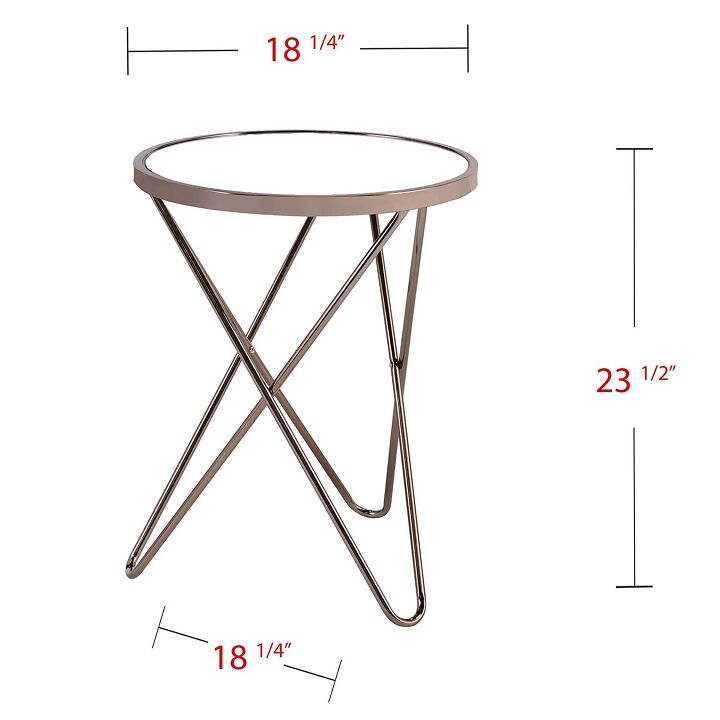 Patio End Table
In addition to indoor living room options, there are also several end tables to consider for your outdoor space. These end tables are essential pieces for your outdoor lounge area. They come in various heights and styles but are typically 15 to 19 inches in height.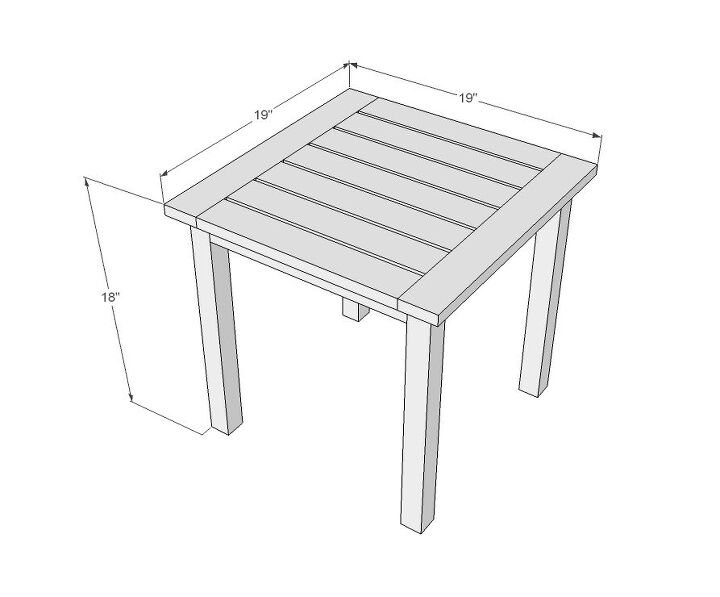 ---
Related Questions
What's the difference between an end table and a side table?
The biggest difference between an end table and a side table is the amount of surface area. A side table typically has more surface area than an end table. Side tables usually have a surface area of 18 to 26 square inches.A side table is a small table typically placed at the side of the room or against the wall. An end table is a small table that you place next to a chair or a sofa.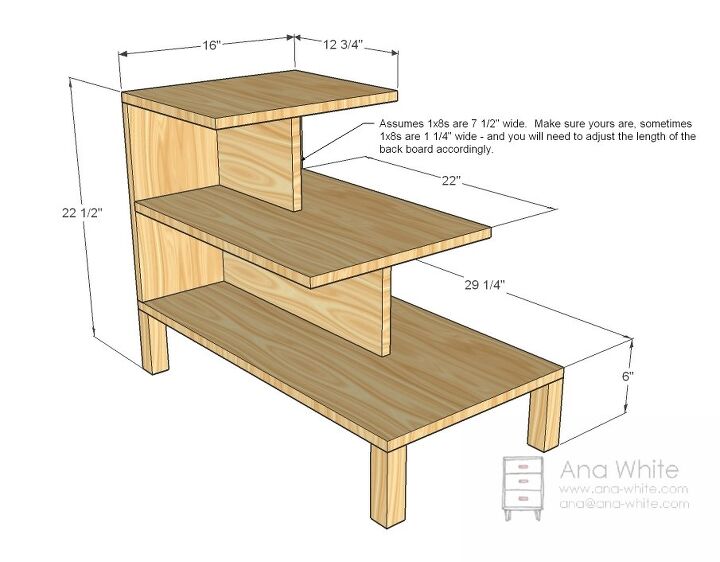 How many end tables should I buy for my space?
A good rule of thumb is to provide end table access for each seat in the room. For example, if you have two chairs and a sofa, you should place an end table between the chairs. You should also put an end table on each side of the couch.
An exception to the rule would be if you have a sofa and a loveseat. You should have at least two end tables, but three would be better.
What are some alternatives to end tables?
If you're looking for some non-traditional end table alternatives, there are plenty. Stacked suitcases, floating shelves, or stacked books are just some of the things you can transform into an end table. All it takes is a little creativity to pull off an end table look with items you may already have.
If you have two or three vintage suitcases lying around, stack them for an easy do-it-yourself end table. This creates a conversation piece and helps utilize something that you otherwise may have forgotten in the attic. A tall stack of books is another solution for a reader who needs an end table and more space.
Floating shelves are a good option if you want a traditional-style end table without the clutter. Attach a couple of floating shelves next to your seating area, add a coaster, and you're good to go.
Related Articles

Stacy Randall
Stacy Randall is a wife, mother, and freelance writer from NOLA that has always had a love for DIY projects, home organization, and making spaces beautiful. Together with her husband, she has been spending the last several years lovingly renovating her grandparent's former home, making it their own and learning a lot about life along the way.
More by Stacy Randall
Published June 8th, 2021 1:10 PM