558 Views
Does Home Depot Cut Laminate Countertops?
October 6th, 2021 2:52 PM
Share
Home Depot is home to everything a DIYer or builder-owner could need, and they offer countless in-store services. You're in luck if you need to get laminate cut because Home Depot can do it for you to bring home. Whether it be customization and dimensions, let's take a look at what to expect when you get laminate cut at Home Depot.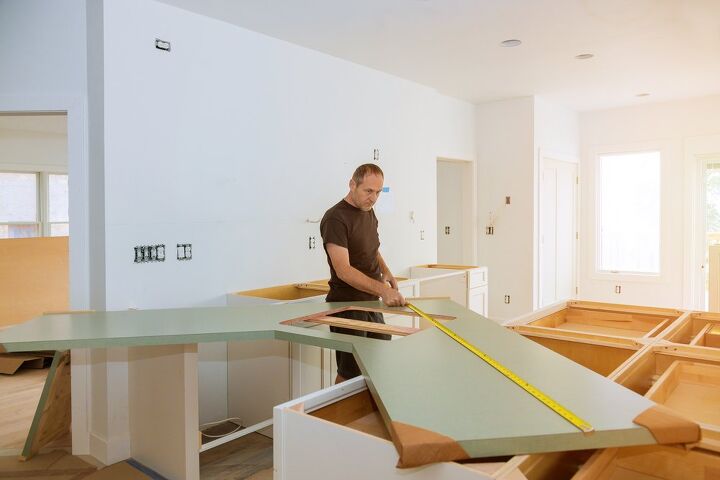 Laminate countertops are one of the most common materials you'll find in any Home Depot's kitchen remodeling section. It makes sense. These countertops are affordable, look great, and can last for years when cared for properly. Cutting them, though, can be a hassle. That's why many people want to know if they can get laminate countertops cut at their local Home Depot.
Most big box hardware stores offer free countertop cutting for customized counters and cabinetry as a staple service. However, this is usually a service that's only reserved for custom countertops. If you are hoping to get stock laminate countertops cut to size, you are going to have to hire a handyman to do it.
Knowing what you can and cannot expect Home Depot to do when it comes to their countertop cutting services is essential, especially if you're trying to DIY your own kitchen renovations. Wondering what you can expect, or how much it costs? We got you covered.
Do You Need Laminate Countertop Installers?
Get free, zero-commitment quotes from pro contractors near you.
Does Home Depot Cut Laminate Countertops?
The short answer is yes; Home Depot does cut laminate countertops. However, the longer answer is that it depends on whether or not you're buying their customized countertops. Customized countertops can and do get cut before they are shipped off to your home, per your unique specifications. However, if you are hoping to get stock countertops cut by the pros at Home Depot, you will be a little disappointed.
What Can You Do If Home Depot Can't Cut Your Countertops?
If your local Home Depot store doesn't offer laminate countertop cutting, they still will be able to help you by selling trim kits to give the cut portion of your counter a more superior finish. The folks at Home Depot can also offer cutting advice and refer you to handymen, who can help you cut the countertops for you as a way to help your project get done quickly.
If it's too much for you to haul the laminate everywhere for cutting, you can request that they send you to someone who makes home calls. That way, the professional can come and measure the area and cut the laminate to the size that you need. You won't have to haul it around with you.
How To Find Out What Services Home Depot Offers Near You
Nothing is quite as disappointing or aggravating as going to a store for a service, only to find out that the service you want isn't available. That's why it's a good idea to check whether your local Home Depot offers custom cut countertops and countertop design services at your local branch.
If they do not, you might be able to skip a trip to the store by just using Home Depot's online service referral site. From there, you can find local handymen who can cut (and install) the countertops that you want to get. These companies are vetted by Home Depot and are considered to be reliable, which can help put apprehensive buyers at ease.
How Much Does It Cost For Home Depot To Cut Custom Laminate Countertops?
This all depends on the type of the cuts you're making and the material you are using. Home Depot's custom countertop site doesn't give flat fees, but they do offer average cost quotes depending on the type of cut that is made. Here are some of the most recent quotes, per the Home Depot site:
$110 is the average cost of a cooktop cutout. A typical countertop setup will need at least one cooktop cutout in order to have a complete kitchen setup. Talking with a kitchen design expert will help you figure out how many cutouts you need, but most will not need more than two.
$20 will get you a single faucet cutout. Many kitchen sink countertops come with at least one faucet cutout. If you need additional ones, you will need to tell them the type of faucet cutout you need.
$25 will get you an electrical outlet cutout. Though not as common as cooktop cutouts or faucet cutouts, electrical outlet cutouts sometimes still need to get these cuts done.
It's important to remember that these are average costs and that these price averages involve multiple materials. Laminate countertop cuts may be slightly cheaper. The only way to get a true-to-cost estimate is to ask your local Home Depot for a customized countertop quote.
Is Getting Customized Countertops At Home Depot Worth It?
When compared to boutique countertop stores, Home Depot's custom countertops typically tend to be cheaper. That said, custom countertops are always going to be more expensive than the stock countertops you would typically buy. If you're only getting custom laminate countertops because you don't want to cut stock countertops on your own, you may want to rethink that choice.
In the vast majority of situations, getting customized countertops can tack on several hundred dollars on the price tag of a typical kitchen remodeling countertop budget. It makes more sense just to cut it yourself or to hire a local handyman to cut some stock countertops for you if you're really against cutting your own.
Cutting Formica
Since Formica is a form of laminate countertop, we wanted to address this separately. Home Depot does not cut Formica, as the process is a bit more involved. However, you can do this at home, or you can hire a professional to do it for you. There are contractors who specialize in cutting Formica, as it's a different process from cutting regular laminate countertops.
Does Home Depot Install Countertops?
Home Depot also installs countertops. However, not every single Home Depot offers this service. So, again, it is smart to call your nearby location before showing up and expecting this service. More often than not, they will have someone come out and measure the area so that they can cut your laminate to fit.
Then, they will bring the materials to your home and install the countertops for you. However, this does cost anywhere between $27 to $34 per square foot.
Staying Within Your Budget Is Important
Keeping your project within budget is essential, though, and custom countertops are pricey. If you can't afford it or if customization is not available in your area, there are still other ways you can get the cuts you need without breaking the bank. Going through Home Depot's service referral site can help you find a handyman who is willing to help you cut stock countertops at a lower price.
Of course, the cheapest way to make sure that you get all the right cuts in your laminate countertops is to do it yourself. Thankfully, we all know that Home Depot will have plenty of supplies to make that project doable. So, no matter what choice you decide to make about your countertops, it's safe to say this store will have what you need.
---
Related Questions
Will Lowes cut laminate countertops?
You can special order countertops, which will then be cut to your particular size. If this is something you do not want to do, you can also purchase the tools to do it yourself at home.
What is the average cost for laminate countertops?
People, on average, pay about $1,193 to install laminate countertops. However, this does fluctuate between $790 and $1,630. Before installation, the materials cost between $10 and $40 per square foot. Then, labor fees range between $30 to $40.
Do You Need Laminate Countertop Installers?
Get free, zero-commitment quotes from pro contractors near you.
Our Final Take
It's true. Cutting laminate countertops is tricky and isn't exactly anyone's idea of a fun time. That's why people tend to want to go to get their countertops cut at a big box store like Home Depot.
Though Home Depot can cut laminate countertops, they won't cut stock countertops due to company policy. So, if you want to get pre-cut countertops that have all the right trimmings, it's best to go through the custom countertop route if you're going to get them directly from Home Depot.
Related Guides

Ossiana Tepfenhart
Ossiana Tepfenhart is an expert writer, focusing on interior design and general home tips. Writing is her life, and it's what she does best. Her interests include art and real estate investments.
More by Ossiana Tepfenhart
Published July 20th, 2020 7:49 PM