611 Views
Do You Tip Costco Appliance Delivery?
December 30th, 2021 11:34 AM
Share
We're committed to finding, researching, and recommending the best products. We earn commissions from purchases you make using links in our articles. Learn more here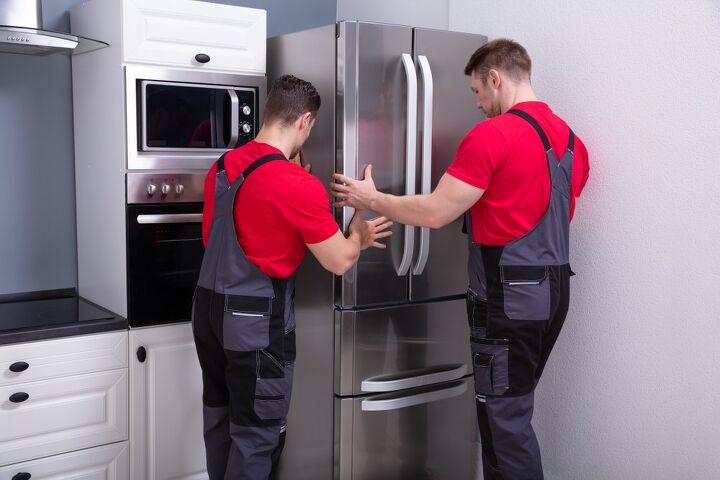 Costco's appliance section is one of the best-kept secrets of this amazing warehouse store. Sure, they have great bulk foods, but their appliances are some of the most affordable around. Their delivery reviews are also fairly awesome. So, when you get appliance delivery, do you tip the Costco workers?
Appliance delivery staff are allegedly third-party hires who still make a decent wage. They are fairly well-paid for what they do, but are allowed to keep 100 percent of the tips they get. A tip between $5 to $10 per delivery person is considered to be ideal.
If you have gotten a hold of Costco's appliance selection, you might want to know what you get from Costco delivery. This article is just for you.
What Is Included In Costco Appliance Delivery?
If nothing else, Costco offers a bang-up job of offering great delivery service. They have two different types of delivery: Curbside and White Glove. Here's what you get:
Prior to the delivery, you get a phone call that tells you they are on their way. You also may get instructions on how to turn off the water and gas, depending on what your appliance is meant to do.
You get to have the item delivered to the front of your home. If you have White Glove Delivery, you will be able to tell them which room to go to. The delivery means that they will take care to avoid harming your home.
White Glove Delivery allows you to pick your delivery day and time. You also can occasionally give them a special request.
The installation crew also installs the appliance if and only if you ordered White Glove Delivery. You don't have to worry about hooking up that new gas range, after all.
Once the new item is installed via White Glove Delivery, the crew will remove the old appliance and haul it away. Yes, junk hauling is part of the service, too.
Note: It's important to realize that Costco appliance delivery crewmen are not allowed to make alterations to your plumbing or electricity, or to the furniture around you. They are only allowed to hook up the appliance to pre-existing items then leave.
How Much Does Costco Appliance Delivery Cost?
People worried about the cost of this wonderful delivery ned not worry. With the vast majority of Costco appliances come with free delivery. The price of the appliance already added Curbside delivery fees into it. So, you don't have to worry about any of those added fees.
If you want to choose White Glove Delivery, then things get a little pricey. How much you pay can vary greatly depending on the price of the units, but you should expect to pay at least $50. Your actual price tag will be displayed on the purchase page.
How Long Does Costco Appliance Delivery Take?
Perhaps the only issue that people really have with Costco appliance delivery is the timeframe. Costco itself notes that they aim for a 10-day delivery window and that people often get to choose their own delivery date and time. Anecdotally, clients have said their deliveries took as much as three to four weeks.
The good news is that you do not have to have much guesswork about when they'll come. After ordering, you get an email explaining the delivery date along with a phone number where you can change the delivery date.
Should You Tip Costco Appliance Delivery?
Though Costco does not require a tip on their delivery services and has a reputation for paying both employees and contractors well, it's generally a good move to tip delivery guys. This is true for both appliance deliveries and the folks who get you groceries on Instacart.
How Much Should You Tip Costco Appliance Delivery?
How much you tip Costco appliance delivery personnel can vary based on what they do, what appliance they installed, and what they had to do to get it up there. Here's a quick run-through of our advice.
Standard Curbside Delivery work will be fine with a $2 to $5 tip. This would be like buying a mini-fridge, or just having a new washer dropped off in the front of the door.
Standard workloads for this task would require a $5 to $10 tip for White Glove delivery. This would be like having a fridge or an oven installed. It also might be something along the lines of having a mini-fridge hauled up the stairs.
If your installers had a particularly rough workload, you might want to bump the tip up to $15 to $20. This would include doing things like hauling a fridge up three flights of stairs, having to install multiple appliances at the same time, or having to drive through extremely inclement weather.
How Long Do You Have To Return Your Appliance To Costco?
Costco's appliance return policy is generous, to say the least. You have a grand total of 90 days to call up Costco and ask for a return on any appliance you buy with them. You can find more information about Costco's return policy on the Costco site or through their customer service line.
Regardless of what you do, you can rest assured that Costco will make your return a breeze. They're cool like that.
How Do You Prepare For Your Costco Appliance Delivery?
We suggest doing several things prior to delivery staff getting there:
Turn off and unplug the old appliance. This may include shutting gas or water off to the item. The delivery team will generally give you a heads up if that is necessary for their install. If you can, try to widdle it out of the nook it's in.
Clear a pathway for delivery crews to get to where you're going. This may include removing toys from the walkway, or it could include clearing a path from all the knickknacks in your kitchen. Crews can't move stuff in your home for you, except for the old appliance.
Make sure you've cleared the day and have someone ready to accept the appliance. In most situations, you have to have at least one adult present when the delivery crew arrives. Someone has to sign off on things for curbside. If it's a White Glove delivery, then you also have to let people in your home.
Put pets away. You don't want Fido biting on the delivery guy's ankles while he's working.
Listen to any specific instructions your delivery crew gives you prior to their entry. This can include things like making sure your doorman knows they're coming, giving the gated community patrol a heads up, or even just having a hammer ready.
What Should You Do If Your Delivery Goes Wrong?
Extremely late deliveries, rude delivery people, or ineptitude will wreck a good experience. Calling Costco or the third-party vendor who was in charge of this will help you come to a solution. They are generally good when it comes to this.
Is Costco Appliance Delivery Worth It?
Costco's appliance delivery is totally free when it comes to Curbside Delivery, so there's no reason not to take it. At the worst-case scenario, you can say that you got what you paid for. When it comes to Costco's White Glove Delivery program, that tends to be a bit different.
White Glove is an excellent choice if you are scared of putting your oven in place yourself, if you have a bad back, or if you are generally not the type of person who does well with installation. Most people who get White Glove agree that it's a wonderful investment that saves you a bunch of time.
---
Related Questions
Which appliance delivery is faster, Amazon or Costco?
Though specific delivery times can be different from place to place, studies show that Amazon's appliance delivery is faster than Costco's across the board. When it comes to grocery delivery speed, the two megastores are tied thanks to the use of Instacart and Amazon's high-end delivery service.
Which appliance store is cheaper, Amazon or Costco?
Believe it or not, Amazon was not the cheaper option of the two despite its fame for being fairly wallet-friendly. Costco's appliances were on average 39 percent cheaper than Amazon's. Part of this could be due to the exclusive deals, while other parts could be attributed to the extra money you may have to pay for shipping and installation.The message here seems to be pretty clear. If you are a Costco member, it pays to buy your appliances at Costco. Even with White Glove Delivery service, chances are high that it'll be a bargain for you.
Is Costco allowed to reject returns made on appliances?
The only time that Costco will not allow you to return an appliance is if you purchased it more than 90 days ago. Aside from that, the answer is usually no in most cases. Costco has a very strict policy on accepting returns without asking any questions about why you don't want it. So, it doesn't have to be broken. If it's the wrong size or just sucks, they'll take it back.

Ossiana Tepfenhart
Ossiana Tepfenhart is an expert writer, focusing on interior design and general home tips. Writing is her life, and it's what she does best. Her interests include art and real estate investments.
More by Ossiana Tepfenhart
Published December 30th, 2021 11:34 AM