124 Views
Do You Tip Ashley Furniture Delivery Guys?
December 29th, 2021 3:26 PM
Share
We're committed to finding, researching, and recommending the best products. We earn commissions from purchases you make using links in our articles. Learn more here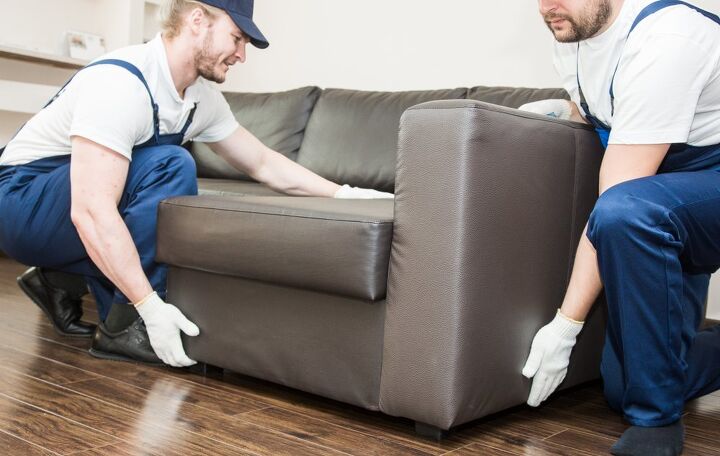 Ashley Home Furniture is one of the most popular furniture chains in the United States. Known for their contemporary furniture and their excellent sturdiness, it's easy to see why people want to get Ashley Furniture delivered to their home. But, when they deliver, are you supposed to tip?
You do not have to tip Ashley Furniture delivery staff, simply because the company pays them a living wage of up to $54,000 a year. However, if you want to give them a tip, you can. Ashley Furniture does not take away tips given to delivery staff.
When you want to get furniture delivered, it's always good to know what to expect. That includes tipping. This guide will give you a better idea of what to expect when you have to pay for Ashley Furniture delivery.
What Is Included With Ashley Furniture Delivery?
Ashley Furniture home delivery is actually fairly straightforward. They have five methods.
Threshold Delivery. The only thing they really do is deliver it to your home and place it on the threshold of your doorstep. In some cases, this may be your only option.
Standard Shipping. This is mail order goodness. Most standard shipping deliveries take between 5 to 10 business days. Extreme weather and holidays can extend this delivery date.
In-Store Pickup. Come on by to the store and get it right there. Some stores also allow warehouse pickup, which would include you driving your own truck to a warehouse to get your goods.
Curbside Delivery. This involves delivery that is right at your curb, rather than at your doorstep. This is most common in suburban locations.
Premium Delivery. This is also known as No-Hassle Delivery and Assembly.
They also cannot move furniture around or out of your home. You do, however, receive information related to tracking. Of course, if you're just getting shipping, the delivery guys are just postal workers who leave it at your doorstep.
How Much Does Ashley HomeStores Furniture Delivery Cost?
This depends on what you're getting, where you live, and other factors. Delivery can be free for certain items, or can cost as much as standard UPS or FedEx shipping for larger packages. We cannot give a full estimate because their shipping can vary from $0 to over $269 or more in fees.
How Should You Prepare For A Delivery From Ashley Furniture?
The store recommends that you clear the area that you want your furniture to go into and lock up your pets. The delivery professionals are not allowed to move any of your furniture in your home. So if you have to get rid of old furniture, do it before the delivery guys show up.
How Does Ashley Furniture Work?
Out of all the delivery services we've seen, Ashley Furniture seems to have the most varied number of ways that you can get your furniture sent to you. How you receive your furniture depends on the order and your location. Here's what could happen:
It could arrive by UPS, FedEx, or USPS. If you have smaller items that can fit in a box, then you will most likely have it shipped via postal service or courier. This way means you will get a tracking number with an estimated delivery time.
It could be slated for in-home delivery by the store. This means that the staff will load up the furniture from the floor and then send it straight to your home.
Finally, it could also be delivered from the Ashcomm LLC Shipping Service. This is the corporate portion of the company that is in charge of doing shipping from the main warehouse facility to you. It's mostly for online orders.
How Long Does Ashley Furniture Delivery Take?
When you get your items shipped, you will get an estimated delivery date. USPS can take between 5 to 10 days. Most courier services, especially if they are next day delivery, will take 1 to 2 business days. In-Home Delivery by Ashley Furniture will usually happen two business days after the purchase.
Does Ashley Furniture Delivery Have Same Day Delivery?
Currently, Ashley Furniture does not offer same-day delivery, though some units offer next-day delivery. As a general rule, the earliest you should expect your delivery is within two business days of the order. Unfortunately, what each store can offer in terms of shipping will vary from store to store.
The only real way to find out the speediest way to get your furniture is to call them directly. If direct pickup is the only way to do it, we suggest renting a truck.
Should You Tip Ashley Furniture Delivery Crews?
You can if you want to, but you are not obligated to. In fact, Ashley Furniture crews can get as much as $54,000 a year. So you don't need to. It's optional but encouraged if they went above and beyond.
How Much Should You Tip Ashley Furniture Delivery?
Most etiquette gurus agree that you don't have to tip much. A simple $5 to $15 depending on the size of the item and the delivery method is fine. Most people will pay $10 for the assembly and delivery package, simply because it is so much work.
When Should You Not Tip Ashley Furniture Delivery?
You never have to tip them if you don't want to. However, you notice that the delivery was extremely late, that the staff had an attitude, or that they otherwise did not do their job well, you should skip a tip. Most people simply don't tip because they already had to pay for the delivery itself anyway.
If the service was seriously subpar, don't tip–even if they ask for one. Actually, most of these issues should be discussed with customer service as Ashley HomeStores. They have a right to know!
What Should You Do If Items In Your Order Were Not Delivered As Discussed?
Ashley has a good policy in place when it comes to damaged or missing items. Here's what you need to do:
First, check your order tracking number or tracking information. If it shows that it's still in transit, don't panic. It might just be late. Allow an extra 1 to 2 business days to make sure that your stuff isn't just lagging.
If items in your shipment came in damaged, call Ashley Furniture HomeStores customer service immediately. This should be done within 72 hours as the most. Ashley's number is 866-436-3393.
Explain the situation to customer care and they'll work out a solution. This may include a refund, a re-delivery, or just getting you a new piece of furniture. Their customer service is pretty awesome like that.
Note: One thing we found in our research worth mentioning is that a piece of furniture that has not been delivered within 30 days of the order is going to be treated like a cancelled order. If your furniture has been lost in the mail or had extreme delays, you may end up getting a default refund.
Is Ashley Furniture Delivery Worth It?
Ashley HomeStores does what it can to make it easy to get your furniture fast. In many cases, though, you don't have a choice. Furniture delivery is mandatory if you want to get some convenience or get most online orders. If you are able to get pickup from a warehouse or a store, it could serve you well.
This service is one of the only ones where we feel it's really a crapshoot. In most cases, it's going to be easier for you to pick things up yourself. However, if you are pressed on time, don't have a truck, or have physical issues preventing you from carrying things, it's a must.
---
Related Questions
How do I track my Ashley Furniture delivery?
If you have an online order, you can track the delivery through the courier's site or through the email with the tracking information that you received. People who placed an order through a specific store should call the store to find out what's up. Keep your receipt ready just in case you get asked details for their tracking system.Of course, you can also go onto Ashley's website and use their order tracking tool. They make it easy like that. If your tracking isn't showing anything, it may be good to call customer service to find out if something is wrong.
Can you return items to Ashley Furniture?
You can, but you have to do it in a timely manner. (That's 72 hours for in-person delivery and 30 days for shipping.) All returns also require you to bring back the furniture in unused condition, in its original wrapping, with all the parts intact. Not doing so may nullify the return that you have, resulting in your money still remaining in Ashley's bank account.
Is it customary to tip people who put together furniture?
Technically, it is a custom since American tipping culture tends to be something for all service industries. I mean, there are people out there who tip mechanics for that reason. Ashley HomeStores pays their delivery team well, but they will not object to giving your staff an additional tip. If you want to follow that old tradition, it's perfectly acceptable to do so.

Ossiana Tepfenhart
Ossiana Tepfenhart is an expert writer, focusing on interior design and general home tips. Writing is her life, and it's what she does best. Her interests include art and real estate investments.
More by Ossiana Tepfenhart
Published December 29th, 2021 3:26 PM