221 Views
7 Modern Couch Alternatives (for DIY'ers & Small Spaces)
January 5th, 2022 8:30 PM
Share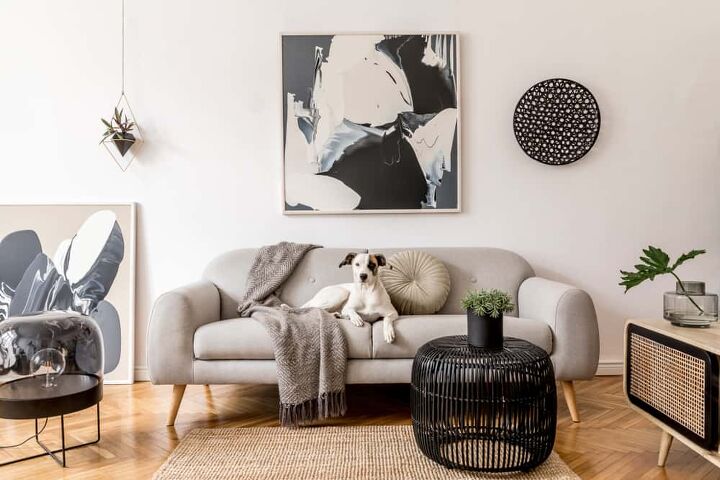 Couches are a staple of living rooms and family rooms in millions of homes across the world. With that said, a couch is not a perfect fit for every builder-owner looking to find decorative seating. Many homeowners find themselves asking the question; what are the best alternatives to a couch that money can buy?
Floor cushions allow homeowners to substitute a couch for a fun decorative seating arrangement. Bean bags effectively provide the same kind of comfort and stylish design as floor cushions. Daybeds are another great couch substitute, but it's hard to beat a set of chairs with a matching storage bench.
Just like there are many types of couches, there are many types of couch alternatives to choose from. It all comes down to how much space you have, your taste, and how much you want to spend. Let's explore the many fun and comfortable couch alternatives and see which one best fits your taste.
Do You Need an Interior Decorator?
Get free, zero-commitment quotes from pro contractors near you.
Top Alternatives to Couches
1. Bean Bags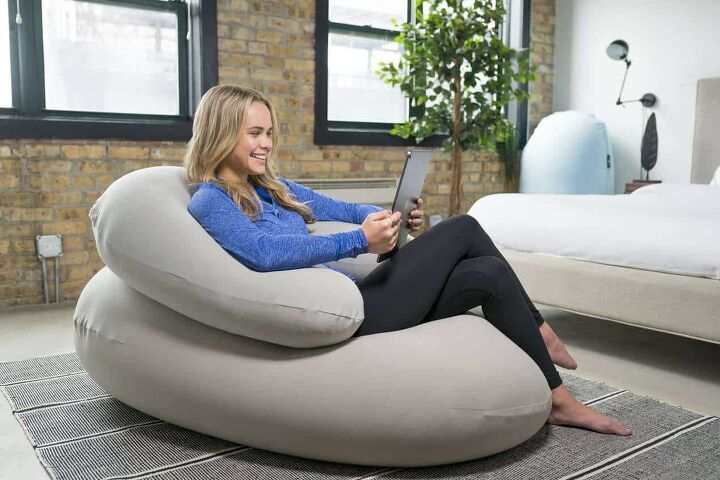 Bean bags don't just belong in college dorm rooms, and they've made a huge comeback. You can find bean bags that are either fun and visually striking, or classy and comforting. There's no limit when it comes to finding bean bags that compliment the room as a whole.
Whether you want multiple small bean bags or 1-2 large bean bags, you can accommodate any guests. The one worry that homeowners have with bean bags is that they're not good for having people over. That's understandable, but they're a great alternative to a couch because you can seat as many, or even more people.
You can find large bean bags that seat two people for $200 and up, or even less sometimes. High-quality, small bean bags generally cost $30-$50 each, but lower-end options cost $20. Don't count bean bags out in your search for a great couch alternative.
Pros
Affordable
Comfortable
Easy to move
Many options
Cons
Less elegant than a couch
Easy for pets to mess with
2. Chairs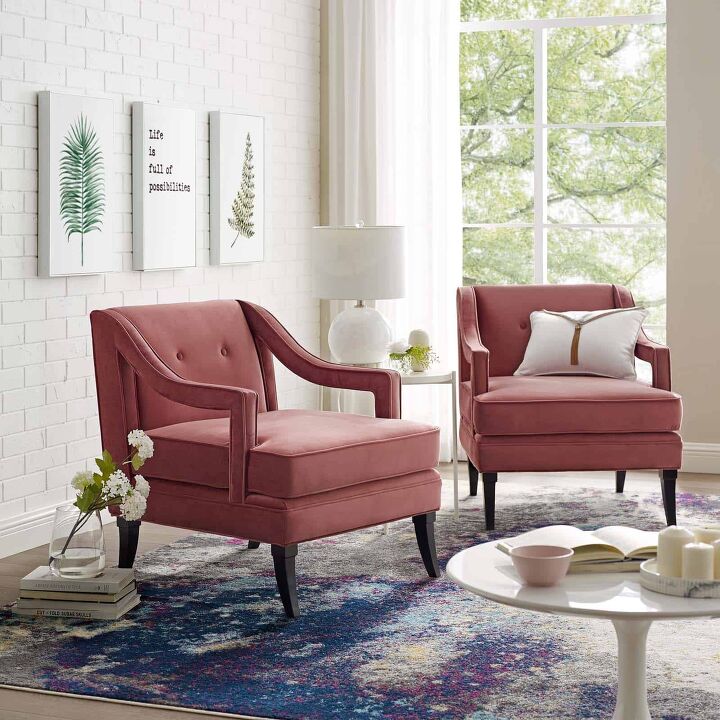 Choose your chairs wisely and you won't need any other alternative for a couch. The right selection of chairs is enough to accommodate many people and tie the whole room together. Comfortable lounge chairs are a perfect couch alternative, but there are many types of chairs, such as love seats, that are great.
Select a set of chairs that is ideal for yourself, your family, or how many guests you generally accommodate, if any. A love seat is great to pair with a set of club chairs so that you get elegance and comfort. The sky is the limit when it comes to pairing chairs together that both match each other and compliment the room.
With that said, different types of chairs vary in cost, so you will have to explore your options to find one that fits your budget. For example, a basic club chair starts at $100, whereas a lounge chair often costs over $130. Get creative and have fun picking a mix of chairs that create the vibe that best suits your home.
Pros
Doesn't take up much space
Many options
Lightweight
Comfortable
Cons
Can be pricey
Leaves less room for other furniture
3. Cushions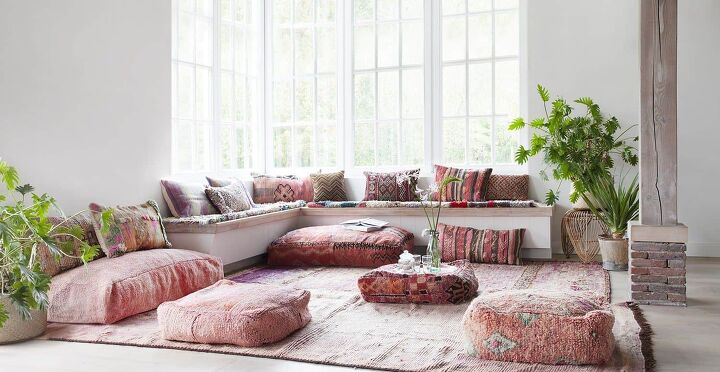 This option is similar to bean bags, but floor cushions create more of a distinct vibe than the former. Floor cushions put you and your guests low to the ground, and they're great for entertaining guests. Many floor cushions are so comfortable that you forget that you're barely elevated from the ground.
The distinct Moroccan look that floor cushions afford creates many decorating possibilities for you. For example, you can take the Moroccan theme and run with it for decorating the rest of the room. Combing decorative and comfy pillows with a set of floor cushions is a visually striking and relaxing couch alternative.
Consider floor cushions if you want to add character and ambiance to the room of your choice. You can find traditional floor cushions for between $60 and $200, or more. They are mildly expensive, but floor cushions are just as comfy and relaxing as they are decorative.
NOTE: You can take floor cushions to the next level by constructing a sectional out of them to use instead of a couch. Get creative and pair floor cushions and pillows that compliment each other for the ultimate DIY sectional.
Pros
Visually appealing
Comfortable
Variety of options
Cons
Expensive
May clash with the room
4. Chaise Lounge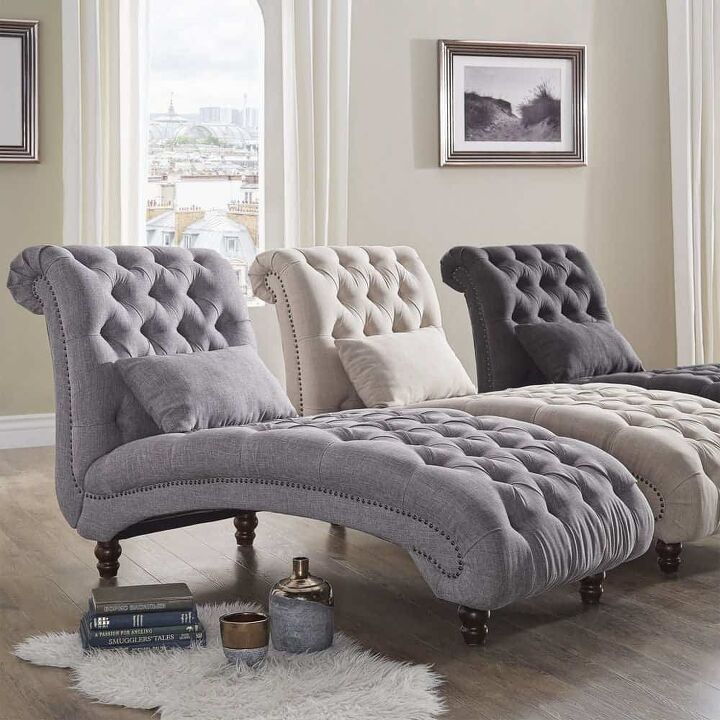 Buy a chaise lounge or two if you want the comfort of a couch to make the most of your space. This option is great because 1-2 chaise lounges with a chair or two in the mix can accommodate many people. If you don't often have company or you don't have children, then a chaise lounge is a great option.
Chaise lounges offer the best of both worlds of both chairs and couches without being cumbersome. You won't struggle to move or carry a chaise lounge, and they are easy to reposition within the room. Look for chaise lounges that are in the $200-$300 range and above if you want the highest quality.
The only downside to chaise lounges is that buying multiples can cost you $400-$600 or more. You can save money by pairing chaise lounges with bean bags, floor cushions, and chairs. Consider a chaise lounge if you want to conserve space while adding an elegant and comfortable flair to the room.
Pros
Elegant
Comfortable
Easy to clean
Cons
Pricey
Less space than a couch
5. Bench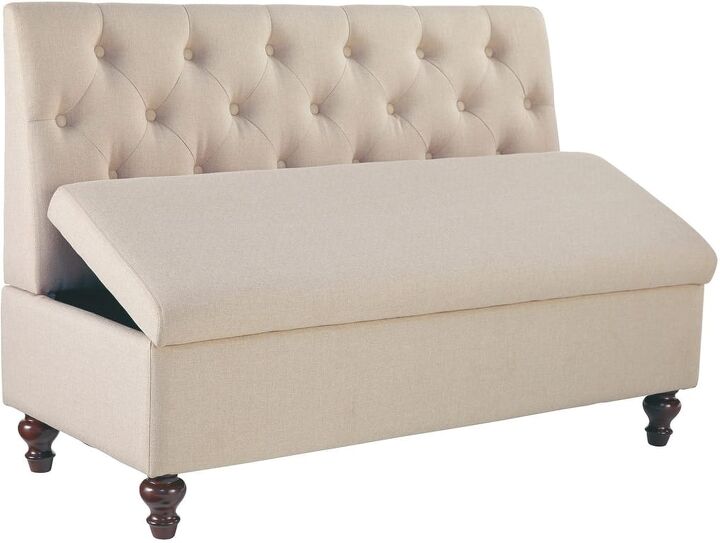 Pair a set of chairs with a bench and you have yourself a perfect couch alternative. You can easily find benches that go well with your chairs, and you can position them as a footrest. This is great for kicking back and relaxing while watching TV, and it is great for homeowners on a budget.
Look out for benches with storage inside them if you want to help declutter the room as well. A bench acts as a footrest, a storage bin, and even a table surface if you want it to. Many benches have flat tops and can double as a small table if that's what you want as well.
The best thing about benches is that you can move them at any time based on your needs. If you have people over, it can serve as an extra seat, or if you're relaxing alone you can put your feet up. High-quality benches cost between $60 and $400 or more, so find one that suits your room and budget.
Pros
Multiple uses
Comfortable
Many have storage
Cons
Can be expensive
Only ideal for 1-2 people
6. Daybed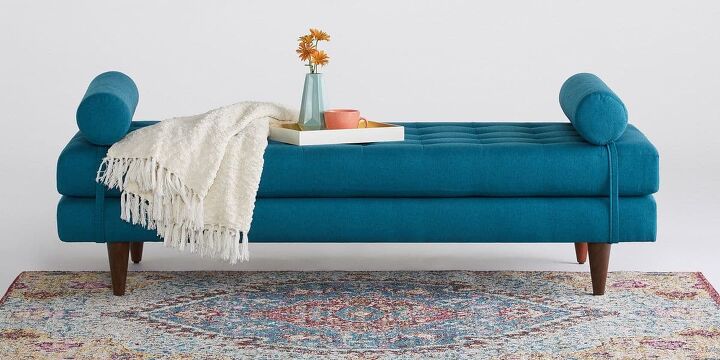 Buy a daybed if you want the perfect marriage between a couch and a bed. They are designed for ultimate comfort, and it doesn't hurt that they're decorative. You can find daybeds that suit any style or room design that you may be looking for.
Some daybeds have a back to them, and others have an open back if that's what you prefer. They look great in the middle of a room, especially if there are windows that let the sun hit them. Daybeds help create a resort vibe and many of them look at home in a beach-themed spa.
Another benefit of daybeds is that they are perfect for patios or outside by a swimming pool. Daybeds are great when used in concert with chairs, floor cushions, or bean bags to accommodate many people. You can expect to pay at least $200 or more on a high-quality daybed that is worth adorning your room.
Pros
Visually appealing
Unique
Good for indoor and outdoor use
Cons
Pricey
Not great for lounging
7. Wood Pallet Furniture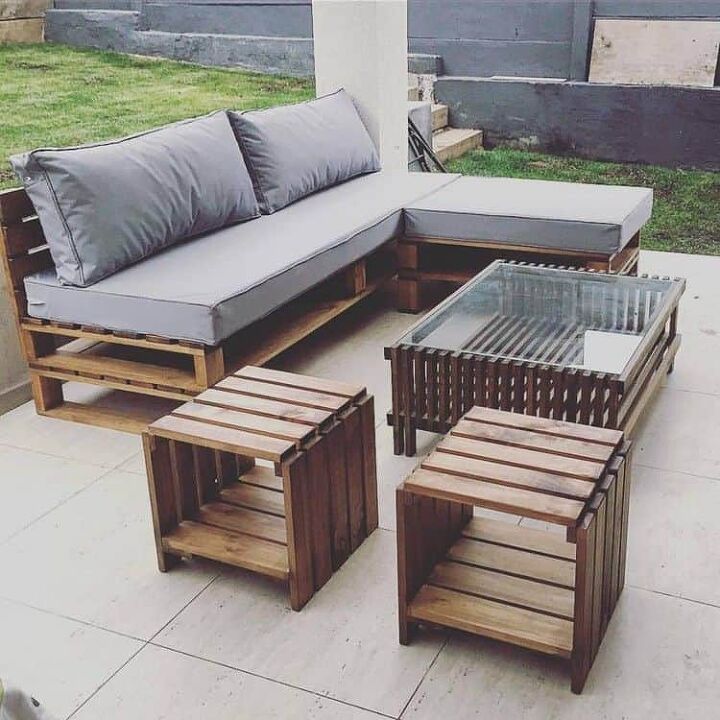 Homeowners that are dead set on modern, yet rustic looks can't beat wood pallet furniture. Wood pallet furniture is the ultimate couch alternative because there are endless options. You can find wood pallet chairs, couches, daybeds, benches, and platforms to substitute a couch.
Perhaps the best thing about this alternative is that you don't need to buy it assembled. If you're a DIY-minded homeowner, you can construct wood pallet furniture in no time at all. Many homeowners simply adorn a stack of wood pallets with cushions, and voila, you have a couch alternative.
Wood pallets stack well and they are supportive so you don't need to worry about safety. This has become more and more popular over the years, and that's because of creative freedom. You can find wood pallets to make your furniture for $100-$250, or wood pallet furniture starting at $400.
Pros
Unique vibe
Rustic
Creative freedom
Cons
May require work
Expensive (for preassembled)
---
Related Questions
Are floor cushions comfortable?
Yes, floor cushions are comfortable, and they are a great couch alternative. Most floor cushions are well-padded, and they are made to be sat on for hours. The only problem you may run into is that they don't have backs to them, and after a while, that can be uncomfortable.
What is a chaise lounge?
A chaise lounge is a sofa and chair hybrid that is well-upholstered and designed for comfort. Chaise lounge is a French term that means "long chair", and that effectively describes what it is.
Can I use a love seat instead of a sofa?
Many homeowners use a love seat instead of a sofa to save space and money. Love seats are often just as comfortable and stylish as a traditional sofa, and they often come at a lower price.
Do You Need an Interior Decorator?
Get free, zero-commitment quotes from pro contractors near you.
Summing It Up
You don't need a couch to have a comfortable living space that can accommodate your family and guests. Many alternatives, such as bean bags and floor cushions, are just as comfortable as a couch and are visually appealing. Floor cushions are great because you can position them however you want, and you can even create a DIY sectional with them.
Bean bags are a great choice if you want a casual and fun couch alternative that's easy to move. Buy or assemble your wood pallet furniture if you prefer a more rustic look in your home. Another great choice is a daybed, which is quite similar to a couch but has its distinct vibe.
Benches are another excellent option if you want something that acts as storage and comfortable furniture. Pair the right chairs with the right storage bench and you'll never even need a couch again. You can find the right couch alternative for you by looking through the above options and seeing what's closest to your style.

Nick Durante
Nick Durante is a professional writer with a primary focus on home improvement. When he is not writing about home improvement or taking on projects around the house, he likes to read and create art. He is always looking towards the newest trends in home improvement.
More by Nick Durante
Published March 14th, 2021 1:41 PM