18 Views
What Is The Cost Of Living In Mountain View, CA?
April 23rd, 2021 7:57 AM
Share
We're committed to finding, researching, and recommending the best products. We earn commissions from purchases you make using links in our articles. Learn more here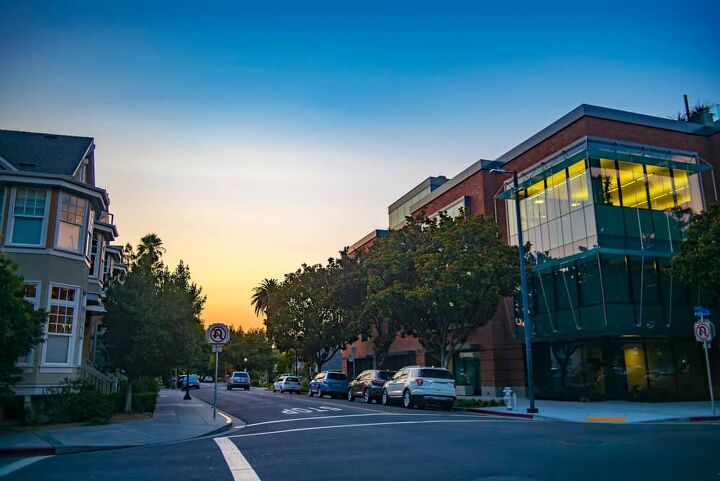 With breathtaking views of the Santa Cruz Mountains, Mountain View, California, is a primary city in Silicon Valley. It's also home to Googleplex, and Google provides the entire area with free WiFi. This is a good thing since the cost of living in Mountain View is more than triple the US average.
The median home cost of living in Mountain View, California is $1,784,700. This is a flabbergasting price for median home costs, especially considering half of all homes will be above that total. Plus, home costs aren't the only aspects of a budget that you need to account for when figuring out if you can afford this city. With a shockingly high cost of living index of 315.4, Mountain View's soaring housing costs are three times higher than California overall.
The livable wage in Santa Clara County (where Mountain View is located) amounts to about $21.88 per hour for a single adult. The minimum wage in California is $12.00 per hour. This huge gap in livable versus minimum wage signals how unaffordable Mountain View can be for the average person. That's not going to sound good to a lot of people with blue collar or even average desk jobs. How can you save for retirement with such expensive properties?
Few locations in the United States achieve a worse cost of living rating. Though the Bay Area is beautiful, the cost to purchase a home almost entirely detracts from that benefit. Below, we'll explain the full expenses you'll need to tally if you want to make Mountain View, California more livable.
If you plan on calling Mountain View home, living costs are on the high side, except for utilities (thanks, Google). Therefore, carefully consider the costs of housing, transportation, and other essential factors before making your move.
Do You Need to Hire Movers?
Get free, zero-commitment quotes from pro contractors near you.
Housing Costs in Mountain View, California
Housing costs account for most of the average adult's budget, so it's critical that you live somewhere you can afford. Mountain View's median home price was $1,800,000 as of January 2021. This is way higher than the national average of $320,000 as of October 2020.
When it comes down to renting versus owning, 56% own their homes, with the other 43% renting. Part of this has to do with the ridiculously high home prices.
It has also become increasingly difficult to find nice homes in the area due to a low supply and high demand. The average home spent 27 days on the market in January 2021, which isn't long at all. On top of that, it's down from 41 days the month before.
Potential homeowners looking for a home that doesn't meet their budget can try a different neighborhood. There is a variation between communities the further away you get from the tech companies. You can get an idea of home prices in the area within the chart below.
Average Rent Prices in Mountain View Neighborhoods

Neighborhood
Median Rent Price
Rex Manor
$1,828
Shoreline West
$1,945
Old Mountain View
$2,200
Castro City
$2,355
Cuesta Park
$2,443
Blossom Valley
$2,759
Whisman Station
$3,694
North Whisman
$4,116
Rental Costs in Mountain View, California
With a sky-high home purchase price, unsurprisingly, many people decide to rent. The average Mountain View home rents for $2,795 per month. While the bigger apartments are obviously more expensive, most elect to get a tiny spot closer to work.
On average, a 1-bedroom apartment in Mountain View will cost about $2,700 monthly, which is higher than the state average of $1,503. A 2-bedroom will run you about $3,500, while a 3-bedroom will cost upwards of $4,000-5,000.
Because of the high prices, it's more common here than in other places to have a studio apartment. About 7% of the population chooses a studio, preferring a shorter commute than a lot of space.
Here's a glance at how overall housing costs in different Mountain View neighborhoods compare against the city and state averages. Mountain View's average is 315.4 on the cost of living index, and the state's is 149.9.
Overall Housing Costs of Various Mountain View Neighborhoods

Shoreline West
$676,980
Castro City
$975,047
Blossom Valley
$1,190,000
North Whisman
$1,300,000
Whisman Station
$1,300,000
Old Mountain View
$1,440,000
Rex Manor
$1,700,000
Cuesta Park
$1,900,000
Mountain View residents pay a combined city, county, and state tax of 9%, higher than the US average of 7.2%. However, at 0.73%, property tax rates fall below the US median rate of 1.1%. Despite this seeming respite, you still have to consider the staggeringly high home values in the county.
Mountain View Income Tax Brackets and Rates for Single Filers and Married Filing Separately

Income Tax Bracket
Income Tax Rate
$0 – $8,932
1%
$8,933 – $21,175
2%
$21,176 – $33,421
4%
$33,422 – $46,394
6%
$46,395 – $58,634
8%
$58,635 – 299,508
9.3%
$299,509 – $359,407
10.3%
$359,408 – $599,012
11.3%
$599, 013+
12.3%
Mountain View Income Tax Brackets and Rates for Married Filing Jointly, Qualifying Widower, and Head of Household

Income Tax Bracket
Income Tax Rate
$0 – $17,864
1%
$17,865 – $42,350
2%
$42,351 – $66,842
4%
$66,843 – $92,788
6%
$92,789 – $117,268
8%
$117,269 – $599,016
9.3%
$599,017 – $718,814
10.3%
$718,815 – $1,198,024
11.3%
$1,1198,025+
12.3%
Utility Costs in Mountain View, California
The cost of utilities in Mountain View scores 88.6 on the cost of living index, surprisingly lower than the state average of 102.4. This chart gives you an idea of how much you would have to pay monthly for electricity, water, and internet usage.
Average Utility Costs in Mountain View, CA

Utility
Average Cost Per Month
Electric
$144.4
Water
$70
Basic Internet
Free
Basic Cable
$45
Natural Gas
$40
Food Costs in Mountain View, California
On the cost of living index, grocery costs score 120.2, higher than both the state and national averages. Typically, you should allow about 11% of your budget toward food costs, including groceries and dining out. Mountain View's median income is $128,252, making a monthly food budget roughly $14,107.
You don't need to shell out $14,000 a month for groceries, however. Mountain View grocery prices are lower than in New York and 11.19% cheaper than Los Angeles.
Average Prices of Food Items in Mountain View, CA

1 Loaf of Bread
$3.98
1 Gallon of Milk (reg)
$4.50
1 Dozen Eggs
$3.62
1 lb Boneless Chicken Breast
$5.57
1 lb Apples
$1.86
1 lb Potatoes
$1.00
1 lb Local Cheese
$5.13
1 lb Bananas
$1.10
1 lb Tomatoes
$2.90
1 lb Oranges
$1.00
1 Bottle of Coca Cola (11 fl. oz)
$1.80
1 Bottle Water (1.5 liters)
$3.17
1 Regular Cappuccino
$3.92
1 Bottle of Red Wine (mid-range)
$15.00
Fast Food Combo Meal
$8.00
Lunch at an Inexpensive Restaurant
$15.50
Transportation Costs in Mountain View, California
Mountain View's transportation costs score at a high of 138.6 on the cost-of-living index. Roughly 70% of commuters opt to drive alone to work, and most households have two cars. 7.5% of commuters use public transportation while 6.7% carpool. The average commute time is about 10 minutes less than the national average at 15.4 minutes. Gas averages $2.35 a gallon.
From Mountain View, it's roughly 45 minutes to San Francisco and 45 minutes to the ocean. This makes it an ideal compromise for a lot of locals.
However, Mountain View is bike and pedestrian-friendly and has free public transportation. Mountain View Mountain Line runs a bus system throughout the city from downtown for a zero-fare. Plus, most busses feature a bike rack if you choose to do a little combo-style traveling around town.
Cost of Car Insurance in Mountain View, California
Car insurance in California averages about $1,868, putting it roughly 20% higher than the US average. However, you can opt for a bare-bones policy and pay closer to $606 per month. A full-coverage policy runs closer to $2,125.
However, it pays to be a good driver; you could save about $1,412. On the contrary, where most states give lower rates for better credit, California does not. So, whether you have a low or high credit score, you'll pay the same.
Cost of Education in Mountain View, California
There are 16 public schools within five miles of Mountain View and 16 private schools. The state average private school tuition for elementary schools is $11,594 per year and $19,996 for high schools. One of the most expensive private schools is Waldorf School of the Peninsula, with an average tuition of $38,000.
In Mountain View, every teacher educates around 23 students, with local schools paying about $9,935 for every student. This is significantly lower than the national average.
Private School
The cost of private school in Mountain View or the surrounding Bay Area can quickly amount to a trust fund or college fund. In California, private school tuition for elementary school is around $12,000, while for high school it can reach nearly $20,000. Public schools can start to sound awful nice when they stack up as free compared to private schools that might just communicate elitism.
University
The Bay Area is home to prestigious post-secondary institutions such as UC Berkeley, UC San Francisco, and Stanford University. These schools charge exorbitant tuition fees for their exceptional attendees. Stanford alone charges nearly $80,000 per academic year, which doesn't even factor in the cost of living in the area. The name certainly looks good on a resume, but it won't feel good to have that many student loans.
Technical College
Traditional university education isn't the only way to break into the Mountain View tech scene. There are many computer-oriented technical schools such as Portnov Computer School that teach Silicon Valley skills. For 160 lecture hours, they charge $5,200.
There are also several colleges and universities in the area, including the internationally known and top-rated Stanford University. Another highly-rated college in Mountain View is Carnegie Mellon, with an average tuition fee of $57,119.
Childcare Costs in Mountain View, California
As with almost everything in Mountain View, daycare costs are exorbitant. With tuition averaging $19,212 a year, the cost is over 200% more than the national average. It is also much higher than the state average of $11,817 per year.
Childcare costs anywhere in the country need to be at the forefront of any parent's mind. It is an inevitable expense that takes up a significant bulk of your household budget. The industry is highly regulated, reasonably so, due mostly to the vulnerability of the clientele.
Entertainment Costs in Mountain View, California
One part geeky, another part adventurous, Mountain View is a modern playground like no other. From a kite-flying park to a computer artifacts museum to restaurants at every corner, Mountain View has activities for everyone.
Here is a look at some attractions in Mountain View and how much they cost.
Recreation and Entertainment Costs in Mountain View, CA

Attraction
Price
Google Android Lawn Statues
Free
Computer History Museum
$15.00
Hangar One
Free
NASA Ames Visitor Center
Free
Shoreline Aquatic Center
Free
SETI Institute
(priced per event)
Shoreline Kite Flying Park
Free
---
Related Questions
What is crime like in Mountain View, CA?
Mountain View, CA, is safer than about 13% of US cities, with a violent crime rate of 2.04 per 1,000 residents. There are approximately 169 violent crimes and 2,474 property crimes per year.  Compared to the state of California, Mountain View has less than half the number of violent crimes. However, the city averages more property crimes than the state average. Your chances of becoming a victim of a property crime in Mountain View are 1 in 33 compared to California's 1 in 43. Conversely, chances of becoming a victim of a violent crime in Mountain View are 1 in 490, compared to California's 1 in 227.
What is the weather like in Mountain View, CA?
Overall, Mountain View experiences long, pleasant summers and short, wet winters. The rainiest month is typically December, with an average rainfall of 2.6 inches. The total rainfall for the year is about 16 inches. Snow is rare, and the hottest month is August, with an average high of 79.3 degrees Fahrenheit. The average low is 41 degrees, typically in January. Overall, Mountain View has some fantastic weather, and many people find it more comfortable than most of the state. 
How much are health insurance rates in California?
Health insurance in Mountain View is about in line with the US average. California's average monthly health insurance costs for a 40-year-old are about $546 a month. For a bronze plan, a 20-year-old would pay about $341 per month, a 40-year-old $436, and a 60-year-old $926. If you opt for more extensive coverage, you'll pay more. Monthly premiums reach up to $1,752 for a platinum plan for a 60-year-old.The same plan would cost a 20-year-old roughly $645 a month and a 40-year-old $825. 
Do You Need to Hire Movers?
Get free, zero-commitment quotes from pro contractors near you.
Summing It Up
Mountain View is undoubtedly a beautiful place to live, but it comes at a price, especially for homeowners. The cost of living in Mountain View is roughly 215% higher than the US average.
However, unemployment is low, and there is healthy job growth. Factoring in a median income of $128,252, you could scope out more affordable neighborhoods to make it work.
Overall, at the end of the day, it's essential to look at all of your options (and your bank account). Ensure you have a good understanding of all the potential costs and possibilities before loading up the moving van.
Related Articles

Stacy Randall
Stacy Randall is a wife, mother, and freelance writer from NOLA that has always had a love for DIY projects, home organization, and making spaces beautiful. Together with her husband, she has been spending the last several years lovingly renovating her grandparent's former home, making it their own and learning a lot about life along the way.
More by Stacy Randall
Published March 1st, 2021 11:38 AM