119 Views
Cost Of Living In Colorado Springs For 2022 (Taxes, Housing & More)
November 3rd, 2021 2:29 AM
Share
We're committed to finding, researching, and recommending the best products. We earn commissions from purchases you make using links in our articles. Learn more here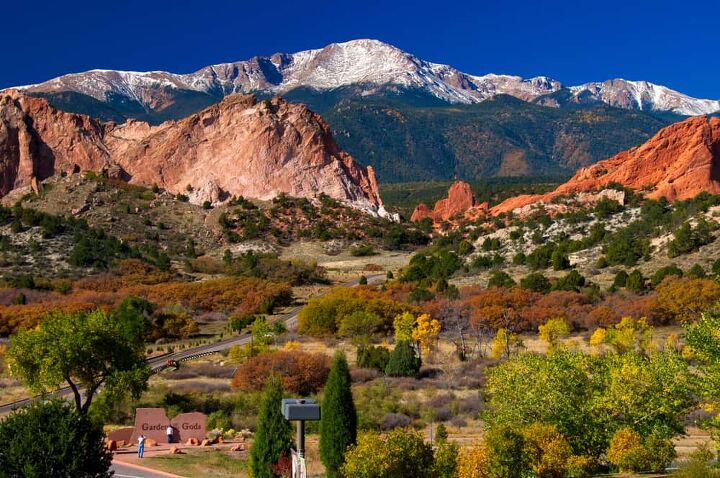 Since 1876, Colorado has been a jewel of an American state, and it only has gotten better since then. Modern conveniences and infrastructure gave way to Colorado Springs being one of the most sought after Colorado cities. Gorgeous views, relaxing trails, and affordable housing are just a few of the reasons that Colorado Springs is so beloved.
Living in Colorado Springs is mostly inexpensive, and the median home value is $248,700. Right now, 59.1% of Colorado Springs natives are homeowners, and the rest spend an average of $1,072 on rent monthly. You can live comfortably on fairly low wages, and groceries will only cost you $348 per month in Colorado Springs.
Several costs, such as monthly homeownership costs, property taxes, and utilities are reoccurring in Colorado Springs. Luckily, most of these costs are on par with or only slightly above national averages. Some costs are below the American average, but we will see how much it costs to live in Colorado Springs.
Do You Need to Hire Movers?
Get free, zero-commitment quotes from pro contractors near you.
Colorado Springs Housing Prices
Colorado Springs has a lot to offer, and that includes housing that the majority of its residents can afford. Currently, 59.1% of Colorado Springs residents own their homes, and the affordable housing explains that. The median home value in Colorado Springs is $248,700, and that is below the national average in America.
| | | |
| --- | --- | --- |
| Housing | Colorado Springs Housing Cost | National Average Housing Cost |
| Median Home Value | $248,700 | $284,600 |
| Monthly Ownership Cost | $1,504 | $834+ |
| Homeownership Rate | 59.1% | 67.9% |
A home's sales price isn't the only cost, and monthly ownership costs pile up no matter where you live. Colorado Springs residents spend an average of $1,504 each month on mortgage, bills, and maintenance if needed. Generally, only $430 of that average cost comes from bills and incidental maintenance, and the rest goes to mortgage payments.
Building your own home in Colorado Springs can cost between $150 and $400 per square foot, depending on your choices. Between 2019 and 2020, average sales prices on houses have gone up by over 13%, and building is an investment. Whether you build a home or buy an existing one in Colorado Springs, you'll need to pay yearly property taxes.
Colorado Springs Property Tax
Colorado Springs is located in El Paso County, and the average effective property tax rate is 0.49%. Your average Colorado Springs resident pays $1,862 per year in property taxes, but it varies based on property value. El Paso County and Colorado Springs' property tax rate is somewhere in the middle for the state of Colorado.
| | | |
| --- | --- | --- |
| Colorado Property Taxes | Average Effective Property Tax Rate | Cost Per Year |
| El Paso County (Colorado Springs | 0.49% | $1,862 |
| Douglas County | 0.76% | $2,707 |
| Costilla County | 0.42% | $474 |
| Gilpin | 0.25% | $756 |
Seniors are eligible to qualify and receive property tax exemptions in Colorado Springs, and throughout the state. As long as seniors in Colorado Springs apply for an exemption between January and July, they may receive an exemption. Veterans also qualify for exemptions, and it applies to 50% of the first $200,000 in their home's value.
Rent Prices In Colorado Springs
Owning a home isn't the only affordable housing option in Colorado Springs, and renting is a great choice. The average cost of rent in Colorado Springs is $1,072, and that is more affordable for some than the $1,504 monthly housing cost. Just over 40% of Colorado Springs residents are not renters, and luckily, there are many cheap rentals available.
Your average Colorado Springs apartment is 840 square feet, but large 2-3 bedrooms are always up for rent. A 3-bedroom apartment in the heart of Colorado Springs can cost up to $2,000 or more per month. The same size apartment outside of the city's center only typically costs $1,500 per month, but costs vary.
A studio or 1-bedroom is your cheapest option in Colorado Springs, and it rarely costs over $1,000 per month. Floor plans, number of bedrooms, bathrooms, and location all affect how much your rent costs in Colorado Springs. Rent costs can differ significantly in Colorado Springs, based upon the neighborhood that you choose.
| | |
| --- | --- |
| Colorado Springs Neighborhoods | Average Rent Cost |
| Briargate | $1,450 |
| Southeast Colorado Springs | $1,021 |
| Northgate | $1,500 |
| Central Colorado City | $1,410 |
Average Utilities Cost In Colorado Springs
Rent and mortgage payments aren't the only costs of renting or owning a home in Colorado Springs. Each month, utilities will need to factor into your cost of living budget, but it is generally inexpensive. Colorado Springs residents typically spend between $125 and $150 per month for basic utilities, but large homes could cost more.
Other monthly costs that go hand in hand with utilities bills are internet and cable costs. Internet plans often cost between $65 and $70 per month in Colorado Springs, but some carriers are even cheaper. Cable bills can cost as little as $20 per month and up to $60 per month in Colorado Springs.
You could spend between $25 and $30 per month for weekly trash pickup in Colorado Springs, Colorado. However, if your rental agreement includes trash pickup, it is often a smaller fee included with other bills.
Colorado State Income Tax Rate
Colorado Springs residents have to pay a 4.63% state income tax rate on their income to the state of Colorado. Unlike many other states, there are no tax brackets that carry different income tax rates, and it's a flat rate. The state income tax rate in Colorado has been the same for years, and that is unlikely to change anytime soon.
Colorado Springs residents have a median household income of $54,228, and single residents make $29,355 per year. Luckily, Colorado's state income tax is fairly low, and it won't slim down your paychecks too much.
Taxes In Colorado Springs
There are more taxes to remember in Colorado Springs beyond state income tax, and knowing the rates is important. One of the higher tax rates in Colorado Springs is the 8.25% sales tax rate that applies to purchases. The average sales tax rate in the United States is 7.12%, and Colorado Springs is well above it.
| | |
| --- | --- |
| Colorado Springs Taxes | Rate and Cost |
| State Income Tax | 4.63% |
| Property Tax | 0.49% |
| Sales Tax | 8.25% |
| Gasoline Tax | $0.22 Per Gallon |
Colorado Springs has a high gasoline tax as well, and it adds money to your total at the pump. For every gallon of gas you buy in Colorado Springs, you'll pay another $0.22 in taxes at the pump. The most important and frequent tax rate is the sales tax rate which will affect your grocery and dining bills.
As of last year, $1,274,811 was spent on the sale of goods in Colorado Springs. The small city depends on the income from the high sales tax in Colorado Springs, and that explains the rate. Luckily, Colorado Springs more than makes up for it with low property and state income taxes for their residents.
Colorado Springs Food Cost
You'll have no trouble finding great food in Colorado Springs, but how much does it cost? Well, if you spend as much on food as the average Colorado Springs native, it'll cost $348 per month. That cost is based primarily on grocery sales but dining out is always an option in Colorado Springs as well.
If you want to get the most bang for your buck, however, dining out is not the best option. Dinner for two at a restaurant costs between $45 and $60 at mid-ranged eateries in Colorado Springs. If you dine alone at an affordable restaurant, however, you could spend as little as $13 on dinner for yourself.
Groceries are relatively inexpensive in Colorado Springs, and essentials such as eggs cost $2.70 per dozen. Another essential, a gallon of milk, is somewhat pricey in Colorado Springs and averages $2.95 per gallon.
Education Costs In Colorado Springs
Parents in Colorado Springs have many choices when it comes to where they'll send their kids for education. Of course, public schooling is the cheapest option, and Colorado Springs is known for its great public schools. Otherwise, you will spend an average of $11,767 each year on private tuition in Colorado Springs.
Private elementary and grade school only costs $8,743 per year for tuition, but high school is pricier. High school costs an average of $15,450 per year for private tuition in Colorado Springs. Your cheapest private school tuition option in Colorado Springs is just over $1,000, but otherwise, you'll spend close to $10,000.
| | |
| --- | --- |
| Colorado Springs Education | Average Tuition Cost |
| Average Private Tuition | $11,767 |
| Average Private Elementary Tuition | $8,743 |
| Average High School Tuition | $15,450 |
| University of Colorado- Colorado Springs | $8,524 (Resident) $20,620 (Non-Resident) |
| Pikes Peak Community College | $3,842 (Resident) $14,930 (Non-Resident) |
Colleges are also reputable in Colorado Springs, and the cheapest option is Pikes Peak Community College at $3,842 per year. A pricier but worthwhile option for college is the University of Colorado-Colorado Springs, and state residents pay $8,524 per year. Out of state students spend $20,620 per year at the University of Colorado, and that's before living expenses.
Colorado Springs Transportation
Many Colorado Springs residents are car owners, but public transportation is also a viable option for getting around town. One-way bus fare costs as little as $1.75 per ticket, and that is a bargain for day trips. If you regularly commute to work, you may want to invest in a month pass for $63 for unlimited trips.
People that need to travel via train to Colorado Springs won't get as good of a deal. Right now, the cheapest train ticket to Colorado Springs is $60. The good news is that Colorado Springs is currently considering getting a light rail system, and that would offer affordable transit.
If you need to get across town quickly and cheaply, taxicabs are an excellent choice in Colorado Springs. Cab fares generally carry a rate of $3 per mile, and an hour trip often costs $25.
Colorado Springs Driving Cost
Colorado Springs is a beautiful city to drive through, and luckily, it won't cost you much. You can find gasoline for as cheap as $1.95 per gallon right now in Colorado Springs, and that's a steal. In another Colorado city, Boulder, gasoline is more expensive and averages $2.12 per gallon.
If you drive to work every day, gasoline costs are going to add up quite a lot. Commuters in many American cities use up 656 gallons of gasoline per year. In Colorado Springs, that means that you may spend up to $1,279 each year, but it all depends on mileage.
Car insurance is more expensive in Colorado Springs than the Colorado state average, and costs roughly $1,903 per year. Both Colorado state and Colorado Springs car insurance premiums are higher than the national average of $1,548 per year. The cheapest option in Colorado Springs is USAA which costs $1,161 per year, and the highest is Progressive at $2,484 per year.
Colorado Springs Flight Cost
The Colorado Springs Airport is a major convenience for residents of the city, and many airlines fly out of it. Delta, American, Southwest, and every other major airline offers flights to and from Colorado Springs Airport. You can book direct flights to Colorado from big cities like Houston, Los Angeles, Las Vegas, Orlando, and Phoenix.
If you booked a ticket from Colorado Springs to St. Louis right now, it would cost $241 roundtrip, or more. Of course, the best way to save money on a flight is by booking tickets far in advance. A closer trip, such as Colorado Springs to Dallas, would only cost you $197 per roundtrip ticket last minute.
If you are planning a long trip out of Colorado Springs, consider taking a shuttle to the airport instead of parking there. Daily parking fees can total $14, so parking at the Colorado Springs Airport can cost you $98 for a weeklong trip.
Entertainment In Colorado Springs
There is a lot to do in Colorado Springs, and you will rarely find yourself bored. One of the most fun times in Colorado Springs is renting a cabin at Ute Valley Park for $100-$109. Classic entertainment that you can find in Colorado Springs includes a day at the movies, which averages $9 per ticket.
If you are physically active, consider a membership to Colorado Springs Club. You will spend $27 per month, and that gets you access to a gym and pool. America's 4th best-rated zoo is the Colorado Springs Zoo, and tickets only cost $3-$4 per person.
| | |
| --- | --- |
| Colorado Springs Entertainment | Average Price |
| Movie Theater Ticket | $9 |
| Ute Valley Park Cabin Rental | $100-$109 |
| Colorado Springs Club | $27 (Per Month) |
| Colorado Springs Zoo | $4 (Adult) $3 (Child) |
Free entertainment is abundant in Colorado Springs, and a popular destination is the Colorado Springs Pioneer Museum. If you want to spend an unforgettable day in nature free of charge, head to the Fountain Creek Nature Center. Hiking is a go-to activity in Colorado Springs, and one of the best spots is the famous Manitou Incline.
---
Related Questions
Is Colorado Springs a good place to live?
Colorado Springs is a great place to live, and its excellent public school system and low unemployment rate are just a few reasons why. This idyllic Colorado city is community-oriented, and its reasonable housing costs make it easy to join in. There is a wide variety of restaurants, grocery stores, coffee shops, and public parks to explore in Colorado Springs.
Is Colorado Springs safe?
Colorado Springs is safe, and it is safer than many other Colorado cities. There are 39 crimes per 1,000 residents in Colorado Springs, and it is safer than Denver. Luckily, both violent and property crimes have been on the decline for the last 2 years in Colorado Springs.
Are there actual springs in Colorado Springs?
Yes, there are actual springs in Colorado Springs, and they can be found in the Manitou Mineral Springs. The most famous hot springs in all of Colorado are the Hot Sulphur Springs, Glenwood Springs, and Great Pagosa Springs. Manitou Mineral Springs has eight different hot springs that the public can visit and take advantage of their natural benefits.
What is the weather like in Colorado Springs year-round?
The spring and summer are somewhat warm but mild in Colorado Springs, and the winter gets cold. Snow is a regular part of life in Colorado Springs during the winter season, but rainfall is mostly uncommon.
Does Colorado Springs get tornadoes?
Unfortunately, yes Colorado Springs does get tornadoes, and the state averages 47 per year during tornado season. Spring and summer are when tornadoes occur in Colorado Springs and the rest of the state, and they are generally late. May, June, and July are at an increased risk of tornado activity, and they typically occur in the late afternoon.
Do You Need to Hire Movers?
Get free, zero-commitment quotes from pro contractors near you.
Summing It Up
Homes carry a median value of $248,700 in Colorado Springs, and monthly ownership costs average $1,504. Rent costs $1,072 per month, on average, in Colorado Springs, but it can cost $2,000 or more for 3-bedroom apartments. Budget another $125-$150 each month for utilities in Colorado Springs.
Commuters can save money in Colorado Springs by spending $63 per month on monthly train passes. Luckily, you can find gas for as low as $1.95 per gallon in Colorado Springs, so even driving is affordable. In closing, Colorado Springs is an affordable, unique, and beautiful city in the Centennial State, and it's worth your money.

Nick Durante
Nick Durante is a professional writer with a primary focus on home improvement. When he is not writing about home improvement or taking on projects around the house, he likes to read and create art. He is always looking towards the newest trends in home improvement.
More by Nick Durante
Published March 10th, 2021 7:20 AM