23 Views
Cost Of Living In Yuma, Arizona (Taxes, Housing & More)
January 6th, 2022 7:50 PM
Share
We're committed to finding, researching, and recommending the best products. We earn commissions from purchases you make using links in our articles. Learn more here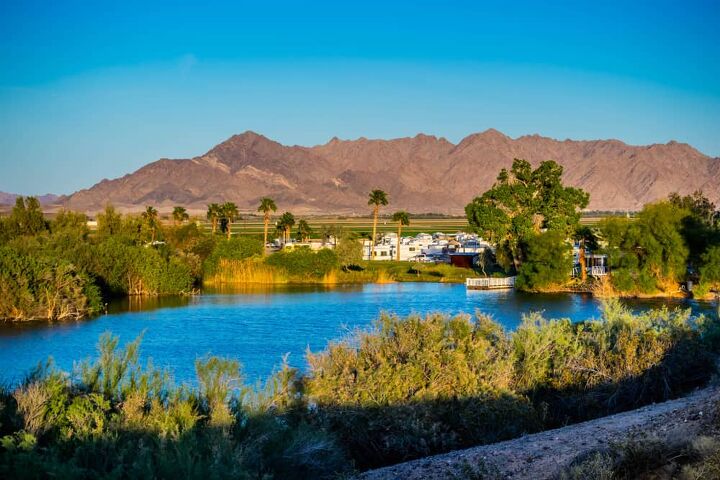 Yuma, Arizona is a small desert city in the southwest corner of Arizona, very close to the California border alongside the Colorado River. For a desert city, the climate tends to be milder than other desert towns due to the location of the Colorado River. Some Californians choose to live here instead, based on the lower cost of living and sunny lifestyle.
The median home cost in Yuma, Arizona $201,075, lower than the state average, which is $249,300. Housing expenses in Yuma, Arizona are 13% below the national average, which makes Yuma a very affordable place to buy a house. This does not include the other costs of living in Yuma, such as utilities, food, and entertainment.
The cost of living in Yuma is known to be 5.5% below the national average, which allows residents to lead a comfortable life while enjoying a small-town feel. Yuma has just under 100,000 people, a population of 99,349.
Do You Need to Hire Movers?
Get free, zero-commitment quotes from pro contractors near you.
Cost to Buy a Home in Yuma, AZ
Yuma, Arizona is a very affordable place to buy a home. On average, a home here costs around $201,075. However, prices of buying a home have jumped here by 12.7% in the last year. There's one thing to be aware of before purchasing a home in Yuma. After 2017, the default in buying a home became that homes are sold in as-is condition. It used to be that homes were fitted with utilities and major functional appliances when sold, but this is no longer the case.
If you are looking for information on building a home in Yuma from the ground up, it is great to start by look at a site where you can calculate your costs online by looking up the location and finding out the price per square foot of building a house in that location.
Rental Rates in Yuma, AZ
Not ready to buy a home yet or staying for just a short while? In Yuma, 33% of households are rental households. The cost of renting a home has increased in the last year by 18%. Yuma still stands as a place with very reasonable rental prices. Take a look here and see the costs of renting apartments.
| | |
| --- | --- |
| Home Size/Location | Rent Per Month |
| 1 Bedroom Apartment in City Center | $750.33 |
| 1 Bedroom Apartment Outside City Center | $600.00 |
| 3 Bedrooms in City Center | $886.00 |
| 3 Bedrooms Outside City Center | $850.00 |
| Studio Apartment | $565 |
Overall, when you rent an apartment in Yuma, you can expect to pay as little as $565 or as much as $1,130 depending on the size and location.
Utility Costs in Yuma, Arizona
The cost of buying or renting a home in Yuma is quite low, but you must consider that you'll be living in the desert and might be paying higher for the cost of cooling. Utilities in Yuma are 17% above the national average, mainly for cooling costs. Overall, the average cost of all monthly utilities for a small 975 sq. foot apartment is $158.05.
This number includes:
Water
Heating
Cooling
Garbage
For the internet, the average cost in Yuma is around $52.50. The cost of utilities of course depends on the size of the house or apartment you are living in.
Taxes in Yuma, Arizona
Taxpayers in Yuma, Arizona enjoy property tax rates and income tax rates that are below average. However, they are subject to a state sales tax that is one of the highest in the nation.
Income Tax in Yuma, Arizona
The state income tax rates in Arizona are below the national average. Like federal income taxes, rates are based on income brackets. Arizona has four total income tax brackets, with rates that range from as low as 2.59% to as much as 4.50%. This simply means that, in Yuma, you pay income taxes based on how much you make.
Sales Taxes in Yuma, Arizona
In Yuma, you must pay both state and local taxes on your purchases. The statewide base rate is 5.60%. Though, with an additional county rate of 1.11%, the total sales tax in Yuma is 6.71%. While most products purchased in the state are subject to a sales tax, things like prescription drugs, groceries, and internet subscriptions are exempt.
Property Taxes in Yuma, Arizona
It's important to know the property tax rates of the place you are moving to. Even if you don't plan to buy a home yet, you may want to in the future. In Yuma, the property tax rates are above the state average. The average property tax rate in Yuma is 0.89%, which is a jump from the state average of 0.61%.
Though, property taxes in Yuma are still well below the national average of 1.07%. For a home valued at $250,000, you can expect to pay $1,525 per year on property taxes in Yuma.
Child Care Costs in Yuma, Arizona
Child care can be expensive anywhere you go, but it's wise to check on what child care will cost in your next home destination. Prices for child care can vary greatly, especially depending on your location.
The average cost for pre-school in Yuma, Arizona amounts to $866.67 per month. Daycare has a much higher cost. There are 53 daycares in Yuma, which includes 43 centers and 10 home-based programs. For daycare, parents can expect to pay $1,261 per month.
Some of the top-rated daycares in Yuma include Treehouse Daycare and Yoli's Preschool and Daycare. Keep note there are two Daycares with the name Treehouse. There is Treehouse Daycare and there is also the Treehouse Kid's Club. Both have wonderful reviews and are worth checking out.
Food & Grocery Costs in Yuma, Arizona
It is important to look into the cost of food wherever you plan to move. Being in the desert, you won't find many farmer's markets here, but you'll find plenty of supermarkets to choose from, even specialty stores. In Yuma, you can expect food prices to be about average. Below is a breakdown of the average prices of some general items.
| | |
| --- | --- |
| Food Item | Cost |
| Milk (1 gallon) | $2.48 |
| Loaf of White Bread | $2.08 |
| White Rice (1 lb.) | $1.40 |
| Eggs (Regular) | $1.83 |
| Local Cheese (1 lb.) | $6.49 |
| Chicken Fillets (1 lb.) | $3.99 |
| Apples (1 lb.) | $1.49 |
| Banana (1 lb.) | $0.59 |
Transportation Costs in Yuma, Arizona
The transportation cost of living index in Yuma is 78.4, which is lower than both the national average (100) and the state index of 107. Transportation costs are another important factor that you must consider in order to determine the overall cost of living in a particular location. These include expenses such as gas prices, public transportation costs, and annual car insurance premiums.
Gas Prices in Yuma, Arizona
The average price of gas in Yuma is around $2.75. Since Yuma has rather minimal public transportation, you'll want to factor in this cost. However, Yuma is somewhat bikeable, so biking is an option to save money on transportation costs.
Public Transportation in Yuma, Arizona
Yuma, being a smaller city, doesn't have exceptional public transportation, but Yuma does have a bus system called the YCat. The prices of transit fares vary depending on age and usage. A one-way fare for anyone 19-64 years old will cost $2.00. For those 65 and older, a one-way fare will cost just $1.00.
Larger passes are available, such as a 10-day pass and a 31-day pass, in which the prices drop for the larger number of days your pass is good for.
Annual Car Insurance Premiums in Yuma, Arizona
The average cost of car insurance in Yuma, Arizona is $1,291 per year, which is lower both than the national average and the Arizona state average. In fact, drivers in Yuma spend about 16% less than the national average on their annual car insurance premiums.
Though, it's important to note that your rate can vary based on your age, driving record, the insurance company that you choose, and whether you opt for full or minimum coverage.
Entertainment & Miscellaneous Costs in Yuma, Arizona
Yuma has everything a larger city has to offer, including movie theaters, gyms, and amazing restaurants. Being so close to the Mexico border, you'll find some great Mexican food here. Be sure to check out Chretin's Mexican Food and La Fonda.
Whether you are an outdoor enthusiast or just love to go to the movies every now and then, you'll most likely be wanting to get out and do fun things and explore in your new home destination. That's part of the excitement of moving to a new place, so it's good to know what that will cost. Below is a table to give you an idea of the prices of entertainment in Yuma.
| | |
| --- | --- |
| Activity | Cost |
| Fitness Club Membership (1 month) | $33.33 |
| Cinema (1 seat) | $9.75 |
| Meal at an Inexpensive Restaurant | $11.00 |
| Meal for 2, Mid-Range Restaurant | $37.00 |
Education Costs in Yuma, Arizona
The options for schooling your children will often influence your choices for finding a new home. You'll want to make sure that you have the accessibility to send your children to the schools of your choice and know the costs of those options. For Private elementary schools in the state of Arizona, families can expect to pay an average of $6,545 per year. For private high schools, the average tuition amounts to $15,878 per year.
There are certainly lower tuition rates for private schools in Yuma. What brings the average so high is the tuition of the most expensive private schools, which in Arizona can reach up to $83,000 a year.
Yuma, being a smaller town, is going to have fewer options than a larger city. However, there are still many great schools in Yuma, including many private Catholic schools, Gowan Science Academy, Harvest Prep Academy, and Amerischools Academy North.
University in Yuma
Yuma, being a smaller town, does not have many options for universities. However, it is home to Arizona Western College, a public community college. If you have children who are graduating high school, Arizona Western College is a great option for those starting out and wanting to save money on college tuition on those first two years of college credits. In-state tuition is only $2,780 at Arizona Western College.
---
Related Questions
How much do you need to live comfortably in Arizona?
In Arizona, the livable wage is $14.94 per hour.  Right now, the minimum wage in Arizona is set at $12.00 an hour.  To live comfortably in the state of Arizona, it depends on the city.  In Phoenix, the income needed to live comfortably is at least $48,876.  In Tuscon, that number is lower, 39,966.  In general, it is best in Arizona to make above $45,000 to live comfortably.
Is Yuma, AZ a good place to live?
Yuma is an excellent place to live.  It has the feel of a smaller city but with a broad range of activities, great for raising a family.  It's affordable, friendly, and offers sunny weather most of the year.
What is Yuma known for?
Yuma is known for being "the sunniest city on earth."  This is listed in The Guinness Book of World Records, making Yuma famous for its sunshine 91% of the year.
What are the major industries in Arizona?
The major industries of Arizona include aerospace, electronics, and semiconductor manufacturing.  In many rural parts of the state, agriculture and mining still remain significant.  Tourism is also a prominent industry in Arizona.
Do You Need to Hire Movers?
Get free, zero-commitment quotes from pro contractors near you.
Should I Move to Yuma, Arizona?
Yuma is a great place to settle for sunshine, lazing around on the Colorado River, and living nearby California and Mexico. The cost of living is affordable and jobs are plenty. The Colorado River brings cooler air into the region, making the climate milder than other desert climates. Kids would love playing on the sand dunes.
Yuma is a great place to raise a family and can be a good option for anyone who wishes to live near California without the high cost of living in California. Many people have taken the jolt to move just outside California in surrounding places like Yuma and have never regretted the decision.
Related Articles

Upgraded Home Team
We are a team of passionate homeowners, home improvement pros, and DIY enthusiasts who enjoy sharing home improvement, housekeeping, decorating, and more with other homeowners! Whether you're looking for a step-by-step guide on fixing an appliance or the cost of installing a fence, we've here to help.
More by Upgraded Home Team
Published March 16th, 2021 12:10 PM