167 Views
Cost Of Living In Nashville for 2022 (Taxes, Housing & More)
November 2nd, 2021 2:33 AM
Share
We're committed to finding, researching, and recommending the best products. We earn commissions from purchases you make using links in our articles. Learn more here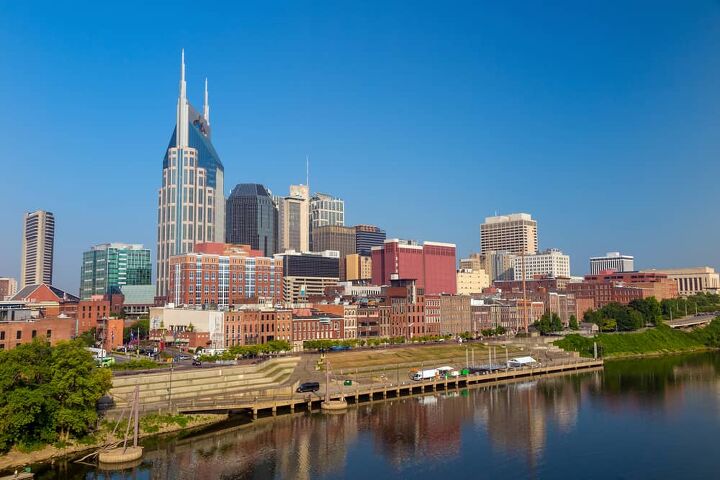 The largest city in Tennessee is Nashville, and depending on who you ask, it is also the greatest. Tennessee's Music City is home to excellent food, a lively music scene, classic southern architecture, and fair living costs. We all know that Nashville is a tourist hotspot and significant American city, but how much does it cost to live there?
The cost of living in Nashville is higher than the national average, and it's one of the most expensive cities in Tennessee. Nashville residents spend an average of $2,192 per month on bills, living expenses, rent, and mortgage payments. The median home value in Nashville is $379,000, and residents spend $1,428 per month on rent, on average.
The most expensive neighborhoods in Nashville are Oak Hills and Belle Meade, but there are many affordable options. Other costs such as utilities, maintenance, food, and entertainment also factor into the cost of living in Nashville. Let's take a close look at all that goes into the cost of living in Nashville.
Do You Need to Hire Movers?
Get free, zero-commitment quotes from pro contractors near you.
Nashville Housing Prices
Nashville has a reputation as a wise city to invest in as far as real estate goes, and it's true. For example, in the last 2 years, the cost per square foot for a home in Nashville rose to $222. The current median home value is $379,900, but that number fluctuates.
| | | |
| --- | --- | --- |
| Location | Median Home Value | Homeownership Rate |
| Nashville | $379,000 | 53.7% |
| Tennessee | $164,500 | 68.8% |
| United States | $231,200 | 67.9% |
You can also choose to buy an apartment in Nashville, and the cost varies based on relativity to City Center. An apartment outside of central city costs roughly $144 per square foot, nearly half of a City Center apartment's cost. Expect to pay $272 per square foot to buy a City Center apartment in Nashville before closing and moving costs.
Other costs of owning a home include repairs and maintenance. Unfortunately, you can spend as much as $3,021 per year in maintenance as a homeowner in Nashville. Staying on top of routine maintenance can keep that cost low and mitigate the need for regular repair.
Property Taxes Nashville TN
Recent increases in Nashville have shot property taxes up to $4.22 for every $100 of assessed home value. This is a more than $1 increase from Nashville's previous $3.155 per $100 assessed value. A change that big can between $600 and $800 or more on mid-sized urban homes in Nashville.
Nashville is a part of Davidson County, and the county has the second-highest property tax rate in Tennessee. Currently, the annual median property tax costs come out to $1,715, and it is only topped by Shelby County. Residents of Shelby County pay $1,972 in yearly property taxes, on average, at a 1.49% per $100 assessed value rate.
There are some property tax exemptions available for disabled, elderly, and low-income Nashville residents. If you are 65 and over and fit the qualifications, you can opt to freeze your property taxes for that particular year.
Nashville Rent Cost
Rent costs in Nashville vary based on apartment size and location. For example, there is a roughly $1,163 difference in cost between a 1 bedroom apartment and a 3 bedroom apartment. A 1 bedroom apartment in Nashville costs between $1,155 and $1,625, the latter of which is an apartment in the central city.
The average rent in Nashville is $1,428, but apartments downtown can easily cost $3,000. Just over 46% of Nashville residents are not homeowners, and that means there are plenty of renters in the Music City. Nashville has a higher cost of living and rent than many other Tennessee cities, and between 400 and 530 people get evicted yearly.
| | |
| --- | --- |
| Tennessee Cities | Average Rent Cost |
| Nashville | $1,428 |
| Knoxville | $1,032 |
| Chattanooga | $1,000 |
| Memphis | $850 |
| Murfreesboro | $1,150 |
The cost of rent from neighborhood to neighborhood in Nashville varies widely. Many upscale neighborhoods, such as Belle Meade and Oak Hills, are home to most homeowners, but there are renters as well. It is worth noting that there is no rent control in Nashville, so your rent could increase with little notice.
| | |
| --- | --- |
| Nashville Neighborhoods | Median Rent Cost |
| Buena Vista | $225 |
| Hillsboro West End | $1,150 |
| Priest Lake Forest | $1,045 |
| Bell Meade | $1,710 |
| Oak Hills | $1,600 |
Monthly Utilities Cost in Nashville
Just like anywhere else, utilities are another monthly cost to consider in Nashville. The average monthly utilities cost in America is $151, and Nashville is just over that at $160. That cost does not include garbage removal services, which can cost between $20 and $50 each month.
| | |
| --- | --- |
| Nashville Utilities | Average Monthly Utilities Cost |
| Electric, Heating, Cooling, Water | $160 |
| Internet | $70 |
| Garbage Removal | $20 |
Electric bills can be cheaper in Nashville due to the rate per kilowatt-hour. You are charged 10.26 cents per kilowatt-hour, and that's lower than the 11.88 cent per kilowatt-hour national average. Monthly water bills typically come out to be roughly $12.45 in Nashville.
Tennessee State Income Tax
Tennessee does not actually have a state income tax, but they make up for it with other costs. For example, the state of Tennessee imposes a hall tax. A hall tax is a tax that applies to interest and dividends made by Tennessee residents from investments.
The Tennessee hall tax is 6%, and for residents with investments, it is effectively income tax. However, hall tax is not the only tax that Nashville residents have to consider for cost of living.
Taxes In Nashville
When you are window shopping, add another 7% to that price tag to know how much it really costs. The sales tax rate in Nashville is 7%, which is just barely below the national average.
| | | |
| --- | --- | --- |
| Nashville Taxes | Cost & Rate | National Average |
| Sales Tax | 7% | 7.25% |
| Gasoline | $0.18 Per Gallon | $0.18 Per Gallon |
| Liquor | 15% (by the drink) | $0.05 |
Don't forget about the Davidson County sales tax rate that applies to purchases as well. The current Davidson County sales tax rate is 2.25%. Tennessee as a state now holds the honor of highest combined local and state taxes 9.46%.
Food Cost in Nashville
Knowing how much you'll have to budget for food each month is an essential cost of living factor anywhere. Currently, the average American spends $550 each month on food. In Nashville, you would need $250 at the very least each month, and that is based on groceries.
Nashville is well known for its restaurants but dining out can get expensive. A dinner for two can easily cost between $60 and $80 in Nashville. Eating alone at a fast-food establishment or low-priced restaurant typically costs no more than $15.
| | |
| --- | --- |
| Food Items | Nashville Food Cost |
| Dozen Eggs | $1.90 |
| Loaf Of Bread | $2.40 |
| 1 Pound Apples | $2.10 |
| 1 Pound Rice | $1.65 |
| Gallon Of Milk | $2.90 |
| Wine | $8-$15 |
Some items, such as eggs, are slightly more expensive in Nashville than the national average, which is $1.54 per dozen. Otherwise, grocery prices in Nashville are relatively inexpensive. If you want to keep monthly food costs to $200-$500, buying groceries and eating at home is your best bet.
Education Cost in Nashville
There are many opportunities for education in Nashville. If you choose public education, you will spend nothing except for the cost of supplies. College education in Nashville can get pricey, however, and costs $5,550 and $16,350 for in and out of state students, respectively.
Community college education is the most cost-effective adult education option for Nashville residents. You can expect to spend as little as $3,936 per year for a 2-year community college education. The national average cost for community college is $3,347, meaning that Nashville is 8% more expensive per year.
Sending your kids to private school in Nashville costs just over $10,000 per year, on average. Private elementary school is slightly cheaper at roughly $9,220, and high school can easily cost $10,000 or more. The most cost-effective private school option costs $2,340 a year and is an elementary school.
Nashville Driving Cost
A car is a major convenience when you traverse the 526 square miles that Nashville is spread across. Luckily, gas only costs $2.05 per gallon, and the national average is $2.16 per gallon. You could spend up to $1,344.80 each year on gasoline in Nashville if you regularly commute to work.
Car insurance is a must, and it can cost you just under $1,600 yearly in Nashville. The number can go up and down based on personal driving history, and it's more than the $1,427 national average.
Public Transportation in Nashville
Not all Nashville residents own a car, and in that case, public transportation is a great and cost-effective choice. A new car can cost between $20,000 and $25,000 in Nashville and used car prices vary. Due to high costs for a car itself, gasoline, maintenance, and repairs, public transportation can be more affordable.
| | |
| --- | --- |
| Nashville Public Transportation | Cost |
| Taxicab | $2.00 Per Mile |
| Train Month Pass | $65 |
| Single Stop Train Ticket | $2.00 |
| Bus Fare | $2.00-$4.00 |
| Bus Week Pass | $20 |
If you plan on riding the train often, the $65 month pass is a great option. You could spend $18-$20 on a taxicab in Nashville easily, but there are rideshare alternatives. Options such as Uber and Lyft have helped many Nashville residents save on cab fares.
For days out the town that you'd rather not drive, consider getting a $4 bus day pass. It could easily save you $14-$16 on cab fares and might be easier than catching a train.
Nashville Flight Prices
The Nashville International Airport conducts up to 450 flights per day, and it is a hub of business travel. Right now, you could fly from St. Louis to Nashville for between $85 and $300 roundtrip. If you wanted to take a trip out of Nashville, you could fly in and out of Orlando for $57-$447.
You could spend roughly $12-$35 per person for a shuttle to the Nashville International Airport. You can choose between 16 different airlines, such as Delta, Southwest, and American Airlines.
Nashville Entertainment
Nashville has a reputation for entertainment that rivals other southern cities, such as New Orleans. After all, Nashville has been known as the Music City since 1950, and it lives up to its name. The bustling and scenic southern city is home to cheap, fancy, and even free entertainment.
| | |
| --- | --- |
| Nashville Entertainment | Cost |
| 2 Movie Tickets | $23 |
| Grand Ole Opry (music venue) | $45-$100 |
| Country Music Hall of Fame and Museum | $24.95 |
| Ryman Auditorium | $75 |
| Tennessee Titans Tickets | $41-$1,581 |
There are also many free things to do in Nashville, and they are worth taking advantage of. You can hear some great music free of charge at the Blue Bird Café nearly every night. Or you can head on down to the historic district and catch live music on the streets or the restaurants.
Another staple of Nashville is Jack Daniels whiskey, and touring the facility is a must. You can tour Jack Daniels and sample yourself some of their offerings for just $17 per person.
---
Related Questions
Is Nashville a safe place to live?
Nashville is considered relatively safe, and areas such as Forest Hills in particular are considered quite safe. Avoid areas such as East Thompson Lane, Opry Mills, and Murfreesboro Pike that Nashville police say are hotspots for crime. There are 42 property crimes per 1,000 people, and 11 violent crimes per 1,000 people in Nashville.
How much does it cost to park at Nashville airport?
Parking at the Nashville International Airport can start out at roughly $12 per day if you choose the economy lot. However, if you choose to valet your car, you could spend up to $34 per day. Leaving your car at Nashville International Airport could cost between $84 and $238 in parking fees.
When does Nashville get snow?
Generally, snow can fall at any time between the months of November and December. The majority of snowfall in Nashville and the rest of Tennessee falls between December and February. Every year, Nashville experiences up to 7" of snowfall during the winter season.
Do You Need to Hire Movers?
Get free, zero-commitment quotes from pro contractors near you.
Summing It Up
The median home value in Nashville, Tennessee is $379,000, and the national average is $231,200. Compared to the rest of Tennessee, Nashville is quite expensive, and the average home costs $164,500 in the rest of the state. You can rent an apartment for an average of $1,428 each month, or you can buy one for $144-$272 per square foot in Nashville.
The very minimum you can spend on food each month in Nashville is $250, but that only applies to eating in. If you choose to eat out, you could easily spend $75 on dinner for two. Other costs to consider are the $1,600 in car insurance that you'll pay, and $160 a month in utilities alone.
You can live comfortably in Nashville if you keep most of your food costs to groceries. Other options such as public transportation can save you hundreds, or even thousands every year. Nashville is a fantastic city, and living there is a great idea, even with all of the costs.

Nick Durante
Nick Durante is a professional writer with a primary focus on home improvement. When he is not writing about home improvement or taking on projects around the house, he likes to read and create art. He is always looking towards the newest trends in home improvement.
More by Nick Durante
Published December 28th, 2020 1:40 PM