659 Views
Coffee Table Dimensions: Layout Guidelines (with Photos)
January 24th, 2022 12:02 PM
Share
We're committed to finding, researching, and recommending the best products. We earn commissions from purchases you make using links in our articles. Learn more here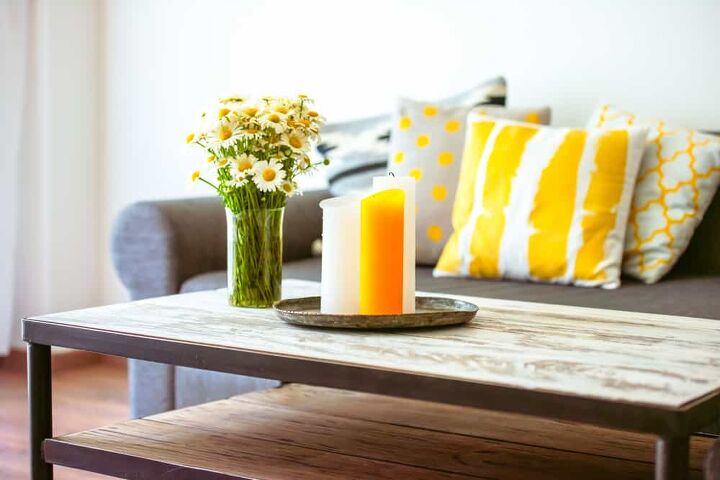 A living room often only feels complete once you have a proper coffee table as your centerpiece. Coffee tables have a variety of uses, like showing off a piece of art or displaying a favorite book. They also often end up as the perfect place to rest your feet.
Average sized coffee tables have a width of 18 to 24 inches and a length between 36 and 48 inches. Ideally, your coffee table should have about 16 inches of space around it. This open area allows for you and your guests to move comfortably around the table.
Choosing the Perfect Coffee Table
A coffee table is the centerpiece of your living room. In fact, nowadays you'd be hard-pressed to find a living room without one. A coffee table should be appropriately sized so that it completes the room but does not overtake it.
Before you purchase your coffee table, identify the ideal table size for your space. Take time to measure and consider these factors: height, placement, and length.
Here are three tips to help you select the perfect coffee table for your living room:
Tip 1: Coffee Table Height
The standard height of a coffee table typically ranges from 16 to 18 inches. The average sofa seat height measures 17 to 18 inches from the floor to the top of the cushion.
Choose a coffee table that is no taller than the same height as the cushions on your couch. Similarly, look for a table that sits no more than one to two inches lower than your sofa cushions.
If the coffee table is higher, the table may overpower the rest of your furniture in the space. If the table is lower, it could cause you to have to reach farther than necessary to touch the table.
Tip 2: Coffee Table Placement
The coffee table should have ample space between it and the couch so you can walk around comfortably. You want to arrange the table in relation to the rest of the furniture in your living room. Allow for 12 to 18 inches of space between the coffee table and the seating around it.
If the coffee table is too close to the other furniture, it could cause several issues. There could be an increased likelihood of spills or even injury from people tripping over the table.
A poorly positioned table can make the room feel cluttered. However, if the coffee table is too far away from other furniture, you might feel reluctant to use it.
Tip 3: Coffee Table Length
When you choose your coffee table, you will want to use your couch as a guide. Choose a coffee table that's roughly two-thirds the length of your sofa. Scale is important, and a coffee table that is too long can obstruct movement around the couch.
Now that you know these three tips, it is time to pick out your coffee table.
Types of Coffee Tables
Coffee tables have come a long way since your mom's basic, rectangular wooden table. Today, you have many options when choosing your coffee table.
Here are six popular coffee table styles to consider. You might choose one of these exact designs or use them as inspiration for similar styles.
Plinth Coffee Table
The plinth coffee table is the perfect table for a minimalist. It was designed by Norm Architects in 2017 and is usually made from marble. This table is perfect not only in modern living rooms but also in offices, reception areas, and galleries.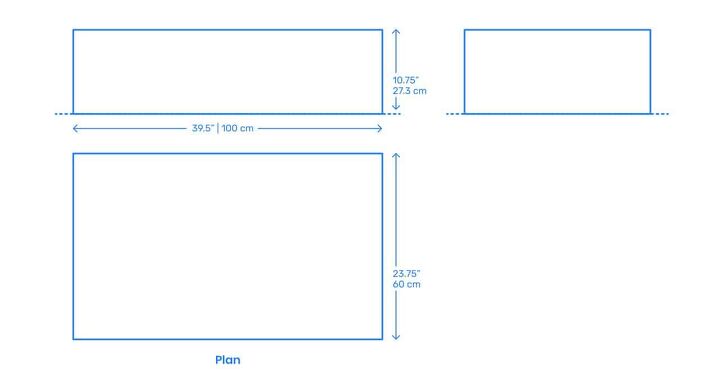 The plinth coffee table has a lower height. It is typically 10.75 inches tall by 39.5 inches long and is 23.75 inches wide. These tables are hollow, but very heavy, weighing upward of 200 pounds.
Tray Coffee Table
The tray coffee table is another great option for a modern living room. Created by Danish designers, they kept architecture as well as fashion in mind when designing this table. This coffee table boasts a metal or wooden base with a removable tray tabletop.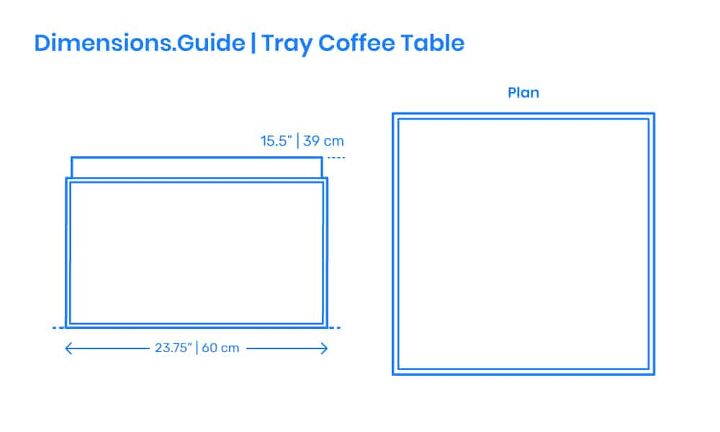 The tray coffee table has an overall height of 15.5 inches and a width of 23.75 inches. Because of the minimalism of this table, you can add character with other pieces of living room furniture.
Lack Coffee Table
The Ikea Lack coffee table is perhaps one of the most recognizable and familiar styles of coffee tables. This coffee table is lightweight and affordable and can go with a variety of living room styles.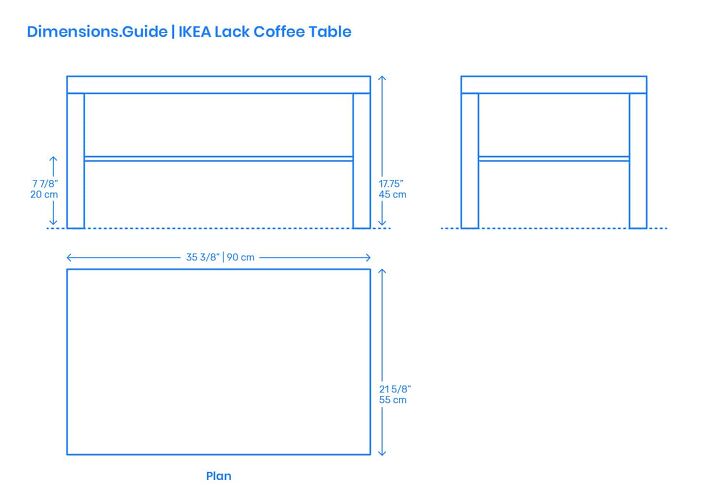 The Lack coffee table goes with most decor and can be dressed up or down. It can be used in the family room of your home or a college dorm. It is also a functional piece, with enough room for storage for various common objects, books, and magazines.
The Lack coffee table has a height of 17 ¾ inches, length of 35 ⅜ inches, and a width of 21 ⅝ inches.
Pocket Coffee Table
The pocket coffee table is perfect for a family living room with a modern touch. This type of table was designed by Lee Mindel in 2016 as a functional and sleek living room item. The table boasts two drawers within its modern frame and is ideal for small spaces where you need extra storage.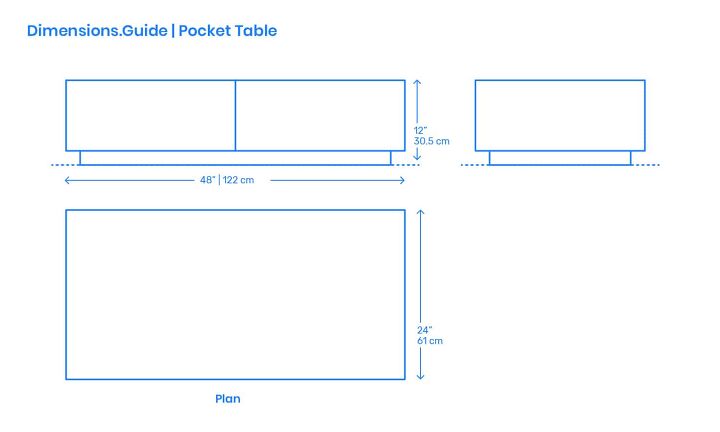 The pocket coffee table has a height of 12 inches, length of 48 inches, and a width of 24 inches. If you are looking for a larger table of this style, you can place two pocket tables together. This combination adds greater size as well as additional storage.
Low Oval Coffee Table
The low oval coffee table was designed by Eero Saarinen in 1956. This was an effort to simplify the legs of the common household table. Amongst designers, this coffee table is considered iconic because of the pedestal base.
This table design complements a variety of living room styles. Because of its round shape, it's perfect for any coffee table decor – magazines, vases, or books. The dimensions of the low oval coffee table are a height of 15.25 inches, length of 42.25 inches, and width of 27.5 inches.
The base and tabletop of the low oval coffee table come in a variety of finishes. The design and available options make this a table that can accommodate any living room.
Eames Coffee Table
The Eames Coffee Table is perfect for the mid-century modern home. It was designed by Charles and Ray Eames in 1949 for use in their Case Study House No. 8. This is a low, functional coffee table that has dowel legs and a wire base.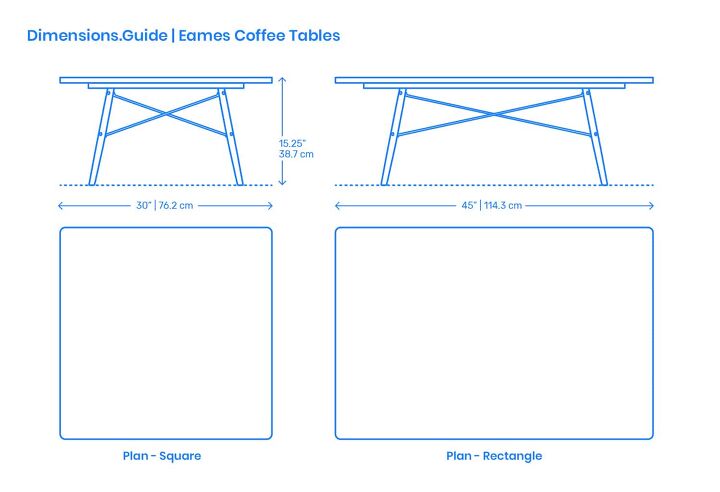 The unique thing about this table is that it comes in a rectangular shape as well as a square shape. The variety of shapes makes it easy to incorporate the coffee table into your style of living room.
The dimensions of this table in the square version has a height of 15.25 inches with a width of 30 inches. The rectangular version has a height of 15.25 inches and a width of 30 inches by 45 inches.
Coffee Table Alternatives
If you decide that a traditional coffee table isn't for you, there are several other options you can choose. Here are four coffee table alternatives that you can add to your space.
Matching Side Tables
Put together two matching side tables as an alternative to a traditional coffee table. You can pull the tables apart when more table space is needed. This is a great alternative for small spaces.
Keep in mind, side tables are often taller than coffee tables. Use the tips discussed earlier to find a lower side table if you are using it as a coffee table.
Ottoman
Ottomans are a great alternative to a traditional coffee table because they have multiple uses. With a tray on top, an ottoman can be used as a coffee table. However, when you take the tray off, the ottoman can be used as extra seating.
Ottomans are also a great addition to any living room because they add a soft touch. Where a room can be cold and hard, an ottoman can add that much-needed plush accent.
Ottomans come in a large variety of shapes and sizes but typically range in height from 13 inches to 20 inches.
Trunk
A vintage style trunk can add so much character to a room in place of a traditional coffee table. If you're short on storage, a trunk is also a perfect way to add that extra needed space.
If you do decide to go with a trunk, be sure to have side tables near. A trunk often has a rounded or curved lid, so placing things on it is not always easy.
Antique trunks will typically be 14 inches in height, 2 feet in width, and 3 feet 8 inches in length. While you may find some bigger or smaller, these are the baggage requirements that ships allowed in the 1800s.
Garden Stools
Garden stools are ceramic cylinders that are very trendy right now. Many people use them in place of traditional coffee tables to add a bit of uniqueness to their space. The stools are versatile and come in a variety of colors that can accent any room.
If you decide to go with garden stools, be sure to get two or three and group them together. The stools are typically 18 inches tall and 13 inches wide. You will need more than one to create a typical coffee table effect.
---
Related Questions
Do my coffee table and side tables have to match?
Coordination is always advised, but they don't have to be from a matching set. It is perfectly acceptable to mix and match sizes, shapes, building materials, and colors. You want to create a look that makes you feel comfortable in your home.
How should I decorate my coffee table?
While your coffee table can house the necessities like television remotes, use the space to represent your style. Dress up your coffee table with your favorite book or vase of fresh flowers.Remember to maintain balance on your table to resist clutter. To keep your coffee table balanced, vary the scale of display items and stack or group similar objects together.Whatever style of coffee table or decor you decide to choose, make sure that it is uniquely you! 

Stacy Randall
Stacy Randall is a wife, mother, and freelance writer from NOLA that has always had a love for DIY projects, home organization, and making spaces beautiful. Together with her husband, she has been spending the last several years lovingly renovating her grandparent's former home, making it their own and learning a lot about life along the way.
More by Stacy Randall
Published October 20th, 2020 7:36 AM