223 Views
Can You Build A Sunroom On An Existing Concrete Patio? (Find Out Now!)
March 2nd, 2022 12:56 PM
Share
We're committed to finding, researching, and recommending the best products. We earn commissions from purchases you make using links in our articles. Learn more here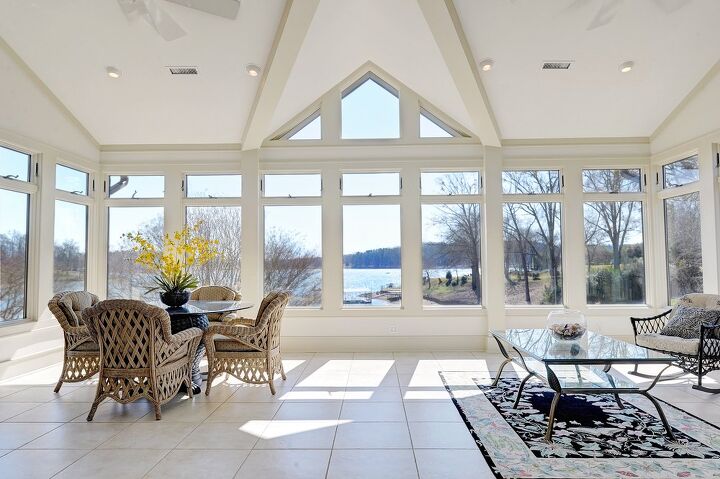 Sunrooms are a great way to add space to your home and bring the outdoors inside. If you are tired of your concrete patio, a sunroom may sound appealing. Can you build a sunroom on an existing concrete patio?
A concrete patio on its own isn't thick enough for the weight of a sunroom. Electrical, HVAC, and plumbing need to be installed in the concrete, and modifications to the concrete are expensive. Add new concrete. Build a wood deck over the concrete for the foundation of your sunroom.
Understanding the construction of a sunroom helps you decide if using an existing concrete patio is the best option.
Do You Need Sunroom or Patio Enclosure Builders?
Get free, zero-commitment quotes from pro contractors near you.
Can I Build on an Existing Concrete Slab?
There are two things to consider when you want to build on an existing concrete slab – height and thickness. Sunrooms and other additions need to be at the same elevation as the rest of your house. The concrete slab needs to be thick enough to hold the weight of the addition.
Depending on the current thickness of the slab, adding more concrete may work. It may bring it level with your home and give it a greater weight capacity. Before you pour new concrete, consider any electrical, plumbing, and HVAC that needs to be laid in the concrete.
What is a Sunroom?
A sunroom is a type of patio enclosure that is made mostly of glass windows for the walls and ceiling. Also known as a solarium, a sunroom allows natural light to flood a space – great for plants. You also enjoy unfettered views of the outdoors.
Sunrooms vs. Enclosed Patios
The primary difference between a sunroom and enclosed patio is the design of the walls and roof. Sunrooms use mostly glass, including the roofline. Typically, sunrooms have roofs that are entirely glass. The purpose of a sunroom is to let in natural light.
An enclosed patio has a normal roof and windows for walls. The windows may be covered in mesh screening. The purpose of an enclosed patio is protection from the elements. Mesh screen is used for enclosed patios for breezes.
Types of Sunrooms
There 3 types of sunrooms to consider for your home. Choosing one option over another depends on how and when you want to use your sunroom.
Four-Seasons Rooms
A four-seasons room is the most expensive option. The room is designed with electrical, heating, and cooling to stay comfortable any time of year. As the name indicates, this is best for climates with four seasons.
Three-Seasons Rooms
Three-seasons rooms don't have the climate controls of four seasons rooms. As such, they are best suited for areas with moderate year-round temperatures. This is also an affordable option for homes where the room is only used during the spring, summer, and fall.
Solariums
Solariums maximize natural light and views. The walls and ceiling are constructed with a frame that holds glass panels. The panels are double-paned for energy efficiency.
How Do You Build a Sunroom on an Existing Patio?
You have two options for building a sunroom on an existing patio. The first option is to modify the concrete. This includes adding new concrete to bring the slab level with the home and increasing the thickness. Before you add concrete, you'll need to remove some of the existing patio for electrical, plumbing, and HVAC.
The second option is to build a wooden deck over the patio. This is the most affordable option. The contractor adds concrete to thicken the slab. This approach requires less concrete than trying to build a sunroom entirely on an existing slab. The deck can be built directly on the slab, or the design can include a crawl space for insulation, electrical, HVAC, and plumbing. Although crawl space foundations for sunrooms are the most expensive options, you save money on utility costs thanks to the insulation.
How Much Does It Cost to Convert a Patio into a Sunroom?
Converting a patio into a sunroom is not a simple job. It takes more than just building a frame with glass. It is, though, more affordable than building an entirely new sunroom. Expect to pay $5,000 to $35,000 to convert your patio to a sunroom.
How Much Does It Cost to Build a Sunroom Without an Existing Foundation?
Three seasons sunrooms cost $80 to $230 per square foot. Four seasons sunrooms cost $200 to $400 per square foot. It costs $10,000 to $90,000 to remove the concrete and build a sunroom from the ground up.
Do Sunrooms Add to Property Value?
You will recoup some of the cost of your sunroom when you sell your home. Buyers love a well-built sunroom that expands the interior space of the home. Studies have shown that sellers see an almost 50% return on their investment. If you spend $50,000 on your sunroom, for example, your property value increases by approximately $25,000. Also consider that, as your property value increases, so too do your property taxes.
Do You Need a Permit to Convert a Patio to a Sunroom?
Permits are needed in most jurisdictions for any type of construction, including converting a patio to a sunroom. This type of project is best handled by a licensed and experienced contractor. The company can navigate the building code requirements, protect against any injuries and damages, and fix any issues with the construction.
Do You Need Sunroom or Patio Enclosure Builders?
Get free, zero-commitment quotes from pro contractors near you.
---
Related Questions
How much does it cost to build a 12×12 sunroom?
The average cost for a 12×12 sunroom is $43,000. The cost may be higher or lower based on the style and design of the sunroom.
Is a sunroom cheaper than an extension?
Yes. A sunroom is cheaper than an extension. They require less framing and fewer specialized contractors. The manufacturer of the sunroom usually does the entire installation.
Conclusion
You can use an existing concrete patio as part of the foundation for your new sunroom. The concrete needs to be thickened and modified for electrical, plumbing, and HVAC. You can also build a wooden deck over an existing concrete patio for your sunroom. Using an existing concrete patio saves you money on the total cost of the sunroom.

Jennifer Eggerton
Jennifer L. Eggerton loves being hands-on, whether it's with a home DIY project, making repairs, re-decorating a room, or keeping life organized. She enjoys helping people by sharing her knowledge, insights, and experiences, as well as her lessons learned. In addition to her work as a writer, Jennifer is a Jeep® overlander, self-published author, and nature photographer who loves being outdoors.
More by Jennifer Eggerton
Published December 1st, 2021 5:02 PM