448 Views
The 7 Best Colors To Paint A House With A Green Roof
September 10th, 2021 3:56 PM
Share
We're committed to finding, researching, and recommending the best products. We earn commissions from purchases you make using links in our articles. Learn more here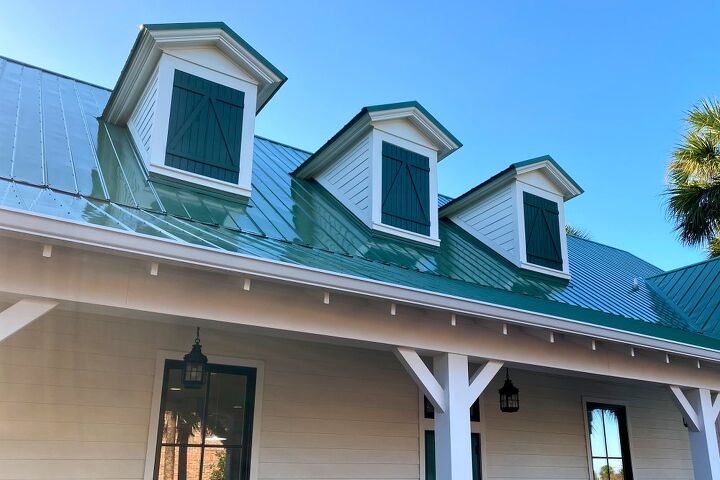 Painting the exterior of your home can completely transform the entire look and feel of your house. A fresh coat of paint can instantly update your home's curb appeal while giving it a cleaner, fresher look. But, choosing the right color is vital, and with a green roof, it's important to consider color choices wisely.
Green isn't a neutral color like gray, brown, or black, so color options for your home's exterior aren't as broad. Typically, the best house colors for a green roof are white, cream, browns, yellows, grays, and shades with red undertones. You can select from various options within these color families to find the perfect match for your green roof.
Ultimately, deciding on a final color for your house's exterior will depend on what overall look you desire. Some color combinations provide a more subtle look, while others offer a strong but charming contrast. If you have a green roof, use the following tips to guide you when you're selecting your exterior paint color.
Do You Need an Interior Decorator?
Get free, zero-commitment quotes from pro contractors near you.
The Top 7 Paint Colors for a House with a Green Roof
While you might not have as many color options as with a black or gray roof, you still have many. Although this is 7 choices, remember, these choices are broad.
What this means is that within each color category, you'll find almost endless possibilities. Each category features a wide range of color shades. So, you still have a lot to think about.
Therefore, start with the main color choices and choose your favorite. Then work within the category to select the best choice for your home.
Other Shades of Green
From a color theory perspective, the same colors tend to go together, giving you a monochromatic look. However, you need to be careful with your choices, so you don't end up with a house that's too blah.
Remember, monochromatic doesn't mean the same exact color; it means shades, hues, and tones of the same color. Therefore, for a dark green roof, you might opt for a light shade of green.
You can add more visual interest by going with a contrasting trim color like white, cream, or burgundy.
Classic White and Off-White
White is a neutral color that tends to go with anything, and you can vary the tone. For a crisp, bright look, go with pure white. But, if you prefer a subtler look, choose an off-white shade.
Pairing white with a green roof offers a classic cottage feel to your home, reminiscent of a charming farmhouse. To keep it classic, go with green or light gray trim and shutters. However, if you want a more dramatic look, try black shutters.
Cream
Very similar to white, you can go with a cream color to offer contrast to your green roof. It provides an overall soft look and can work well in many scenarios.
This color combo looks especially lovely with either matching cream trim or white trim and green shutters.
Browns
Perhaps the reason various shades of brown work well with a green roof is because it's so rustic and distinct. When you think about it, many classic log cabins feature green metal roofs.
So, this feeling can translate to a home with a green roof that features an exterior with brown paint. But, you need to select the right kind of brown. Overly dark brown might come across as too dark and dreary.
Look for browns with yellow or red undertones that make it seem more like stained wood. To break up the color a bit and achieve a slightly more modern look, opt for cream or white trim. For a more rustic feel, go with green trim to match your roof.
Keep in mind, going with this color choice results in a very specific and distinctive look. So, it's essential to ensure you really want more of a rustic feel to your home.
Grays
Various shades of gray can offer anywhere from a soft look to a more dramatic, moody feel. You can select grays that are almost white to achieve a nice contrast with your green roof. These lighter shades will also give your home a more modern feel.
When using light shades with your green roof, keep things soft with trim just a few shades up or down. For a stronger contrast, go with white trim, or opt for dark trim, like dark gray or black for high contrast.
For darker gray, using a white trim really makes the house and the roof pop, and it's a great overall combination.
Yellows
Yellow is a popular and classic choice for a house with a green roof, providing a quaint cottage look. Although overly bright yellow can be a bit offputting, it doesn't have to be pale.
It honestly depends a lot on your home's surroundings and how you break the color up with trim. Green shutters and white trim are great additions to a yellow house with a green roof. If your home is on a lot rich with greenery and trees, a brighter yellow can look fantastic.
Shades of Red
Yes, you can paint your house red, but not necessarily scarlet or crimson. Otherwise, you end up looking like the Christmas house on the block. But, red is green's complement on the color wheel, making it a natural pairing.
So, look for shades that have red undertones like burgundy or maroon. Similar to brown, this pairing will give your home a distinctive look, so make sure it's what you want.
White trim offers a vivid contrast, while darker trim colors like brown can be more subtle. You can also opt for green trim and shutters to keep things a bit more low-key.
Tips for Choosing the Right Paint Color
A big thing to keep in mind before you start changing your home's paint color is exterior painting is a commitment. Sure, you can always repaint, but it's a big job, and ideally, not one you want to redo anytime soon.
Therefore, take your time during the color selection process. Gather swatches and samples, paint some large test swatches on your home, and see how they look. Live with the samples for about a week and observe how they look during the daytime and nighttime.
If certain sides of your home are shadier than others, paint test swatches in both places. If painting your trim and shutters as well, follow the same advice.
Paint test swatches for your home's body and trim combinations next to each other. Many home improvement and paint stores offer color-combination suggestions that could be a good starting point for you.
If a week goes by and you still can't make up your mind, don't settle. Live with it a bit longer, or consider the possibility that you need to find a different color. Don't start painting until you're 100% sold on your color choices.
The Best Paint for Exterior House Painting
There are tons of paint choices available, and it's essential to choose wisely to achieve the best paint job. You want your exterior paint to be durable, long-lasting, and cover well. It's also a good idea to find paints and primers that seal and protect against factors like mold and mildew.
For exterior paint applications, look for exterior paints with the following qualities:
Latex paint stands up better to outdoor elements as it's more flexible and forgiving than oil-based paints.
Mold and mildew resistant
Excellent hide and coverage
Choose a paint that works well with the surface you're painting, i.e., brick, stucco, vinyl siding, etc.
Some great options for exterior paint are Prestige Paint-and-Primer-in-One and Behr Premium Plus Paint-and-Primer-in-One. If you're painting over wood, try Valspar's Duramax Exterior Tintable Paint.
Make Sure to Prime Before You Paint
Unless it's a paint-primer combination, plan to prime before you paint, no matter what paint you choose. If you're painting over dark colors, plan to apply at least two coats of primer.
Prime with at least one coat of standard primer before using a paint-and-primer-in-one. This is solely to save you money since paint-primer combinations are typically costlier than traditional primers.
Priming before you paint ensures a longer-lasting, more durable paint job. It provides better adhesion, evens out the surface for painting, and prevents cracking and peeling.
Do You Need an Interior Decorator?
Get free, zero-commitment quotes from pro contractors near you.
---
Related Questions
What's the average cost to have the exterior of your house painted?
You can expect to pay between $1,777 and $4,320 for exterior house painting. Of course, a lot depends on the condition of your home, which determines how much prep work is needed. Another significant factor is the size of your home, how many stories it is, and details and features. The average cost of an exterior paint job is about $3,048. The rough cost per square foot is anywhere from $0.50 to $3.50. It's best to get several estimates before hiring and figure out things like timeline and schedule.
How do you use a color wheel for choosing paint colors?
If you need more of a visual when you're selecting colors, aside from swatches, grab a color wheel. You can find them at paint stores and art supply stores. Color wheels show how various colors work together. You can try out different ideas to find suitable combinations, depending on what mood you're going for. For example, for a softer, calmer look, you would choose analogous colors. These are colors that are next to each other on the color wheel.For a more contrasting, dramatic look, opt for complementary colors, which are opposite each other on the color wheel. For something slightly less dramatic, use split-complements. These are the colors on either side of a color's complementary color.Using a color wheel is a great way to narrow down your color options before heading to the paint store.

Stacy Randall
Stacy Randall is a wife, mother, and freelance writer from NOLA that has always had a love for DIY projects, home organization, and making spaces beautiful. Together with her husband, she has been spending the last several years lovingly renovating her grandparent's former home, making it their own and learning a lot about life along the way.
More by Stacy Randall
Published August 22nd, 2021 12:19 PM