16 Views
August 27th, 2021 7:25 PM
Share
We're committed to finding, researching, and recommending the best products. We earn commissions from purchases you make using links in our articles. Learn more here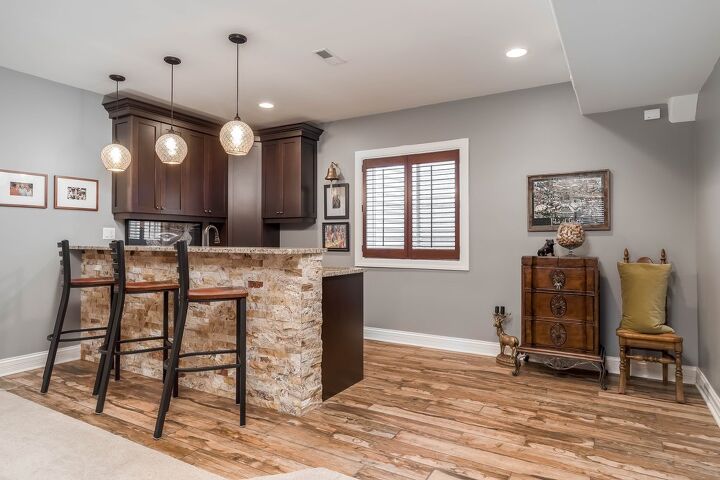 Back in the 1970s, the wet bar was very cool. They had mirrors, a sink, and all kinds of fancy lights and shiny chrome accents. The difference between a wet bar and a dry bar just being the sink, are they still popular in households today?
You may not see as many wet bars in the home, but you are likely to find them elsewhere, like the man cave, she shed, or even the backyard. Although there are still some wet bars in the basement, they are just not as popular indoors as they used to be.
Do You Need an Interior Decorator?
Get free, zero-commitment quotes from pro contractors near you.
Why Aren't They Popular Anymore?
The reason that they are not as popular? Because people are not entertaining in the house anymore. They have the man cave or she shed to hang out in so the house is for family time.
Another reason why the wet bar is not as popular? People are not drinking as much as they used to. And those who do enjoy a drink or two really do not want to announce it in the middle of their living room. Health and fitness have become a more popular choice.
You are more likely to find a gym or workout room in a newer home than you would be to find a bar, either wet or dry. Some have turned their wet bar into a mini kitchen with healthy snacks, juices, and smoothies.
Why Were They Popular in the First Place?
The wet bar became popular because people were entertaining in areas of the house that were far from the kitchen sink, making it hard to clean a glass to fix another drink. Who wants to run up the stairs every time to wash out their glass and get another drink?
Do you entertain guests or enjoy drinks in another part of the house that is too far from the kitchen to make it feasible? A simple wet bar with a few bottles of your favorite liquor would be perfect in whatever area you happen to entertain in the most.
Helpful Tip:
A wet bar or snack area with a mini-fridge is the perfect place to store drinks so you can have room in your refrigerator for food.
Why Not Just Hit the Club?
In the basement or den of older homes, you may still find a pool table, stereo system, lots of seating, and a wet bar. That is just how people entertained rather than going out to the bar or night club. Today, clubs and bars have become a more popular option.
What's more, many who go to the bar do not even drink alcohol. They just go to enjoy the friends and the atmosphere. Being around a group of friends enjoying themselves with music and maybe a little dancing has become trendy with at least one person being the designated driver.
Ideas for Existing Wet Bars
If you have a wet bar in your home that you just really do not like, there are plenty of DIY options for changing it into something else. Of course, what you choose to turn it into will depend on your personal likes and dislikes.
Mini Kitchen
You may not need a bar with all the liquor and glasses, but how about adding another kitchen space? A small bar can be an under-counter mini-fridge for juice and other beverages with a cabinet on top for snacks, glasses, and other items you may need for a small snack or beverage.
Wine Bar
Not having a wet bar does not mean that you cannot have a space there for alcohol. If you are a wine lover, why not make a place to store and show off your collection? You can keep the sink for washing wine glasses and install a small refrigerator under the counter for wine coolers and ice storage.
Hang a fancy light or built-in can lighting to accent the space and show off your wine even better. Add some under cabinet stemware racks for the glasses and a backsplash to brighten things up.
Coffee Cart
Coffee has become the new most popular drink. But you do not have to spend all your money and time at Starbucks. Turn your wet bar into a coffee bar.
Install cabinets for coffee and supplies like creamer, sugar, and of course, coffee cups. Better yet, install hooks on the walls where you can hang your best coffee cups and maybe a towel.
Computer Center
Yes, you can get rid of the sink and turn the space into a computer center with a desk, computer, printer, and whatever else you need. If you think you may change your mind on down the road about the sink, just cap it off and cover it with a countertop for your computer.
This is perfect for those who work from home. Many people have started working from home now. And if you have a wet bar that nobody uses, turn it into a workspace you can use every day.
Curio Cabinet
Do you have a collection of something special that you would like to display? Whether it is a set of china, antiques, or rare dolls, you can display anything in a nice curio cabinet.
And having it built into your wall where the wet bar was is perfect. Leave the plumbing and cap it off or remove it all and start from scratch. Whatever you choose to do.
Entertainment Center
If you enjoy watching movies or like to binge on Netflix or other series, why not make your wet bar into an entertainment center. Hang up a big-screen television and add whatever else you need to a modern shelf system.
Add some built-in wall speakers for surround sound and leave room for your DVD collection. You can remove the plumbing or leave it and just cap it off in case you change your mind later on.
Bookshelves
For those who still enjoy a good book rather than an eReader, why not turn your wet bar into a bookshelf to fill with a big selection of books you enjoy. Even if you do not read much, being able to have a place to display your book collection is great.
And you can fill your bookshelves with more than just books. Add some nice modern art or photos of the family. Put in some lighting to brighten things up and it will look perfect.
Modern Wet Bar
If you like the idea of a wet bar but just want it updated, there are plenty of ways to modernize the space. Remove all of the dark wood and mirrors for a lighter and brighter space with white tiles and granite countertops.
Install a mini-fridge for your beverages and snacks that need to stay chilled and some suspended shelving for the bottles of your best liquors. Make sure there is plenty of lighting and space.
Man Caves and She Sheds
Almost any room in the house (or in the garage or shed) can be renovated into a man cave or she-shed where a wet bar would be perfect. Just update it with modern seating, granite or glass top, and plenty of light.
Depending on what you want, you can leave the wet bar as it is and just do a bit of redecorating to the rest of the room. Try some old-style deco with retro furniture and lamps. How about a few bean bag chairs and a black light?.
Do You Need an Interior Decorator?
Get free, zero-commitment quotes from pro contractors near you.
The Bottom Line
Okay, maybe the black light and beanbag chairs are too much. But there are so many ideas that you can do just about anything you can think of. If you are needing some ideas, check out some of our DIY articles that may have something that appeals to you.

Patricia Oelze
I am a DIYer who loves writing about anything home-related. When I am not writing, you can find me studying for my PhD in Psychology, photographing nature, and swimming at the lake with my grandkids.
More by Patricia Oelze
Published July 24th, 2020 4:37 AM