1 View
What Is A Wet Bar In A Home? (Find Out Now… Cheers!)
April 19th, 2021 4:04 PM
Share
We're committed to finding, researching, and recommending the best products. We earn commissions from purchases you make using links in our articles. Learn more here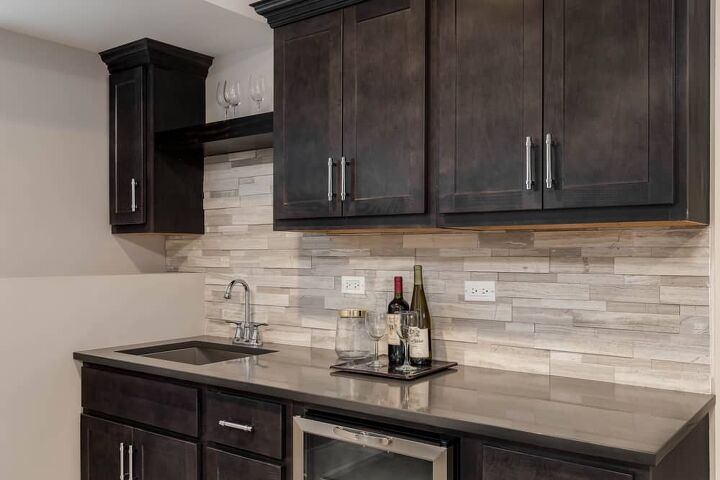 Elevating your home's entertainment capabilities can be done in a number of ways. Adding some new appliances and/or redesigning some rooms stand out as great ideas. Another thing worth considering is the potential addition of a home bar.
Capping off the long work week with drinks enjoyed in the company of friends would be fantastic. One can argue that having that experience at home would be even better. Look into building your own wet bar if you want to serve alcoholic beverages conveniently inside your home.
The wet bar is comprised of a small counter, some storage space, and a sink with running water. The counter space allows you to serve drinks while the storage area can be used for appliances, bottles, and glasses. The wet bar's distinguishing feature is the sink which allows homeowners to clean up quickly and conveniently.
In search of ways to make your home more suitable for entertaining, don't overlook how helpful a wet bar can be. See if a wet bar makes sense as an addition to your home by continuing with this article.
Do You Need an Interior Decorator?
Get free, zero-commitment quotes from pro contractors near you.
Defining the Wet Bar
Have you ever considered building your own home bar before? It's certainly a tempting proposition given the benefits of having a home bar.
That home bar can turn a previously underutilized space into one you occupy frequently. When you have guests over, they can gather around the bar and relax better there. Home bars also prevent your guests from causing a mess in other parts of your home.
While pondering the possibility of building your own home bar, you should take some time to learn about wet bars. There's a good chance they could be the better choice for your home.
A wet bar is pretty similar to a conventional home bar. You have an extended counter for your guests and for serving drinks. Bar stools are also nearby for them to use. Sometimes built into the wet bar is a small area for a mini-refrigerator. The small area can be used to hold liquor bottles and glasses. In some designs, the storage area is separated from the bar as opposed to being built into it.
Those features are commonly found in all kinds of home bars. What makes the wet bar different from a regular bar is the presence of the sink with running water. Instead of having to go to the kitchen to clean up, you can start washing the glasses right at the bar. You can even clean while the party is happening.
The presence of the wet bar also means you don't have to stock as many glasses in your new entertainment area. You can just wash the dirty glasses and continue serving your guests.
The Design of Your Wet Bar
Few restrictions are placed on designing your own wet bar. As long as the sink, counter, and storage area are all present, what you have will qualify as a home bar.
Since there are no restrictions in your own way, you should take the time to look at the different design possibilities. Detailed below are the different areas of emphasis to consider when you're designing your wet bar.
Materials Used
The materials you choose for your wet bar will have a significant impact on its performance. The importance of choosing wisely cannot be overstated.
Many homeowners go with stainless steel for their wet bar. The reason why is obvious. Stainless steel surfaces are durable and easy-to-clean, thus making them perfect for a bar counter.
If you don't like the look of stainless steel and would prefer something more traditional, wood remains an option. Just make sure that the wood is treated before being installed. Untreated wood can be damaged quickly if it's used.
Those who want to splurge on their new wet bar can also opt to install a marble bar counter. Marble counters make an instant impression and they will undoubtedly elevate your new home bar.
Staining can be an issue with marble counters though. You need to be diligent with care if you want them to remain in good condition. The price of marble may also give you a reason to reconsider.
Size
Most home bars are on the smaller side. Even wet bars don't take up a lot of space. Still, you have a choice to make when it comes to your wet bar. You can either keep it compact with only the essential features included or make it bigger to create more storage space.
Keeping the wet bar small may be a necessity if you have a limited amount of space to work with. Some wet bars don't even have the space for bar stools.
Upsizing can be the better option if you want to keep all your bar essentials in one place. You can carve out space for a mini-refrigerator, your liquor bottles, and a collection of glasses in a bigger bar.
Placement
The wet bar can be installed in different parts of your home. A lot of homeowners prefer installing the wet bar in the basement.
Installing the wet bar in the basement is a great idea especially if that part of your home is underutilized. The basement wet bar is out of the way also makes it more appealing. Perhaps you want to keep the bar and the party near your living room. You can do that by converting a part of your kitchen into a wet bar.
Limited space does not have to deter you from building a wet bar. A kitchen cabinet can be repurposed into a miniature wet bar after the addition of the sink.
Homeowners can also build their wet bar outside. You can blow out the design of your wet bar there given the abundance of available space.
Wet Bar vs. Dry Bar
Building a wet bar is not your only option if you want to create your own drinking space at home. You can also go with a dry bar as your new entertainment addition.
Dry bars are pretty similar to their wet counterparts. The main difference is that dry bars don't come with a sink that can be used for easy cleaning. So, should you go with a wet or dry bar inside your home? Consider the points below before making a decision.
Convenience
A wet bar is simply more convenient to maintain compared to a dry bar. Once the party's over, you can pick up the glasses and clean them right away. You may have to make trips back and forth to your kitchen while cleaning up a dry bar.
Cost
Cost is always an important consideration whenever you're adding something to your home. With that in mind, you should know that dry bars are typically more affordable than wet bars. That should come as no surprise given that plumbing is no longer required.
Space Requirements
You don't need plenty of space to build a wet bar, but they still require more than a typical dry bar. If space is truly hard to come by inside your home, the dry bar may be your only option.
Entertainment Possibilities
Wet bars allow you to do more when it comes to entertaining guests. Feel free to experiment with more drinks because cleaning up is easier. Those who have long been interested in mixology may be well served to build their own wet bar at home.
Wet Bar vs. Kitchenette
Comparisons are also often made between wet bars and kitchenettes. That's likely due to both additions requiring dedicated plumbing.
The difference between the two is that wet bars are more about providing space for entertaining and serving drinks. The counter space is pretty important for a wet bar because it helps with both preparing and serving the drinks requested.
On the other hand, kitchenettes place more importance on providing space for cooking. They must have space for a stovetop at the very least. Often, kitchenettes also reserve space for important kitchen appliances.
The wet bar and kitchenette are different enough that you should be able to identify which one you need. Choose whichever addition works better inside your home.
Do You Need an Interior Decorator?
Get free, zero-commitment quotes from pro contractors near you.
---
Related Questions
How Much Will It Cost to Build a Wet Bar?
The wet bar is not a minor addition to your home. Be prepared to make a significant investment if you want one.If you need to add plumbing in order to accommodate the wet bar, that will cost around $400 to $2000. Adding plumbing to your basement could cost at least $1000 and easily go up to $4000 or $5000. The sink is going to tack on about $300 to $600 more to the price tag.Keep in mind that those are just the plumbing installations. You also have to consider the additional counters and bar stools if you want them. Don't be surprised if the estimate for your new wet bar settles at around $6000. It could easily exceed that number as well.
Will Building a Wet Bar Increase Home Value?
Yes, an addition such as a wet bar will definitely have a positive impact on home value. Wet bars are not commonly found in homes. Some buyers may appreciate the inclusion of such a feature.Even if the buyer does not like the wet bar, that part of the home can still be converted easily. After some minor modifications, a wet bar can be turned into a dry bar or perhaps a kitchenette.
Are Wet Bars Still Considered Fashionable?
Wet bars are not as popular as they used to be because other emerging trends have made them less useful. For instance, building a wet bar doesn't make a ton of sense if you already have an open kitchen.However, the wet bar can still be a fashionable addition if it's not a superfluous part of your home. The retro feel of it may even appeal to some buyers.

Gary Evans
Gary Evans is passionate about home improvement. He loves finding out how to make improvements in the easiest, most practical, and most affordable ways. Upgrading his home kitchen is one of his ongoing hobbies. Gary is also a long-time content creator and enjoys spending his free time tending to his hydroponic vegetable garden.
More by Gary Evans
Published March 9th, 2021 8:09 AM