45 Views
Are Walkout Basements More Expensive To Build?
November 11th, 2021 12:31 AM
Share
We're committed to finding, researching, and recommending the best products. We earn commissions from purchases you make using links in our articles. Learn more here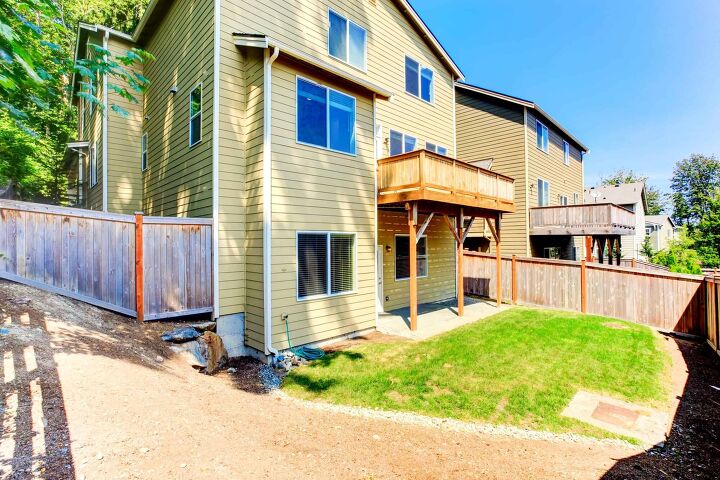 Basements don't always have to be the dingy, dark places that you see in horror movies. If appropriately designed, they can be handy spaces for many purposes, like hosting movie nights, hosting a personal video arcade, or watching Super Bowl with your friends.
Homeowners usually get to choose between walkout basements, walk-up basements, and part basements.
Walkout basements are more expensive to build because they have full-size windows and doors, making them feel like an above-ground living space. These basements typically cost about $20,000 to build, while a basic basement costs between $8,000 to $12,000. You may also have to pay more taxes if your house has one.
The design possibilities are endless – so it's up to you to decide what type of basement arrangement you want for your home. Let's explore the walkout basements in further detail.
Do You Need Basement Remodeling Services?
Get free, zero-commitment quotes from pro contractors near you.
What Is A Walkout Basement?
A walkout basement, also known as a daylight basement, has an entrance wall that opens at the ground level. Walkout basements are built on properties with a gradual slope from one side to the other. The convention is for the basement to face the rear so it opens into the backyard.
You can even incorporate a separate entrance to the house through the walkout basement or include a garage under the sloped area of the house.
Walkout Basements vs. Other Basements – Cost Comparison
A walkout basement will definitely cost you more than a regular basement. For starters, you'll need to spend money on excavation, soil surveying, and building retainer walls in the construction phase. No other type of basement construction mandates these expenses.
As mentioned earlier, you will need to install larger windows and glass doors on the walkout wall of your basement. You might even like to build a patio on the entrance.
A walkout basement will cost you roughly $20k or more, compared to a regular basement. But for most people who have chosen this option, the additional cost is well worth it. They have gotten back more in land value, rent, and comfort than they invested.
Walkout Basement Construction
Generally, basements are designed with a footing and foundation like typical houses except that the structure that supports the house is below the basement. The foundation walls typically form the interior walls of the basement, and the basement is completed as a living space.
A walkout basement is built on the slopey side of the house, so that one side of the basement is at grade level, allowing a door to open to the outside.
The footing is supposed to be lower than the frost line, and deeper on the walkout side than typical below-grade construction. It's no wonder that walkout basements present challenges different to general basements or regular below-ground living spaces.
In case there are steep slopes near the house, retaining walls must be added to resist the pressure of the soil and erosion due to rain. The slope and soil variation can put stress on the foundation, as the upper and lower parts of the foundation settle at different rates.
If you want to know more about basement construction and permits, click here.
Soil And Moisture
Walkout basements are discouraged in areas with expansive clay soils that shrink and swell with water changes. Such soils form deep cracks in drier periods and swell up in wetter periods. All of this can negatively affect the foundation of the building.
Another issue is moisture seeping in from the soil into the concrete and weakening the structure. You may need retaining walls to prevent this. In case the soil is unsuitable, importing the right kind can also increase your cost of construction significantly.
Slope
The good thing about walkout basements is that moderate and even steep slopes can be incorporated if other conditions are suitable. Typically, with steeper slopes, the cost of construction is less since it is easier to maintain a ground-level opening. But the soil must be viable.
It is costlier to construct a walkout basement with a gradual slope. You may need to do more excavation for it to open up at the ground level.
Before constructing a walkout basement, you must get a soil composition survey conducted through a professional. Get complete slope dimensions, and the degree of slope measured using the necessary parameters and instruments. It is best to consult an experienced geo-surveying team for this endeavor.
Even though the basement floor is at the soil level, it must have a proper footing below the frost line. The slope of the finished soil grade should be downhill from the house to allow water to flow away from the foundation.
For a walkout basement, construction should take place on a half-excavated hillside, with the level ground at the hilltop and the entrance point of the walkout basement. Ideally, the slope for a walkout basement is a gradual slope from the front to the back of the lot. At a minimum, the slope should be seven to eight feet in declination from front to back.
Advantages Of A Walkout Basement
A walkout basement will do wonders for your property, from increasing the value, giving you added storage space, and raising the aesthetic of your home. A walkout basement is one of the most sought-after types of basements in the United States. Here are several reasons why:
Added Space
A walkout basement adds extra square footage to your house, as opposed to a regular basement. For a living space to be counted in the total area, it must have an entry and exit access point.
You can choose to keep your basement as one large open room, or you can turn it into a full house unit by adding in bedrooms and bathrooms. Adding more rooms will allow you to rent it out as a separate portion, with a separate entrance.
A walkout basement will also increase your house value because of the added square footage and the option of renting out while having separate entrances.
Additional Lighting
Compared to a conventional basement, like a walk-up basement, a walkout basement will let in much more natural light. As one side of the basement is ground level and unobscured by the surrounding soil, much more light can enter.
You have the option of adding full-length windows and glass doors to the entrance wall of the walkout basement to maximize natural light. On the other side, you can use artificial lighting. A walkout basement will feel much more like a typical floor of your house than a regular basement.
Find out more about the best lighting options for basements here.
Easier Accessibility
An additional entrance means it is much easier to access the basement. Walkout basements are ideal for people living in basements. Teens, guests, or renters living in the basement can enter or exit the basement at odd hours without disturbing the rest of the household.
A walkout basement is also ideal for emergency situations like a fire, where you can escape through the new entrance unhindered.
Disadvantages Of A Walkout Basement
Let's consider some factors that may discourage you from building a walkout basement:
Cost
The biggest disadvantage of a walkout basement is the additional cost it incurs. You will have to spend quite a lot on excavation, which you might be able to avoid with a regular basement.
If the gradient of your slope is low, you will have to get land excavated for a proper entrance. You will have to dole out money on retaining walls to keep out moisture and prevent erosion.
The added square footage will mean you will have to pay higher property taxes. If you don't plan to sell the house, the additional value of the added square footage will not benefit you. At the same time, the raised property tax will affect you financially.
Feasibility
Another disadvantage of a walkout basement is that it is not always possible to pull it off. Only specific properties can accommodate these basements, where the land is sloping downwards at the back of the house. It will not be feasible on properties with flat land unless you go for heavy excavation.
As a property owner, you will need to keep in mind zoning restrictions and city codes while constructing a walkout basement.
Do You Need Basement Remodeling Services?
Get free, zero-commitment quotes from pro contractors near you.
---
Related Questions
How Big A Slope Do You Need For A Walkout Basement?
You need approximately a 7-foot change in elevation, from the front to the back of the house.Any higher than that, and you will need retainer walls for containment and will be highly expensive.
Can You Build A House With A Basement On A Flat Lot?
If you have to build a basement on a piece of flat land, it is wise to hire a professional subcontractor to deal with waterproofing and drainage issues.
What Does Level Lot Mean?
A level lot is a piece of land with a smaller slope. Remember, you need a 7 feet slope for a walkout condition.

Ian Haynes
Ian Haynes is a digital marketing specialist and has successfully written hundreds of home improvement guides. Outside of his work, Ian likes fixing old bikes and exploring Brooklyn with his Labrador.
More by Ian Haynes
Published September 21st, 2020 10:13 AM