420 Views
7 Alternatives to Polyurethane (Cheap, Natural & Sustainable)
April 18th, 2022 1:52 PM
Share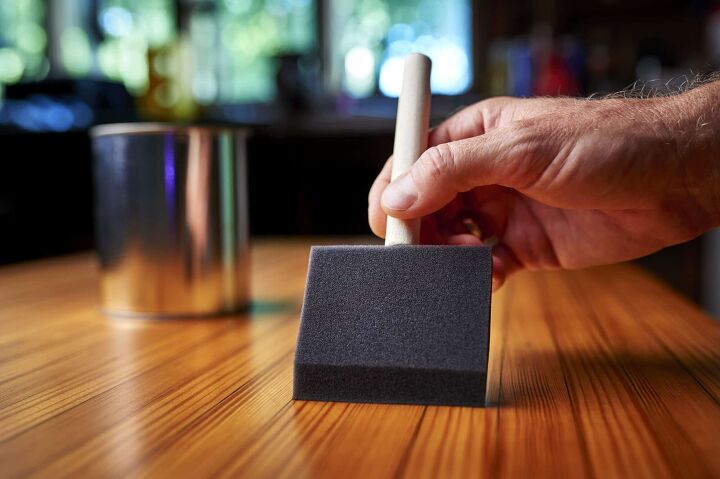 Homeowners and professionals use polyurethane to finish furniture and flooring all the time. However, it is dangerous to breathe in polyurethane as it is toxic which rightfully scares many homeowners. So, what are the best alternatives to polyurethane?
Tung oil, linseed oil, candelilla wax, and shellac are the best alternatives to polyurethane. You can also use varnish, lacquer, and AFM Safecoat as an alternative to polyurethane. Alternatives like tung oil have a quick dry time and less dangerous than polyurethane.
You can use any of these alternatives to polyurethane to finish wood surfaces. Polyurethane is useful, but you may put yourself at risk if you use it. Follow along as we explore the best alternatives to polyurethane.
7 Alternatives to Polyurethane
1. Tung Oil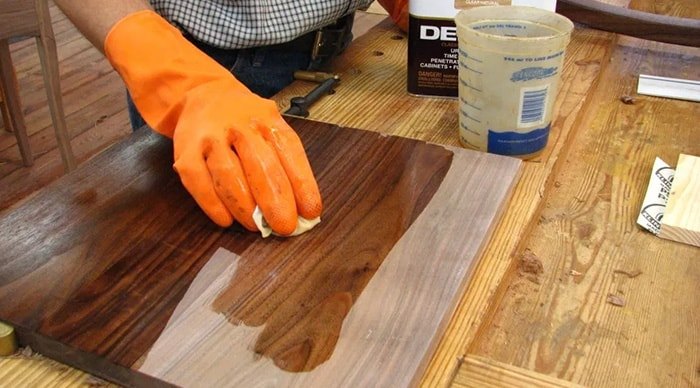 Tung oil comes from a tree of the same name, and it is the best alternative to polyurethane. The main benefit of tung oil as a finish is that it can enhance the appearance of wood. This polyurethane alternative is natural, environmentally friendly, and easy to apply.
It takes up to 48 hours for tung oil to dry while it soaks into the wood. You won't have to worry about a strong odor with tung oil, and it's barely noticeable. Apply 7 coats of tung oil to a wood surface to ensure that it is waterproof.
You can simply rub tung oil onto a surface instead of brushing it on like polyurethane. Make sure to touch up wood surfaces with tung oil once per year to retain the attractive finish. A quart of tung oil generally costs $22 from stores like Home Depot.
2. Linseed Oil
Linseed oil is another natural alternative to polyurethane that comes from flax seeds. Homeowners often choose linseed oil because it can increase the durability of hardwood surfaces. That is because linseed oil can protect wood floors from moisture and sunlight which can both cause damage.
One of the most popular linseed oil products is Bioshield Hard Oil which contains tung oil and linseed oil. This provides the benefits of both linseed and tung oil that produces a waterproof barrier. Another great option is Eco-House Hardwood Floor Oil which contains linseed oil among other vegetable derivatives.
Eco-House Hardwood Floor Oil is a great option because it is non-toxic and dries within 3 days. Reapply linseed oil to wood surfaces every 2-3 years to protect from water damage.
3. Candelilla Wax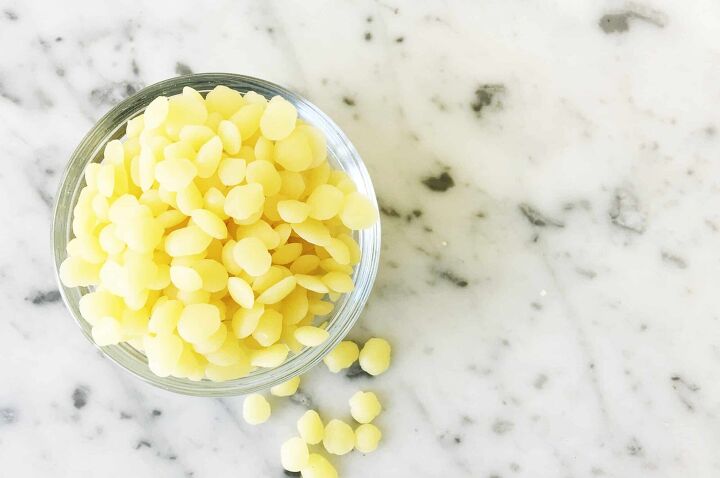 Candelilla wax comes from a shrub that you can find in Northern Mexico. However, farmers all over harvest candelilla wax because of its popularity as a polyurethane alternative. Candelilla wax is just as common in fishing floors as it is in beauty products in place of beeswax.
You can use candelilla wax to seal or wax your floors. However, many homeowners simply use it to wax floors because it isn't quite as durable as linseed oil or tung oil. You won't find candelilla wax in commercial sealant products, and you have to prepare it yourself.
Purchase candelilla wax beads and mix them with unscented baby oil and essential oils. Melt the wax beads and apply the wax to the wood surface with a clean cloth. Be careful not to use too much candelilla wax or it will appear uneven and won't dry properly.
4. Shellac
Although shellac may not be something that is commonly used as a wood finish, it is a natural product. It is a resin that comes from the female lac bug, found in the forests of Thailand and India. Its natural origins make it a safer, non-toxic alternative to polyurethane. When sold as a commercial product, the shellac is combined with a solvent, like alcohol. Once dried and hardened, shellac is completely safe. In addition to providing a protective coating to wood surfaces, it adds a lovely warm, amber color to the wood.
The major drawback to shellac as a wood finish is that it is negatively affected by heat or chemicals. White rings will form when a hot mug or bowl is placed on the surface. With that said, shellac may not be the ideal choice to use on a kitchen table or other furniture item that will be exposed to heat or chemicals. Some shellac manufacturers recommend using it as a protective coating for items that are not wood. Regardless, apply the product with either a cotton rage or a bristle brush.
Shellac can be found at most home improvement centers as a liquid in a can. It also comes in flakes or a solid form that has to be dissolved and tends to have a shorter shelf life than other options. Therefore, the liquid shellac is ideal for the average DIY homeowner.
5. Varnish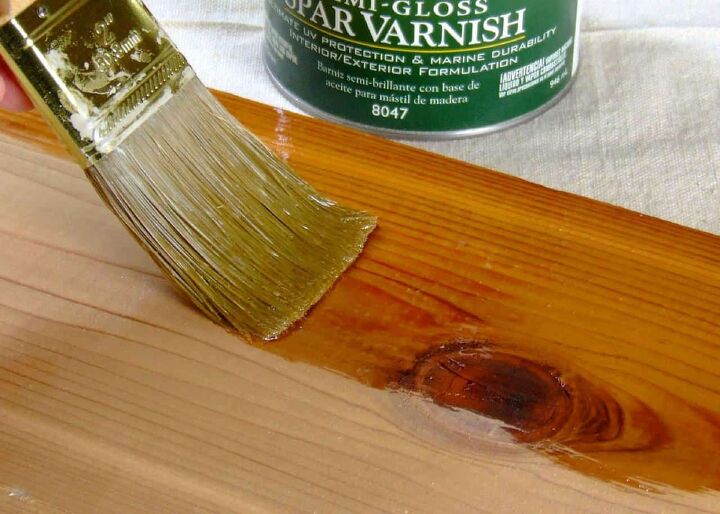 Varnish is a common polyurethane alternative that you can use as a topcoat or finish. The main benefit of varnish is that it contains many solids that make it durable. This is important because a good wood finish should be as protective as it is visually appealing.
You can protect your wood surfaces from sunlight and water damage with varnish. The only downside to varnish is that it isn't ideal for indoor use. Even still, you can use varnish outdoors to finish a wooden deck or shed.
There are varnish preparations that are meant for indoor use, however. Outdoor and indoor varnishes vary based on the ratio of resin and curing oil. Make sure to apply varnish to a surface when the humidity is low or else it won't adhere to the surface well.
6. Lacquer
Choose lacquer as a polyurethane alternative if you want a glossy finish. Glossy finishes are popular for wooden surfaces, and lacquer provides that as well as durability. Lacquer can protect wood surfaces from moisture damage and ultimately wood rot.
It is easy to apply lacquer to a surface, and you can do so with a sprayer. You can only safely apply lacquer if you do so in a ventilated space or outdoors. Lacquer is unsafe to apply in a cramped area without ventilation, and you should wear a mask.
It can be difficult to apply lacquer evenly unless you use a high volume, low-pressure sprayer. Lacquer is worth the trouble if you want a smooth, shiny, and glossy finish without using polyurethane.
7. AFM Safecoat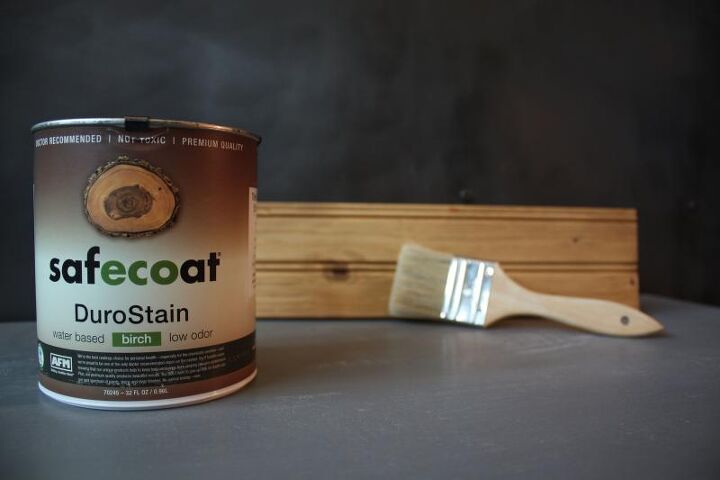 AFM Safecoat is a manufacturer that advertises itself as being the "leading provider of environmentally responsible, sustainable and non-polluting paints, stains, wood finishes, sealers and related green building products." If you're looking for a safe, durable finish that not only boosts the color but also the feel of your wood surfaces, AFM Safecoat has a number of products to choose from.
DIYers and woodworkers who desire a low-odor, low-toxicity alternative to oil-based polyurethane will love their AFM PolyureSeal BP. It is a water-based clear wood finish that can be used on either raw wood or formerly finished wood surfaces, like floors, cabinetry, or furniture. Like varnish, the product has a high solids content which lends itself to its durability. It doesn't contain any solvents or other toxic ingredients that are found in conventional poly formulations.
For the lacquer lovers, their AFM Acrylacq product is a water-based, clear acrylic, and solvent-free alternative to traditional lacquer. It's ready to use and also extremely versatile. Both products come in gloss or satin sheens. Finally, the company manufactures a penetrating oil finish called AFM Naturals Oil Wax for those who want that look that is as close to the wood grain as possible. It is formulated using natural waxes, organically sourced plant oils, and a safer solvent known as isoaliphate to create a water-resistant, durable, and breathable finish and sealer.
---
Related Questions
Is polyurethane toxic after it dries?
Polyurethane is typically safe after you allow it to dry. However, it can release harmful chemicals in the air before it dries. This process is known as off-gassing. How long the off-gassing lasts depends on the particular product you use, and the humidity, temperature, and ventilation conditions of the room it's applied. In fact, off-gassing can occur for a few days or even months.
Is it safe to stay in a house after polyurethane has been applied?
It's recommended to stay out of your home for a minimum of two days after your hardwood floors have been finished with polyurethane. However, it's better to stay out for at least five days, as the off-gassing process is still occurring and should not be breathed in.
How long does tung oil take to cure?
Pure tung oil, when applied as a wood finish, takes between two and three days to dry completely. It's a relatively quick drying process but you can speed it up even more if the environment where the tung oil dries is warm and has low humidity. However, curing is a process that is going to take exactly how long it takes. In other words, you may be able to speed up drying, but you cannot speed up curing.
More Related Guides

Jessica Stone
Jessica considers herself a home improvement and design enthusiast. She grew up surrounded by constant home improvement projects and owes most of what she knows to helping her dad renovate her childhood home. Being a Los Angeles resident, Jessica spends a lot of her time looking for her next DIY project and sharing her love for home design.
More by Jessica Stone
Published March 25th, 2021 9:24 PM