590 Views
2×6 Vs. 5/4 Decking (Here Are The Differences)
October 7th, 2021 12:57 PM
Share
Building and resurfacing a deck comes with many options, and homeowners are often torn between 2×6 and 5/4 boards. You can save money with 2×6 decking boards, but 5/4 boards are generally the most popular choice. Luckily, both sizes are unique in style, sturdiness, and price, so let's explore the difference between 2×6 and 5/4 decking boards.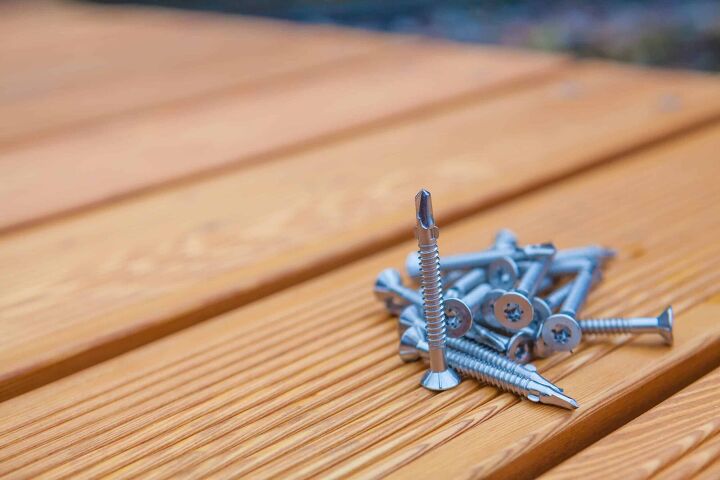 Are you planning on building or resurfacing a deck but are unsure about what deck board dimensions will work best for your project? More specifically, are you unsure whether to go with 2×6 or 5/4 decking?
Constructing a deck is an excellent way to establish your outdoor living space and extend the enjoyment and overall use of your backyard. Selecting the right board size for the job isn't just a matter of pricing; there are a number of other factors to keep in mind.
The main difference between 5/4 and 2×6 decking boards is the actual dimensions of the boards. 5/4 decking boards are the most popular size of decking and are cheaper than 2×6 boards. For high-traffic patios, however, 2×6 decking boards are a more solid and safe surface. They span a larger distance than 5/4 boards.
Below, we've outlined the various types of deck boards available and offered a comprehensive comparison of 2×6 and 5/4 decking. We'll help you make an informed decision about which size decking board is the best choice for your particular situation.
Do You Need Deck, Porch, or Gazebo Installers?
Get free, zero-commitment quotes from pro contractors near you.
Deck Infrastructure Basics
Before we dive into the sizing and dimensions of deck boards, it's important to understand how deck infrastructure works. Beginning with the joists, these dimensional pieces of lumber are generally fastened to the house on one end and rest atop a central support beam near the other.
The main purpose of the joists is to support the deck boards, as they are secured to the joists from above. During deck construction, the joists are spaced out evenly for a clean look, ease of installation, and strength.
Joint spacing is often referred to as "On-Center," or "OC," and is used to describe the distance between each joist in inches from the center-of-joist to center-of-joist. In general, the larger the space between your joists, the stronger you'll need your decking boards to be. Whether you're replacing old boards or constructing a brand-new deck, it's essential that you choose the proper decking boards that will support your joist spacing.
Deck Board Sizing and Dimensions
When a tree is used to construct wood planks, they are generally milled to equal 1 or 2-inches thick and have varying width dimensions. After it's cut, the wood is either kiln or air-dried, decreasing its moisture content. As the planks dry, the wood will shrink, effectively reducing the width.
Once the moisture content is considered even, the wood will go through a planer to remove milling saw marks and be rendered smooth on all four sides. The planer will smooth the surfaces so that it equals the intended standard dimensions.
The nominal dimensions of lumber are typically based off the rough-cut size before it has been planed smooth. When the rough-cut lumber is planed smooth, the result is dimensional lumber. Examine the table below for the actual dimensions that correspond to some of the most common nominal lumber dimensions:
Most Common Decking Board Sizes
| | |
| --- | --- |
| Nominal Dimensions | Actual Dimensions |
| 5/4 x 6 | 1 x 5½" |
| 2 x 4 | 1½" x 3½" |
| 2 x 6 | 1½" x 5½" |
| 2 x 8 | 1½" x 7½" |
Decking Board Thickness
The sole purpose of decking boards is to provide the finished surface of the deck, support the weight of people and furniture, and prevent anyone from falling between the joists. Proper deck board thickness will be indicated by a solid surface feel and if it is bouncy or spongy, the planks are too thin.
Most deck joists are either spaced 12-inch, 16-inch, or 24" on-center (OC). Overall, the more extensive the distance between joists, the more support that must be provided by the boards due to the enhanced potential for flexing. Deck board thickness is determined by the distance it can span between joists and is established in most building codes.
A plank that is 5/4"x6" is rated for 12" OC and 16" OC. Whereas, a 2"x6" decking board is rated for both and can also span upwards of 24" OC.
The most common deck board thickness in North America is 5/4" which, as noted above, is actually 1" thick. However, another thickness that is often seen in deck construction is 2". While greater thicknesses can be used, it can add to the weight, affect the substructure and drive up costs.
2×6 Decking vs. 5/4
Making the choice between 2×6 planks and 5/4 decking boards can be based on structural need or simply personal preference. In general, 2×6 planks are typically milled to be used as a structural framing material and 5/4 boards, whether pine, cedar, spruce, or fir, are constructed specifically for deck use. Due to their specific purpose, 5/4 decking boards are milled much smoother, with a rounded edge to avoid scuffing or splintering.
If cost is a factor for you, what you can expect to pay is all determined by lumber grade. Purchasing a low-grade 2×6 plank will cost you much less than a premium 5/4 decking board of the same length. However, thicker lumber will dry slower and be more resistant to twisting, cupping or bowing its thinner counterpart.
When you compare the two, 2×6 planks can span a larger distance. They can also be used diagonally up to 16" OC and in a perpendicular pattern up to 24" OC. On the other hand, 5/4 deck boards are able to extent 16" OC perpendicularly, and only 12" OC or less when oriented diagonally across the joists.
Overall, you will achieve a more solid feel when you use 2×6 planks with 16" OC joist spacing when compared to 5/4 boards. Therefore, if your deck needs to support a significant amount of weight, will be hosting a lot of people, or will experience high traffic, the thicker material is generally the better option.
Do You Need Deck, Porch, or Gazebo Installers?
Get free, zero-commitment quotes from pro contractors near you.
How to Choose Deck Boards
Dimensions and thickness aren't the only factors that should be considered when selecting the proper deck board for your project. You should also factor in material, cost, appearance, and more. Consider the following when you're choosing your deck boards:
Material. You essentially have three choices when it comes to deck board materials: natural wood, pressure-treated wood, and composites. Pressure-treated wood boards are constructed with fungal and insect repellant chemicals introduced into the wood fibers. Natural woods like cypress, redwood and western red cedar, also have similar chemicals already implemented into their makeup. On the other hand, composites are made from plastic materials and recycled wood, making them low-maintenance and very resistant to decay.
Cost. Overall, pressure-treated lumber is the most cost-effective option since it is found in plentiful supply at all home improvement stores. Natural woods are more difficult to come by and will command a premium price. Since composites last the longest and are manufactured instead of cut, they will be the most expensive choice of material.
Appearance. Just like pressure-treated pine, natural wood materials have a stunning initial appearance but will ultimately decay to be a silvery gray color. They will require deep cleanings and restoration to retain their beauty. On the other hand, composites are designed to resemble wood and, although they will eventually need replacing, they have a much longer lifespan.
Knots, Bow, and Warp. Make sure that you choose deck boards that have tight knots to avoid any potential issues. When it comes to bows, most of the time they can be bent out when the boards are installed. Warped boards can also be secured without issue, but severely twisted or warped lumber should be avoided, as they cannot be repaired.
When you're deciding on the right board for your deck project, make sure that you are factoring in all the necessary considerations.
Related Guides

Jessica Stone
Jessica considers herself a home improvement and design enthusiast. She grew up surrounded by constant home improvement projects and owes most of what she knows to helping her dad renovate her childhood home. Being a Los Angeles resident, Jessica spends a lot of her time looking for her next DIY project and sharing her love for home design.
More by Jessica Stone
Published September 9th, 2020 5:07 PM