307 Views
12' X 8' Shed Plans (with Drawings)
August 23rd, 2021 1:26 PM
Share
We're committed to finding, researching, and recommending the best products. We earn commissions from purchases you make using links in our articles. Learn more here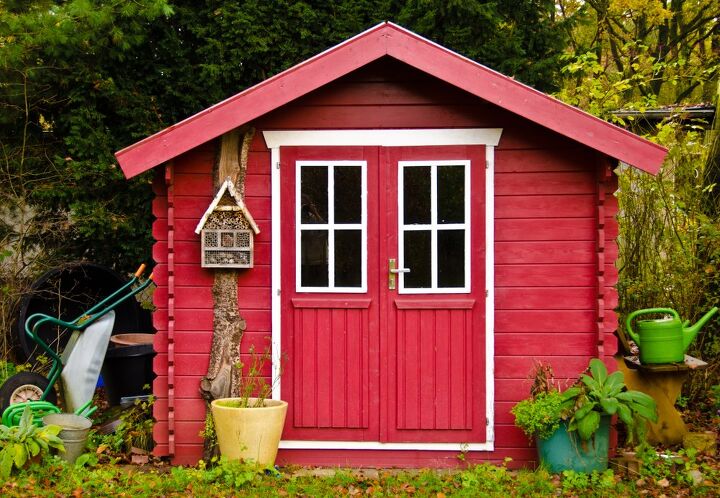 Sheds are convenient for extra storage, holding everything from tools to lawn care equipment and sports gear. However, nowadays, sheds can be a lot more than just a place to stash your stuff. People use them as cabanas, workshops, small playrooms, and much more.
A 12' x 8' shed offers roughly a little less than 96 square feet once you account for the framing and materials. Depending on your ceiling height, you can add extra space with a loft. Beyond the size, you'll also want to consider placement for things like windows, doors, and shelving.
Although less than 100 square feet might sound small, it can be quite spacious for a backyard shed. Of course, a lot depends on what you plan to use your shed for. But with some savvy planning, it can be a reasonably versatile size to work with.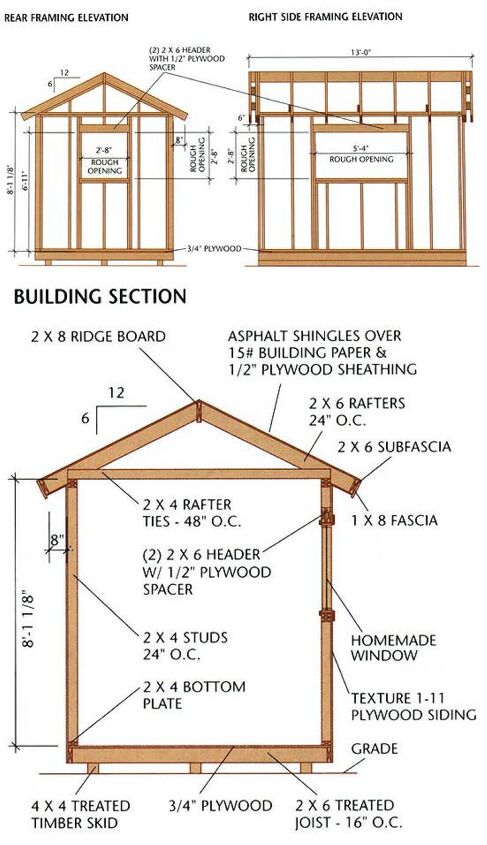 The Main Choices to Consider Before Deciding on Your Shed Layout
Obviously, before you can decide on the best way to layout your shed, you need to know what you'll use it for. You also need to think about where your shed will go, any necessary permits, and aesthetics.
How Will You Use Your 12' x 8' Shed?
A 12' x 8' shed can be many things, and its purpose will significantly influence your overall plan. For example, if you plan to use it for storage only, you might only want some shelving. However, if you're storing large items, you might opt for a double door instead of a single one.
If you'll be in and out rather quickly, only accessing stored items, one window might suffice. A window not only keeps it from feeling like a shoebox, but it can provide ventilation.
However, what if you'll be working in your shed, perhaps building things or potting plants? This requires a bit more planning since you'll need storage but also a workspace. You also likely will want more windows so you can enjoy more natural light while you work.
In addition to natural light, you also may want to plan to add electrical to the shed. If the shed will be more of an entertaining or extended living area, you have even more to think about.
For example, if the shed will function as a playroom or cabana, you might want a more finished interior appearance. You may also want to include things like a window unit or adding plumbing.
Extra Considerations for Your 12' x 8' Shed
Once you know your shed's purpose, you can better decide on any extras you might need. These include things like proper venting, insulation, finishing materials, and of course, electrical and plumbing.
You can think through if you want built-in storage or any special needs like a ramp. For example, do you plan to keep your ATV or motorcycle in your shed? In that case, a ramp would be a wise addition.
Finally, a significant factor when it comes to building or erecting any structure on your property is permits. Even a smaller shed will likely need some type of permit. Therefore, check with your local building authorities before you start the process.
If you plan to add electrical or plumbing, those items will likely require additional inspections and permits. All of this applies whether you plan to buy a pre-built unit or you're going to build your own.
Where Will You Put Your 12' x 8' Shed?
Although you may have the perfect spot in mind for your shed, check your local building codes first. Sometimes, you can only put a shed in a particular place. Other times, it has to be a certain distance from the property line and can't be visible from the street.
Depending on the rules and restrictions, you might discover that you can't fit a 12' x 8' shed. Therefore, you might need to settle for a 10' x 8' or an 8' x 6'. Depending on your intentions, this could be doable or completely squash your plans.
But, permits and building codes differ from county to county and state to state. Some counties might not even have building codes, especially in more rural areas. So, it's up to you to check the guidelines where you live.
Once you get the green light for your shed, you'll be responsible for ensuring the site is level. Depending on where you purchase your shed, the retailer might have specific requirements regarding the foundation.
You'll need to meet these requirements before the builders come out for setup day. Likewise, if you're building your own shed, it's still crucial to level the site before you begin.
Choosing Your 12' x 8' Shed's Style
After you've nailed down your permits and chosen your site, it's time to hash out the details. What style shed do you want? Will you get a ranch style with a basic roof or a barn style with a lofted roof?
Will you get a no-nonsense, basic woodshed, or are you going all out with window shutters and a shingled roof? How you plan to use your shed will play a lot into the style you choose.
You can also select things like paint or stain color, roof color, and roof type (i.e., metal, shingle, etc.). If you're buying a shed from a company, your options might be limited. But, it never hurts to ask if you can make certain adjustments.
For example, what if the company only offers single-insulated windows and you want double-insulated? You might be able to purchase the windows you want separately and have them ready on setup day.
Then, the company will install those windows for you instead of those that come with the shed. You never know what's possible unless you ask.
Potential Floor Plans for a 12' x 8' Shed
As previously mentioned, a 12' x 8' shed can be many different things, even a really small house. It's all about how you plan your layout and making the space work at maximum efficiency. Here are a few examples of what a 12' x 8' shed can do.
A 12' x 8' Workshop
One of the most popular uses of a shed is using it as a workshop. Many people will store tools and lawn and gardening equipment in the shed. Plus, as the one here, include a built-in workbench to do various projects or repairs.
This workshop features shelving along one 12' wall and three windows for natural light. There are also two doors, a single for easy access and a set of double doors on the side. These doors lead to a ramp to provide easy access for the ride-on lawnmowers.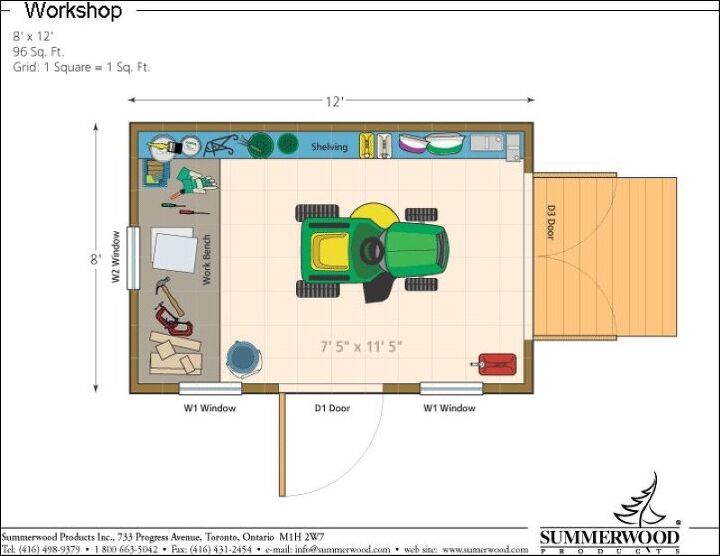 A 12' x 8' Tiny Home on Wheels
With the recent growing trend toward tiny homes and the appeal of traveling, tiny homes on wheels have become popular. To transport a structure, you usually need a permit. But if it's 8 feet wide or less, you typically don't need special transport.
So, a 12' x 8' shed, or slightly under 8' feet wide, makes a good candidate for a traveling home. This one features everything within the one space, including a small kitchenette and a narrow bath. There's also a fold-down awning for above the door when the home is stationary.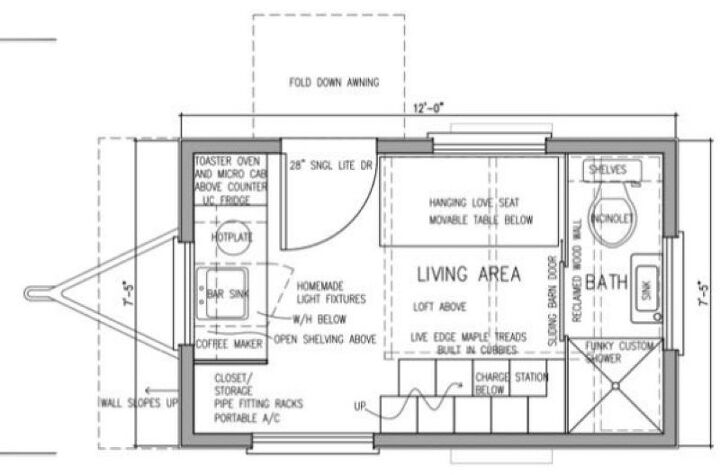 A 12' x 8' Lofted Cabin
If you want a more permanent tiny home, consider converting your 12' x 8' shed into a cabin retreat. This floorplan is in a lofted roof shed, allowing for a loft space with a twin bed and some storage.
The lower level houses a kitchen/living area with a small bathroom. A sofa sleeper provides an extra twin bed.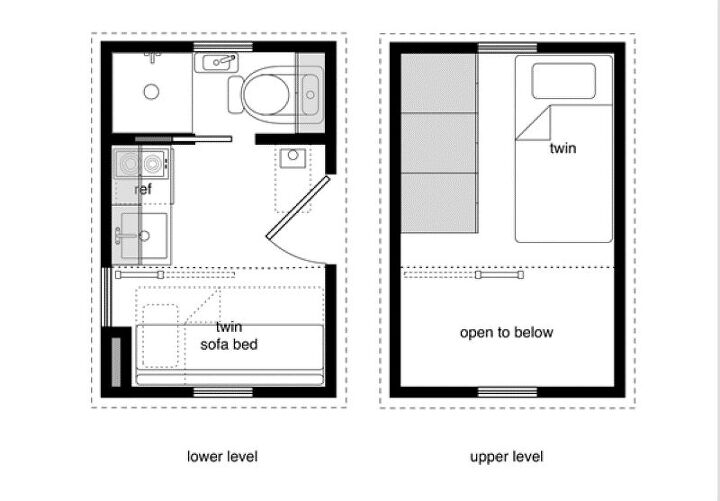 A 12' x 8' Pool Cabana
If you have a pool, a cabana is a great way to store equipment and serve as a changing area. This setup keeps storage to the sides and corners, keeping the middle open for people to change. You could also store pool chairs, etc., in the space when there's inclement weather.
Two windows allow in natural light while a central door provides access. Using just one door keeps all of the other walls available for more storage.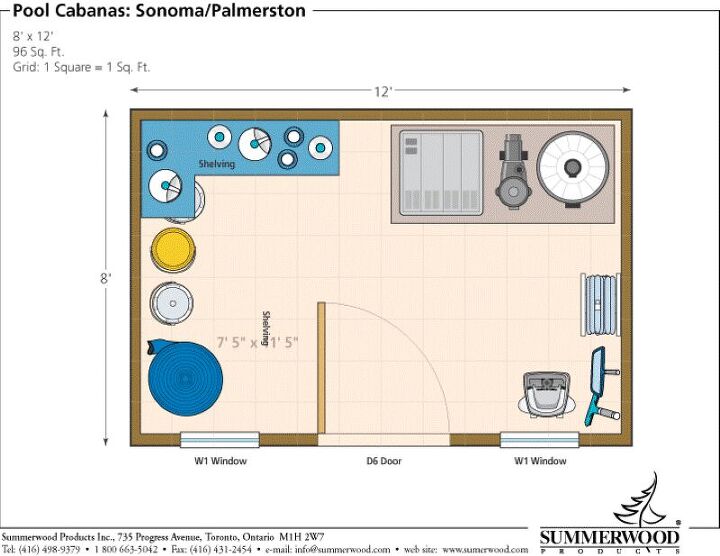 ---
Related Questions
How can I make sure the site for my shed is level?
To test the levelness of your shed's future home, you'll need some wooden stakes, string, and a level. Place a stake in the ground where each corner of your shed will go.  Determine which corner is the highest and tie the string around it, laying the line on the ground. Then, stretch the string to the first lower-point stake and attach it loosely. Move it up or down on the stake, using the level to determine its proper position. Once the bubble in your level indicates you've found the right point, measure from the ground up to the string.  This measurement tells you how off-level this corner is. You can repeat this with the other stakes to assess how much you need to level your site. 
How do I properly maintain a wooden shed?
The best way to ensure a long lifespan for your wooden shed is to avoid water damage. Make sure rainwater has a place to go, and don't let it collect around your shed. Seal around windows and doors, and it's a good idea to repaint or restrain your shed about every five years. 
How much is a pre-made 12' x 8' shed?
A basic, 12' x 8' wooden shed, including doors and windows, ranges from about $2,500 to $3,000. This typically includes delivery and setup but does not include site leveling. The customer is usually responsible for ensuring the site will be level on load-in day.Plastic sheds are usually a bit less, about $1,800 to $2,000. And, 12' x 8' basic metal sheds can run around $500 to $600. Of course, with any of these sheds the more extras you add, the higher the price tag. 
Related Articles

Stacy Randall
Stacy Randall is a wife, mother, and freelance writer from NOLA that has always had a love for DIY projects, home organization, and making spaces beautiful. Together with her husband, she has been spending the last several years lovingly renovating her grandparent's former home, making it their own and learning a lot about life along the way.
More by Stacy Randall
Published June 27th, 2021 11:35 AM