136 Views
How Much Does Window Well Installation Cost?
August 26th, 2021 1:30 PM
Share
We're committed to finding, researching, and recommending the best products. We earn commissions from purchases you make using links in our articles. Learn more here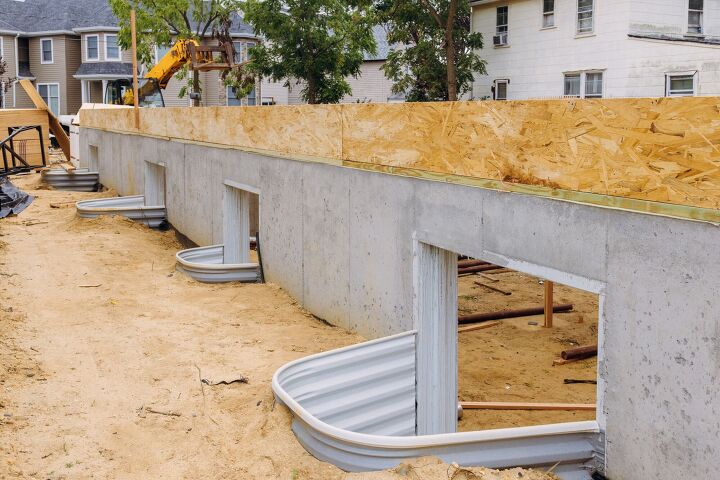 Window wells are an often overlooked, but very important, part of protecting the interior of your basement. If you have water leaking into your basement, the problem may be caused by your window well or lack thereof. Whether you don't have window wells installed around your basement egress windows or need your existing ones replaced, you may be wondering how much it costs.
There are several factors that impact the cost of installing or replacing window wells, such as the type and size of the egress window, and the material of both the window well and the window well cover. If you just need to install or replace a window well, you're looking at spending between $500 and $1,000 – this covers the cost of regrading, materials, and connecting the drainage.
The average cost to install a window well is $750, and each additional window well cover costs $45. Homeowners spend an average of $75 per cubic yard for excavation during window well installation. It costs $400 per window, on average, to install new window wells, and permits cost $100.
Continue reading for our comprehensive guide on window well installation costs, so you can have a more well-rounded understanding of how to properly budget for this home improvement project.
What Are Window Wells & How Do They Work?
If your home has a basement with windows that sit either below or at ground level, it's likely that you already have window wells. A window well is a semi-circular plastic or ribbed metal product that is available at most home improvement centers. It is designed to fit around your basement windows, allowing enough space between the surrounding earth and the window for light to reach the interior of your basement.
In many cases, window wells are required as an emergency point of egress. Many homeowners are unaware of how important it is that window wells are installed properly, as they play an important role in draining rainwater away from your foundation. But, how do window wells achieve this?
The installation process of window wells begins with the earth being excavated around the window. Typically, a hole is dug about 1 foot underneath the base of the window sill. Before the window well can be installed, you (or your contractor) must consider drainage. To avoid this giant hole at the side of your house from collecting water, you have a couple of options.
Window wells are usually filled with a layer of gravel to aid in drainage. It's very common for the gravel to cover a weeping tile drain that is connected to your foundation's perimeter drain. This serves as an additional safety measure to prevent water from collecting in the well and possibly resulting in cracks and leaks in the windows.
Window Well Installation Cost Overview
The installation of a window well is much more than just excavating the area around your basement windows. It involves protecting the space using plastic, metal, or masonry to prevent debris from falling in, connecting a drainage system, and then covering it with a layer of gravel. This will help keep water away from both your foundation and windows.
There are a number of factors that influence the cost of installing or replacing a window well, including the size and type of egress window, and the material of both the window well itself and the window well cover. If you're just looking to have the window well installed or replaced, you can expect to pay between $500 and $1,000. This covers the materials, regrading required for the project, and the connection of the drainage.
Whereas, installing the egress window is more expensive since it requires the contractor to cut into your foundation and install the frame. In some cases, the cost could be five times the amount of standard window well installation. Hiring a professional to cut open a wall in your basement, construct a window well, and install the egress window is going to cost an average of $2,500.
However, the exact cost of window well installation will depend on the complexity of the project and could cost you as little as $500 or as much as $8,000.
| | |
| --- | --- |
| Average Cost | $2,500 |
| Low End Cost | $500 |
| High End Cost | $8,000 |
Window Well Excavation Cost
Most basements require a below-grade installation for egress windows. In this instance, your contractor has to cut into your foundation or concrete wall in order to dig a window well. The cost to excavate the space for a window well typically ranges from $50 to $100 per cubic yard. For each window well, you'll need about 1 to 1.5 cubic yards.
Window Well Cover Costs
Depending on the situation, you may or may not need a window well cover. Regardless, a cover is beneficial for keeping snow, rain, debris, and pests out of your window well and away from your home's foundation. These covers also help prevent people or animals from falling into the window well and criminals from gaining easy exterior access to your home.
Window well covers come in a range of sizes, materials, styles, and shapes. The cost to install a window well varies based on the specific product that you choose. Window well covers cost between $20 and $120 depending on the size of the egress window, while the cost to hire a professional for the installation will range from $40 to $50 per cover.
With that said, a standard quality translucent window well cover for a standard-sized, u-shaped window well costs about $100, including professional installation.
Egress Window Prices
Egress windows look and function identical to most other types of windows, with the only difference being that the opening has to be large enough to climb out of your basement in case of an emergency. These windows come in a wide variety of styles and sizes to fit your home and range in price from $100 to $700 per window.
When choosing an egress window for your basement, the product must have an opening of at least five square feet, not including the frame. In addition to the size of the window, the price can vary based on how it opens and the specific dimensions.
Cost of Egress Windows by Type
The table below outlines the price of egress windows based on the specific type, with each having its own individual benefits.
| | |
| --- | --- |
| Type of Egress Window | Average Price |
| Casement | $200 to $500 |
| Horizontal/ Sliding | $150 to $700 |
| Single-Hung | $100 to $400 |
| Double-Hung | $250 to $500 |
| In-Swing | $350 to $700 |
Single-hung egress window models could cost as little as $100 a window. However, if you opt for an in-swing or sliding style, you'll pay closer to $700 a window. With that said, here are some benefits of the most popular types of egress windows:
Casement: These windows open via a hand-crank, allowing for a sufficient level of fresh air.
Horizontal/ Sliding: This type of egress window slides open to either the right or left, and is ideal for rooms that have narrow window wells.
Single-Hung: Single-hung egress windows open vertically on one side and are the most common option available.
Double-Hung: These windows open top and bottom and are ideal for hotter climates.
In-Swing: This type of egress window opens inward and is an excellent choice for older basements that have small window openings.
Window Glass Quality
The quality of the window glass also determines how much you'll pay per window. For instance, double-paned windows usually range from $200 to $500 a window. This option is the most common as they are reasonably priced and relatively effective at blocking both drafts and noise.
Single-paned units, on the other hand, typically cost a bit less while triple-paned cost more. Additional features, such as low-E coating may add an extra 10% to the total. Take a look at these 20 exterior window trim ideas.
Custom vs. Pre-Fabricated Egress Windows
Whether the egress window is a pre-fabricated model or custom-made is also going to impact cost. Depending on the type, pre-fabricated egress windows usually cost between $100 to $500 a window. Meanwhile, custom sizes range from $500 to $700 a window.
Cost to Install Basement Egress Window
The cost to have an egress installed in your basement usually runs from $100 to $250 a window, not including the cost of materials. This cost range assumes that the room already has the necessary opening of the correct size for the window, along with an existing window well. Add an additional $500 to $2,000 for the window well replacement.
Additional Services
Digging a hole into your foundation to install an egress window and a window well is a specialist job that must be done properly in order to avoid compromising the structural integrity of your home. With that said, you may need to budget for the following services:
Average cost to hire a structural engineer: $500
Average cost to hire a land surveyor: $500
Average cost to hire an electrician: $350
Basement Egress Window Requirements
Make sure that you keep the following requirements from the International Residential Code regarding egress windows in mind when you are planning out the installation of your window well:
The window well must project at least 36 inches from the house, including a footprint of 9 square feet.
The minimum opening for the window must be 5 square feet, not including the frame.
The minimum size of the window must be 20 inches wide and 24 inches high.
The minimum sill height must be 44 inches.
For windows installed under decks, they must be at least 35 inches high.
Ladders are required for window wells more than 44 inches deep.
DIY vs. Professional Window Well Installation
When it comes to window well installation, hiring a professional is almost always the best choice. This particular job isn't something that the average homeowner can usually tackle, as improper installation can cause leaking or flooding in below-grade basements during humidity or heavy rainstorms.
Not to mention, poor grading can result in the window well trapping water. This water that sits in the window well will exert force on the windows, leading to cracks, leaks, and potentially water getting into your living spaces. Familiarize yourself with the standard window sizes as you plan your window well installation.
If you're searching for professional window well installers make sure that you collect at least three quotes. This is not only the best way to determine the actual cost of window well installation, it may also lead to a lower price. Since this is such a competitive industry, you may be able to negotiate a lower rate for labor.
---
Related Questions
Do you need a permit for installing a window well?
Whether you need to dig or replace an existing window well, you're likely going to need permits for excavation. Whereas, if you are installing egress windows in your basement as well, you are also going to need a building permit since they impact the safety in your home. If you plan on hiring someone to handle the installation, a reputable contractor will take care of securing all the necessary permits.Regardless, make sure you speak with your local telecommunications, utilities, and plumbing providers in advance. That way, you'll be able to determine where the underground lines are and avoid accidentally cutting one during the project.
How many egress windows are basements required to have?
According to International Residential Code, basements must have one egress window in every sleeping space. For added safety, natural lighting, and convenience you may choose to install additional egress windows in your basement living areas.
How much gravel should you put in a window well?
Window wells should be filled with either gravel or some other form of broken up rock pieces to help support the well itself, prevent damaging frost in the winter, and promote drainage. You should have about two to three inches of gravel, spread evenly over the bottom of your window well. However, it's important that the layer of gravel is below the window sill or you'll have leaks in your home.
How do you maintain window wells?
The easiest and most effective way to maintain your window wells is to periodically clear out the debris that it collects inside. It's recommended that you do this at least twice a year – once in the spring and again in the fall. During this time, make sure that your drainage pipes are free of debris and that the gravel in the well is loose enough to drain properly.
Related Articles

Jessica Stone
Jessica considers herself a home improvement and design enthusiast. She grew up surrounded by constant home improvement projects and owes most of what she knows to helping her dad renovate her childhood home. Being a Los Angeles resident, Jessica spends a lot of her time looking for her next DIY project and sharing her love for home design.
More by Jessica Stone
Published June 25th, 2021 10:24 AM