9 Views
Why Are Throw Pillows So Expensive? (Find Out Now!)
September 26th, 2022 11:03 AM
Share
We're committed to finding, researching, and recommending the best products. We earn commissions from purchases you make using links in our articles. Learn more here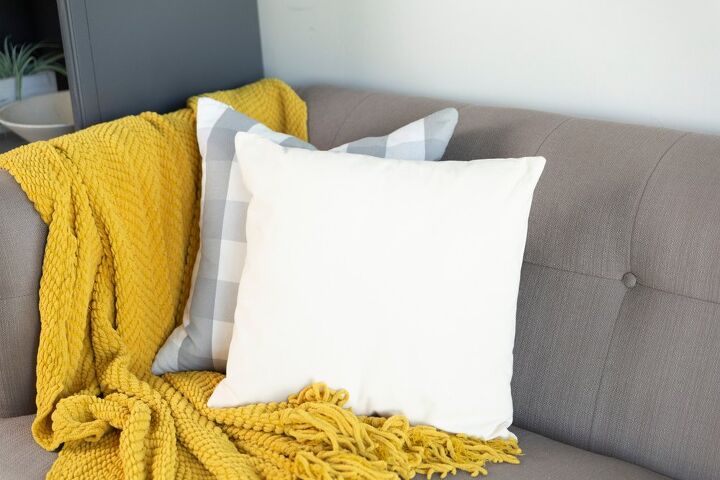 Throw pillows can make your house look beautiful. They provide a pop of color and help you create themes in different rooms. But why do they cost so much, and do you even need them? Here's the inside scoop.
Throw pillows can be expensive because of their materials and construction. For example, silk and satin generally cost more than cotton and nylon. Plus, your pillows might cost even more depending on their decorations. So, keep it simple to save money or prepare to spend a lot on details.
Do You Need an Interior Decorator?
Get free, zero-commitment quotes from pro contractors near you.
Why Is It Called a Throw Pillow?
We call these items "throw pillows" because we throw them on our couches, beds, and chairs. So, you can use them to add color, texture, or dimension to any room. You can also coordinate the fabrics and patterns to match your existing decor.
DID YOU KNOW: Throwing decorative pillows on your furniture helps hide stains and other flaws in the upholstery.
Are Throw Pillows Necessary?
Throw pillows aren't necessary, per se. That means you can decorate with them for a multi-dimensional aesthetic or without them for a simpler design. However, you should first consider the different types of pillows because they come in all shapes, colors, and sizes. Then look at some decorating examples for inspiration.
Think about incorporating throw pillows into your existing home design if you like what you see. For instance, say you have a one-cushion sofa and matching armchairs in the living room. By adding a few throw pillows, you can make your furniture cozier in an instant. Just be sure to coordinate the pillow fabric with your upholstery.
NOTE: Some interior designers believe throw pillows cause little more than clutter and discomfort. So, try to weigh the pros and cons before investing.
How Much Should You Pay for Throw Pillows?
The amount you feel comfortable paying for good throw pillows depends on several things. But your budget is most important. You can create a beautiful design in your home without spending a ton of money. However, you might not get the highest quality products out of the deal.
On average, homeowners spend between $10 and $20 for mid-range throw pillows. Meanwhile, intricate designs and delicate fabrics usually cost more. But some fancy throw pillows have a $100 to $200 price tag, depending on the materials and design.
TIP: Shop at discount stores, wait for sales, or make your own throw pillows at home to save money.
Why Are Throw Pillows So Expensive?
Unlike bed pillows, throw pillows aren't a necessity. So, you have to pay a premium if you want some in your house. Plus, throw pillows can be expensive because of the fabrics and design. That's why simple designs and economic fabrics cost a lot less.
If you choose a lower-quality pillow, you can expect to tell a significant difference. There will be noticeable changes in the construction and comfort, for one. For two, you may not be able to find the design you want. So, try to balance your budget with your taste. And set aside about $100 for your shopping trip.
What Makes a Quality Throw Pillow?
The quality of a pillow depends on many factors, including its stuffing. Usually, a manufacturer stuffs their throw pillows with a mixture of materials. And each material offers unique pros and cons regarding comfort and durability.
Here are the ten highest quality stuffing materials to consider:
Down
Feathers
Polyester
Buckwheat
Memory Foam
Cotton
Kapok
Latex
Wool
Microbeads
All of these materials are comfortable and long-lasting with proper care. However, some stuffing materials can be more expensive than others. So, consider the size of your selections. That's because big throw pillows with high-quality covers and high-end stuffing will probably cost you a pretty penny.
Whether throw pillows are worth investing in is up to you. However, many homeowners say that extra cushions on the couch mean better naps and cozier movie nights. And if you snooze in a specific position, the right pillow can make all the difference.
Decorative accessories can also enhance the look of your home. Living rooms and
bedrooms are the best places for colorful patterns
and stimulating fabric pillows. So, don't be afraid to play with some ideas. And start with cheaper pillows before buying expensive ones.
---
Related Questions
Can You Make Money Selling Pillows?
If you're crafty enough, you can slap together some decorative pillows and make money online. There are several DIY trading websites to explore, although your earnings are never guaranteed. Either way, a pillow-making side gig is a great way to make extra cash by doing something you enjoy. You can even take custom orders and complete exciting projects in a relatively short amount of time.
How Much Do Pillows Usually Cost?
The cost of pillows can range, and prices can depend on several things. On average, bed pillows cost about $20 to $30 a pop. And throw pillows can run anywhere from $20 to $50 each. Meanwhile, manufacturers and retailers base the price on materials, stuffing, design, and demand.So, expect to pay more if you choose decorative products over utility products. That means throw pillows will almost always cost more than other options. But check your local retailer and online to compare prices first. Some DIY sites might have beautiful hand-made designs or offer custom services for less than retail.
Can You Wash Throw Pillows?
You can wash most throw pillows without destroying the fabric or pattern. However, you should always check the tag for care instructions first. And try to hand-wash them before you toss them into a washing machine. That's because some washing machines may be too rough for delicate pillows or dense stuffing materials.As always, make sure your pillows are completely dry before you use them again. And if you use a washing machine instead of your hand, rinse using warm water and mild laundry soap. Then, let your pillows hang to dry because the cover could shrink if you put them in the dryer.
Can I Put Throw Pillows in the Dryer?
It's okay to put your throw pillows in the dryer. But you must be careful about which settings you choose. Always dry your pillows and pillowcases on the lowest heat setting on your machine. Then, add a fabric softener for enhanced freshness and stain protection.Toss two or three tennis balls into the machine to keep your pillows fluffy during the drying phase. However, make sure you remove them and set them aside to dry as soon as you're done. In the meantime, keep an eye on your pillows because you might be able to remove them early.
When Should You Throw Out a Pillow?
If it becomes soiled with a potential contaminant, you should throw away a pillow. Also, toss it if you can't get a stubborn stain out of the fabric, or it begins to stink. And don't keep old pillows or pillowcases after you've had a pest infestation. That's because some pests can make nests inside the stitching.Either way, try to replace your throw pillows and bed pillows every two to three years. But keep in mind that higher quality products typically last longer than others. So, buy one expensive pillow today or several inexpensive pillows tomorrow. It will probably even itself out anyway.
Do You Need an Interior Decorator?
Get free, zero-commitment quotes from pro contractors near you.
Make Your Home Cute and Cozy for Less
Throw pillows can be expensive, and there's a good reason for it. However, you may not have the money to buy decorations that aren't crucial. So, compare a few options and consider making pillows at home. Then, mix and match to create a design scheme that's all your own. Make your home cute and cozy without breaking the bank.
Related Guides

Tiffany Nichols
Tiffany Nichols specializes in aesthetics, design, marketing, and manufacturing. She's a copywriter and editor for several home renovation companies in the U.S. and works alongside some of the biggest names in the industry. Her hobbies include architecture, art, mental health, and fashion.
More by Tiffany Nichols
Published November 15th, 2021 8:13 PM