89 Views
What Is A Michigan Basement? (Find Out Now!)
August 9th, 2021 9:58 PM
Share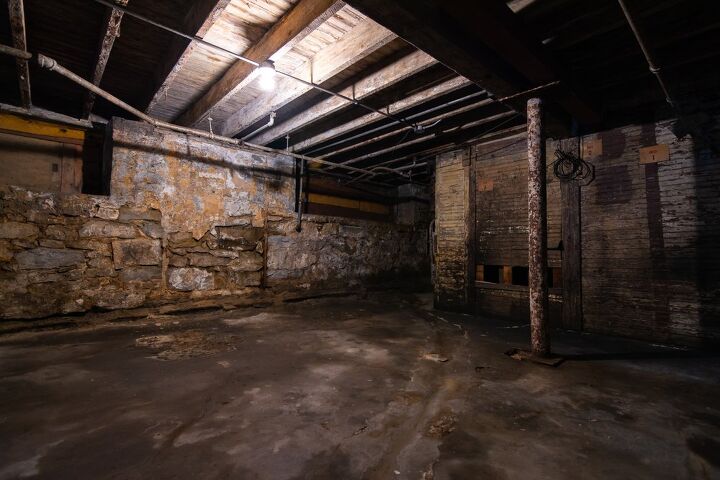 Basements can be highly versatile. Michigan basements make for a great storage space, laundry purposes, or have the potential totally refinished. Refinishing your basement provides the potential for an additional living or entertainment space. Well, most of them can fit that description, at least.
A Michigan basement is definitely not meant to be used for entertainment purposes. A Michigan basement is the general term for a basement that is unfinished. It is usually dug out or damp that has a cement or earthen floor. It's basically a step above a crawl space.
Do You Need Basement Remodeling Services?
Get free, zero-commitment quotes from pro contractors near you.
What are the Various Features of a Michigan Basement?
When you hear the term "Michigan basement", you can generally assume that the ceilings are much lower than normal and that the floor hasn't had concrete poured. If you look at the glossary for the official State of Michigan website, the Michigan basement is almost always constructed by digging out a crawl space.
The cement walls are generally set back somewhere in the 2-4-foot range starting from the existing foundation walls of the crawl space. Since this type of basement is generally built into some kind of in-ground foundation, the overall space is really limited. This can make it extremely difficult to stand up in (and why it's considered to be just a step above a crawl space).
Un-Finished Cellars
If you have a Michigan basement, it can be transformed into something like a wine cellar if the homeowner is okay with the smaller space and lower ceilings. When storing things in a Michigan basement, the space has to be kept humidified at all times.
With wine cellars, in particular, humidifying keeps the liquors at the right humidity and temperatures at all times to keep them from going bad. The basement can be used for other storage purposes as well, just keep the temperature and humidity concerns in mind if whatever you're storing can be greatly impacted by those conditions.
Moisture of Michigan Basements
Since most Michigan basements are completely unfinished and haven't even had concrete flooring poured in, they are more often than not quite damp. This is due to the flooring being earthen in nature with all the trapped moisture that the ground holds in.
The Environmental Protection Agency (EPA) has warnings against increased levels of radon in basements that have earthen flooring. Radon is a radioactive gas that is naturally occurring in the earth. The cause for this is the breakdown of uranium in rock, water, and soil.
Radon can be potentially dangerous over time. The radioactive particles may be trapped in the lungs over a long period of time, ultimately raising the risk of lung cancer. It is currently the second-leading cause of lung cancer behind smoking, so it is important to have testing done in your Michigan basement if the flooring is earthen.
Dealing with Radon
Knowing the threats that radon can pose to a homeowner, it is important to know a few things. The air pressure in a home is generally lower than the pressure of the soil that is all around the foundation of your home.
Because of this, your home can basically become a vacuum that draws radon in through openings like foundational cracks. The EPA recommends covering your earthen floor using a plastic sheet with high density. You will also need to use a fan and vent-pipe to draw the radon out and then blow it outside of the house.
If you plan on finishing the basement, the concrete will act as a sealer that keeps the radon from seeping into the home. The reason that people don't finish their basements is that it can be an extremely expensive endeavor.
Flooding Issues with Michigan Basements
Since the basement like these are set in the earth itself, Michigan basements are usually far more prone to potential flooding. And the bad thing is that it doesn't even require consistent heavy rains. Homes with Michigan basements can suffer water and flood damage from even common rainstorms.
If your home is located in a flood plain, it is a good idea to have your Michigan basement refinished or waterproofed. Having a sump pump and a battery backup is a great way to keep water from flooding out a Michigan basement, particularly during the flooding season.
What Can You Use Michigan Basements for?
So, now that we know all of the negative effects that a Michigan basement can have for homeowners, you may be wondering what the point is. Michigan basements are common in developments with no basement included or it simply isn't finished. This type of basement is also prevalent where the crawl space has been dug out in preparation for a potentially finished basement.
A Michigan basement can be the location of the water heater, furnace, and electrical circuit box of the home. As mentioned previously, you can use the basement as a storage area for any non-perishable items and even as a laundry room complete with a washer and dryer.
Should You Finish a Michigan Basement?
Before we get into it, just know that finishing a basement is a very expensive process. This is especially true if you have a Michigan basement with earthen flooring because then concrete has to be poured, which means you are basically starting before square one.
It can cost $10,000-$15,000 to finish a basement on the low end. That said, there are benefits to finishing your basement that can make the costs worth it. For one, it provides additional space that is non-existent in the home. Additional space can be great for adding value to the home and can even be rented out for additional income.
Finishing a basement for the purposes of adding a livable space also can be cheaper than a home addition. Finishing your basement can potentially be 50-60% cheaper than going through a total addition.
With a Michigan basement, the expenses can really add up. Drainage systems need to be installed and waterproofing done. That's even before the pouring of concrete, installing electrical, heating/cooling, drywall, and about a thousand other things.
Does a Finished Basement Increase the Value of Your Home?
In the United States, you can expect to get a return on your investment of 70-75% when finishing a basement. So, if you spend $40,000 to finish the basement, you can expect to increase the property value by about $30,000. This is a rule of thumb, however, and not a hard and fast rule. There are other factors within the home that can impact its value. So, don't just assume that putting a basement in will automatically improve its value by x amount.
Do You Need Basement Remodeling Services?
Get free, zero-commitment quotes from pro contractors near you.
How Does a Finished Basement Improve Home Value?
While it can be simple to just assume that adding a finished basement to your property will add values, it is important to know just why this is the case. The fact of the matter is that there are numerous reasons why this is the case.
Additional Space. This is perhaps the biggest. The square footage of your house is the square footage of your house unless you do an addition. Additions have a ton of requirements to them – including permits – that can get costly fast. Transforming an unfinished basement to a finished one can be a great way to add 1-3 bedrooms (depending on the layout and size) to your home. For homes with smaller main level square footage, that can be a huge addition.
Negates Zoning Codes. If you're looking to add space to a home, one of the biggest concerns are local zoning codes. You can't simply throw an addition on your home without obtaining the proper permits first. Depending on where you live, this can be very expensive if it is allowed at all. Finishing a basement is a great way to add space to the property when zoning codes don't allow for additions.
Income Property. One of the largest benefits of adding a finished basement is the potential for rental income. A finished basement, particularly one with multiple rooms in it, can make for a great opportunity to bring additional income into the home. Use that income to pay down the mortgage quicker, to save towards another rental property, or anything that you could possibly think of. There are caveats to being a property owner, but the potential for income is tremendous.

Ryan Womeldorf
Ryan Womeldorf has more than a decade of experience writing. He loves to blog about construction, plumbing, and other home topics. Ryan also loves hockey and a lifelong Buffalo sports fan.
More by Ryan Womeldorf
Published October 6th, 2020 10:33 AM