66 Views
What Color Curtains Go With Gray Walls? (Here Are the Details)
January 2nd, 2022 9:58 PM
Share
We're committed to finding, researching, and recommending the best products. We earn commissions from purchases you make using links in our articles. Learn more here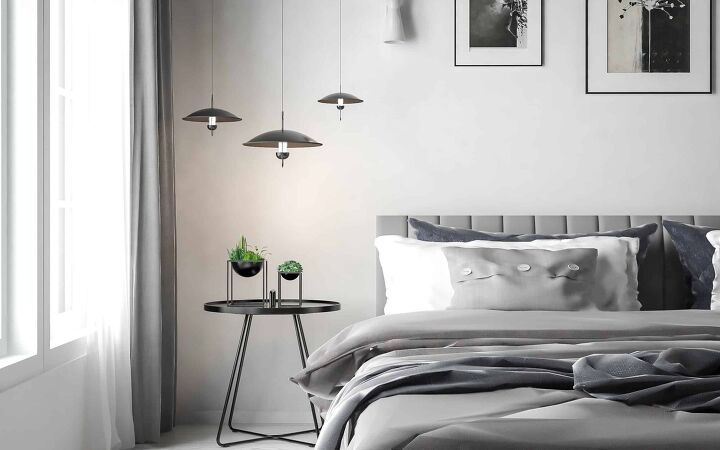 When brainstorming for ideas for what curtains go with your gray walls, it is only natural to be stumped. After all, you don't want your house to look like a prison cell. Because of this, we have some suggestions for how to select curtains that will compliment your gray walls.
If you have gray walls, you will want to choose understated colors for your curtains such as white, gray-blue, or gray-green. The charcoal grays can also work for you, as they add a nice touch of darker color to an already sophisticated background. If you're looking for something darker, maroon is a great color.
Gray walls have potential. It's just a matter of having the right imagination. Below, we will explore the details behind how the color of your curtains can enhance your surroundings.
Do You Need to Hire an Architect or a Builder?
Get free, zero-commitment quotes from pro contractors near you.
Choosing A Curtain To Go With Your Gray Walls
Some people would tell you that the gray walls are boring. Those people may not see the potential. Much like any other color, they are best when complemented by different tones.
Next, we are going to go through a couple of different options in greater detail.
Oatmeal Curtains
Because it is the perfect balance of grey and yellow, oatmeal is a fantastic neutral color. Grey walls can make a room feel a little frigid at times.
However, in a room with grey walls, a set of oatmeal curtains allows you to decorate with warmer accents while still getting the light and airy sensation of grey without the harshness.
Vibrant Floral Patterned Curtains
To be honest, decorating with patterns may be scary because if you don't do it correctly, you risk making a room look 'busy' or cluttered. Choose a larger print if you want to be safe.
Also, choose a design that is toned down to make it easy on the eyes, as it allows for large bursts of color, which look especially stunning against the grey walls.
Dusty Rose Curtains
While dusty rose curtains or accents are commonly found in nurseries, they may be used in any area with grey walls and still appear elegant.
In a space with grey walls, white furnishings, and burgundy and olive accents, try dusty rose drapes. It produces a lovely color scheme that any adult will appreciate.
White Curtains
Choosing white curtains will immediately draw your eyes to the brightest thing in the room. White curtains against a medium-gray backdrop give the illusion of higher ceilings, especially when the top is the same white color. In this case, you will want to purchase sheer curtains.
This design choice also allows your furniture to stand out. By choosing a darker color in contrast with your white curtains, your tables and chairs have the opportunity to draw your eyes.
Charcoal Gray Curtains
Charcoal gray is a very intense color that will also draw the eyes in your room. This color choice gives you a sophisticated opportunity to have an incredibly modern-looking room.
Also, it allows you to invest in brighter furniture. If you want a couch, table, or desk to pop out, it will certainly do so against the darker, gray setting.
White Blue & Grey Curtains
Try a set of curtains if you enjoy blending multiple colors at once. Despite the darker hues, the three color combination looks wonderful, and especially if the pattern is set on solid white, they nevertheless brighten up the room.
Similar Gray Curtains
While choosing something of the same color may be detrimental, it provides an effortless glide to your room. Medium to light gray is incredibly easy on the eyes, creating a relaxing experience that would be perfect for something like a bedroom or reading room.
This design choice allows you to create a modern look with black or white furniture. You can also choose to have a gray-blue or gray-purple sofa in there.
Ombre Curtains
Choose vividly colored curtains for a drab room if you want to make a massive statement. If you want to make a statement but not a huge one, opt for a set of ombre curtains instead.
There are a variety of ombre possibilities available, but regardless of the color you choose, the overall idea is that they will all have one dominant color that gradually fades out.
Blue-Gray Curtains
Like standard gray, blue-gray is another option you can choose to create a relaxing environment. The light tint allows you to have some semblance of color.
If you have white blinds, you can use blue-gray curtains to add some color to your walls. This design choice works well for layering curtains over blinds. At this point, it will be up to you on whether or not you feel you need more color from your furniture or not.
Red Curtains
If your walls are a bit more of a warm gray than a blue-gray, you may consider investing in deep, red curtains. These provide a passionate dash of color to your house. But it does not take away from the calm nature of having a warm room.
Be sure not to get anything too bright, as bright colors typically don't work well with medium to light gray. Stick with something that blends in with gray, so it is more of a gradient than a stark contrast.
Green Curtains
Green is a complementary color to warmer grays. As a result, it is a grey choice to provide a natural bit of contrast. Because grey walls do not need extreme contrast, you are going to want to seek out olive-green curtains. If you want extreme contrast, your curtains can pop if you choose something closer to mint green.
If you do choose mint green, be sure it is not a large amount. A big chunk of contrast is not comfortable on the eyes. A small bit of difference can be a lovely accent.
Turquoise Curtains
Turquoise is another bright, lively color that stands out against grey to make a striking contrast. This color would be fantastic in a children's room or playroom, or in any space that could use a bit extra liveliness.
You may play up the bright colors with additional bright accents to create a rainbow-like effect, or you can look for deeper turquoise shades to play up the color while toning it down a touch.
Beige Curtains
If you have a lot of natural wood furniture, an excellent in-between for those colors is beige. Beige curtains allow you to provide the room with something of a gradient. For darker wood finishes, this is a great way to accent a room with brighter colors.
The same logic applies to any browns or lighter tan colors. If you would like your curtains to be the focal point of your room, stick with brighter colors. Otherwise, darker colors are best to blend in with the background.
Tan And Cream Curtains
Grey walls are quite adaptable, which is why they are so popular. They'll go with almost any color, even other neutrals!
Tan and cream colored curtains contrast beautifully with the grey and add a touch of warmth that simple white lacks.
Lilac Curtains
A lot of pastel colors look great with grey, but lilac is especially lovely. A pair of delicate lilac curtains on a light grey wall will set the tone for some spectacular décor.
If you don't like pastels but adore the color purple, try plum, burgundy, or even magenta-colored drapes! Purple and grey are usually a good match.
Boho Curtains
Try drapes with a combination of colors and patterns if you really enjoy the bohemian design. Each row of these curtains is quite different from the one before it, but the mixing and matching look fantastic against a grey background.
Because these curtains make such a statement, they'll be the room's center point, so your furnishings should complement the panels rather than compete for attention. Consider using a lot of neutral solids and accenting with one or two colors from the curtains.
How Can I Be Sure That My Grey Wall And Curtains Go Together?
Purchasing new furniture or painting a wall can be expensive. Because of this, it is essential to have a vision of what you want before you go through with it.
If you decide it is ugly halfway through the project, you may go over budget when undoing your work. Before finalizing any project, we recommend taking selecting the shade of grey for your wall first.
If this is a new job, you may select multiple shades. At this point, put them right next to other colors through the paint section of your local hardware store. Many larger chains, like Home Depot, have ways you can easily compare different shades of color.
If you are further inclined, you may also ask the opinion of your friends, family, and the customer service representatives at home depot. Sometimes, stepping outside of yourself is what you need to be sure you are following good design.
Do You Need to Hire an Architect or a Builder?
Get free, zero-commitment quotes from pro contractors near you.
---
Related Questions
Is There A Specific Type Of Curtain That Goes Best With Grey Walls?
When it comes to sophisticated walls and curtains, you can't go wrong with pleated curtains. If you are going formal, stick with a pinch pleat curtain. If you are going relaxed, look at some box pleat designs.If you don't want to see the rod, look for cased heading (rod-pocket) curtains. If you decide to layer curtains, goblet pleat designs are great for unmovable curtains.  Honestly, I would recommend looking at designs and finding what appeals to you.
Is There A Specific Length Of Curtain I Should Look For In Grey Walls?
Darker colors typically go well with long curtains. More bright and eye-catching colors are best for smaller curtains. This design choice ensures that your blending and contrast efforts are appreciated.A mistake in this category is choosing a large element of contrast. Without realizing it, you could be giving yourself a headache.
What Is The Best Furniture With Grey Walls?
Make that decision based on the curtains that you choose. If you have darker curtains, you may want to consider going for a light tint of color on your sofa. If you have brighter curtains, you can choose to add to the level of brightness in your room or have something of a darker contrast.The idea is to never go too far with a single color. Grey on grey isn't an attractive combination. If you think about wearing a suit, the same logic often applies here.

Eli Smith
I'm a guy who becomes the expert of whatever I stumble upon, writing-wise. I've written tons about cool home products, home improvement, and smart technology in the home. I'm also the proud father of a kiddo born on new years, making my holidays very busy.
More by Eli Smith
Published September 16th, 2020 7:12 AM