704 Views
Water Heater Strap Code: Guide to Requirements For Each State
November 9th, 2021 4:07 PM
Share
Each state and municipality may have differing rules on water heater strap code guidance. That is, it's the rule of how to support your water heater properly. Failing to comply with your local rules can carry penalties, so follow along as we explore the guidelines for each state.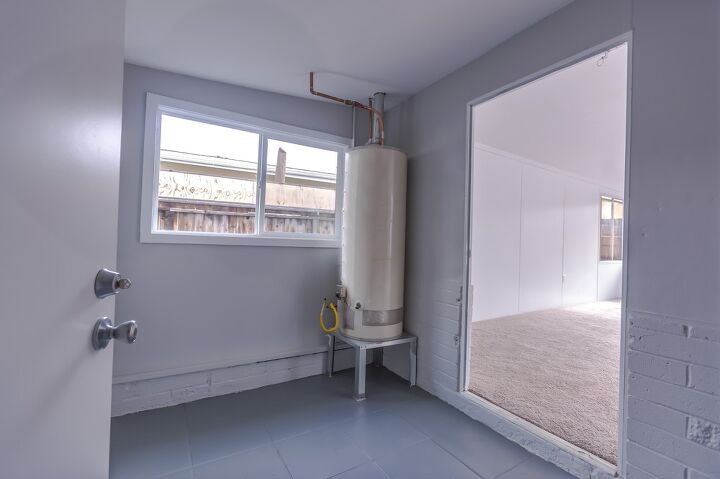 Does your water heater need a strap? Depending on where you live you might not have a choice. A water heater strap is basically a piece of metal that secures a water heater to the wall.
Each state has unique water heater strap codes, but most states require that you strap your water heater. Regulations typically require that you use 1 strap in the upper third and another on the lower third to secure a water heater. Codes generally require that you use electrical conduit or plumber's tape to strap both electric and gas water heaters.
A water heater strap keeps the unit from tipping over in case of an earthquake or other dicey situation. The strap is usually secured directly into the wall studs. Depending on the particular requirements, you may need to use more than one strap.
Why Do the Strap Codes Vary By State?
The main purpose of a water heater strap is to prevent a water heater from tipping over and causing damage. If you live in a state like California or Alaska that is prone to earthquakes, you can see why a strap is necessary.
However, other states, like Maryland or Ohio, are not likely to experience many turbulent conditions that would tip your water heater. In these states, a strap might be recommended in certain circumstances, but it is not required everywhere.
Who Determines the Water Heater Strap Codes?
Water heater strap codes are a subset of the plumbing codes in each state. The two most prevalent plumbing codes used in the United States are:
The International Plumbing Code (IPC) — This is a set of plumbing codes that meshes well with the International Code Council's (ICC) whole family of building codes. It sets minimum regulations for plumbing systems. 
The Uniform Plumbing Code (UPC) — This code is viewed as the American National Standard, developed by the International Association of Plumbing and Mechanical Officials (IAPMO). The IAPMO uses the UPC to oversee the installation and inspection of plumbing systems to ensure the overall health and safety of the public.
Although there are talks about merging these two codes under one ICC roof, for now, different states can adopt different codes. States can opt to use their own codes and regulations, but even then, most are based on former IPC or UPC codes.
There is also an additional code known as the National Standard Plumbing Code (NSPC) that is only used in New Jersey. Basically, these uniform and national codes apply throughout the country, but each state can choose to adopt stricter guidelines.
Water Heater Strap Codes in the Different States
Not every state requires you to brace your water heater. However, if you live in a state that has regular earthquakes or other seismic activity, a water heater strap is likely necessary.
For many states that do not fall within a seismic zone, water heater straps are not required. The code will likely consist of an umbrella rule that states something along the lines of needing a strap where appropriate to meet the seismic activity in the region.
However, before installing a water heater it is important to verify the specific plumbing codes for your particular area. Local municipalities can sometimes have their own set of guidelines. Never assume anything.
The image below shows the seismic activity in the United States. According to plumbing codes, you must brace any water heaters that fall within certain seismic areas. These are areas that typically experience mid to high seismic activity (on this chart, orange through pink).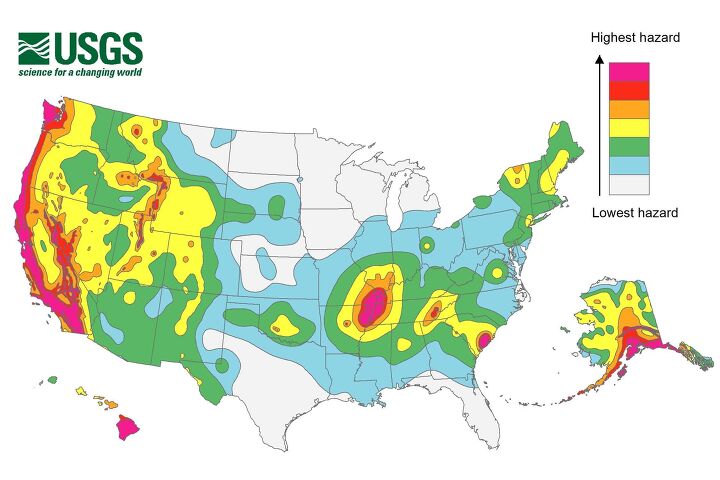 Note: The following is an overall look at the water heater codes by state. You must verify the specific requirements for your water heater with your local governing authority.
Here is a quick look at the adopted plumbing codes and the water heater strap codes in each state.
Alabama, Colorado, Connecticut, Delaware, Florida, Georgia, Maryland, Michigan, New Hampshire, North Dakota, Ohio, Pennsylvania, Rhode Island, Texas, Vermont, Virginia, West Virginia (IPC); Illinois (Illinois Plumbing Code); Indiana (UPC and the Indiana Plumbing Code); Iowa (UPC and some local governments have adopted the IPC); Louisiana (Louisiana State Plumbing Code); Maine (Maine Internal Plumbing Code); Minnesota (Minnesota Plumbing Code); South Dakota (UPC); Wisconsin (Wisconsin Statutes, Comm 81-87, Plumbing Code)
These states experience little to no seismic activity. The standard code requires water heater straps only when necessary to handle any applicable seismic forces. The unit must be anchored to withstand a force equal to 1/3 the operating weight of the water heater.
Arizona, Arkansas, Kansas, Mississippi, Nebraska, New York, North Carolina, Oklahoma, South Carolina, Tennessee, Utah, Wyoming (IPC); Alaska, California, Hawaii, Idaho, Missouri, Montana, Washington (UPC); Kentucky (Kentucky State Plumbing Code); Nevada (IPC or UPC depending on the local municipality); New Mexico (New Mexico Plumbing Code, based on the UPC); Oregon (Oregon Speciality Plumbing Code, based on the UPC)
(In zones with mid to high seismic activity) Two metal straps, at least 22 gauge, must be used. One strap within the top 1/3 of the unit and the second strap within the bottom 1/3.
The bottom strap must be at least 4 inches above the water heater's controls. The straps must be secured with screws at least 1/4″ x 3″ long and penetrate at least 1.5″ into the wall studs.
Massachusetts (Uniform State Plumbing Code); New Jersey (NSPC)
Makes no specific mention of requiring water heater straps. If the unit was located in a region of mid to high seismic activity, then straps would be necessary in accordance with the UPC or IPC.
---
Related Questions
How often do plumbing codes change?
Plumbing and building codes are reviewed and revised every three years. There are many builders and professionals that want this timeframe to be extended. For now, codes can change often, so it is important to stay up to date when you are doing your projects.
What happens if you install a water heater that is not up to code?
If your water heater does not meet code you can be faced with some serious fines and penalties. It also will void your warranty, not to mention potentially pose life-threatening situations if your water heater is not maintained properly. 
Are there any situations where you need to use water heater straps regardless of where you live? 
Yes, if you have an FHA loan, the Department of Housing and Urban Development (HUD) requires all water heaters to be strapped. 
How much does the typical water heater weigh?
A residential water heater weighs between 450 to 500 pounds when it is full. The tall, narrow shape of most units make it easy to tip over if under duress (for example, an earthquake). If a unit is elevated, then tipping is more likely.
What is the most common way to brace a water heater?
A double-strap system is the method of choice (one strap at the top and one at the bottom). Some pre-manufactured kits contain straps that wrap completely around the water heater. Other types of straps are 180-degrees, reaching from one side of the unit to the other.There is no code that specifies to use a wrap-around or 180-degree strap, and the latter is the one most often used by professionals. 
Wrapping Up
Ultimately, whether or not you need to brace your water heater largely depends on where you live. Plumbing codes can vary from state to state and not all codes require water heater straps.
If you are unsure about the requirements for your state, it is best to consult a professional who knows the codes. Always check with your local governing authority to get the latest code updates.
Water heaters can become dangerous when not handled properly. Arming yourself with the proper knowledge and doing the job right can save you a lot of time, effort, and money. In fact, when it comes to water heaters, following the code can even save lives.
Related Guides

Stacy Randall
Stacy Randall is a wife, mother, and freelance writer from NOLA that has always had a love for DIY projects, home organization, and making spaces beautiful. Together with her husband, she has been spending the last several years lovingly renovating her grandparent's former home, making it their own and learning a lot about life along the way.
More by Stacy Randall
Published August 4th, 2020 4:12 PM