108 Views
23 Types of Fireplace Mantels
December 11th, 2021 7:48 PM
Share
We're committed to finding, researching, and recommending the best products. We earn commissions from purchases you make using links in our articles. Learn more here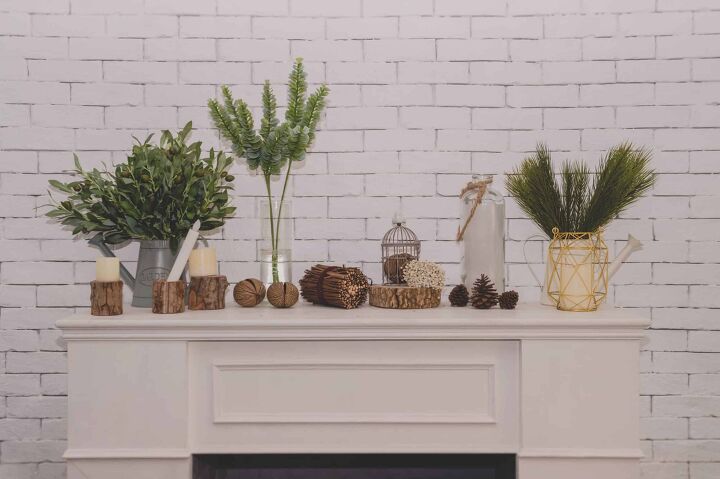 First appearing in American homes during Colonial times, fireplace mantels are a common feature among modern open fireplaces. They are typically used as a way to enhance the appearance of a fireplace, allowing it to become the statement piece in a living room. Since the area above a fireplace can appear bare and plain without the addition of a mantel, they have become a staple in many homes.
While there are many different styles, materials, and additional features that make up a fireplace mantel, they are typically placed into two main categories. You'll either have a standalone mantel, or 'shelf,' or a mantel that is built into the entire fireplace surround. The surround is a blanket term used to describe the entire assembly of fireplace elements (except for the firebox), including the legs, returns, mantel, etc.
A fireplace mantel is essentially what frames an otherwise dull-looking fireplace, while also acting as functional shelf space. With that said, what type, style, or fireplace material would you choose? Whether it's made out of wood, metal, stone, or glass, whether it has a modern, traditional, rustic, or Craftsman style, there are many variations of fireplace mantels available.
Before you make a selection, you should be aware of all your options. That way, you can make an informed decision about what type of fireplace mantel is right for you and your home!
What is a Fireplace Mantel?
Also referred to simply as a mantelpiece, a fireplace mantel refers to the flat area that sits at the top of a fireplace. This term may also be used to describe that shelf of a fireplace surround. According to Dictionary.com, a mental is defined as "a shelf above a fireplace opening." However, it's much more than a place for placing various décor items and hanging your stockings during Christmastime.
Generally speaking, a fireplace mantel can be found in two main forms: A mantel shelf (or floating mantel), and a mantel that serves as a piece of a complete fireplace surround. More specifically, the mantel may exist on its own or a part of the full surround that also includes legs, and, oftentimes, the hearth.
What is the Purpose of a Fireplace Mantel?
At this point, you may be wondering what exactly the purpose of a fireplace mantel is and whether or not your particular fireplace needs one. Traditionally, the mantel was designed to keep the smoke from the firebox of an open fireplace from escaping into the room. However, the mantels of today are less for functional purposes and more for aesthetic and decorative purposes.
With that said, fireplace mantels serve the following purposes:
To help make the fireplace a focal point of a room, especially when they are a part of a complete surround.
To provide a shelf for displaying ornamental household items and holiday decorations.
To shield the lintel and any joints at the top of the fireplace opening, between the wall of the chimney breast and the firebox.
To help the fireplace blend in with the rest of the décor in your home, by carefully choosing the style and material of the mantel.
Although it's not essential for a fireplace to have a mantel, this element can greatly enhance the appearance of your fireplace. However, whether or not a fireplace needs a mantel ultimately depends on personal preference and the condition of the fireplace. In fact, many fireplaces already feature mantels, whether they are a part of the surround or a standalone mantel.
Fireplace Mantel Types
As previously stated, there are two ways to categorize fireplace mantels based on type: shelf and surround. Whether you prefer to have the mantel be a standalone element or a part of the larger assembly comes down to personal preference. With that said, let's take a look at the two main fireplace mantel types in further detail.
1. Surround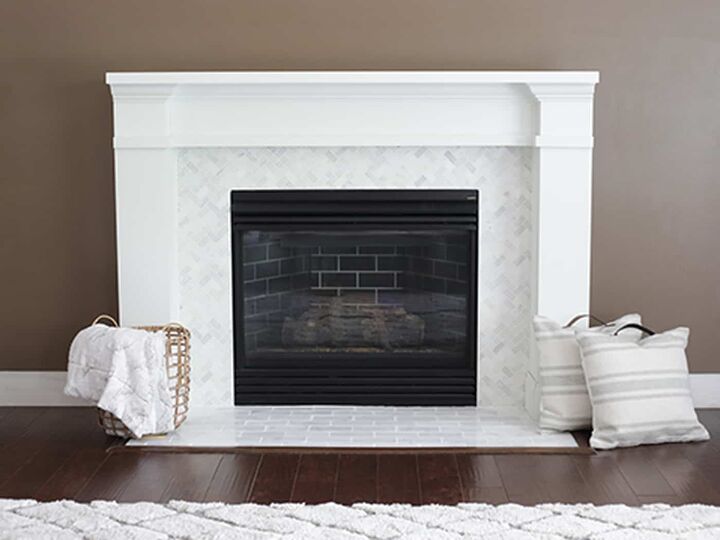 Fireplace surrounds are ideal for larger living spaces, as they tend to be much more authoritative and will make your entire fireplace become the focal point of the room. As opposed to simply topping the fireplace, surrounds frame them. So long as your room is large enough and you have sufficient space on either side of your fireplace, this type of mantel will make a wonderful addition to your home.
Mantel surrounds will draw the eye to the fireplaces' height, making it the center of attention. This is especially true for mantel surrounds with tall pillars, as they will cause the gaze to naturally travel up the height of the surround. Of course, it's important that you carefully consider the color, material, and style of your surround in order for it to have the most dramatic effect. These elements will play a major role in whether or not your fireplace blends in or stands out in your living room.
2. Shelf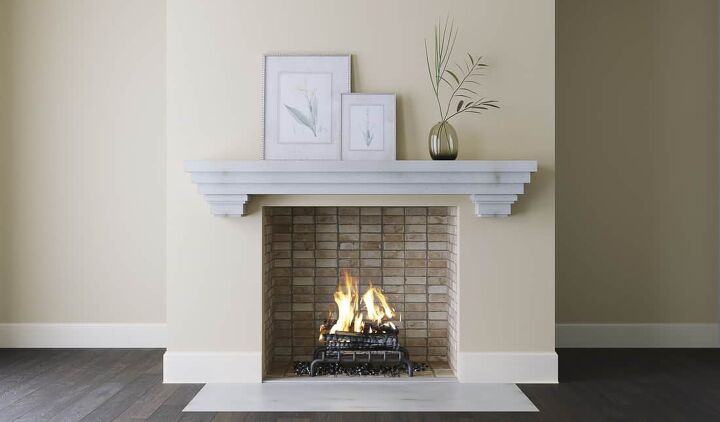 If you're limited on space around your fireplace or if you simply want to add a mantel to an already existing fireplace that doesn't have one, you can opt for a fireplace mantel shelf. These standalone mantels are great for fireplaces are placed near doors, windows, or walls, and don't have enough space for a full surround. By causing the eye to drift side to side, instead of being visually halted by a mantel surround, this type of mantel can help give the illusion that your living room is much larger than it actually is.
Mantel shelves work incredibly well in minimalist living spaces and they are also much more affordable than mantel surrounds. Therefore, if you want your fireplace to have a finished look on a budget, then a mantel shelf may be your best bet!
Fireplace Mantel Materials
The range of materials that can be used in the construction of fireplace mantels is limited only by your imagination – especially if you elect to have one custom-made. However, here are some of the most common fireplace mantel materials available:
1. Wood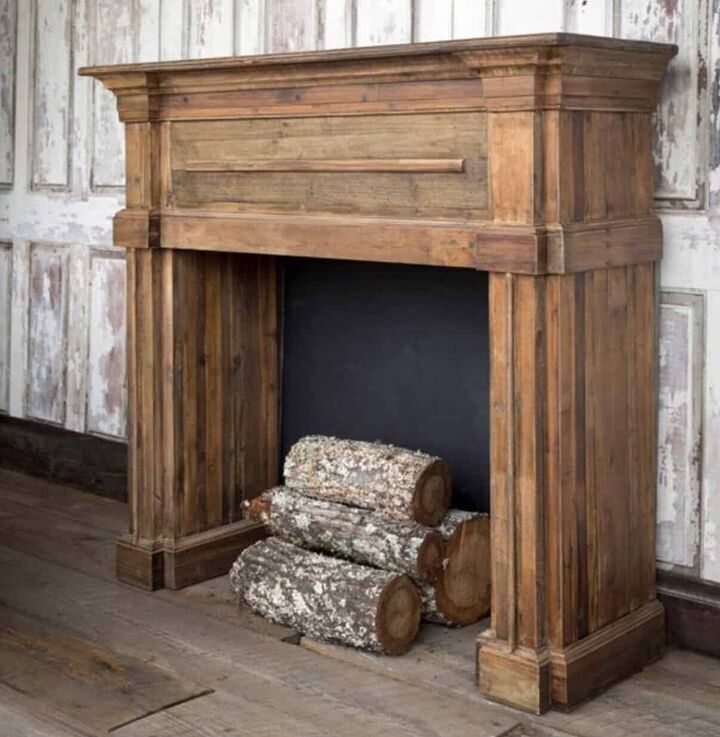 Wood is one of the most common fireplace mantel materials as it is both easy to work with and affordable. It is a very versatile option and can be styled in a contemporary, traditional, or rustic style almost effortlessly. Also, wood can be manipulated, carved, painted, and stained based on the owner's preferences. There are a number of wood species to choose from to create a distinct look, including, but not limited to, oak, pine, cherry, redwood, cedar, and mahogany.
Though, it's important to note that wood requires sufficient clearance from combustible fireplaces. Make sure that you measure the wall space around the fireplace to ensure that there's enough area to prevent potential fire hazards.
2. Stone and Rock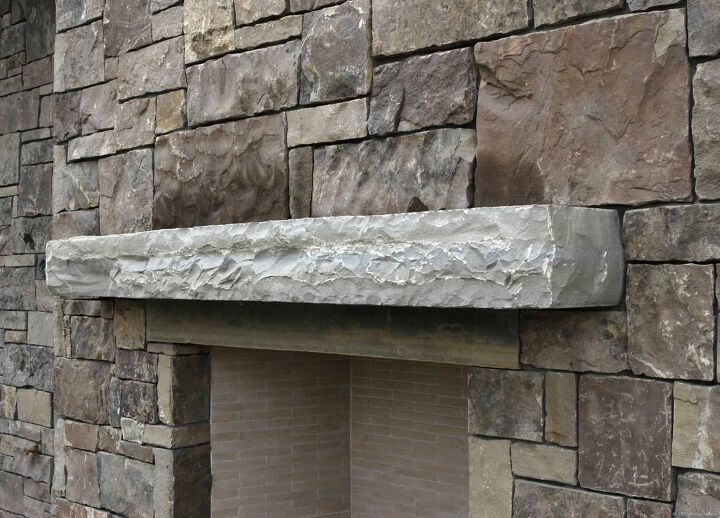 Stone and rock are, arguably, among the most popular and sought-after materials for fireplace mantels. There is very little that stands up to the charm of an old stonework fireplace. In addition to being visually appealing, these types of fireplaces are usually very long-lasting. Like wood, there are a number of options to choose from – including granite, concrete, river rock, limestone, and more. For a traditional look, opt for cultured stones. Whereas, stacked stone mantels are another popular, unique design choice.
3. Metal
Metal fireplace mantels are another very visually appealing option that can be designed to look either traditional or contemporary based on the style. The style, along with the type of metal and finish will give the metal a distinctive look. Although these mantels aren't as common as many other materials on this list, they will certainly make a statement in your living room.
This option should be avoided if your goal is for your fireplace mantel to blend into the rest of your décor. One of the major advantages to metal is that it can be easily painted, should you ever get tired of the look and want a refresh. While metal isn't necessarily a cozy material, whether your mantel looks industrial or comfortable will depend on how you decorate it.
4. Brick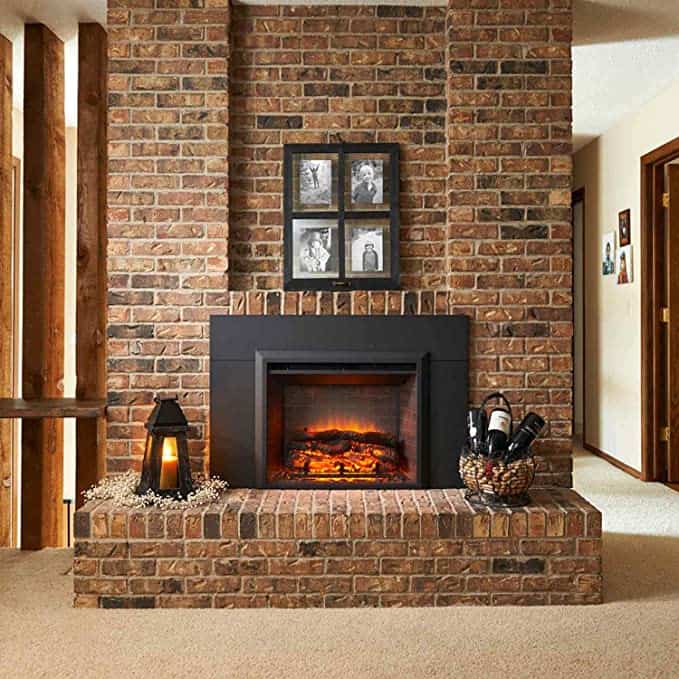 Brick mantels are easy to build but require extra support because of the heavyweight of the bricks. You can create a wide variety of mantel styles using bricks – whether you want the bricks to blend in with the style of your home or you want to use exposed brickwork in different colors and types to stand out in the space. When it comes to brick mantels, there are nearly endless options to choose from. You can be as elaborate and creative or simple and subdued as you want to be.
5. Marble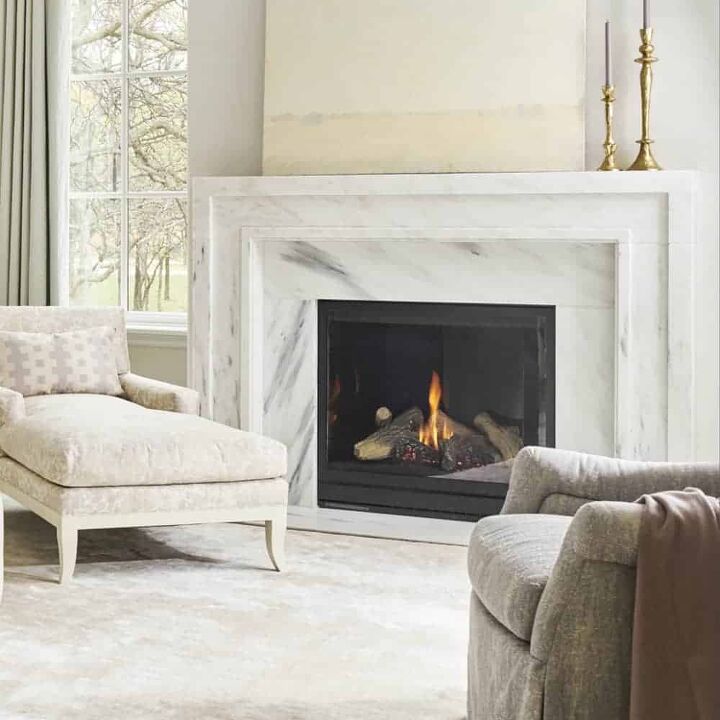 A very classy and chic option for a fireplace mantel, marble is sure to stand out in any home. Many assume that marble is too extravagant for smaller homes and is best left to extensive mansions or estates, however, this could not be further from the truth. Altering the look and feel of marble is as easy as polishing or honing to create a look that is either more formal or subtler.
It's important to note that your marble fireplace mantel must be sealed in order to ensure that it is protected from moisture and acidic products. As one of the most expensive materials used in the construction of fireplace mantels, you'll want to keep it in good condition for as long as possible. While it is pricey, the elegant result and large variety of colors available often make marble an obvious choice for homeowners.
5. Tile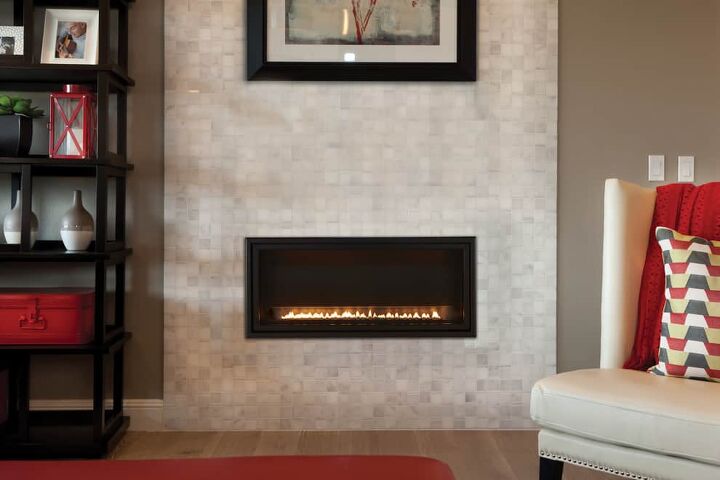 There are over hundreds of styles, colors, and finishes of tile to choose from for a fireplace mantel. Based on the type that you choose, you should have no trouble matching the style of your home. To make your tile mantel appear contemporary and classy, avoid shelving and let the tile take up the entire wall where the fireplace is located (as pictured above). This is also another great way to draw the eye upwards and add depth to your space.
In most cases, you'll only find mantel surrounds made out of tile. It's very rare to find standalone tile mantels, although you could certainly have one custom-made to your liking.
6. Manufactured Wood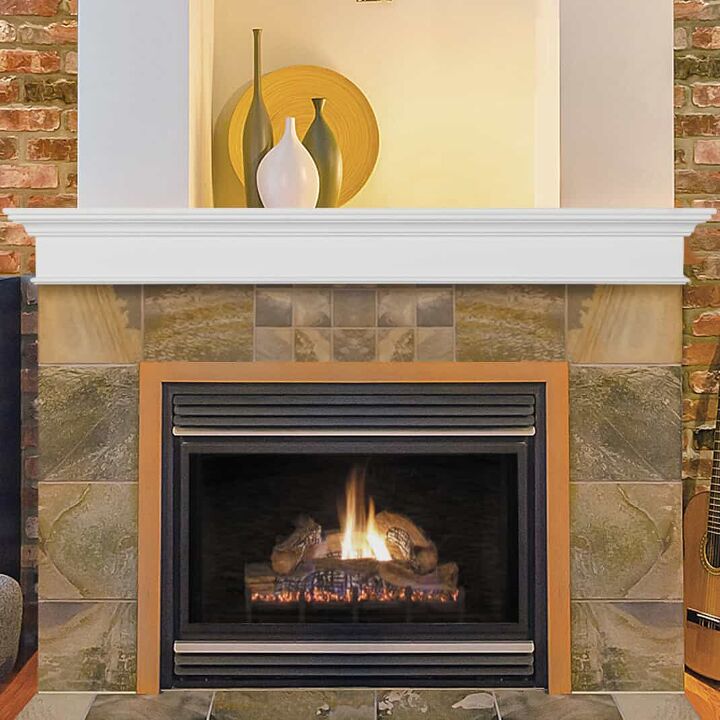 If you love the look of a wooden fireplace mantel but lack the budget for one that's made from solid one, manufactured wood is an excellent alternative. In fact, it is nearly impossible to tell the difference between a mantel made out of manufactured wood and one made out of solid wood. This means that you can enjoy the beautiful, comfortable, and warm appearance of a wood fireplace mantel, without having to fork over so much cash.
Whether you're looking to update your own home or you're flipping one for a profit, manufactured wood is an excellent material to choose from when you don't want the fireplace to be such a major investment.
7. Glass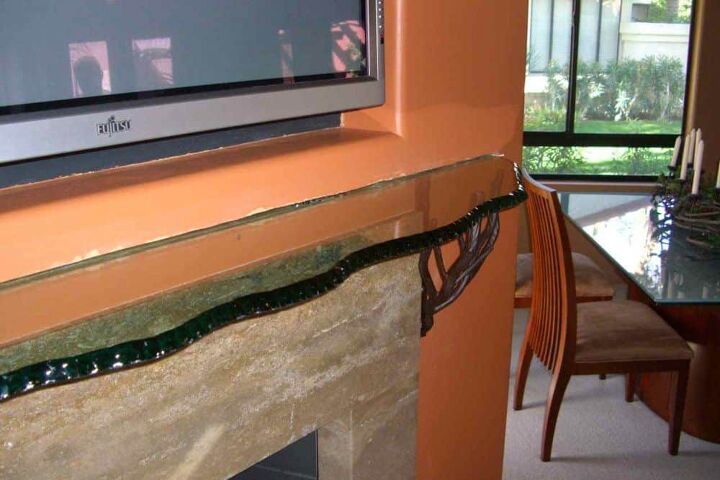 While not even remotely as popular as other mantel materials and a little bit harder to find, glass can be a striking option for any home. When you find fireplace mantels made out of glass they are typically in shelf form, rather than the whole surround. Regardless, glass fireplace mantels will definitely draw attention to your fireplace. They will blend effortlessly into your home décor, making whatever you place onto the shelf stand out.
Since glass is clear, it gives you the opportunity to strategically place lights in order to highlight both the mantel and the items you have displayed. Though, make sure you opt for tempered glass as it is easy to clean, maintain, and is less likely to break under pressure or high heat.
8. Limestone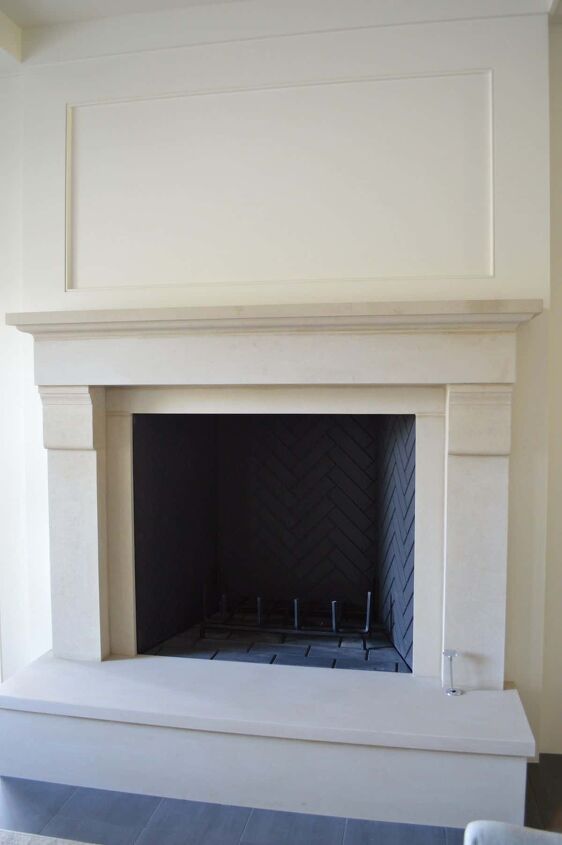 Limestone may not be as commanding or expensive as marble, but it can definitely warm up the appearance of your living room with a subtler look. If you want a mantel that has more of an understated appearance, limestone may be your best bet. These fireplace mantels can be left as is for a very modern look or carved for a more intricate and ornamental display.
Alternatively, to create a rustic, hand-crafted fireplace mantel, some homeowners use stacked limestone. Since limestone is a soft and absorbent material, you will want to make sure that it is properly sealed. Not only will sealant help make your mantel look great, but it will also keep it protected and make it much easier to clean.
Fireplace Mantel Styles
Another way that you can categorize fireplace mantels is based on their style. From modern and industrial to traditional, Craftsman and Victorian, the style you choose will have a direct impact on how the mantel pairs with the rest of your décor.
1. Modern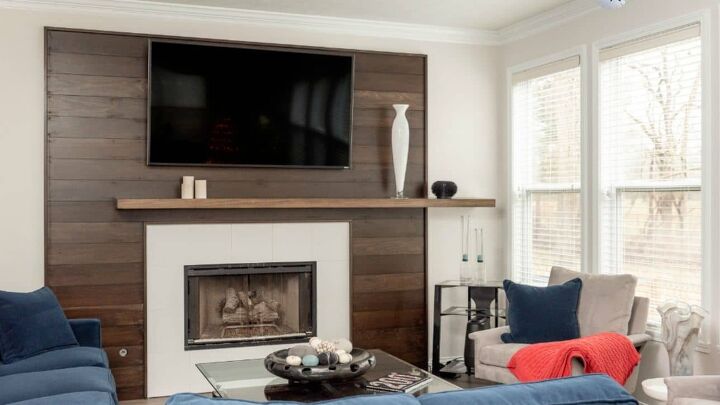 A modern style fireplace mantel is characterized by its simple lines, basic colors, and clean, unadorned appearance. While many other styles of fireplace mantels are highly decorative or carved, a modern mantel works best when you don't want it to compete with the items you have on display. A modern or contemporary fireplace mantel can be a great addition to any living room, though it will not be as commanding or a focal point of the space as much as other styles.
2. Traditional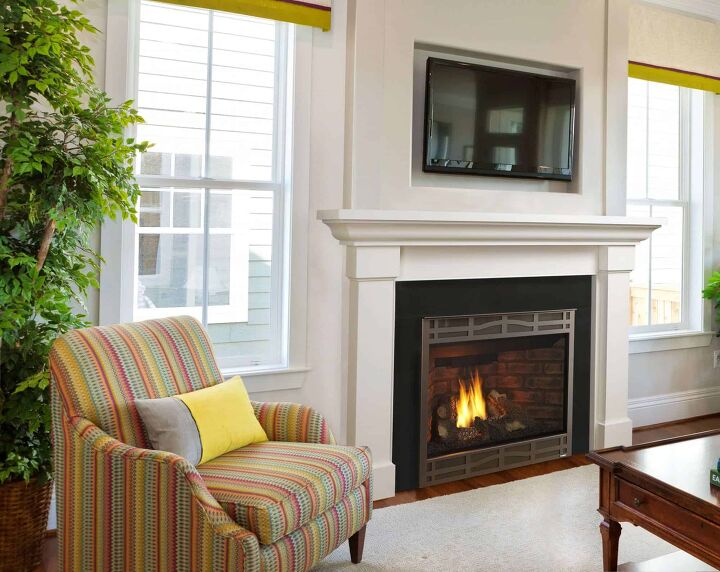 Traditional fireplace mantels, on the other hand, have a somewhat similar look to their modern counterparts. Both share the same simple, distinct lines that don't distract from the natural beauty of the mantel itself. However, the main way that traditional mantels differ from modern mantels is that they are often slightly more decorative. Oftentimes, you'll find traditional fireplace mantels with carvings or designs, adding to the piece's overall visual interest.
With that said, it's important that you dust and clean these types of mantels regularly as dirt can collect in the crevices and they can quickly become disheveled and filthy.
3. Industrial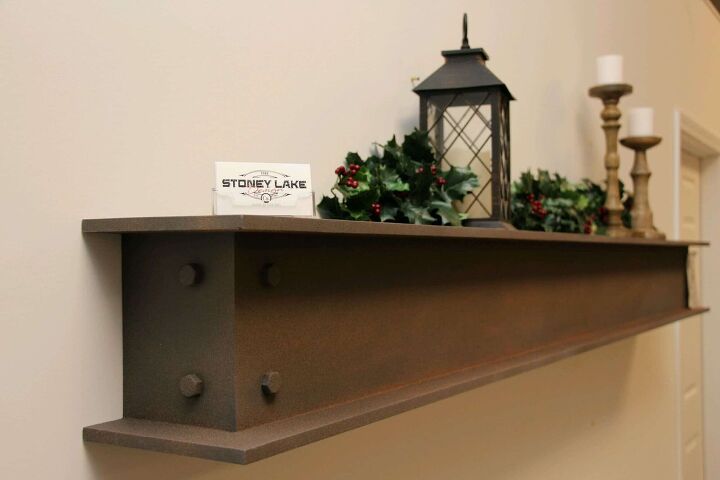 Homes that lead towards an industrial style or theme will lend well to having an industrial fireplace mantel. When compared to other styles, industrial mantels tend to be more refined and less showy. However, this is not to say that these types of mantels are not visually appealing. If you want an industrial fireplace mantel, opt for one that is either made out of dark wood or metal, or combines the two materials into one design.
Although lighter woods may seem like they'd offer a nice contrast to your home, carrying the same industrial style throughout your interiors means choosing something that looks and feels more industrial. As such, dark woods and metals are synonymous with industrial styles.
4. Craftsman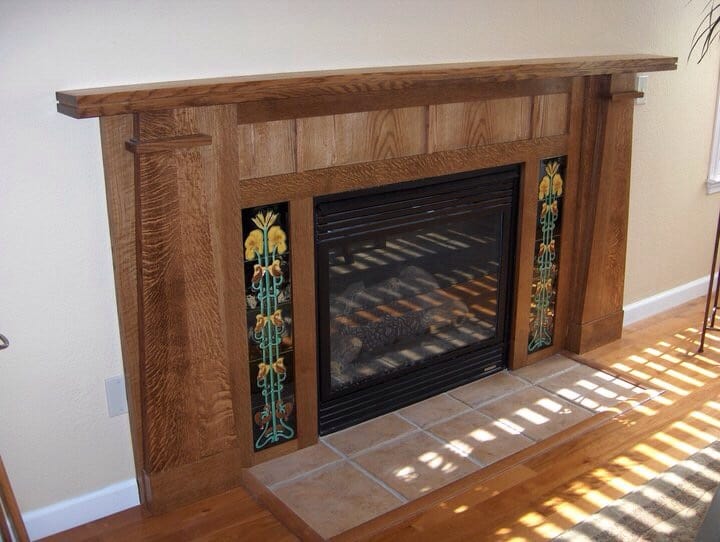 When compared to other fireplace mantel styles, Craftsman mantels tend to be bolder and carry more visual weight. With these fireplace mantels, you can rest assured that they will have a solid, durable construction and the likelihood of it chipping, breaking, or falling apart is very low. To achieve a Craftsman style with your fireplace mantel, carefully consider how the lines appear on your fireplace.
This style is characterized by attention to detail, bold lines, and timeless design. These mantels should last you quite some time without any issues. If you already have some Craftsman-style furniture in your living space, pairing your mantel with it will make the entire room look and feel unified.
5. Rustic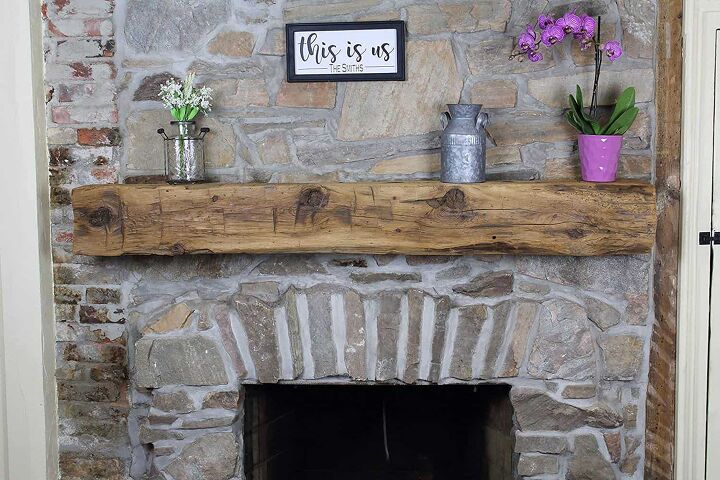 Depending on your home décor and your personal preferences, you may want to opt for a fireplace mantel that has a more rustic style. These mantels are very visually appealing and pair incredibly well in a farmhouse-style or cabin-style home. To achieve this look, opt for a mantel that is made from reclaimed wood, appears distressed, or has some roughness on the edges.
As with any other style, you want to make sure that you take proper care of your rustic fireplace to ensure it is protected from the weight of the items you place on it and the heat of the fireplace.
This is especially true since most rustic fireplace mantels are made out of wood. Even though the style is rustic, this does not mean that it shouldn't be properly maintained.
6. Victorian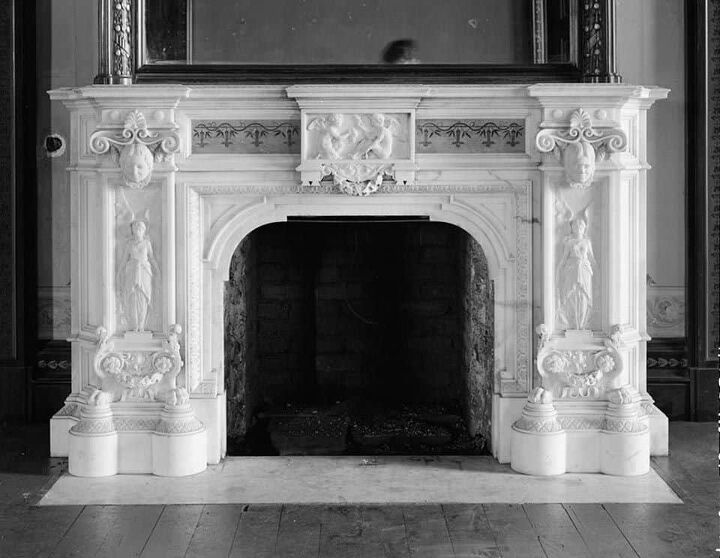 The Victorian-style encompasses some of the most intricate and ornate fireplace mantels out there. These types of mantels can tend to look out of place in many homes, which is why you must carefully consider both your own personal style and the style of the rest of the rooms in your home before you choose a Victorian-style mantel.
Since they are elaborately carved, cut, and designed, Victorian fireplace mantels are typically more expensive than other styles. As such, they may be outside of your budget. In choosing this style, make sure that you have a room large enough to accommodate, as a Victorian fireplace mantel will command the space and can overwhelm it if the room is cluttered or too small.
7. Beachy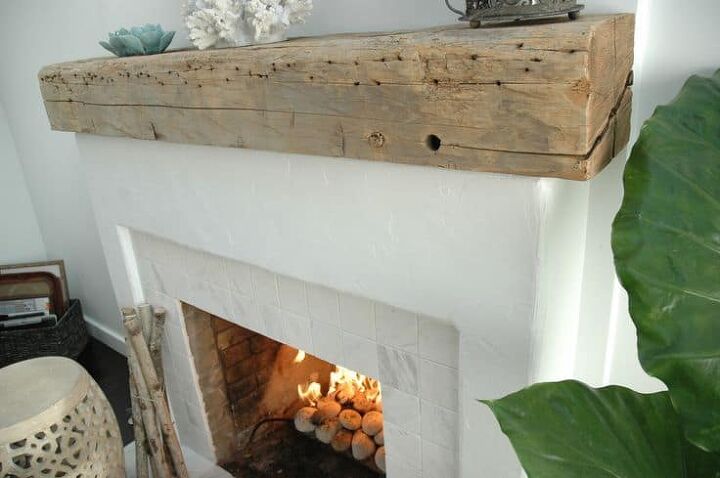 A beachy, or coastal, style fireplace mantel is just as functional as other styles, with a couple of major differences that set it apart from the rest. If you're looking for a mantel that will complement your seaside home, you need to carefully consider the material that is used. Generally speaking, most beachy-style fireplace mantels are constructed out of wood and then stained to give them a lighter appearance.
In most cases, the stain will make them appear gray to mimic the look and color of driftwood, or the color of the ocean on a stormy day. You may even be able to find or purchase a piece of driftwood that is the appropriate size to serve as your beachy-style fireplace mantel.
While you can certainly use this style of mantel in any home, it will likely look out of place in a home that's not at least near the beach – unless your home has a beach theme of course.
Fireplace Mantel Additional Features
Last, but certainly not least, is our list of fireplace mantel additional features. These features may or may not be appropriate for your living space, depending on the style and décor of your home. Regardless, all of these options can offer a very unique look for your fireplace.
1. Storage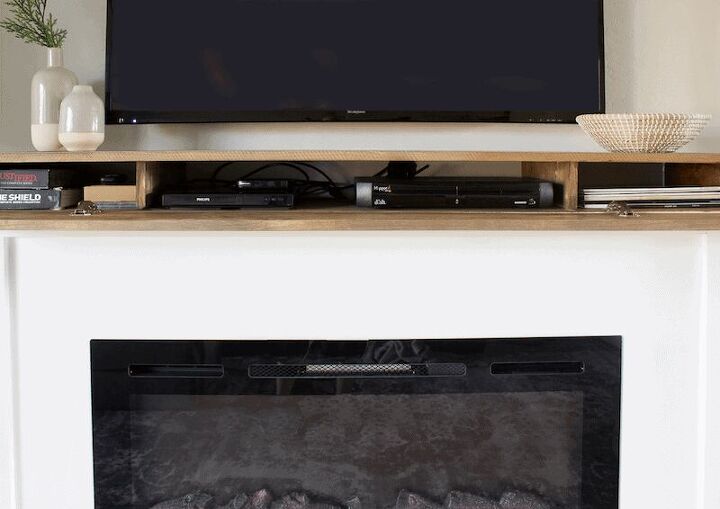 Believe it or not, there are quite a few fireplace mantels that offer built-in storage. This option is great if you're limited on space or simply want to stash away your remotes, various electronics, books, and knick-knacks out of sight. In most cases, fireplace mantel shelves are the type that will feature this additional storage, and it's usually an open storage shelf positioned underneath the main mantel.
However, there are some that have hidden storage on the side or the entire mantel opens up to reveal the storage space.
2. Hand-Carved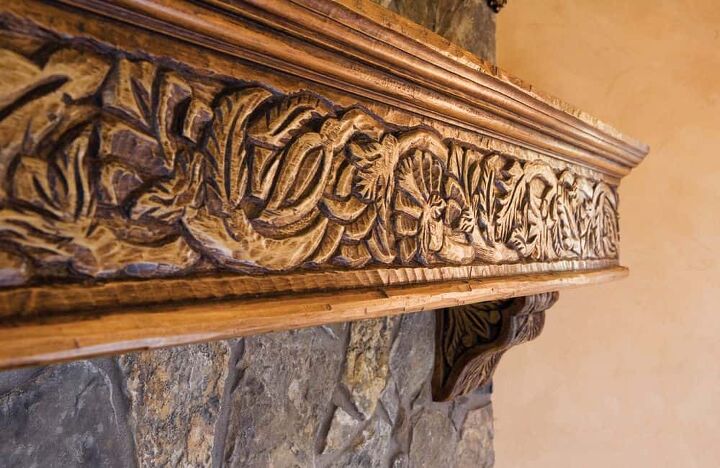 Hand-carved mantels offer quite a bit of character and appeal. Unlike mantels that are mass-produced, purchasing a mantel that is hand-carved ensures that the piece is one-of-a-kind. Also, it's a great way to support small businesses and know that someone took great care and time in producing a truly unique mantel for your home.
The subtle differences in mantels that are carved or handcrafted are what make these pieces very special, and may even become a family heirloom, rather than just another furnishing in your house.
3. Unfinished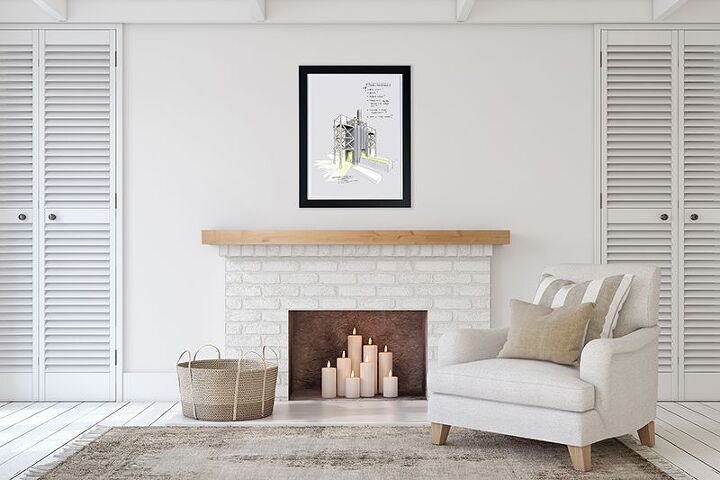 For full control over what your fireplace mantel will look like, opt for unfinished wood. While it may be a little challenging to find mantels that are unfinished, this option allows you to paint or stain it to perfectly complement the rest of your home décor. Alternatively, you can leave it unfinished to make a unique, minimalistic statement in your living room.
However, unfinished mantels are ideal if you have furniture in your home that is mismatched or your simply concerned that the available options in-store won't pair well with your space. If you intend to finish your fireplace mantel yourself, be aware that it's going to take quite a bit of time and energy to make it look great. Though, you will have peace of mind knowing that it's going to elevate your space rather than compete with it.
4. Reclaimed Wood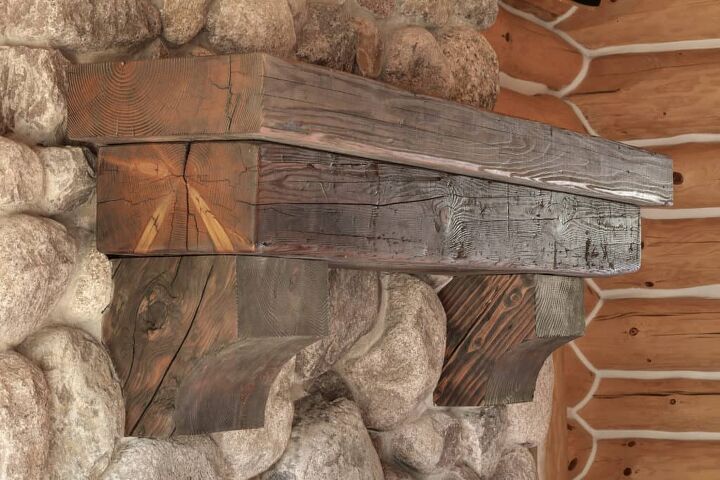 If you're looking for an environmentally friendly mantel option, reclaimed wood is for you! In fact, opting for a fireplace mantel made out of reclaimed wood is the perfect way to ensure that you're not contributing to more trees being cut down. Using reclaimed wood can also be a very special, possibly sentimental choice.
The wood can be taken from an old table, fallen tree, barn, family home, or other structure. When you choose a fireplace mantel made out of reclaimed wood, you can relish in the fact that you are including a piece of history into your home.
5. Distressed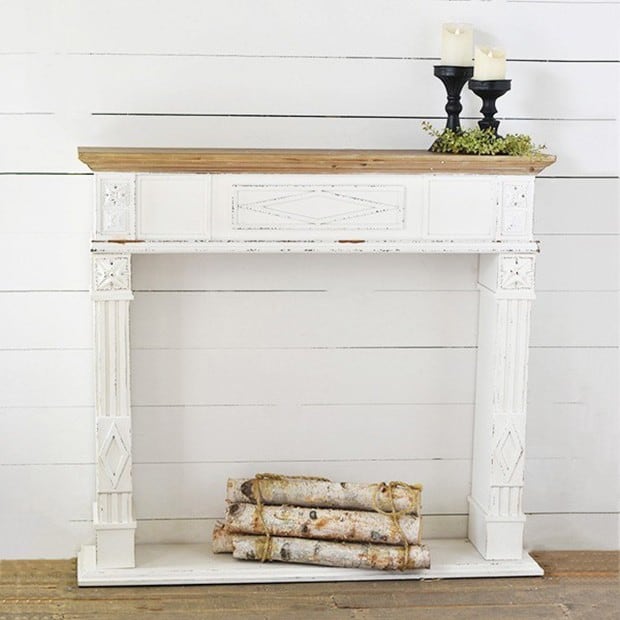 Based on the décor and style of your home, a distressed fireplace mantel may pair well with the rest of your living space. This style is often designed with the idea of allowing the true, natural beauty of the wood to shine through, while also including some extra visual interest to the mantel itself. For best results, search for one that is been professionally distressed. Otherwise, it can look messy and unkempt, which is an undesirable trait for your mantel to have.
Fireplace Mantel Safety
Whether you choose to hire a professional or build and install your fireplace mantel yourself, it is absolutely crucial that your mantel meets or exceeds your local building codes pertaining to fire safety. This is particularly important for wooden fireplace mantels, as they are highly combustible. Fire hazard clearances must be properly maintained, as safety is the main concern.
Building codes and ordinances vary across the nation and local codes always take superiority over any national code. Though, in the absence of local codes, you must adhere to the clearances suggested by the National/Standard Building Codes or the National Fire Code.
According to the National Standard Building Codes Sec. 2114.3 Masonry-built Fireplaces 4114.3.10:
All combustible materials and similar trim needs be kept no less than six inches from the fireplace opening.
Components of the mantel assembly positioned along the sides of the fireplace opening that project over 1 1/2 inches (38mm) from the fireplace face must have extra clearance, which is equal to the projection extension beyond 1 1/2 inches.
The components of the mantel assembly positioned above and projecting more than 1/2 inches (38mm) from the opening cannot be placed less than 12 inches from the top of the fireplace opening.
According to the National Standard Building Codes Sec. 2806 Fireplaces Factory Built 2806.1.2: "Factory-built fireplaces shall be testing-agency listed and shall be installed in accordance with the conditions of the listing." In other words, you must refer to and follow the installation instructions outlined by the fireplace manufacturer in regards to all aspects of fireplace mantel installation, uses, and safety clearances.
According to The National Fire Code, any combustible material (e.g., wooden fireplace mantel or similar trim) has to be at least six inches from the opening of the firebox. Then, an extra inch of clearance is required for every 1/8 inch the combustible material, or trim, overhangs.
---
Related Questions
How do you protect a fireplace mantel from the heat?
To keep your fireplace mantel protected from the heat of the fireplace, you must consider both the local and national codes regarding clearance distances to combustible materials. More specifically, combustible materials, like wood mantels, must be placed at a safe distance away from the opening of the fireplace. Keep in mind that the depth of the mantel may also impact the total clearance from the fireplace opening.
What size should my fireplace mantel be?
The mantel should be wider than the fireplace (or firebox). Generally speaking, a fireplace mantel should be at least three inches past the firebox on either side. Though, the average mantel is around six inches wider than the firebox on each side, and there are some that are even wider.
More Related Guides

Jessica Stone
Jessica considers herself a home improvement and design enthusiast. She grew up surrounded by constant home improvement projects and owes most of what she knows to helping her dad renovate her childhood home. Being a Los Angeles resident, Jessica spends a lot of her time looking for her next DIY project and sharing her love for home design.
More by Jessica Stone
Published May 2nd, 2021 4:34 PM