233 Views
Troy-Bilt 4-Cycle Trimmer Won't Stay Running? (Do This!)
October 20th, 2021 12:57 PM
Share
The Troybilt 4-Cycle Trimmer has made yardwork as easy as possible, that is when it is running properly. They can fail to stay running if there is a problem with the carburetor or you're using the wrong type of gas. Follow along as we explore the causes and solutions to a Troybilt 4-Cycle Trimmer that won't run properly.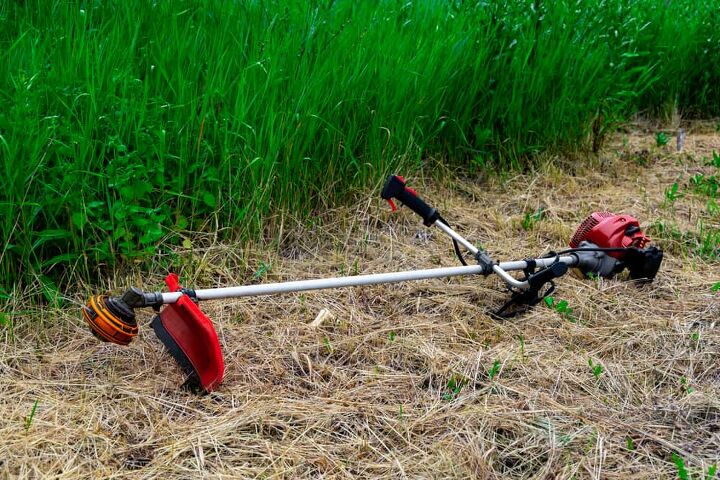 If you have a Troy-Bilt 4-Cycle Trimmer, you know they can be a beast at trimming your lawn. But if your Troy-Bilt 4-Cycle Trimmer won't stay running, it can be pretty frustrating. Because of this, we've decided to produce this guide on how to fix this problem.
The most common issue comes from a clogged carburetor. It comes from leaving fuel in the trimmer over a long period. You can clean this with any standard carburetor cleaner. Also, you may have to replace the gas. If all else fails, you will need to replace the carburetor.
We will focus most of this article on cleaning and replacing your carburetor. If this isn't the issue, we will also get into other potential problems that may cause this to happen.
Do You Need a Mower Repair Service?
Get free, zero-commitment quotes from pro contractors near you.
Cleaning Your Troy-Bilt Weed Eater Carburetor
Below is a short step-by-step process of cleaning your carburetor.
Use a flathead screwdriver to remove the air filter cover
If there is any clog, clean it out with a combination of mild soap and water
Wait for it to finish drying
Reinstall the air filter cover
There are two screws on the air filter cover preventing you from getting to where you need. At this point, you should notice a significant clog in the air filter.
Clean it out, wait for it to dry, and reapply to the filter. If it doesn't immediately shut down again, your weed wacker needs no further maintenance. If it is still clogging, we move onto our next step: replacing the carburetor.
Replacing Your Troy-Bilt Weed Eater Carburetor
Check your part model number
Make sure you have the right tools
Remove two screws, hose, and throttle cable
Use pliers to remove fuel lines, replacing those that look like they have damage
Replace the new carburetor so that it is in the same position.
Below, we will dig into the details behind each section.
Step 1: Check Your Model Number
Be sure that you have the same carburetor as the old one. The sure-fire way to do this is by checking the model number, which you can find with the owner's manual.
If you threw out the owner's manual, check the underside of your Troy-Bilt 4-Cycle Trimmer.
While it would seem that you can use a make a model, mild changes in later releases may make this impossible. Always be sure they have the same model number that you have. If you want to try and bend the rules, confirm that you can with their customer service line.
Step 2: Make Sure You Have The Right Tools
When making this repair, you are going to need the following:
Flathead screwdriver
Phillips screwdriver
Replacement carburetor
Replacement fuel lines (if required)
Pliers
Step 3: Remove Two Screws, Hose, And Throttle Cable
There will be a rubber piece you need to remove on the outside of the weed wacker. Next, you will see screws next to the outside of the throttle. Remove these, and pull the plastic covering to get to the carburetor.
This plastic covering has a connection to a hose which you may need to reposition. If you aren't used to making this sort of repair, take a picture of the carburetor when you remove the plastic covering. You will thank me later for this.
Once you remove the plastic covering, remove the hoses from the carburetor using pliers to undo the pressure. Finally, remove the throttle cable, which has a connection to the carburetor. Please set it to the side before moving to the last step.
Step 4: Use Pliers to Remove Fuel Lines. Replace As Needed
There should be one green and one yellow one. If you see any fuel clogs or damage, it will be time to replace these fuel lines. This clogging is typically caused by aging fuel, which you will want to replace before running.
If there is no damage or sign of wear, you can skip the replacement step.
Step 5: Replace the Carburetor So That It Is In The Same Position
Remember how you had the carburetor initially positioned? You are going to want to bring it back to where it was. It is why you took that picture during step three. With this picture, you will have a good idea of what hose goes where. Use this as a guide as you are replacing hoses and placing the carburetor in the same position.
Other Potential Issues That Prevent Your 4-Cycle Trimmer From Running
Four other potential issues can cause your Troy-Bilt 4-Cycle Trimmer From Running
Fuel filter clog
Air filter clog
Spark arrestor
Spark plug
Fuel Filter Clog
If your fuel filter is clogged, you will need to replace it. You can do this by following the yellow tube into the gas tank until you find the other end.
The other end of the yellow line may be incredibly dirty and not filtering correctly. When replacing this piece, pay attention to the condition of the yellow line. You will need to replace this If there are any clogs or damage.
When buying another filter, be sure that the model numbers match.
Air Filter Clog
The air filter is at the bottom of your air filter cover. Removing the two screws near the throttle will give you access to remove the cover and replace it, which will replace the air filter by extension.
The key is to see if it is dirty, which can cause your engine to overheat. Too many clogs can cause this issue, so it is a good idea to add this replacement to your regular maintenance schedule.
Spark Arrestor
The spark arrestor is located near your muffler and prevents your engine from sparking. Over time, a spark arrestor builds up a thick layer of soot, which stops your muffler from exhausting.
Cleaning your spark arrestor is another thing worth adding to your regular maintenance schedule. You can do this with a wire brush. If the soot is not coming off, you can replace these screens pretty easily by prying them out with a flathead screwdriver.
Spark Plug
The last issue you run into is replacing the spark plug. Again, if this is an issue, you will want to be sure that the spark plug is compatible with your engine. You can find this using the owner's manual.
In this case, the air gap required by this spark plug will be . 025 inches. Be sure that you are cleaning as you work on the project. Getting debris caught here can burn out your newer spark plugs.
Do You Need a Mower Repair Service?
Get free, zero-commitment quotes from pro contractors near you.
Related Problems
What If I Have Troy-Bilt Trimmer Head Problems?
When solving one issue, it is only natural to find other problems. The next most common issue you can run into is finding that your trimmer head has issues. For example, it might not be cutting as well as it used to.
If you have problems with your head's ability to cut, you must remove the head. You can do so by holding the shaft while turning the head in the opposite direction from where it spins.
What If My Troy-Bilt 4Cycle Trimmer Bogs Down?
This issue is related to two different problems. First, there is a primer bolt in your fuel tank that may need adjusting. You can also check on the position of the carburetor. Improper alignment may also cause your trimmer to bog down.
You can follow the same instructions above to adjust your carburetor. When reaching the "replacing the carburetor step," you will want to pay close attention to its position. You will also want to be sure it is firmly in the motor and plastic cover.
What Is The Difference Between a 4-Cycle and 2-Cycle Trimmer?
A 4-cycle trimmer has a higher level of fuel efficiency. As a result, it uses less fuel, energy and has a high level of output. However, it is heavy when compared to smaller 2-cycle trimmers.
Meanwhile, 2-cycle trimmers are more straightforward and have fewer maintenance requirements. They are also smaller and lightweight, making them ideal for storage. However, they are less potent than 4-cycle trimmers and run through fuel much quicker.
Related Guides

Eli Smith
I'm a guy who becomes the expert of whatever I stumble upon, writing-wise. I've written tons about cool home products, home improvement, and smart technology in the home. I'm also the proud father of a kiddo born on new years, making my holidays very busy.
More by Eli Smith
Published October 1st, 2020 5:23 PM