384 Views
The Top 10 Gluten-Free Cheese Dip Brands
November 11th, 2021 2:04 PM
Share
We're committed to finding, researching, and recommending the best products. We earn commissions from purchases you make using links in our articles. Learn more here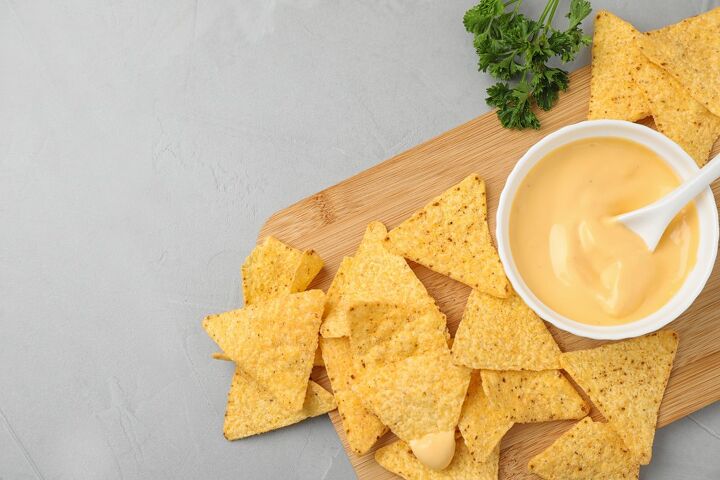 Are you considering a gluten-free diet? Or maybe you've been on one for a while now and are on the lookout for tasty gluten-free snacks? According to ChoosingNutrition.com, one of the most common worries associated with a gluten-free diet is having to skip out on your favorite foods.
Luckily, that's not the case with these ten delicious gluten-free cheese dip brands! You can find both plant-based and traditional cheese dips on this list, but none of them contain gluten. They're perfect for cooking or snacking and provide a punch of flavor that's distinctly cheesy.
Siete Foods
Great Value
Grounded Foods
Mother Raw
Stonewall Kitchen
On The Border
Notcho Nocheez
Core & Rind
LOCA Food
Zubi's
We've compiled all the important information about these 10 top gluten-free cheese dip brands below. You'll definitely want to check out our notes about each product's flavor profile and ingredient list.
What Are The Top Gluten-Free Cheese Dip Brands?
The following cheese dip brands have created products that cater to those with dietary restrictions. Many of the cheese dips below are also dairy-free and come with additional health benefits aside from being gluten-free!
1. Siete Foods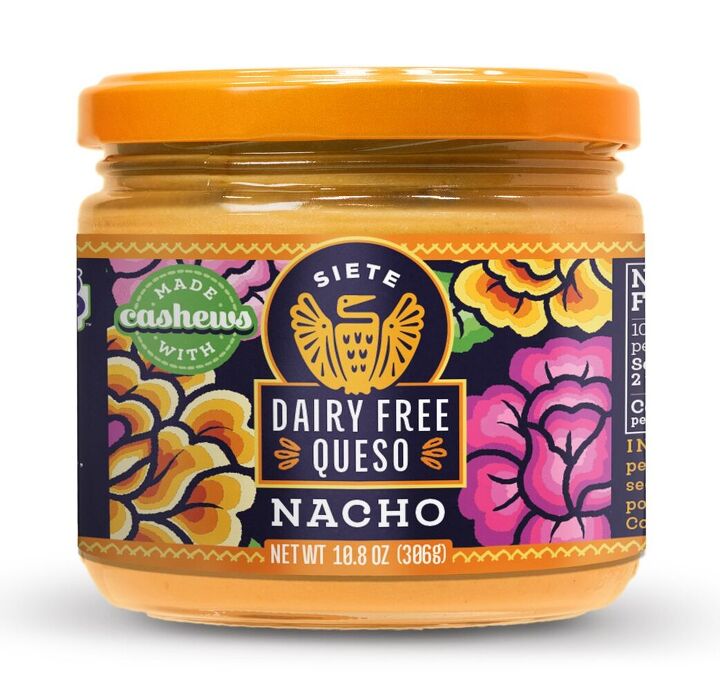 Siete's Cashew Queso is made from trustworthy, natural, real-food ingredients. It was developed by the Garza family after they adopted a grain-free, low-inflammation diet. They enjoyed traditional Mexican food but needed a healthier (yet still tasty) alternative!
Not only is this delicious cheese dip certified gluten-free, but it's also dairy-free, soy-free, grain-free, non-GMO, paleo, and vegan! Even if you have multiple dietary restrictions, you're likely to be able to enjoy Siete's cheese dip without any issues. Because of this, it's not too shocking that Siete Foods made our list of top gluten-free cheese dip brands.
This affordable non-cheese queso can be found for about $5.99 at most retailers. It's perfect to pair with nearly any food that needs an extra bit of flavor!
2. Great Value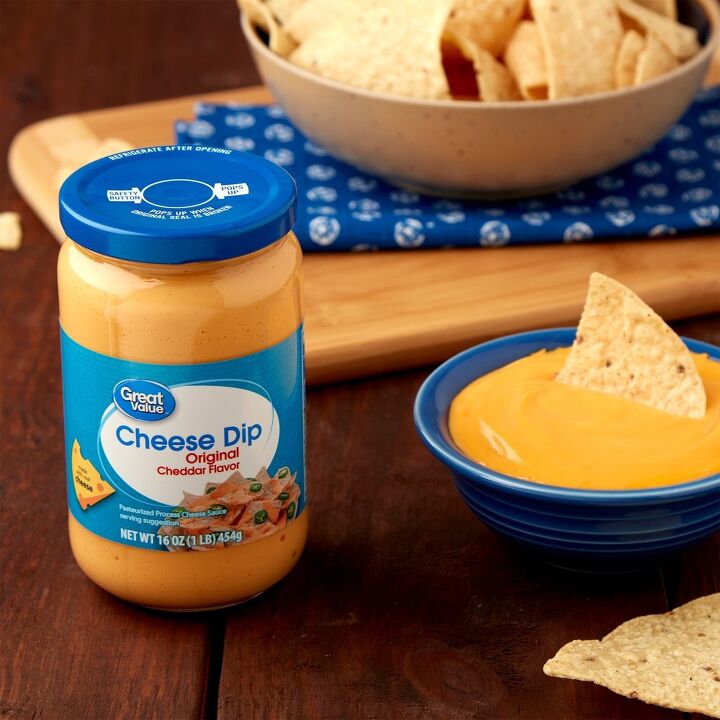 Great Value is the brand name for Walmart's line of food. Its salsa con queso cheese dip has made it one of the top gluten-free cheese dip brands. You're sure to love the tasty blend of salsa and queso that makes the ideal addition to nearly any snack.
You can enjoy Great Value's cheese dip with chips, pretzel sticks, nachos, or even as part of a seven-layer dip. It's made with real cheese, but it's gluten-free and only contains 45 calories per serving. Plus, it retails at only $2 per jar, making it a true steal!
This top gluten-free cheese dip brand has convenient packaging that makes it easy to enjoy over multiple snacking sessions. The twist-off lid and glass jar can be kept in the pantry or refrigerator.
3. Grounded Foods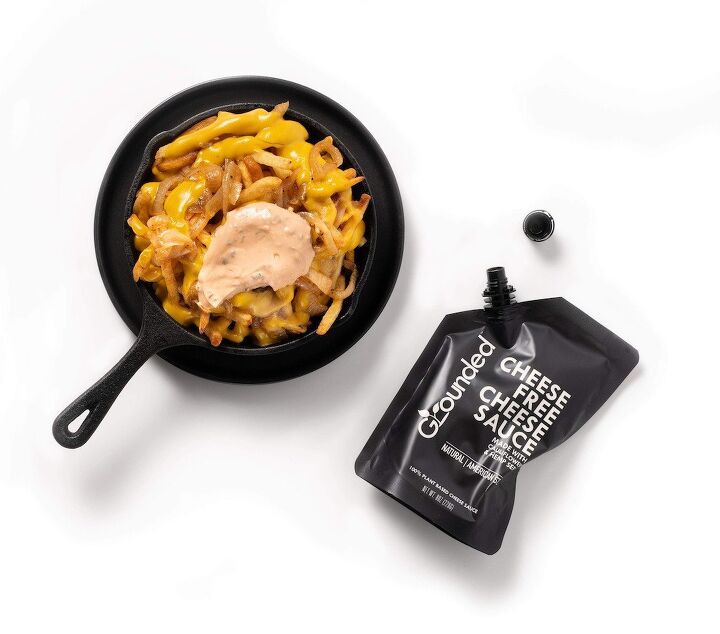 Grounded Foods is a company dedicated to making delicious plant-based cheeses. Its Cheese-Free Cheese Sauce is so tasty that it led to Grounded Foods becoming a top gluten-free cheese dip brand! Made from hemp and cauliflower, you'll be shocked that there's no real cheese in this sauce.
Grounded Foods' cheese sauce is gluten-free, of course, but it's also lactose-free, keto, and paleo-friendly. Plus, it's sustainably made and packed with plenty of probiotics and vitamins.
You can enjoy this top gluten-free cheese dip with potatoes, pasta, nachos, and other dishes. It has a bold flavor and luscious texture that pairs perfectly with a variety of items. Grounded Foods' Cheese-Free Cheese Sauce is also delicious on its own!
4. Mother Raw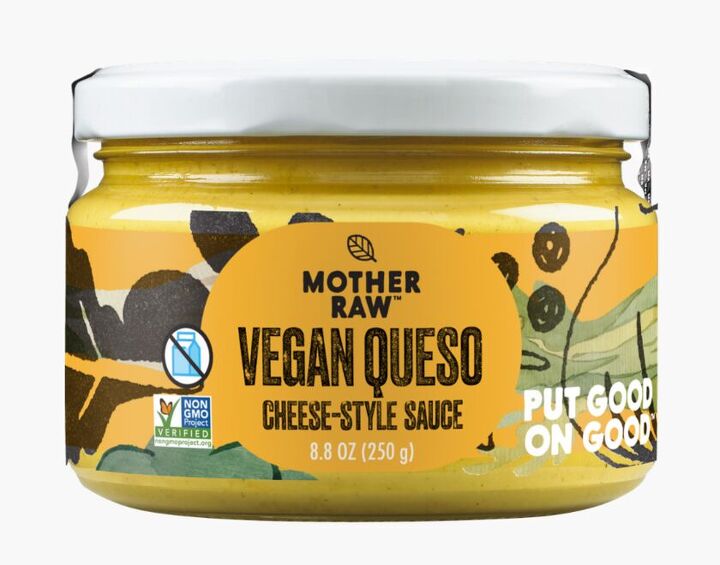 Mother Raw creates organic, plant-based products that are both delicious and versatile. Its mission is to showcase the power and flavor of plants. Because of this, it's no wonder that Mother Raw is one of the top gluten-free cheese dip brands.
Do you prefer products with short and pronounceable ingredient lists? Then this gluten-free cheese dip from Mother Raw is sure to be your new favorite. It contains olive oil, filtered water, apple cider vinegar, nutritional yeast, hemp seeds, minced garlic, minced onion, and sea salt. Plus, it has hints of chipotle pepper, sun-dried tomatoes, red chili pepper, and turmeric.
Aside from being gluten-free, Mother Raw's cheese dip is also non-GMO, vegan, dairy-free, and peanut-free. Plus, it contains no cashews, no soy, and no canola. Finally, it doesn't have any artificial colors, flavors, or preservatives.
5. Stonewall Kitchen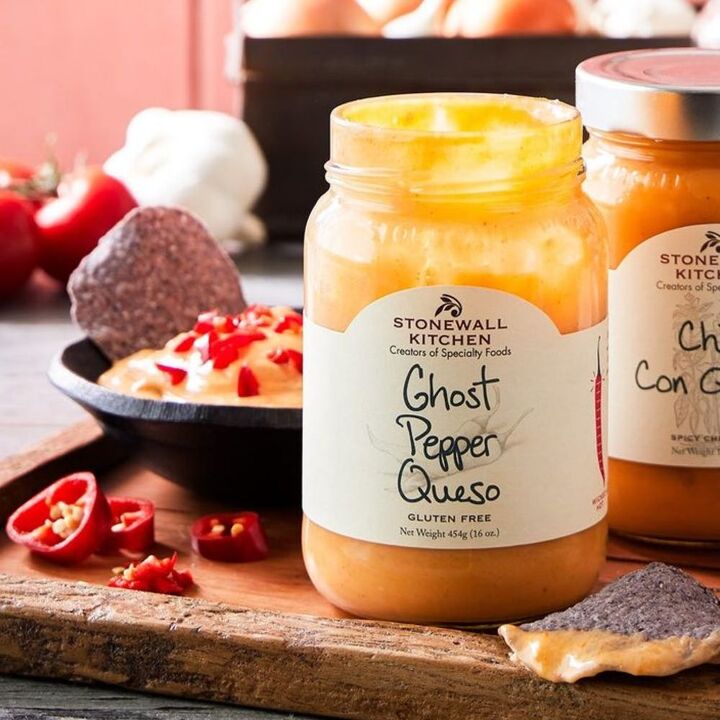 Stonewall Kitchen made its way onto our list of the top gluten-free cheese dip brands, thanks to this queso! Keep in mind that it does come with a "wicked hot" warning. This cheese dip is ideal for those who want a strong kick of flavor.
This tasty treat from Stonewall Kitchen contains multiple kinds of melted cheeses, plus tomatoes, red bell peppers, and onions. This creates a cooling contrast to the fiery chili flavor of the cheese dip.
This gluten-free cheese dip makes the perfect dip for tortilla chips. You can also heat it over the stove to transform it into a silky-smooth sauce. As a sauce, this Stonewall Kitchen product is ideal for enchiladas, fajitas, and nachos.
6. On The Border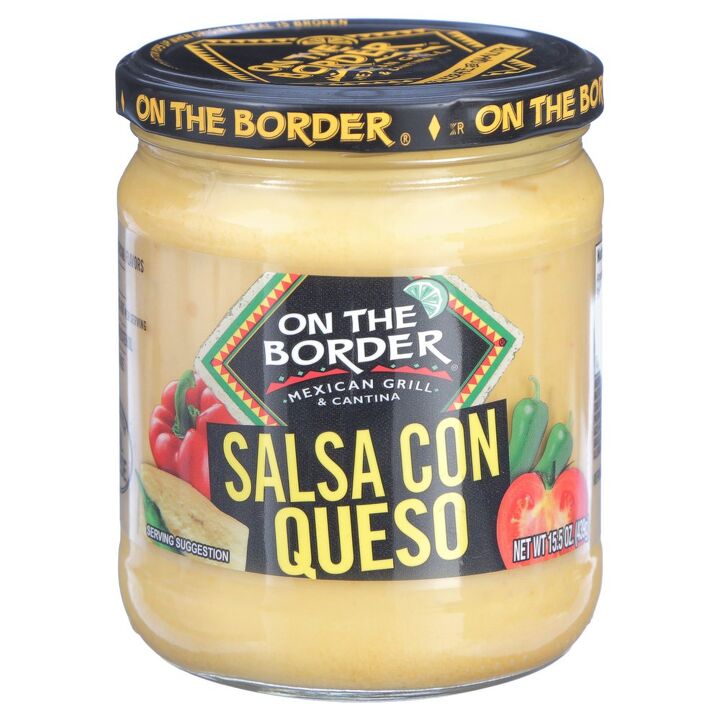 This yummy queso from On The Border isn't just gluten-free. It also has no added sugar, no artificial flavors, no cholesterol, and no trans fat. Talk about the perfect guilt-free snack!
On The Border is one of the top gluten-free cheese dip brands. It recommends enjoying this queso as part of a game-day spread. This queso is also great as a quick snack with chips or pretzels.
This product from On The Border is inexpensive and can be found at most grocery stores. It's available in a glass jar or a convenient squeeze bottle!
7. Notcho Nocheez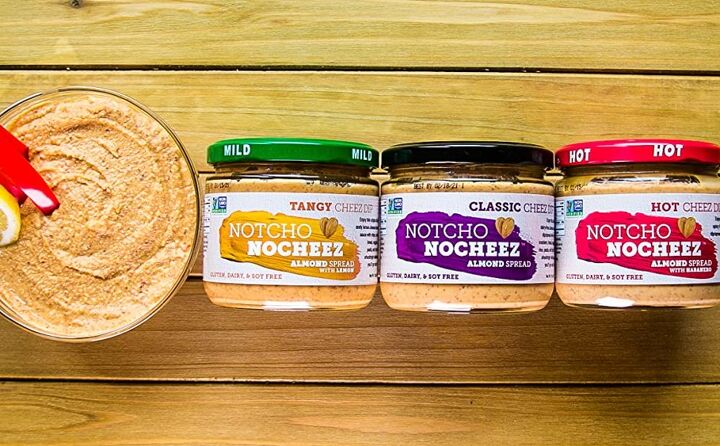 Notcho Nocheez has a goal: To change the perception of dairy-free cheese dips. In the past, vegan cheese dips paled in comparison to the original. But with new formulations and tasty ingredients, this top gluten-free cheese brand is changing that.
As you've probably guessed from its name, Notcho Nocheez doesn't contain any cheese at all! This top gluten-free cheese dip brand was created with vegans in mind, and it's sugar-free and GMO-free. Plus, Notcho Nocheez uses all-natural ingredients.
Notcho Nocheez provides some great nutritional value, making it a perfect addition to an afternoon snack or an evening meal. It's especially tasty as part of mac and cheese or on top of steamed veggies.
8. Core & Rind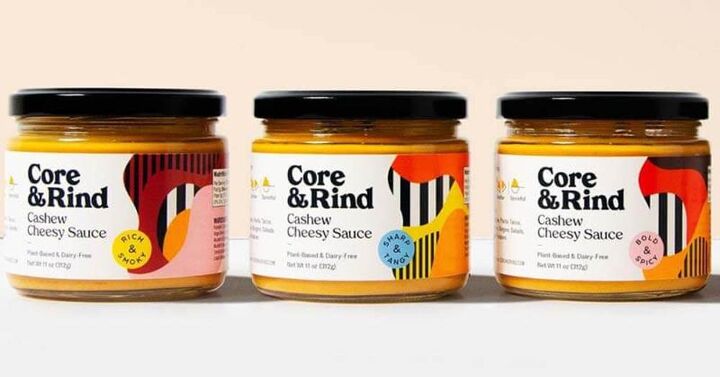 Plant-based, dairy-free, and gluten-free: What more can you ask of a top gluten-free cheese sauce brand? Core & Rind has created a cheese sauce that is sharp, creamy, and tangy. It's made with whole ingredients and doesn't contain any preservatives or chemicals.
The creators of Core & Rind worked to perfect their recipes for years before releasing them to the public. They were met with overwhelmingly positive reviews, showing just how delicious plant-based cheese can be!
Core & Rind has multiple flavors of cheese dip available: Sharp & Tangy Cashew, Spicy Cashew, and Smoky Cashew. This makes it easy to choose the cheese dip with your favorite flavor profile!
9. LOCA Foods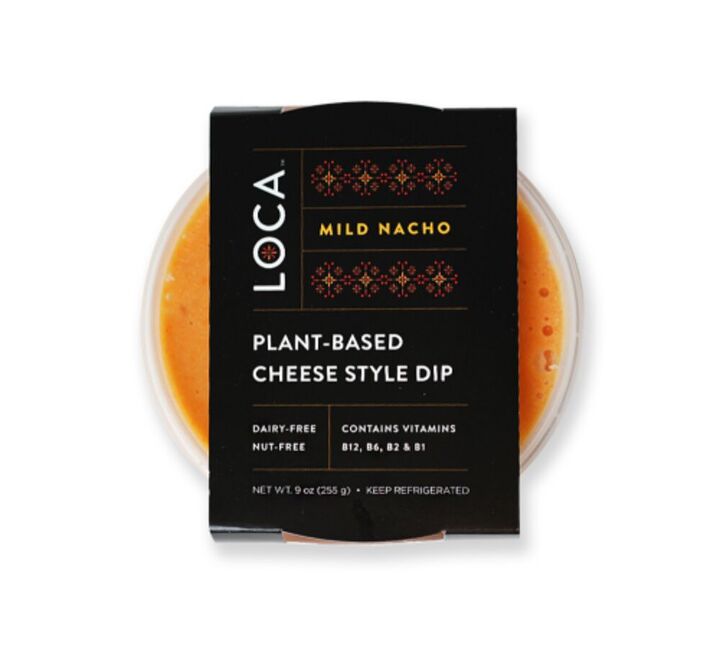 LOCA Food has created a tasty queso that doesn't contain any of the eight most common allergens. Those with major dietary restrictions, rejoice! There is finally a cheese dip that's perfect for you.
As one of the top gluten-free cheese dip brands, LOCA Food's queso dip is, of course, gluten-free. But it also doesn't contain dairy or nuts. So, where does it get its flavor? Potatoes!
Aside from potatoes, this yummy spread also contains carrots, tomatoes, green chiles, and nutritional yeast for added flavor. You can rest assured that you're getting a serving of veggies along with that craving-worthy cheesy flavor. Although it's on the pricier side (a two-pack will run you $25), it's worth it for the punch of flavor!
10. Zubi's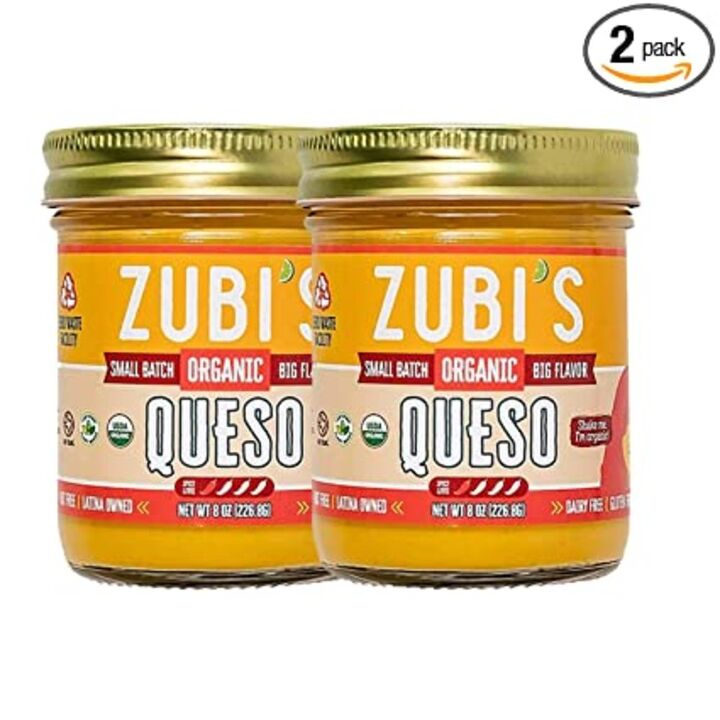 There's a reason customers call this queso "one of a kind" and "the best on the market"! Zubi has developed a truly spectacular organic queso that doesn't contain nuts, dairy, or soy. No wonder it's one of the top gluten-free cheese dip brands!
The ingredient list for Zubi's queso is quite short: yellow onion, sweet pepper, safflower oil, lime juice, and garlic. It also contains nutritional yeast, jalapeno, kosher salt, and cayenne. This queso is vegan and allergen-safe.
Customers rave that this queso from Zubi is "nearly drinkable" and has a luscious texture with a unique flavor. Some found it a bit spicy, so keep that in mind as you select your ideal gluten-free cheese dip.
---
Related Questions
What is gluten-free?
Gluten is found in grains. For example, wheat, rye, barley, spelt, and couscous contain gluten. There is also a combination of wheat and rye called triticale that also contains gluten.
When you hear people talk about a gluten-free diet, it involves cutting out a variety of foods that contain gluten. For example, a gluten-free diet would not contain bread, crackers, wraps, baked goods, condiments, pasta, or processed snack foods. Even some beverages, such as beer, cannot be consumed on a gluten-free diet.
Is gluten-free healthy?
Many people eat a gluten-free diet because they have celiac disease or a gluten sensitivity. But even if you don't have these issues, a gluten-free diet may still have health benefits. It can reduce inflammation, boost energy, help with digestive symptoms, and promote weight loss.
Aside from those who have negative immune reactions to gluten, those with other illnesses also benefit from a gluten-free diet. It can improve irritable bowel syndrome, Type I diabetes, HIV-associated enteropathy, and gluten ataxia.
Is there gluten-free cheese?
Absolutely! You can find a multitude of different gluten-free cheeses at the store or online. Some of these are plant-based cheeses, while others contain real cheese. Most cheese is naturally gluten-free, but you should always read the label before consuming it to be sure.
Related Articles

Jessica Allen
With a lifelong passion for writing plus strong enthusiasm for home improvement and DIY projects, joining the team at Upgraded Home was an easy choice. Jessica Allen likes to share helpful information with current and aspiring homeowners. Aside from writing, Jessica loves doing yoga, playing the piano, and dabbling in graphic design.
More by Jessica Allen
Published July 6th, 2021 3:33 PM