563 Views
Stihl Vs. Husqvarna Leaf Blowers: Which One Is Better?
May 30th, 2021 1:09 AM
Share
We're committed to finding, researching, and recommending the best products. We earn commissions from purchases you make using links in our articles. Learn more here
Both Stihl and Husqvarna have been household names for many years, and it's with good reason. Each brand produces a wide variety of powerful and affordable chainsaws, hedge trimmers, and leaf blowers. With how popular both brands are, which brand has the superior leaf blowers?
Stihl has the best gas-powered leaf blowers on the market, and they offer residential and commercial units. However, Husqvarna has superior battery-powered leaf blowers that boast a strong blowing force. Both brands utilize strong motors, adjustable fan speeds, and comfortable grips to make blowing leaves feel less tedious.
Each brand has its benefits and downsides, and it can be hard to gauge which is better. Because of that, we are going to dive into the build, power, performance, and prices of each brand. Follow along as we dive into what is better: Husqvarna, or Stihl.
Stihl
Stihl has produced power tools and handheld equipment since 1926, and they are still going strong. They make everything from chainsaws and hedge trimmers to pressure washers and leaf blowers. Let's take a look at how their leaf blowers are constructed, perform, and continue to be at the top of the game.
Build
Stihl producers leaf blowers for both homeowners and commercial use. They make leaf blowers for homeowners, such as the BG 50, that are as lightweight as they are durable. The BG 50 only weighs 7.9 pounds, and it is built to be easy to use for long stints of yardwork.
Another residential blower that Stihl produces is the BR 200, and it's a sturdy backpack blower. The BR 200 boasts a convenient build that makes it comfortable to use for extended periods. It only weighs 12.6 pounds, but it feels much lighter than that when you wear it on your back.
Stihl's backpack blowers are built with vibration reduction features that make them easier to use. The handheld Stihl blowers have sound dampers that reduce the level of noise the unit makes while you work. Most of Stihl's leaf blowers and similar products are produced in the United States, and they have consistency in build quality.
Power
You can expect your Stihl leaf blower to be powerful, and that comes right down to the engine. Most Stihl blowers utilize a 4-stroke engine that is gas-powered and can run for a long time. Stihl blowers use a mixture of oil and gas, and the proper ratio is 50:1.
Blowers such as the BG 66 sport engines run at 0.6 kW, and they can take 540 ccs of gas. This all contributes to a strong blowing force, and even residential blowers operate at 10 newtons. Stihl's professional backpack blowers, such as the BR 600, boast more engine and blowing power than standard leaf blowers.
The BR 600 backpack blower takes 1400 cc of fuel, and the engine power is three times the BG 66. Stihl leaf blowers can last for 10 years or longer because of their high-quality construction. You may see a reduction in power towards the end, but you'll be able to blow leaves and clear debris with Stihl blowers for years.
Price
Stihl's leaf blowers are affordable, and that applies to commercial and residential units. The BG 50 is a great example of this, and it only costs $139 which is a steal for such a powerful function. Their cheapest blower is the BGE 61, which costs $109, but the tradeoff that it is a wired leaf blower.
Stihl also offers electric blowers at a low price, and the BGA 45 only costs $129. With that said, it does come with the tradeoff of short battery life, but it's worth it for the low cost. The BGA 100 is their most elaborate battery leaf blower, and it will cost you $859.
| | |
| --- | --- |
| Leaf Blower | Cost |
| BG 50 | $139 |
| BGE 61 | $109 |
| BGA 45 | $129 |
| BGA 100 | $859 |
| BR 450 | $469 |
Professionals can also find affordable blowers from Stihl, and one of the best is the BR 450 which costs $469. Stihl leaf blowers are mostly affordable, especially considering how high-quality and consistent they are.
Husqvarna
Husqvarna produces all means of outdoor equipment, such as zero-turn mowers, chainsaws, and leaf blowers. They excel in creating battery-operated and fuel power tools, and they do it all for a reasonable price. Follow along as we see why their builds are so effective and see how they stack up against Stihl's leaf blowers.
If you run into issues with your Husqvarna leaf blower, check out Husqvarna Leaf Blower Won't Start?
Build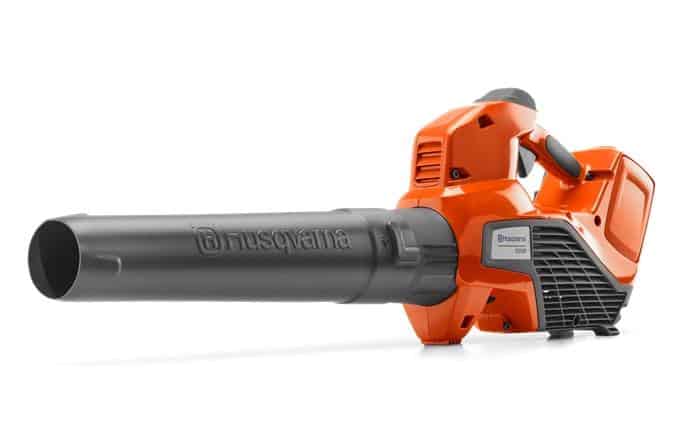 Much like Stihl, Husqvarna makes residential and commercial leaf blowers that are all-powerful and reliable. Unlike Stihl, Husqvarna stands out with its construction of quiet, battery-operated leaf blowers. Leaf blowers such as the Husqvarna 320iB utilize a brushless motor that delivers blowing power without being loud.
Their battery-powered leaf blowers utilize a 40v battery that provides a long working time that is reliable. All of this comes in the form of a lightweight leaf blower that only weighs 5.29 pounds, and that makes yard work easy. Husqvarna also produces professional-grade backpack leaf blowers that are gas-powered, such as the 580BTS Mark II.
This blower is much heavier at 26.3 pounds, but it also delivers 41 newtons of blowing force for big jobs. Husqvarna's gas-powered blowers are much louder than their battery-operated units, but it's a tradeoff. You can expect your Husqvarna commercial or residential leaf blower to last you for years and require little maintenance.
Power
All Husqvarna blowers are powerful, but their gas-powered units are their strongest offering. Their blowers feature a cruise control feature that allows you to adjust the fan speed based on the job. This comes in handy when it comes to clearing large debris, and the brushless motors make this possible.
The most powerful battery-operated Husqvarna leaf blower is the 340iBT, and it has a blowing force of 17 newtons. However, that is nothing compared to some of their gas-powered leaf blowers, like the 570BFS. This unit has a blowing force of 37 newtons, more than double the force of the strongest battery unit.
The 580BTS Mark II has Husqvarna's most powerful engine with 41 newtons of blowing force, and it's ideal for commercial use. Husqvarna's battery-operated blowers are great, but unfortunately, they don't always provide a long battery life. You can expect a battery-powered Husqvarna leaf blower to last you up to 25 minutes, but it's often shorter.
To learn how to start your Husqvarna leaf blower, refer to How To Start A Husqvarna Leaf Blower.
Price
Husqvarna delivers on quality, build, performance, and even their prices. Their most affordable leaf blower is their electric 320iB, and it only costs $169, but no battery is included. Adding a battery and charger to this blower brings the price tag up to $229, and it is a necessary cost.
As you could expect, Husqvarna's commercial leaf blowers are much more expensive due to their construction and blowing power. For example, the cheapest commercial blower that they offer is the 525BX, and it costs $269. Their most elaborate commercial blower is the 580BTS Mark II, and it comes in at $569.
| | |
| --- | --- |
| Leaf Blower | Cost |
| 320iB | $169 |
| 436LiB | $249 |
| 525BX | $269 |
| 580BTS Mark II | $569 |
| 550iBTX | $449 |
The one downside to Husqvarna's battery-operated leaf blowers is the somewhat hidden costs. Sure, their electric blowers are affordable, but they don't come with the required batteries. This means that you'll have to pay up to $60 more than you might expect to get something essential to its operation.
Which Is Better?
Stihl is better than Husqvarna if you are looking for a gas-powered leaf blower. However, Husqvarna excels in the battery-operated leaf blower department compared to Stihl. Stihl's prices are slightly higher than Husqvarna's when it comes to commercial blowers, and that's due to their construction.
Both brands have a wide variety of options for leaf blowers no matter what you may need them for. Even still, Stihl excels at delivering leaf blowers with powerful blowing force and construction. If you want a strong gas-powered leaf blower, consider a Stihl, and go with Husqvarna if you want a battery-powered blower.
---
Related Questions
Does a Stihl leaf blower take regular gas?
No, you need to make sure that you only use unleaded gas in your Stihl leaf blower. The last thing that you should do is use any time of gas that has any additives as it can damage the engine.
How long does a Husqvarna leaf blower battery last?
Husqvarna leaf blowers have a short life, and they rarely last more than 20 minutes on the long end. You should always have an extra battery on the charger in case you need to swap batteries if it dies while you're still working.
Summing It Up
Both Husqvarna and Stihl produce high-quality leaf blowers for residential and commercial use, but Stihl is the best brand. Stihl leaf blowers are great because of their strong blowing force, engine housing, consistency, and performance. Their fuel-powered leaf blowers are what makes Stihl stand out, and they are better than their electric blowers.
However, Husqvarna takes the cake when it comes to battery-powered leaf blowers, and theirs are affordable. The one downside is that Husqvarna's electric leaf blowers do not come with batteries, and they require additional purchase. Luckily, Husqvarna produces battery-powered leaf blowers that have brushless motors that contribute to quiet blowing.
Neither brand produces long battery lives for their leaf blowers, and fuel may be the way to go. Stick with Stihl if you want a powerful fuel-powered leaf blower, and choose Husqvarna if you want a battery-powered blower. Both brands produce high-quality leaf blowers, and you can count on getting as much as 10-15 years of use out of your Stihl or Husqvarna blower.

Nick Durante
Nick Durante is a professional writer with a primary focus on home improvement. When he is not writing about home improvement or taking on projects around the house, he likes to read and create art. He is always looking towards the newest trends in home improvement.
More by Nick Durante
Published March 18th, 2021 8:40 PM