11 Views
Should You Replace A Roof In The Winter?
March 21st, 2022 11:25 AM
Share
We're committed to finding, researching, and recommending the best products. We earn commissions from purchases you make using links in our articles. Learn more here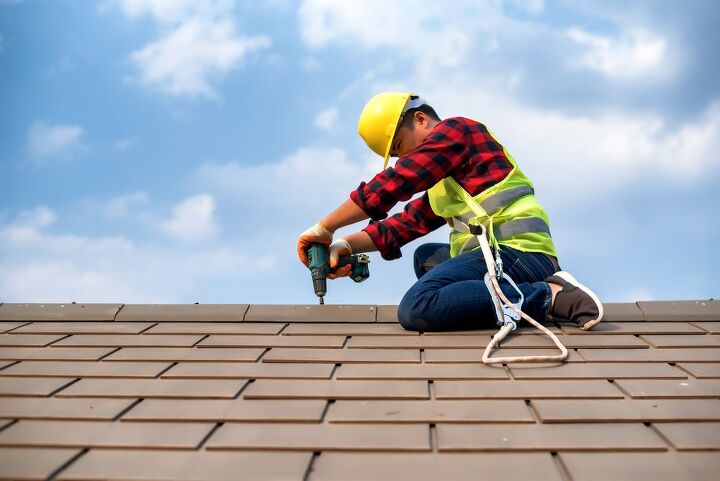 Are you getting ready to replace your roof system? Across most regions in the United States, fall is the busiest time for roofers as most property owners are trying to deal with any roofing issues prior to wintertime. Conversely, the winter months are easily the least busy times. So, can you replace a roof in the winter?
Yes, you can replace your roof system during the winter months but be sure to pay close attention to the weather conditions and prepare for potential scheduling delays due to inclement weather. Replacing a roof during the winter months actually comes with many benefits, including more flexibility for planning, more affordable prices, and a better chance for seasonal promotions.
Before you start planning your roofing project, read through this article to make sure it makes sense to dive into the project in the winter. In some cases, you may be better off waiting for the weather to warm up again. Here's everything you need to know.
Things to Consider if You're Replacing Your Roof in the Winter
When replacing your roof during the winter months, the process won't be as straightforward. You'll have to pay attention to the weather and the specifics of your project to ensure it makes sense to complete the project, or if it's better to wait for the weather to warm up. Here's what you need to pay attention to before you begin planning.
Type of Roof System
The type of roof materials you're installing will play a big role in whether you can complete the project in the wintertime. For asphalt shingles, cedar shake, or composite, you're likely to run into more issues when trying to replace the roof when it's cold outside.
Unlike other roofing materials, installing a metal roof is much easier in colder months without risking the quality of your roof. Metal panels are not fazed by harsh temperatures and are designed to shed water and ice. Most importantly, they don't need time to cure and seal.
Cold Temperatures & High Winds
When the temperature gets too cold, a simple roof replacement can turn into a dangerous job due to icy and cold conditions. Furthermore, you run into the risk of the tools like nail guns and compressors to fail.
It will also be harder to seal asphalt shingles. They'll have to be hand-sealed, which takes much more time. Without proper sealing, you'll run the risk of leaks happening, especially around the chimney.
Rain and Snowfall Levels
Any presence of rain and snow will seriously hinder your roof's overall If your roof isn't properly installed, it can affect how much weight it can hold and how long it lasts. These conditions can also damage your gutters, which can lead to even more work down the road.
Much like working in the cold alone, working in wet conditions can be dangerous. It can also lead to the formation of ice dams, heavy snow piles, and other problematic conditions. With heavy snows, tree limbs can also fall, which can cause worse leaks and extensive water damage.
Scheduling Delays
Since the chance of dealing with unpredictable weather increases in the wintertime, you can expect to run into more delays when it comes to completing the project. Furthermore, the process itself will take much longer because a lot of steps will have to be done one at a time by hand versus using tools.
How to Make Replacing Your Shingles in the Winter Easier
If you live in a region that gets colder than 40 degrees Fahrenheit during the winter months, you technically still can replace your roof shingles, but it's going to be much more difficult.
First, your roofers will have to take special care to ensure the shingles don't bend or crack. Additionally, it will be much harder not to trap moisture underneath the shingles. It's also harder to ensure they seal properly.
Truly, the best thing you can do if you're planning to replace your roof in the winter is to hire a reputable local roofing company. They'll know how to work around the weather and how to keep your shingles warm for as long as possible and will wait for a day with no rain or snow in the forecast.
The Benefits of Replacing Your Roof in the Winter
Though it's likely you're going to run into some roadblocks, replacing your roof in the winter comes with its advantages as well. If it didn't, we wouldn't even need to be talking about this! So, before you set your mind against replacing your roof on the winter, consider the positives.
More Flexibility
For one, winter is one of the least busy times for roofers across the board, which means you have a lot more wiggle room when it comes to scheduling the project. This can be especially helpful because you'll need a bit more room for delays due to the weather and holidays. Since you don't have to be locked into a strict schedule, you can get the work done on your time.
Promotions & Affordable Plans
The other plus side to replacing your roof in the winter is you often can take advantage of promotions and more affordable pricing. Since winter is the least busy time of the year, a lot of roofing companies will offer lower prices and promotional offerings, so they can maintain steady business throughout these months. For the roofers, this means they get customers. For you, it means a less expensive roof replacement project!
Best Temperature to Replace Your Roof
Generally speaking, you should replace your roof system when temperatures are between 40- and 80-degrees Fahrenheit. The absolute ideal temperature is about 55 degrees. As far as weather conditions go, you'll want mild humidity, low wind speeds, and no chance of rain. This is why in areas like Florida, replacing your roof in early winter is more feasible.
We've talked about what replacing your roof in the winter entails, but what about the other months? Depending on where you live, these situations will vary slightly. For the average region that experiences all four seasons, this is what you should know. This is most common when replacing your roof in the…
Fall. This is often considered to be the best time of year to replace a roof system. This is mostly due to mild temperatures and less humidity overall. On the downside, this time of year is usually busy for roofers.
Spring. This is the second-best time to replace a roof because there is still lower humidity and moderate temperatures. As another plus, many roofers are much more available. However, it's important to make sure it doesn't get too hot.
Summer. Summertime isn't terrible because the temperatures are usually consistent. On the downside, humidity levels can get out of hand, which is not ideal for roofing projects.
Our Final Thoughts on if You Can Your Roof in the Winter
Planning a roof replacement for the winter is most definitely doable. However, it is important to keep an eye on the weather and plan accordingly based on your specific project. That being said, there are plenty of positives for replacing your roof in the winter time. Either way, the best thing you can do is get in touch with a professional roofer to handle your project.

Kerry Souder
I am a copywriter and editor based in the Las Vegas area with nearly a decade of experience under my belt writing landing pages, cost guides, blog posts, newsletters, case studies, and social media content. I have a degree in Strategic Communication and experience working in both the account and creative spheres. My goal is to always be discovering new interests and bettering myself as a writer and editor along the way.
More by Kerry Souder
Published March 21st, 2022 11:25 AM