71 Views
Can You Replace Only Half A Roof? (We Have The Answer!)
February 8th, 2022 3:14 PM
Share
We're committed to finding, researching, and recommending the best products. We earn commissions from purchases you make using links in our articles. Learn more here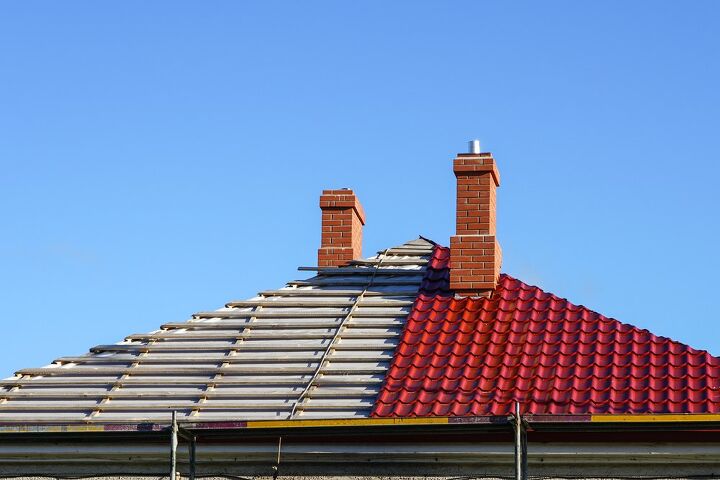 The roof on your house does a lot more than we give it credit for. It keeps us protected from the elements, dry when it's raining, and warm in the chilly winter months. Roofs are incredibly durable but by no means indestructible.
Professional roofers and contractors recommend that you do not replace ½ of a roof. It will cost you just as much as replacing the entire roof when the other half of it goes bad before the new half. You can hire a professional to do patchwork on your roof, but don't replace ½ of it because it will cost you more money later.
As a homeowner, you want to get the best bang for your buck without any compromise. Maybe your roof experienced damage from a severe thunderstorm, a fallen tree, or it's just plain old. Whatever situation you're facing, I want to share with you all of the details behind replacing your roof, including the cost.
Do You Need Roofing, Siding, or Gutter Installers?
Get free, zero-commitment quotes from pro contractors near you.
Why You Should Not Replace Half Your Roof
While you could theoretically replace only half of your roof, professionals highly advise against it. In fact, if a roofing contractor agrees to do a partial roof replacement for you, they probably aren't the most reputable choice. Even if you submitted a storm damage claim and your insurance company is only going to pay for half of the roof replacement, a professional, reputable roofing contractor will help you fight to get a full roof replacement.
Although you may be trying to stick to a budget and might think that replacing only half of your roof is a good idea, it's not. Here's some of the many reasons why:
1. Aesthetics
While not all homeowners care about the way their roof looks, many do. Replacing just half of a roof can be hard when it comes to aesthetics. Let's say you're using the same exact color and style of shingles as the side you're not replacing.
Due to normal wear and tear, the newer side will look noticeably different. It will likely be a richer color and clean, while the older side will be faded and worn out.
2. Logistics
Roofs are a lot more complicated than we realize. They're not logistically designed to be split in half like you'd need to do to replace part of it. If you make your own seams when attempting to replace half your roof, you can create areas that are prone to leaks or even structural issues.
Is your house older? If it is, it could be too worn out to handle replacing half the room. This can cause a lot more damage in the long run that could end up costing you quite a bit more.
Try to think of your roof as a whole item, instead of something that can be divided. You can put on new shingles here and there without issue. But you'll find that most roofing contractors won't even take a job unless it's working on the whole roof.
3. An Uneven Lifecycle
Let's say you do end up replacing half of your room. Then, you'd have two separate lifespans, meaning you'd have to continue to only change out half of your roof from here on out. It will create an endless cycle that ends up requiring a lot more effort.
4. It Can Get Expensive
It's safe to assume that you'd save money by putting in half a new roof at a time. Many homeowners are surprised to hear that it will end up costing you more in terms of square footage. Since you'll have to repeat the process again twice the amount, with the other half of the roof, it will also cost you double in labor.
An uneven lifecycle on your roof will eventually cost you more in repairs as well. The increase for damage from leaks and drafts also increases. Is this hurting your wallet yet, because it's hurting mine.
It's understandable to only have the budget for half the roof, especially when insurance companies won't help. A trick you can do is have your insurer speak with your contractor to lower the prices. It may or may not work, but you never know until you try.
5. No Warranty Protection
When you get a new roof, you receive two warranties: one on roofing materials and the second on your roofing contractor's workmanship. Though, if you only replace half of your roof, you won't receive the warranty protection you expect. Shingles come with a prorated warranty. Though, you will not qualify for the 50-year non-prorated warranty, as most shingle manufacturers only offer this when you get a full roof system.
Even if you already have the enhanced warranty on your current roof, replacing half will void this warranty. Plus, as previously mentioned, no reputable roofing contractor is going to do a partial roof replacement. So, if you find someone who will, there's no way they will stand behind their work and give you a decent workmanship warranty to protect something that is going to come with more problems down the road.
Additionally, the two sides of your roof will be covered by two different roofing contractors. In this case, you'll have to fight with one or the other to fix the issues. Regardless, your roof isn't going to be protected in the way that it should be when you receive a full roof replacement.
When You Can Replace Part of Your Roof
Now that you know that it's generally frowned upon to substitute one part of your roof and not the other, there are some situations where that's okay. Here is the most common and acceptable situation in which you could repair or replace part of your roof.
Patch Work
Whether a storm damaged your roof or it's in need of an update, you might have a certain area that could use a refresher. It's important to get a roof inspection from a professional to see what they think you should do. Sometimes it may look like a small task but end up being a major headache.
If there isn't any water damage, it should be a quick and easy repair. Again, you might be able to notice the patch job due to the new shingles, but it's still an affordable way to get the job done.
New shingles can be installed where old ones once were, and later we'll discuss applying new ones on top of existing shingles. If you see any that are missing, they should be replaced immediately. This reduces the chance of leaks and other damages that could be done due to missing shingles.
Roof Replacement Choices
If you've decided that you'd rather replace the whole roof instead of just half, there are options available to you. Here are the most common ones you can choose from.
Adding a Second Layer
This is one of the easiest methods to choose from. It involves applying a new set of shingles over the older ones. You should only do this after looking to see if there's any structural damage to the current shingles.
Adding a second layer is often more cost-efficient than other routes you could take. Something to note about opting for this method is that it might not last as long. Applying a second layer is known to trap heat, which can cause wear and tear to happen quicker.
Tear Off
The second choice you have is what most professionals would suggest. It involved tearing off all the old shingles and replacing them with new ones. If there are any damaged flashings, underlayment, or any other parts of the roof, they'll need to be replaced as well.
One of the main reasons people are scared to choose this option is due to the upfront cost. We'll dive deep into that in the next section, but it can easily cost you thousands of dollars. If your insurance company doesn't cover roof replacements, they may be able to help get the contractor to lower their price.
There are also finance options available from many companies. While the price may be steep, it will save you, in the long run, to do your entire roof at once. You'll renew the lifespan, it will look great, and can even raise the resale value of your home.
Cost of Repairing a Roof
Here's what you can expect to pay for a professional roof repair. This depends on a few variables, including your location and the size of our roof. These are average prices and may be higher or lower depending on specific circumstances.
| | |
| --- | --- |
| Square Footage of Roof | Average Cost |
| 1,054 | $4,000 – $5,500 |
| 1,160 | $4,200 – $6,000 |
| 1,265 | $4,500 – $6,500 |
| 1,581 | $5,500 – $8,000 |
| 1,687 | $6,000 – $8,500 |
| 1,792 | $6,500 – $9,000 |
| 1,897 | $6,700 – $9,500 |
| 2,003 | $7,000 – $10,000 |
| 2,108 | $7,400 – $10,500 |
| 2,635 | $9,000 – $13,000 |
| 3,162 | $11,200 – $16,000 |
Do You Need Roofing, Siding, or Gutter Installers?
Get free, zero-commitment quotes from pro contractors near you.
---
Related Questions
Can you replace only a few shingles?
There are a few instances where you can safely replace just the shingles. If they are cracked or torn, they can be individually replaced. If the crack or tear is rather small, you can use roofing sealant to make a strong repair without needing to buy new shingles. 
How long does a re-roof last?
It all depends on the type of material being used. Roofs that are made of slate, tile, or copper can last over 50 years. If you have a wood shake roof, that will last you a few decades. Another long-lasting material is fiber cement shingles, lasting around 25 years.The most common type of shingle is composition/ asphalt shingles. You can expect to get 20 years out of these before needing to replace them. 
Is it okay to put new shingles over old?
It will save you a ton of time and effort, knowing that you can lay new roof shingles over old ones. The only exceptions are if you have a wood or slate roof. It's important to never mix materials when replacing shingles and always be sure the old roofing is in decent condition. It's important to remember that putting new shingles on over existing ones should be a temporary fix. It can be hard to tell if there are leaks or structural issues under multiple layers of shingles. Consider doing this if you're on a tight budget but have a plan to do the tear-off method in the future.

Kirstin Harrington
Kirstin is a passionate writer who loves helping people learn new things when it comes to home improvement. When she's not behind a keyboard, she enjoys DIY projects, crafts, spending time with her pets, and making videos. She hopes that with all she writes, someone is finding a solution to their home improvement needs.
More by Kirstin Harrington
Published October 8th, 2020 7:40 AM