4 Views
2022 Roof Replacement Costs: New Roof Installation Prices
November 3rd, 2021 2:54 AM
Share
We're committed to finding, researching, and recommending the best products. We earn commissions from purchases you make using links in our articles. Learn more here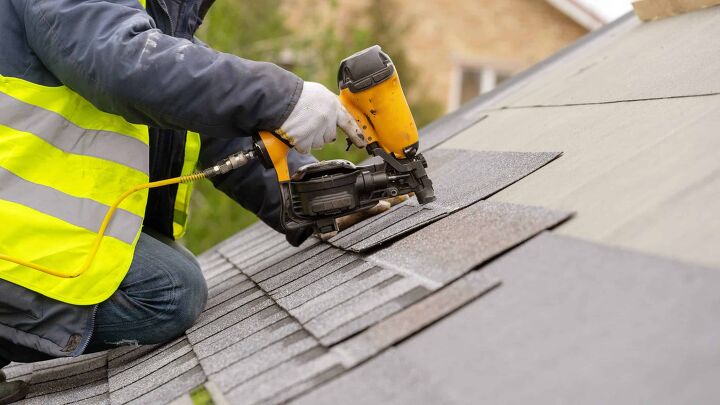 A roof is such a fundamental part of any home. Keeping a roof over your head is essential for your safety and security. However, most of us don't consider how vital our roof is to our home until something goes wrong. Although, when something happens, you need to take immediate action.
It costs about $8,037 on average for the average homeowner to replace their roof. The price depends on the type of roof, size of the house, the area in which one lives, and the materials that are used. Contractors will differ with prices too; always be sure to get at least three quotes.
In this guide, we have included the most up-to-date cost estimates based on the latest data for an average-sized home in the USA. You can adjust the calculation according to the size of your home. Also, we provide the various choices you can make in terms of materials and their associated prices.
Do You Need Roofing, Siding, or Gutter Installers?
Get free, zero-commitment quotes from pro contractors near you.
Roof Replacement Costs
Average Cost For Roof Replacement

Low

Typical Range

Average

High

$1,000

$5,350 – $10,820

$8,038

$45,000
To replace a roof, a homeowner can expect to spend around $8,037, on average. Although, the typical range for a roof replacement falls between $5,347 and $10,808. You should keep in mind that the area you live in significantly influences the total cost.
For example, Denver is a city where the prices are above average, with a median price of $9,000. On the other hand, Austin, Texas, has a below-average cost of around $7,000.
Although spending $5,000 to $10,000 or even more for a project like this may seem daunting, keep in mind that this is money well spent! The total costs for a roof installation can usually be broken down to about 40% for the materials and 60% in labor costs. It's essential to keep in mind that these prices are typically inclusive of everything from preparation to cleanup.
Cost To Reroof A House
The average price to reroof a house is around $8,000. The work will most likely require removing the existing shingles, making spot repairs to the shingle base, and installing the new shingles.
Prices will vary according to many factors, including:
The size of your roof
The pitch of your roof
How it has previously been installed on the frame/deck
The products and suppliers you choose.
How many layers you will need
Requirements of local building codes
Additional features you have, such as drainage pipes, skylights, and chimneys
When you start to get estimates for the project, it is essential to understand that the job will be quoted on a "per square" basis. For roofing projects, "per square" is equal to 100 square feet.
Roofing Material Prices
How Much Does It Cost To Replace A Roof On A 2200 Square Foot House?

*Average price for 17 squares

Material

Price

Copper

$25,000 +

High-End Stone Or Slate

$20,000

Stainless Steel

$14,000

Galvanized Steel

$3,000

3-Tab Asphalt Shingles

$2,500
The cost of the materials you will need to carry out a roofing project can vary significantly. Materials can cost anywhere from $100 per square to $1,000 per square. Although, this is dependent on the kind of material you select.
If you hire a professional, you should bear in mind that for most roofing projects, the cost will break down to around 40% for materials and 60% for labor costs. So, if you pay $12,000 for material, expect to pay in the region of $15,000 for labor costs. This would bring the project total to around $27,000.
How Long Does It Take To Roof A House?
On a clear and sunny day, a crew of 5-6 roofers will probably need no more than a day to remove and replace a 40 square asphalt shingle roof. In mild weather, it should be possible to install as many as 50 squares in a day. This is assuming that the roof is not unusually steep, or that it doesn't contain complex architectural features. Using this simple scenario as your baseline, you can roughly calculate the time required for other jobs.
However, if your roof is involved or has significant damage, this can add anywhere from 1 to 3 days to the total time it takes to fix. Now, if you are doing this alone, allow for at least a 4 to 5 days period. Make sure that you have protection for the workspace overnight in case it rains.
Other Influencing Factors
Several other factors will influence the time needed to replace a roof, such as:
Unpredictable weather
Previously hidden problems
Damage to the overall structure
Many factors can impact this time frame. So, when budgeting, start with a theoretical calculation of the time required for your new roof to be installed.
If the installation is halted by bad weather, work will not resume until it improves enough to ensure safe working conditions. If structural damage prolongs the work, this can add anywhere from 30 minutes to one full day or more. Of course, this will depend on how extensive the job is.
Roofing Labor Cost Per Square Or Square Foot
Expect labor costs for roofing to run between $150 and $300 per square. This equates to $1.50- $3 per square foot. The exact price will vary according to the product you are using and the condition of the roof structure.
Labor and overheads typically account for 60% of the project total. So, for example, if your total price for the roofing project is $7,500, expect $4,500 of that to cover labor and other overhead costs.
The per square rates should include many different elements, such as:
The cost of the shingles
Supplies for the fixing
Any protective materials (if you live in an area subject to inclement weather)
Waste removal
Labor cost
Cost of tearing off & replacing a roof
Roof Tear Off And Replacement Cost
You should expect to pay between $1.20-$4 per square foot, the average cost to tear off and replace a roof with asphalt shingles. That will equate to around $1,700- $8,400 for a ranch-style property of around 1,700 to 2,100 square foot.
Naturally, the shingle removal cost will increase when you choose to install high-end materials for your roof, but this may prove a wise investment over time. Higher-end materials prove to be more durable, and they also delay the need for repairs and replacement by several years.
Cost To Redo A Roof With A Different Material
If you choose to replace your roof with a different material from that already installed, the cost can range from $7,000 to $12,000 or more. This price will include the tear-off of the existing materials.
If you decide to replace lighter materials, such as asphalt, with heavier ones, like tiles of slate or clay, you'll need to ensure that your frame can support the extra weight. Have the framing and trusses checked by a professional. If they need to be reinforced, this should be done before gathering the materials for your new roof.
To summarize, potential additional expenses at this stage of the project include:
Inspection
Truss repairs
Truss reinforcement
Average Cost To Replace Roof By House Size
Cost By House Size

House ( Roof) By Square Foot

Re-Roofing Cost

1,000 (1,054)

$,4000 – $5,500

1,100 (1,160)

$4,200 – $6,000

1,200 (1,265)

$4,500 – $6,500

1,500 (1,581)

$5,500 – $8,000

1,600 (1,687)

$6,000 – $8,500

1,700 (1,792)

$6,500 – $9,000

1,800 (1,897)

$6,700 – $9,500

1,900 (2,003)

$7,000 – $10,000

2,000 (2,108)

$7,400 – $10,500

2,500 (2,635)

$9,000 – $13,000

3,000 (3,162)

$11,200 – $16,000
It's important to know that your roof will not have the same measurements as your house. You will need to make sure you measure for the overhang, and pitch as well. If you do not keep this in mind, then your material supply will be short. This will cause the job to take longer and you may run the risk of damage to new materials depending on the weather.
Cost Of Roof Replacement According To Location
Cost By Location

City or State

Average Range

Colorado

$6,300 – $12,300

Florida

$8,000 – $16,500

Houston

$5,750 – $10,600

Los Angeles

$6,400 – $15,400

Maryland

$4,500 – $9,500

Michgan

$6,500 – $11,900

New Jersey

$5,800 – $10,000

Phoenix

$5,600 – $10,000

Seattle

$7,000 – $13,800
Roof Replacement Cost Comparison by Material
It can cost anything between $5,000 and $45,000 to replace a roof. The cost depends, to a great extent, on the type of roofing you select. Each material has pros, cons, and prices that need to be taken into consideration.
The material that you choose will be contingent on your needs and budget. For example, if you are looking for a virtually damage-proof roof, this will cost more than a simple one made from asphalt shingles.
Asphalt Shingle
Installation cost range: $5,300-$11,000.
Most common type, which means it's easy to find
Lightweight and saves on labor costs
Easy to install, which reduces the installation time
A low-cost solution
Most DIY-friendly. (DIY will cost, on average, $2,000-$4,000)
Recyclable
Wood Shake Roof
Installation costs: $10,000-$20,000.
Visually attractive
All-natural product
Will need a higher level of maintenance
Deteriorates quickly, which means you will need more frequent replacement
May be a fire risk unless precautions are taken
Need treatment to repel insects and mold
For DIYers, it is easy to replace shingles with
Rubber Or Plastic Wood Shake
Installation costs: $10,000 to $18,000. High-end synthetics can cost over $20,000.
Low maintenance
Not prone to fires
Metal Roofing
Installation prices: $5,000-$12,000.
Copper develops an unattractive sheen over the years
Higher than the average cost at $25,000+
Can be visually stunning
Very original choice
Resistant to changing weather conditions
High-end materials are an excellent long-term investment that can add value to your property
Metal vs. Asphalt Shingles Cost
The average cost of roofing tiles ranges from $7,000-$18,000. Before buying, you should think about the life expectancy of the material. Also, how easy is it to repair or replace? If you want a particular shape or color, you also need to consider whether it will be available in the years to come.
Roofing Tile Comparison

Factor

Price

Concrete

$8,000 – $22,000

Clay

$13,000 – $30,000

Customized/Exotic

$30,000 – $50,000+

Slate

$18,000 – $45,000

Synthetic Slate

$12,000 – $30,000

Metal

$9,000 – $45,000
Cost Of New Asphalt Roof
For a new asphalt roof, you can expect to pay anywhere between $2,000 and 8,000 on average. This price also includes the removal costs of your old roof. Asphalt shingles are one of the most popular choices for roofs in the United States. This is because asphalt is highly available, which also means that the price is usually lower compared to other materials.
Although shingles, in general, can be made from raw materials such as:
Asphalt
Clay
Slate
Wood
Metal
Each type of shingle will need a different level of care. This is why it is essential to understand the life expectancy of the material. It will help you understand the maintenance requirements before deciding about the best product for your home.
Impact Resistant Roof Options
It is also worth considering impact-resistant products, which are available in various materials. If you decide to invest in impact-resistant products, keep in mind that they:
Offer deck protection
Protect against leaks
Improve insulation, which means that they are more energy-efficient
Are less likely to become detached in high winds
Add to the visual appeal of a home
How Much Does It Cost To Re-shingle A Roof?
The average cost to re-shingle a roof with asphalt shingles can be anything from $5,000 to $8,000, according to the size and slope. Shingle roof replacement cost per square foot averages $1.50 to $5.50, or $150 to $550 per roofing square installed. These prices reflect the same costs as that of a single-story home that is of standard size.
Labor Cost To Install Roofing Shingles
Labor costs calculate to be around $1.00 to $1.50 a square foot, on average. This rate applies to the majority of asphalt or shingle style roofs. This means that the cost of labor will run about $5,400. This is also assuming there is no complex architectural features or structural damage. If there are complications, you will incur additional fees or higher labor rates, depending on the company.
Roof Removal Costs By Material
Removing a roof will cost, on average, between $100 to $175 per roofing square. This varies according to the roofing material, the extent of any damage, and its complexity.
Roof Removal Cost By Material

Material

Cost

Slate Or Tile Shingles

$125 – $150 per square

Wood Shake

$100 – $125 per square
Slate Or Tile Shingles
It typically costs from $125 to $150 per square to remove slate or tile shingles. The basic technique is identical for slate, tile, or asphalt stripping. As slate and tile are much heavier, your professional roofers need to remove them a few at a time.
Keep in mind that old tiles and slate can be used for other projects, so it is a good idea to be careful not to break any that are in good condition. Of course, this means that removal will take longer and will increase labor costs.
Wood Shake Roofing
Removing a wood shake roof costs around $100 to $125 per square. Professionals use a technique to tear off wood shakes, which is more or less identical to that used for asphalt.
Though, instead of tearing the roof off vertically, they do this horizontally. They start by removing the ridge cap, and they roll up the wood shake and underlay from one side to the other. This technique cannot be used with asphalt, as the resulting roll would be too heavy to lift and safely throw into a bin.
Tin Roof Cost Estimate
The average cost of a tin roof installation ranges from $300 to $1,500 per square. If the roof structure's condition is good overall, but the appearance isn't great, you can choose to paint it. To do this, expect to pay between $1,200 and $3,700 for a roof of average size.
Tin roof products are manufactured in large sheets. Professional roofers will cut then into the shape required. These shapes then sit on the frame to ensure adequate support. Although this is a significant task, it can be accomplished in a relatively short time since the crew can work with large sections at once.
Cost To Install A New Roof
Installing an entirely new roof will usually mean replacing the upper layer of shingles and the structure below. You can expect the total cost to be in the region of $10,000 to $20,000.
The final cost can be 50% to 100% higher than the estimates on roof replacement you were given when first discussing the project with your roofing contractor. This is because an actual inspection may reveal factors that were not apparent during a phone conversation.
For example, there may be issues with your:
Chimneys
Gutters
Ventilation
Architecture
All of these factors will impact the amount of time required to complete the work. For example, your initial quote of $10,000 could rise to $15,000 or even $30,000. It is only when your contractor can make a detailed assessment of the project requirements that you can expect a more accurate quote.
Additional Cost Factors
Additional cost factors that can affect the total price of your roof installation includes:
Chimney or skylight leak repairs
Removal of excess layers from the existing rook
The pitch, which makes the project difficult
Ranch style roofs- They tend to be less complicated, so they incur fewer additional costs.
Colonial style roofs- These do have a few slopes but don't tend to be too complicated.
Tudor style roofs- They tend to have a complex shape with multiple slopes and eaves.
The substrate or damaged decks which need repair
Weather damage to the roof
The mold, which needs treatment and prevention
Difficulties in removing the previous installation
Poor drainage which has caused water pools
Damage to the fascia and soffit
Gutter damage
Your roofing contractor should explain that there may be an additional charge for unforeseen issues. This way, you can ensure there is enough in your budget to cover contingencies.
Garage Roof Replacement Cost
Expect to pay in the region of $1,000 to $2,000 to replace your garage roof. Of course, the exact price will depend on the size, pitch, and materials you choose. If your garage could use better ventilation or upgraded insulation, this is a good moment to consider making these improvements.
Average garage roof dimensions:
Single car: 250-350 square feet
Double: 350-450 square feet
Three-car: 700-1,000 square feet
Garage Roof Repair Cost
While the average cost of replacing a garage roof is around $1,000 to $2,000, the cost of repairs is subjective. It will depend on the type and extent of the damage, as well as the selected materials.
Usually, garage repairs tend to be slightly less expensive than other roof repairs. This is because of the smaller square footage and the structure's relatively simple shape. These factors involve lower labor costs overall. Though typically, most homeowners pay anything from $300 to $1,200 to repair their garage roof.
Townhouse Roof Replacement Cost
The replacement of a townhouse roof will cost, on average, between $2,000 and $5,000. While the price can vary, so can the responsible party. When it comes to a townhouse, there's a lot more that goes into a roofing job.
There are several factors to consider when handling a roof replacement for a townhouse, such as:
This may be regulated by the Homeowner Association (HOA).
The HOA may be financially responsible for roof maintenance
The property is likely to be connected to neighboring homes.
Three-story homes will incur additional labor costs.
You may be limited in terms of options for replacement material.
Tear-off rates will influence the price.
Replacing vs. Repairing Your Roof
Replacing VS Repairing Costs

Low

Typical Range

Average

High

Replace

$1,000

$5,350 – $10,820

$8,000

$45,000+

Repair

$300

$400 – $1,000

$800

3000+
When you consider that a new roof will cost around $8,000 on average, as opposed to an average of $800 for repairs, it's clear which option you should look at first. There is no need to go for a full replacement based on one or two small leaks. However, it is always wise to speak with a roofing contractor to get advice about the extent of the problem, and your options in solving them.
In some cases, you don't need a full replacement. Consider replacing your roof when there is significant structural damage or a large area where the shingles are aged, missing, or cracked.
Certain products cost more to repair than others. For example, slate roof repairs cost $700 to $2,000 compared to repairing asphalt, which costs about $300 to $1,000.
Cost Of Replacing Roof Sheathing
The total cost will vary according to the labor costs charged by your contractor. As a general rule, each plywood sheet you need will be between $70 to $100. A 4′ x 8′ plywood sheet will cover around 32 square feet of the roof area (without being cut).
As the average roof size is approximately 3,000 square feet, you would need at least 94 sheets. If we take the average cost of a sheet to $85, this comes to $7,990. Unless this is a DIY project, labor costs will have to be factored in as well.
DIY Roofing Cost vs. Hiring A Roofing Contractor
If you replace your roof as a DIY project, expenses will be in the region of $2,500 to $5,000. While DIY roof replacement costs are much lower, this is a sizable undertaking which can result in all kinds of unexpected, yet significant complications.
The unforeseen circumstances that you may encounter include, but are not limited to:
Damage in the frame or deck.
Completing the stripping work, only to be told delivery of the replacement product is delayed.
Installing an unsuitable product for the slope, framework, or environmental conditions.
Due to inexperience, risk your own safety and that of others.
Because of the expense incurred in fixing these preventable issues, many homeowners prefer to hire a professional contractor.
Hiring A Professional
Since a new roof can be expected to last anywhere from 25 years to the building's lifetime, it can be worth the expense to get the job done by a professional.
Roofing contractors may factor the removal of the existing roofing materials into the project quote. The cost will vary depending on:
The material
Location
Complexity
Overall work involved
Whether done by a contractor or a DIYer, tearing off and disposing of the old shingles is the most time-consuming part. While you may save as much as $1,000, if you do it yourself, a professional will carry out the work more safely and efficiently.
How Often Should Roofs Be Replaced?
In general, the table below reflects the recommended schedule of replacement. However, these estimated time frames will differ, depending on the weather conditions to which the roof is exposed. Harsh winters and high humidity may cause the materials to degrade, or have a shorter lifespan than expected.
Roof Replacement Time Schedules

Material

Timeframe

Composition Shingles

12 – 20 years

Asphalt Shingles

15 – 30 years

Wood Shingles

20 – 25 years

Rubber Roofs

30 – 50 years

Metal Roofs

50 – 75 years
Following any significant storm or exceptionally high winds, it is advisable to get on the roof and carry out a thorough check for damage. As the roof is essential protection for your home and possessions inside it, it's wise to ensure it remains structurally sound. Also, it's a good idea to rectify any issues before they have a chance to escalate.
Signs You May Need A New Roof
Visual inspections are the basis for your roof maintenance. Usually, a biannual review will identify minor problems before leaks develop, or a small amount of damage becomes more extensive. In the long run, it is far better to pay for a few minor fixes over time, rather than to deal with a major crisis such as a roof collapse.
Here are a few things you should look for when inspecting your roof:
Shingles which have come loose
Shingles that are cracked or show signs of damage
Missing shingles
A sagging roof or ceiling
Symptoms of mold or rot
Evidence of water damage or leaking
Any holes or dark spots
The Best Time Of Year To Replace A Roof
Summer is the best time of year to replace your roof. Roofing contractors are busiest from the late summer through the fall, as homeowners think about preparing their properties for winter. If you try to book at this time, you may find you have to wait up to a month for an appointment, assuming that you can get one.
Contractors prefer to work in late summer or fall because the weather starts to get cooler and more predictable. Lack of rain is a bonus, as work can be accomplished without delays. The last thing they want is for leaks that allow water to enter your home due to the weather.
It's also useful to be aware of what happens to prices at this time. Since it's the busiest time, and they have no customer shortage, it's the moment when contactors introduce their increased fees. If possible, you should plan to replace your roof in the spring or early summer.
Can A Roof Be Replaced In The Winter Time?
Your roof can be replaced in the winter, depending on the climate in the area where you live. For example, in Las Vegas, or Florida, winter isn't a big issue. It may be easier to work when the weather has cooled down, and there is less humidity.
However, in states that see a lot of snow or experience extreme weather conditions during the winter months, work may be delayed due to safety considerations. The work will typically take more time. So, unless it's an emergency, spring and summer are better options.
Do You Need Roofing, Siding, or Gutter Installers?
Get free, zero-commitment quotes from pro contractors near you.
---
Related Questions
How much roofing do I need?
To estimate the amount of material you'll need for your roof, calculate the surface area using your roof's height and pitch. From these figures, you'll be able to work out how many squares of material are required to cover the area.
How do I calculate the height and pitch of my roof?
This can be done without climbing onto your roof. This method involves taking measurements from the ground up, using a weighted string, as well as taking measurements in the attic space.
When you know the dimensions of your roof, you'll be able to get more accurate cost estimates from local roofing contractors. It can also help you start to put together an estimate of costs to have an idea of the likely expense involved and how you should budget.
What is the cost of a new roof and gutters?
Expect a new roof and gutters to cost in the region of $8,500. The average cost to install a gutter is about $1,000, and a new roof typically costs $7,500. Combined, the total would be about $16,000.
How much does flashing replacement cost?
Flashing replacement costs $200 to $500 per project area. Project areas are places like valleys in the structure, and features like chimneys and skylights. When you replace your roofing, you'll want to replace the valley flashing and any cracked or rusted materials.
Can you replace only half of a roof?
If problem areas are located in only one part of your roof, it may seem like a good idea to replace just half and leave the undamaged part intact. While this may save you time and money in the short term, most professional roofing contractors don't recommend doing this. If you replace half the roof, you can run the risk of your materials not matching.

Heather Robbins
Heather is a passionate writer who loves anything DIY. Growing up, she learned everything from home repairs to design, and wants to share her tips with you. When she's not writing, she's usually hiking or searching for her next DIY project.
More by Heather Robbins
Published September 21st, 2020 8:42 PM