66 Views
What Are The Pros And Cons Of Living In Montana?
December 13th, 2021 2:46 PM
Share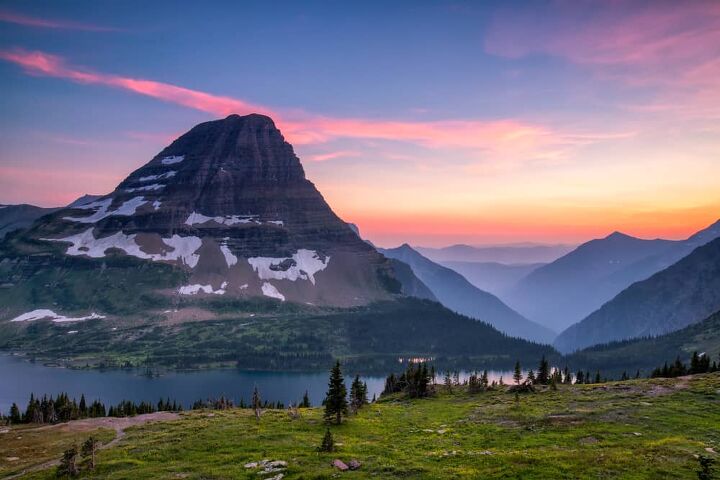 With a warm and welcoming vibe and breathtaking scenery, Montana attracts plenty of tourists. The Treasure State, as Montana is well-known, features a healthy job market but only 1.069 million residents. So, there often aren't many people to fill all of the open jobs, but there are a lot of pros and cons of living in Montana.
The pros of living in Montana include a terrific education system, affordability, plenty of jobs, and a friendly environment. The cons of living in Montana include no public transportation, frigid temperatures, and limited housing for low-income families. An excess of tourists presents both a pro and a con, as the extra people put a strain on resources while bringing in money to the state.
Living in Montana can be the American dream for some people while not being ideal for others. For example, the low population can be what some look for, while others dread it. It's best to take a look at the pros and cons of living in Montana before making a decision.
Do You Need to Hire Movers?
Get free, zero-commitment quotes from pro contractors near you.
Pros And Cons Of Living In Montana: The Pros
No matter where you decide to visit or live, you'll find a variety of things to consider. Some things are great, while others are not-so-good. When it comes to the pros and cons of living in Montana, you'll find several factors on both fronts.
There are many perks when it comes to living in Montana. For example, the cost of living is low, there are excellent educational opportunities, and the job market is high. Additionally, the small population means there is less traffic when traveling from place to place.
1. There Are Great Education Opportunities In Montana
Montana is home to two of the most highly respected universities in the United States. These are Montana University and Montana State University. If you have children ready to go to college, this would be a great place for them.
Montana State University, located in Bozeman, is the largest University in the state. They offer a bachelor's degree in 60 fields and a master's in 68 areas. Furthermore, they have an 82% acceptance rate, with $18,000 tuition after aid.
Montana University, located in Missoula, is the second-largest university in the state, with 10,962 students as of 2018. They offer a higher acceptance rate of 88%, along with cheaper tuition. However, they provide fewer fields to study.
2. Montana Has An Affordable Cost Of Living
The cost of living in Montana is 6.29% lower than in the rest of the country. Montana profits from the lowest level of taxes, as well as affordable necessities. Coal, oil, and gas are convenient resources for Montana's citizens, making them more affordable.
The average annual salary, as well as sales tax, determines Montana's cost of living. In most states, the sales tax causes less of your salary to end up in your pocket. However, Montana is one of only five states in the US that doesn't have a sales tax.
Therefore, it makes an already healthy average income even more appealing. As an example, you can see how Montana compares to a couple of other states in the chart below.
| | | | | |
| --- | --- | --- | --- | --- |
| State | Median Annual Salary | Monthly Salary | Weekly Salary | Sales Tax |
| Montana | $56,575 | $4,714 | $1,088 | 0% |
| South Carolina | $53,348 | $4,446 | $1,026 | 6% |
| North Carolina | $45,460 | $3,788 | $874 | 4.75% |
3. Montana Offers Plenty Of Jobs
Although Montana is the fourth largest state, they only have a little over a million people spread across the state. Therefore, it's not difficult for people to find work, but it can be challenging to fill all of the open jobs. As a result, Montana features a low unemployment rate of 3.1% (the lowest state is Nebraska, with 1.9%).
The state offers a variety of job opportunities across several different fields with a wide salary range. Here are a few examples of jobs you could expect to find.
| | |
| --- | --- |
| Job | Annual Salary |
| Farmhand/Fark Worker | $16,620 |
| General Manager | $62,486 |
| Saw Machine Setter | $30,970 |
| Insurance Agent | $41,500 |
| Occupational Therapist | $52,310 |
4. Montana Has A Small Population For A Large State
Montana is the fourth largest state in the world. It is 147,039 square miles, barely smaller than California. With Montana having such a low population, even some of the largest cities have few citizens.
Anaconda has an area of about 555 square miles and has one of the lowest populations. There are only about 14 people per square mile in Anaconda. On average, the overall population of Montana is about 6.86 people per each square mile.
| | |
| --- | --- |
| City | Population |
| Billings | 117,116 |
| Missoula | 73,489 |
| Great Falls | 60,442 |
| Bozeman | 53,293 |
| Helena | 32,091 |
| Anaconda | 9,421 |
5. Montana Is Known For Its Friendly Environment
An essential part of deciding where to live is the people. After all, you wouldn't want to live somewhere the people were rude. Montana is known to have friendly neighbors, as well as friendly strangers. You are likely to walk into a diner and have a pleasant conversation with the people there.
You are just as likely to get a knock on your door when the neighbors need help. Of course, that is once you've been there for a while. Montana is an excellent place to live if you want a friendly environment with a community that takes care of each other.
6. No Traffic Jams
Of course, with a small population and so much space, you'll find very little traffic. Yes, most residents own cars since the state is so spread out, but you'll rearely find many cars on the road at one time.
7. Montana Has An Amazing Outdoor Life
Montana is full of natural beauty and ample opportunities for outdoor adventures. Many residents not only work outside as ranchers, farmers, etc., but also purse outdoor hobbies. You'll find lots of places for hiking, fishing, biking, various water sports, hunting, camping, and more.
Pros And Cons Of Living In Montana: The Cons
Just like with any decision in life, there will always be some downsides. For Montana, that would mean the lack of public transportation and housing. There are lots of farms as well, and the livestock attracts predators.
1. It Gets Really Cold In Montana With Some Hot Summers
In the past years, Montana's weather has been known to get below freezing in the middle of October. Although Montana offers beautiful scenery, the weather can be a bit harsh. Here is a look at the average temperatures per month.
| | | |
| --- | --- | --- |
| Month | Highest Temperature (°F) | Lowest Temperature (°F) |
| January | 36 | 17 |
| February | 40 | 20 |
| March | 48 | 26 |
| April | 57 | 34 |
| May | 67 | 43 |
| June | 77 | 52 |
| July | 86 | 58 |
| August | 85 | 57 |
| September | 73 | 47 |
| October | 59 | 37 |
| November | 45 | 26 |
| December | 32 | 17 |
Naturally, with cold weather, you would want to bundle up for warmth. Even during the hottest season, a light jacket may be necessary. The summer nights in Montana can get chilly compared to somewhere like South Carolina.
However, if your don't live in one of the mountain towns, you might find summer temps to get relatively hot. Therefore, the weather isn't always the best part of living in Montana.
2. Montana Lacks Public Transportation
Although Montana has two of the largest college campuses, they do not offer public transportation. This may not be an issue if you already have a vehicle. However, those that do not would need to prepare for that before deciding Montana is the place for them.
However, although Montana is one of the US's largest states, there is typically no need for public transportation. The few citizens that reside in Montana tend to have their own vehicles. Consequently, the demand for public transportation is relatively low.
Still, with the snow and slippery roads during many months, you need to make sure you have the right kind of vehicle. It's basically a necessity to own a 4-wheel drive vehicle if you want to navigate all of Montana's roads.
3. There Is A Shortage Of Housing For Low-Income Families
The cost of renting a home in Montana has increased by 25% since 2014, making it hard for low-income families to find affordable homes. There is currently a shortage of approximately 17,420 homes for low-income families.
The majority of Montana is taken up by homeowners and farms. The cost of owning a home in Montana is cheaper than renting over time.
| | | |
| --- | --- | --- |
| City | Cost of Renting (per month) | Cost of Owning |
| Anaconda | $800 | $144,750 |
| Butte | $500 | $169,202 |
| Billings | $884 | $254,900 |
| Missoula | $783 | $375,000 |
| Great Falls | $831 | $201,100 |
4. Montana Has Plenty Of Tourist Attractions
Montana is filled with beautiful scenery that brings in about 12.6 million people a year. People come from all over to visit Montana's parks, museums, and landscapes.
Whether it be sightseeing, museums, or trails, Montana offers it all. Although tourism can be beneficial for a state, extra people can cause some issues. Especially when residents are used to having low crowds.
| | | |
| --- | --- | --- |
| City | Annual Tourists | Attractions |
| Bozeman | 600,561 | Yellowstone National Park, Fly Fishing, Mountains |
| Livingston | 585,467 | Yellowstone Gateway Museum, Sacagawea Park, Myer's River Trail |
| Missoula | 501,761 | The HIstoric Wilma Theatre, Missoula Art Museum, Missoula Downtown, and Hip Strip |
| Whitefish | 466,915 | Glacier National Park, Downtown Whitefish, Whitefish Mountain Resort |
5. Montana Has A Lot Of Farms That Draw Predators
In 2018, Montana hit an all-time high when it comes to farms. Spread across the state, there are 26,800 working farms. These farms are what help make the cost of living so affordable in Montana. Plus, these industries bring in about $4 billion in revenue annually.
You will find about hree times as many cows as humans in Montana, in addition to other animals. With the livestock comes predators.
Montana is home to wild animals such as cougars, bobcats, and black bears. These animals will eat your livestock and potentially place you in danger as well.
6. Limited Entertainment Options
You won't likely find some of the services you find in other large cities when you're in Montana. Your entertainment options won't be as numerous. However, if you're more of an outdoor person, you'll find many ways to enjoy yourself.
---
Related Questions
How is some land so cheap in Montana?
If you want to purchase land as an investment, Montana is a good option. If you purchase a piece of land for the right price, there are no mortgage payments or utility bills to pay. Property tax only being 0.83% also helps keep the cost of property low.
What is the average crime rate in Montana?
Your chances of becoming a victim of a violent crime in Montana are roughly 1 in 267. The numbers increase dramatically for property crimes, moving to 1 in 40. However, the state is about on par with the national average.
Do You Need to Hire Movers?
Get free, zero-commitment quotes from pro contractors near you.
What Have We Learned?
As usual, when you are moving to a new state, you have to expect the bad to go along with the good. Luckily, Montana happens to have more positives than negatives. The cost of living and the small population alone can make up for the adverse effects.
However, even with the low cost of living, don't forget that it can potentially be hard for you to find a home. Plus, the low population can be affected by having so many tourists as well. Still, when you look at the big picture, Montana can be a great place to live.

Stacy Randall
Stacy Randall is a wife, mother, and freelance writer from NOLA that has always had a love for DIY projects, home organization, and making spaces beautiful. Together with her husband, she has been spending the last several years lovingly renovating her grandparent's former home, making it their own and learning a lot about life along the way.
More by Stacy Randall
Published January 1st, 2021 6:00 PM