8 Views
What Are The Pros And Cons Of Living In Los Angeles?
April 24th, 2021 4:23 PM
Share
We're committed to finding, researching, and recommending the best products. We earn commissions from purchases you make using links in our articles. Learn more here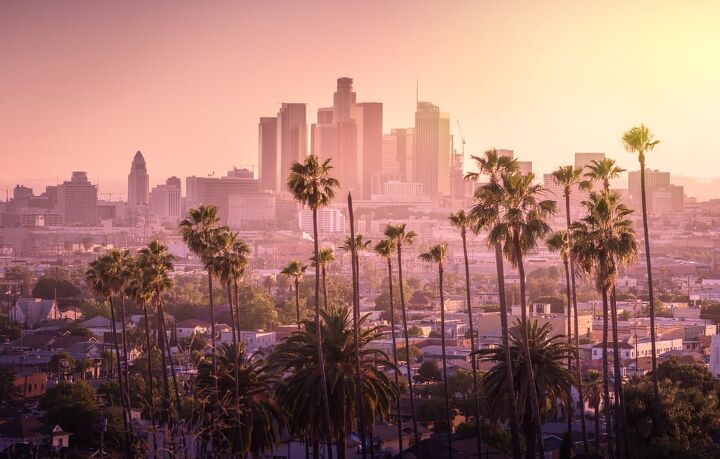 Los Angeles, often called just by its abbreviation, L.A., is one of the most famous cities in California. Often, when people hear Los Angeles, they think of movie stars, Hollywood, and a glamorous lifestyle. The truth is, while L.A. looks as beautiful as a film set, it's got problems like other large cities.
Los Angeles has gorgeous weather, beautiful sights, a famed history, and the chance to see tons of celebrities. Conversely, it's got some of the worst traffic in the United States, smog is an issue, and prices are steep. Crime rates can be high, and there is also a lot of competition when it comes to certain careers.
If you're thinking of moving to Los Angeles, here are the pros and cons to consider:
Do You Need to Hire Movers?
Get free, zero-commitment quotes from pro contractors near you.
Benefits of Living in Los Angeles
Los Angeles has great weather, abundant job opportunities, and great culture and diversity. There are a ton of things to do, and there are a lot of nightlife, art, and dining options.
According to CensusReporter.org, the population of L.A. is just shy of 4 million. These people reported a 70% satisfaction with the county, according to NBC Los Angeles.
1. Los Angeles Has Gorgeous Weather, Year-Round
Los Angeles is one of the sunniest places in the United States. It's said that for every 365 days in a year, 300 are sunny in L.A. In fact, the show "It's Always Sunny in Philadelphia" gained the title because it was set originally in Los Angeles.
Because of the temperate weather, there are a lot of available outdoor activities in addition to sightseeing. Los Angeles is home to over 50 public parks and recreation centers. There are also a number of trails, beaches, waterfalls, and even canals (hence the name Venice) that you can explore. Folks enjoy the beaches here from January to December.
Average Climate in Los Angeles by Month

Month
High (°F)
Low (°F)
Precipitation (#days)
January
69°
59°
4
February
69°
51°
5
March
70°
52°
4
April
73°
55°
1
May
74°
58°
0
June
82.4°
54.4°
0
July
79°
62°
0
August
85°
66°
0
September
83°
65°
0
October
79°
60°
1
November
73°
53°
2
December
68°
49°
3
2. There Are Tons of Things to Do in L.A.
Los Angeles has a lot of famous attractions that visitors from all over the world flock to each year. The famous Hollywood letters, TCL Chinese Theatre, and the Walk of Fame are just a few sites for film fans. There are lots of museums and even a Magic Castle that's home to some of the most famous magicians alive.
La Brea Tar Pits allows you to explore where dinosaurs once roamed, and famous shopping awaits on Rodeo Drive. Several TV shows allow live studio audiences to observe tapings and win prizes. Finally, Disneyland and Universal Hollywood are just a short drive away.
Los Angeles has been named one of the best cities to travel to worldwide for many years running. That won't change anytime soon, as L.A. will be the home of the 2028 Summer Olympics.
Top Attractions in L.A. Rated by Popularity by U.S. News Rankings

1 – Griffith Observatory & Park
7 – Sunset Boulevard
2 – The Getty Center
8 – L.A. County Museum of Art
3 – Santa Monica Pier & Beach
9 – The Broad Museum
4 – Hollywood Walk of Fame and TCL
10 – Runyon Canyon Park
5 – Zuma Beach
11 – Paramount Pictures Studios
6 – The Original Farmer's Market
12 – Rodeo Drive
3. Los Angeles Provides Excellent Opportunities for Creative and Artistic People
As previously mentioned, lots of movies and television shows are filmed in L.A., and that creates jobs. Loads of gaffers, actors, caterers, hair and makeup artists, cameramen, and production assistants can find work here at great rates. There are opportunities on and off camera for hundreds of thousands of people.
According to the L.A. Times, California's "creative economy" employs 457,000 people. This includes film, but also painters, singers, musicians, and sculptors at bars, museums, and concert halls.
4. L.A. Boasts Amazing Diversity
Because Los Angeles has millions of residents, it goes without saying that it's a very diverse city. In 2015, CNBC actually ranked it as the #1 most diverse city in America.
The largest represented ethnic group is Latino, with nearly half of the population, followed by Asian and African American populations. Los Angeles was ranked first in educational diversity, as well. Unfortunately, there are a lot of disparities in income when it comes to minorities in L.A. compared to their caucasian counterparts.
Race and Ethnicity Averages (According to Census.Gov for 2019)

Race and Ethnicity
Average Population Percentage
White
52.1%
Black or African American
8.9%
American Indian or Alaska Native
0.7%
Asian
11.6%
Native Hawaiian and Other Pacific Islanders
0.2%
Other Race / Two or More Races
3.8%
Hispanic or Latino (Of Any Race)
48.5%
5. Los Angeles Has Lots of Cultural, Dining, and Art Options
Because there are many different groups, there are a ton of diverse events and community festivals happening all the time. Los Angeles is also a wonderful place to promote diversity because of the number of celebrities with a larger platform.
When it comes to restaurants, museums, and nightlife — you'll find something to do based on almost every single culture.
Los Angeles boasts Thai Town, Little Ethiopia, Little Bangladesh, and Koreatown within a few square miles of each other. They're also known for world-class Indian and Chinese restaurants. Some of L.A.'s famous restaurants include Dan Sung Sa, Jitlida, Tsujita, and Burna Ethiopian Restaurant and Market.
Because in part of the huge diversity, California is known for being extremely liberal politically. Los Angeles follows the same pattern, which you can see as a pro or con depending on who you are. Either way, Los Angeles' huge cultural melting pot makes it a consistently amazing and interesting place to live.
Cons of Living in Los Angeles
You've just learned some great benefits of living in Los Angeles, but unfortunately, every rose has its thorn. Despite its nickname, the City of Angels isn't 100% perfect, as evidenced by some factors that make living here difficult. L.A. is known for nightmare traffic, bad smog, a high crime rate, and a high cost of living.
1. Traffic Can Be a Nightmare in Los Angeles
Throughout the years, Los Angeles has become synonymous with bad traffic. This has to do with a perfect storm of millions of residents, a sprawled out city, and poor public transportation. At any given time, you could find yourself spending hours stuck in traffic.
According to TripNet, the average Los Angeles citizen finds themselves stuck in traffic for up to 82 hours per year. If you consider that is approximately two full weeks of work, it becomes a mind-blowing statistic.
The city is widely spread out compared to other cities, which makes walking and bicycling unlikely options for many. There's also limited public transportation because of this fact, which makes it more likely that people will take cars.
2. There Can be a Lot of Smog and Pollution in L.A.
Because there is so much traffic, there is also a lot of smog, or pollution. This is mainly caused by having so many vehicles in such a small space. A CNBC report has ranked Los Angeles the smoggiest city in the U.S. in the past 19/20 years.
3. Los Angeles has High Crimes Rates
Most large cities have higher crime rates than their suburban and country counterparts, and L.A. is no exception. The chance of being a victim of a property or violent crime is 1 in 30. L.A. has higher crime rates than 85% of other cities in California and 88% of other U.S. cities.
The crime rate per 1,000 residents is 7.60/violent crime, 25.78/property crime, and 33.38 total.
4.There Is a Lot of Competition for Certain Jobs, and a High Cost of Living in L.A.
Los Angeles has an extremely high cost of living, with the average home costing $689,500. The cost of living is 173.30 spent to the average American's $100. This makes it crucial to get a high-quality job.
While there are a lot of amazing opportunities in Los Angeles, there are also lots of talented people who have flocked there for similar opportunities. This makes the playing field a lot harder with lots of talented competition.
---
Related Questions
What is the education system like in Los Angeles?
The Los Angeles District School System is the 2nd largest in the nation.  There are 1,366 schools and centers employing 66,500 employees (more than the Coca Cola company).  California currently ranks 43 out of 50 states in education despite having been once at the top of the list.
What are the safest neighborhoods in Los Angeles?
The top 10 safest neighborhoods in the City of Los Angeles are:
Mar Vista
Temple City 
Encino
Sherman Oaks
Sawtelle
Studio City
Silver Lake
Carson
Echo Park
Reseda
Do You Need to Hire Movers?
Get free, zero-commitment quotes from pro contractors near you.
What We've Learned
Like anywhere else, Los Angeles has drawbacks, but it's become a famous spot on the map for a reason. Los Angeles is an amazing place for someone who loves being outdoors and having a lot of things to do.
It's also one of the only places that has so many opportunities for amazing paying careers. Los Angeles provides a lot of diversity and an amazing venue for learning about people from other lands. It has a lot of tourism, and while the cost of living is high, it's due to its insane popularity.
On the other hand, the traffic is heavy, and your laid-back attitude may soon become one of road rage. You may have to work multiple jobs to find a tiny spot to live, and you may find it challenging to make ends meet.
Deciding where you lay your head can be one of the most important choices of your life. Ultimately, almost 4 million others have chosen to call Los Angeles their home, and if you decide the pros outweigh the cons, you could be next!
Related Articles

Stacy Randall
Stacy Randall is a wife, mother, and freelance writer from NOLA that has always had a love for DIY projects, home organization, and making spaces beautiful. Together with her husband, she has been spending the last several years lovingly renovating her grandparent's former home, making it their own and learning a lot about life along the way.
More by Stacy Randall
Published January 1st, 2021 6:00 PM