59 Views
What Are The Top 15 Pros And Cons Of Living In Las Vegas?
February 19th, 2022 9:25 AM
Share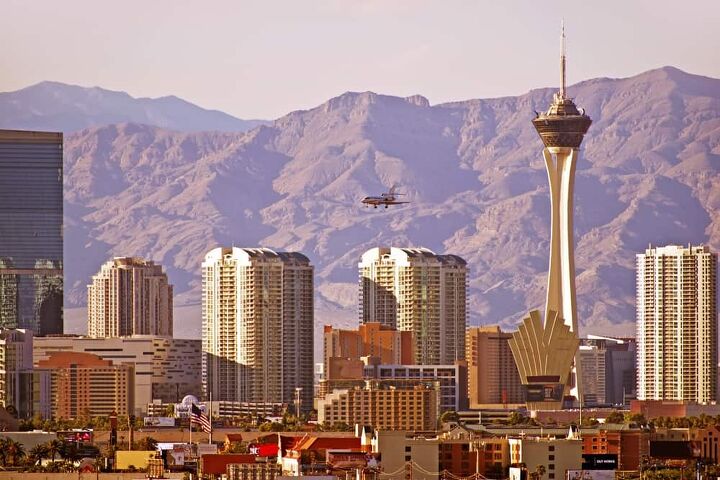 Las Vegas is the city of sin, entertainment and round-the-clock excitement. Its bright lights, cold drinks, and bustling casinos are some of the reasons millions of people flock to Las Vegas every year. But living in Las Vegas and visiting are two very different experiences, which makes one wonder – what are the pros and cons to living in Las Vegas?
Living in Las Vegas has many benefits, such as residents are not subject to income tax, there are low housing prices, world-class cuisine and even great airports. There is no shortage of memorable entertainment, but the hot summers can keep residents stuck indoors. Crime is also rampant in some areas of Las Vegas, and the schools are not the best.
We all know that visiting Las Vegas is a blast, but what is it actually like to live there? Here is a list of the 15 top reasons Las Vegas is a great, and also a not-so-great place to call home.
Do You Need to Hire Movers?
Get free, zero-commitment quotes from pro contractors near you.
Top Pros For Living In Vegas
1. Las Vegas Has No State Income Tax
How does no state income tax sound? Anyone that has ever watched money slip through their fingers in the name of state income tax can appreciate Nevada's 0% rate. To be fair, Las Vegas and other Nevada cities make up for lost income in their sales tax rates.
Even still, the lack of state income tax in Las Vegas is a major benefit of living there. Of course, you'll still have to pay federal taxes as a Las Vegas resident, but the lack of state income tax helps.
Las Vegas is considered a great retirement destination for that reason alone, and retirement income is untouched as well.
2. Amazing Cuisine
Now, if you are a fan of food, then you will love the dining options here. You have over 2,000 restaurants to choose from. You can eat out at a seafood restaurant or a steakhouse or fine dine with celebrity chefs. Also, you cannot forget the local pizza joints and taco trucks! Vegas takes pride in its food.
Our tip for finding the best places to eat in Vegas. Try to take all eateries into consideration. While the hyped-up places are great for food too, the real gems are the hole-in-the-wall restaurants that are often overlooked. No matter where you eat, though, there is no need to settle for bad fast food.
3. Exceptional Entertainment And Famous Casinos Everywhere
While living in Vegas, you will never be bored. There are so many things to do around every single corner, and of course, you cannot forget about the Las Vegas strip! As the entertainment capital of the world, things are ever-changing in this beautifully lit-up city.
Whether it's the Cosmopolitan, Circus Circus, or Caesar's Palace, top-of-the-line casinos are just a drive away in Las Vegas. Casinos aren't just utilized by tourists in Las Vegas, and city residents often take advantage of them as well.
Las Vegas has so much more to offer than just gambling. You can find a show happening pretty much anytime, anywhere within Vegas. There are always exciting Las Vegas residencies coming and going from Las Vegas starring some of the most famous performers in the world. Some acts stay in Las Vegas year-round like Penn & Teller, and of course, Cirque Du Soleil.
Las Vegas offers access to professional sports like Raiders football and Golden Knights hockey games. You can see the state-of-the-art Raider's Stadium for football games, concerts, and other types of entertainment.
4. Las Vegas Has Beautiful Weather Most Of The Year
Las Vegas and its surrounding landscape experiences beautiful weather throughout the year. For 9 months of the year, it is primarily warm and dry in Las Vegas. There are generally only 60-65 days per year without sunshine, but blue skies and the hot sun are the norms.
It can and does get cold in Las Vegas in December, but it is still bearable. Lows generally don't fall below 38.7°F, and the high temperature hovers around 56.7°F. Summers in Las Vegas and all of Nevada get extremely hot, with temperatures above 100°F being common in July.
5. Outdoor Adventure
While many think of nightlife and the strip then they think of Las Vegas, there is also a plethora of amazing nearby outdoor spaces to enjoy when you live in Las Vegas. In fact, several of the most breathtaking national parks in the country like Bryce Canyon and Zion are a short drive from Las Vegas.
There are also great trips and hikes and water sports in the Colorado River and Lake Mead areas. Thanks to the mostly-pleasant weather you can enjoy these outdoor activities for most of the year whenever you need a break from the city lights.
6. Low Housing Prices
Sure, you can find expensive houses in Las Vegas, but housing costs are generally cheap. The median home value is $258,600, and that covers a wide spectrum of prices. Renting is another viable option, and you can expect to pay around $1,102 per month in Las Vegas.
Right now, 48% of Las Vegas residents own their homes, meaning the majority of residents are renters. Rent costs are lower than monthly ownership costs, which are roughly $1,496 per month, on average. The price per square foot to build a house in Las Vegas is as low as $126 but it varies based on materials.
National Housing Cost Comparison
Median Housing Cost
Las Vegas vs Major Cities
City
Single Family Home
Estimated Monthly Mortgage Payment
Las Vegas
$295,100
$1,388
Seattle
$489,600
$2,327
Denver
$438,300
$1,966
Salt Lake City
$341,000
$1,542
Los Angeles
$576,100
$2,627
Owning a home in Vegas comes with the benefit of a low property tax of 0.53%. Your average homeowner in Las Vegas spends $1,550 per year in property taxes, but it varies by the property value. Whether you rent or own in Las Vegas, you will likely find a great deal and feel at home.
7. The Airports
Airports can also make or break your decision to live in an area. Luckily, Las Vegas has not one major airport, but six. The most popular and largest airport is Harry Reid (also known as McCarren), which is one of the top 10 busiest airports in the country.
If busy international airports give you anxiety there are several other airports to choose from nearby, including North Las Vegas Airport, Henderson Executive Airport and others.
8. Traffic Not Bad
For a city as large and popular as Las Vegas, the traffic is fairly tame. Part of the reason for this is that Las Vegas is a fairly young city, and it was well-designed to handle lots of car traffic. In fact, Las Vegas ranks among the top cities in the country as far as infrastructure on the roads is concerned.
Living in a major city with tolerable traffic can be a real perk. It also can allow you to decide more freely what area you want to live in, as you do not have to factor in disastrous daily traffic like you would in a city like Las Angeles.
Major Cons To Living In Las Vegas
1. Las Vegas Has A High Crime Rate
The crime rate is above the national average in Las Vegas, and that's the harsh reality of the city. Granted, tourist destinations in Las Vegas are generally safer due to a heavy police presence. Crime is higher in Las Vegas than the national average by 33%.
Property crime is the most common type of crime in Las Vegas by far, with 18,793 recent reports. Luckily, violence is less common with a 1 in 164 rate in Las Vegas, and 3,938 reports as of the last census. Sticking to areas with casinos and popular restaurants generally means you'll be closer to law enforcement and out of danger.
Nevada Crime Rate Comparison
| | | | |
| --- | --- | --- | --- |
| Location | Violent Crime | Property Crime | Total Crime |
| Las Vegas | 6.11 Per 1,000 | 29.15 Per 1,000 | 35.26 Per 1,000 |
| Carson City | 3.50 Per 1,000 | 14.47 Per 1,000 | 17.97 Per 1,000 |
| Reno | 6.64 Per 1,000 | 25.29 Per 1,000 | 31.93 Per 1,000 |
The safest cities in Las Vegas include Sun City Summerlin, Sheep Mountain, and Meadows Village. Dangerous areas include Arville St., Paradise, and Pilot Road where violence and theft and commonplace. It's wise to travel with a group at night and avoid the aforementioned areas whenever possible.
2. Las Vegas Has Bad Public Transportation
Sure, there is public transportation, but it is not quite efficient or widespread. Due to a lack of routes, you'll generally have to do a lot of walking even when you get off the bus in Las Vegas. You'd think a city with such a high population and volume of tourists would have extensive public transit, but Las Vegas doesn't.
Even reaching some of the suburbs from Las Vegas is tricky due to a limited public transportation system.
Luckily, there are reasonable Uber and Lyft rates available that come to the rescue for residents and tourists alike. You can catch Uber rides for $0.20 per minute and $1.10 or more per mile within city limits.
3. Poor Education System
Las Vegas is known for many great things, but its education system is sadly not one of them. In fact, Las Vegas is one of the worst-ranked cities in the country when it comes to education. Schools are jam-packed in Nevada and Vegas, and teacher shortages create difficulties for students.
Only 24.6% of adults in Las Vegas have a bachelor's degree or higher, compared to the 32.1% national average. Private education is somewhat better than public schooling in Las Vegas, but it is expensive. The average cost of private tuition in Nevada is $10,526, but it varies based on the level of education.
Las Vegas Education Comparison
| | |
| --- | --- |
| Las Vegas Education | Average Tuition Cost |
| Average Private School | $10,526 |
| Private Elementary School | $9,621 |
| Private High School | $11,751 |
| Las Vegas College | $14,202 |
| University of Nevada, Las Vegas | $8,291 (Residents) $23,342 (Non-Residents) |
Despite the small percentage of adults with degrees in Las Vegas, there are a few colleges to choose from. Las Vegas College costs $14,202 per year whether you are in-state or out of state.
The University of Nevada, Las Vegas costs between $8,291 and $23,342 per year, but only boasts a 40% graduation rate.
4. Las Vegas Is Hot In The Summer
The weather in Las Vegas is great! Do not get us wrong. Who does not love the sunshine? In the summertime, the heat gets over 100 degrees during the daytime and continues to stay 80 degrees throughout the night. Hardly enough time to breathe!
The worst part about this is that it is dry heat (It is the desert, after all). Dry heat means that you will not be sweating as much, which makes it extremely easy to forget to drink your water.
However, to combat this type of weather, you need to make sure you consciously drink water. Even if you do not feel thirsty, you need to be drinking. If you want to participate in outdoor activities, do so early in the morning or late in the afternoon or evening. Sunscreen and hats will come in handy too! Also, make sure your car and house have air conditioning.
5. Not Much Sense Of Community
There are some perks to Las Vegas being a newer city, like the fact that it is well-mapped and there are lots of new real estates, but there are also cons. Las Vegas is not known for a strong sense of community or neighborhood culture. Instead, it is famously known to be a very transient city.
If having a strong sense of community and friendly neighbors you can rely on for decades is what you are looking for then there are some small gated communities and neighborhoods you can find, but overall Las Vegas is not known for its community identity.
6. Lacks Job Diversity
There are a few booming industries in Las Vegas, but although there are a number of job opportunities, the variety of jobs can leave something to be desired. The city of Las Vegas is fueled by customer service, hospitality and tourism. If you happen to work in these fields then the sky's the limit for your work opportunity.
Other professions, however, are often slim pickings in the job pool. Since there is such a huge amount of focus on tourism, there is not a strong focus on growing some other sectors of the economy that many other cities have an abundance of.
7. The City Never Sleeps
It is said that Las Vegas is the city that never sleeps, and understandably so with the surprising 42 million visitors per year. Many people come for work, vacations, and many other exciting adventures.
But because of this, the city is constantly busy, so if you live right off the strip, you might have to sleep with earplugs and some blackout curtains!
Not to mention, there are some areas of the city that feel very touristy. Souvenirs are plastered everywhere, along with people calling out to you to purchase a tour of this or a peek at that.
Do You Need to Hire Movers?
Get free, zero-commitment quotes from pro contractors near you.
Summing It Up
Las Vegas is an amazing place to live, but it is not without its flaws. The warm weather and casinos are a luxury, but at the expense of a constant flow of tourists. Crime is high in Las Vegas, but the Strip and many gated communities in the city are heavily protected.
You can find many affordable housing options in Las Vegas whether you rent or own. There is no state income tax in Las Vegas, and retirement income isn't taxed either. Las Vegas is a great place to visit, live, and retire, and the pros outweigh the cons.

Nick Durante
Nick Durante is a professional writer with a primary focus on home improvement. When he is not writing about home improvement or taking on projects around the house, he likes to read and create art. He is always looking towards the newest trends in home improvement.
More by Nick Durante
Published January 1st, 2021 6:00 PM