244 Views
What Are The Pros And Cons Of Living In Lake Tahoe?
April 24th, 2021 4:22 PM
Share
We're committed to finding, researching, and recommending the best products. We earn commissions from purchases you make using links in our articles. Learn more here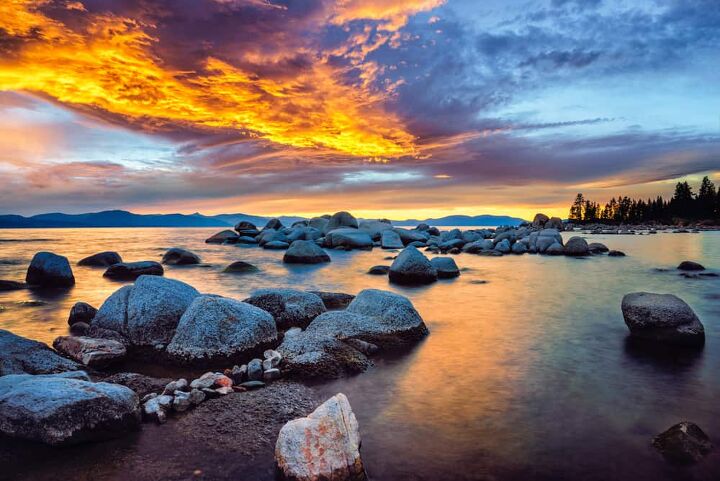 There are few places in America with as much personality as Lake Tahoe, and that's what makes it popular. Vacationers, retirees, and natives alike make the most out of living in Lake Tahoe and all that comes with it. Everyone is aware of Lake Tahoe's reputation for its laid back nature and natural beauty, but what about some of its downsides?
You can find low tax rates on the Nevada side of Lake Tahoe, but the high housing prices are hard to afford. Crime rates are mostly low in Lake Tahoe, and that's good considering the influx of tourism. Living in Lake Tahoe means that you'll be crammed in with many tourists and that you'll brave harsh winters.
It almost seems like there is an upside for every downside of living in Lake Tahoe. Follow along as we weigh the pros of living in Lake Tahoe against the cons and see if it's worth it.
Do You Need to Hire Movers?
Get free, zero-commitment quotes from pro contractors near you.
Benefits of Living In Lake Tahoe
Living in Lake Tahoe gives you the best of California and Nevada living at a mostly affordable cost. Tax rates are low if you're on the Nevada side, and Lake Tahoe's downtown is hopping. We all know that the beaches are beautiful, but let's look at the other benefits of living in Lake Tahoe.
1. Low Tax Rates
Lake Tahoe residents can happily take advantage of the 0% state income tax rate provided by Nevada. The 0% state income tax also applies to retirement income, and that explains why Tahoe is a retirement destination. Sales taxes aren't quite low, but they aren't high either, and the sales tax rate is 7.75% in Lake Tahoe.
| | |
| --- | --- |
| Tax Rates | Average Rate & Cost |
| State Income Tax | 0% |
| Sales Tax | 7.75% |
| Property Tax | 0.58% |
| Gasoline Tax | $0.47 Per Gallon |
The average property tax payment in Lake Tahoe is $2,138, and that's due to high home values. However, the property tax rate itself is quite low at 0.58%, especially when compared to the 1.08% national average. Lake Tahoe's gasoline tax is slightly steep at $0.47 per gallon, but that doesn't add too much to your bill.
It should be noted that Lake Tahoe is split up between California and Nevada. You are subject to the tax rates of the particular state that you are located in when in Lake Tahoe. Of course, tax rates are higher in California than in Nevada, so it's important to know your location.
2. Downtown
Lake Tahoe's downtown area is a hotbed for both residents and tourists. Home to many restaurants and music venues, downtown Lake Tahoe is often the first stop for vacationers looking to have fun. Of course, the many restaurants and even state parks are often frequented by locals as it's the most fun part of town.
Nightclubs such as the Opal Ultra Lounge and Peek Nightclub are hits among Lake Tahoe's young and retirees alike. Lake Tahoe is just as known for its thriving nightlife as it is for its calm and comfortable beach days. It may not be as quiet as North Lake Tahoe, but there is never a dull moment in southern and downtown Tahoe.
3. Beaches
While not every beach in Lake Tahoe is as sandy as you'd expect, they are all beautiful. Lake Tahoe boasts a full 70 miles of shoreline, but not all of it is habitable. Even still, residents, retirees, and tourists alike all flock to the many beautiful beaches in Lake Tahoe each year.
The north shore of Lake Tahoe is most well known for its beaches and laid back vibe. One of the most popular beaches on Lake Tahoe's north shore is Sand Harbor Beach, and it covers 55 acres. Another classic north Tahoe beach is the Kings Beach State Recreation Area which is perfect for families.
If your ideal day at the beach includes privacy, then you may want to check out Hidden Beach. Only accessible by parking along an interstate, the Hidden Beach is a prime example of the elusive beauty you can find in Lake Tahoe.
4. Low Crime Rate
Whether you live on the Nevada side of Lake Tahoe, or the California side, crime is relatively infrequent. Lake Tahoe is well guarded, and that has a lot to do with its success as a tourist hotspot. You risk a 1 in 121 chance of suffering a violent crime in Lake Tahoe, and a 1 in 47 chance for property crime.
There were only 182 violent crimes reported as of the last census, and there are 8 violent crimes per 1,000 residents. Property crimes are much more common, and 471 of 653 recent crimes were related to theft and burglary. However, crime rates are still lower in Lake Tahoe than both California and Nevada's state averages.
Lake Tahoe sees 60 crimes per square mile, compared to the 85 crimes per square mile in California. You'll find a lot of peace and calm in Lake Tahoe, and the low crime rate is to thank for that.
Downsides of Living In Lake Tahoe
Lake Tahoe certainly is not paradise, but its positives mostly outweigh the downsides. First and foremost, housing prices are high, and so too are private education costs. Let's take a look at some of the downsides that come with living in Lake Tahoe and see if it's worth it.
1. High Housing Prices
Unlike the cost of living in Florida, housing prices make up a huge chunk of your budget in Lake Tahoe. Only 41% of all Lake Tahoe residents own their homes, and that's because of the exorbitant housing prices. The median home value in Lake Tahoe is $403,600, and that's well above the national average in America.
One of the hardest aspects of owning a home in Lake Tahoe is the $1,799 average monthly homeownership cost. You could save thousands of dollars per year in Lake Tahoe, but even that is expensive. The average cost of rent in Lake Tahoe is $1,020 per month, but prices vary.
| | | |
| --- | --- | --- |
| Location | Median Home Value | Median Gross Rent |
| Lake Tahoe | $403,600 | $1,020 |
| Reno | $335,000 | $1,029 |
| Las Vegas | $258,600 | $1,102 |
| Carson City | $273,800 | $940 |
2. Poor Education System
Unfortunately, Lake Tahoe is not known for being the most educated or having the best school system. Sure, 86.9% of Lake Tahoe residents graduate high school, but only 24% of them receive a college degree. Part of the problem is that there are only 8 public schools in Lake Tahoe, and that makes educational options limited.
The public schools in Lake Tahoe have recently held 3,906 students. Sadly, there has been a recent uptick in poor and or homeless students attending public school in Lake Tahoe. Part of that is due to the financial disparity that some families experience in the often expensive Lake Tahoe.
Of course, a private school is always an option, but it is limited and quite expensive. Private schools in Lake Tahoe can cost as much as $25,725 per year. The high tuition costs of Lake Tahoe private schools means that you'll almost surely have to choose public education as a parent.
3. Heavy Snow
Lake Tahoe experiences heavy snow in the winter, and it can come as a surprise to newcomers. North Lake Tahoe can receive as much as 370″ of snow per year, and that can be a lot to keep up with. Homeowners and commuters in Lake Tahoe have to get used to salting and shoveling their driveways.
Granted, the heavy snow in Lake Tahoe helps contribute to much of its charm, but it comes at a price. Heavy snow in Lake Tahoe leads to difficult road conditions, school closures, and difficulty going to work. The one good thing about Lake Tahoe's excessive snow is that they treat and plow the roads routinely.
Do You Need to Hire Movers?
Get free, zero-commitment quotes from pro contractors near you.
What Did We Learn?
Living in Lake Tahoe means that you will have to spend a fortune on housing and rent costs. Housing prices are far above the national average, but property taxes are low on the Nevada side. The beaches are gorgeous in Lake Tahoe, but not all of them are sandy like you may imagine.
Crime occurs in Lake Tahoe, but it is primarily relegated to specific areas and it's mostly safe. Braving the winter in Lake Tahoe is no easy feat, and it's not unheard of to receive 370 inches of snow in a single year. Sadly, the education system in Lake Tahoe is not great, and private tuition specifically is exorbitantly priced.
If you can tolerate the crowing of tourists throughout the year in Lake Tahoe, you'll enjoy living there. Lake Tahoe's downtown is bustling, but it is primarily a laid back, slow-moving place meant for leisure. It is a pleasure and a privilege to live in Lake Tahoe, and the benefits far outweigh the downsides.
Related Articles

Nick Durante
Nick Durante is a professional writer with a primary focus on home improvement. When he is not writing about home improvement or taking on projects around the house, he likes to read and create art. He is always looking towards the newest trends in home improvement.
More by Nick Durante
Published January 1st, 2021 6:00 PM