164 Views
Makita Vs. Milwaukee Power Tools: Which One Is Better?
January 24th, 2022 11:59 AM
Share
We're committed to finding, researching, and recommending the best products. We earn commissions from purchases you make using links in our articles. Learn more here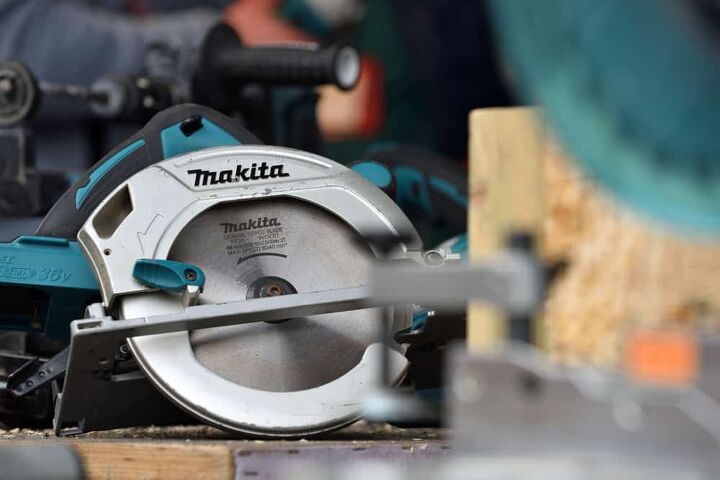 There are many power tool brands to choose from between Ryobi, John Deere, Stihl. Another two brands often said in the same breath as the aforementioned options are Makita and Milwaukee. They're household names, but how do Makita and Milwaukee stack up against one another?
Makita is notable for being cheaper than Milwaukee, and it generally offers a simple selection that is accessible. However, Milwaukee's focus is more on durability and building their tools to last, and they offer more options. Makita's drills, saws, vacuums, and accessories are often cheaper, but Milwaukee features premium materials and powerful brushless motors many times.
Milwaukee and Makita offer selections that are quite different, and that's part of what makes them unique. Follow along as we dive into what these brands have in common, how they differ, and the best tools that they boast.
Makita Quality
Makita is the gold standard when it comes to Japanese power tools, and for good reason. Since their start in 1915, Makita has proven that you don't have to suffer quality for quantity, and their line of tools are popular. Perhaps Makita's strongest asset is their line of power tools are mid-ranged in cost, but top tier in quality.
Makita produces both corded and cordless saws, vacuums, blowers, drills, dust extractors, and more. Not to mention, they produce a wide variety of accessories to go along with their top-notch tools to make the job easier. In short, you can find anything you're looking for when it comes to concrete, table-top, and woodwork tools with Makita.
Makita Power Tools
As a company, Makita is only as strong as the power tools that they offer. Luckily for any DIY-minded person or builder-owner, Makita has no shortage of options. A variety of options is what defines a great tool company, so let's take a look at some of the power tools that they offer.
Saws
One of Makita's claims to fame is their excellent choices when it comes to saws, and it shows. Their cordless 18V LXT Lithium-Ion Circular Saw is a prime example of both affordability and quality. Coming in at $328, this circular saw provides a long battery life and even more impressive performance.
A great example of Makita making their tools easy to use is their Barrel Grip Jig Saw which costs only $173. The addition of the barrel grip on the handle makes for easier, and more importantly, comfortable cuts that make the job go by easily. Many of Makita's jigsaws, such as the Barrel Grip, work with 40% less vibration than standard models.
The most bang for your buck when it comes to miter saws is Makita's 18V X2 LXT Lithium-Ion Compound Miter Saw. This miter saw is unique in that it boasts a powerful and precise laser kit that ensures that your cuts are accurate. Whether it be a circular saw, a jigsaw, or a miter saw, Makita provides pure quality and fair prices.
Vacuums
Anyone who does DIY projects or moonlights as a builder-owner knows that vacuums are a must. Luckily, Makita has a high-quality line of vacuums just as effective as their saws and other tools. A prime example is their 18-Volt LXT Lithium-Ion Handheld Vacuum that costs only $99 and is worth every penny.
The aforementioned vacuum is an excellent choice for cleaning up after household projects, and even on job sites. Makita brings it when it comes to wet/dry vacuums as well, as demonstrated by their 18-Volt LXT Lithium-Ion Brushless Cordless vacuum. It can hold 2 gallons of water, and for $171, you'll be hard-pressed to find more bang for your buck.
One of Makita's best vacuums is their 18-Volt X2 LXT Lithium-Ion Backpack Vacuum that pairs precision with portability. The convenience of the comfortable backpack format makes this vacuum perfect for both personal and professional jobs. Makita's vacuums combine the best in portability, ease of use, battery power, and precision.
Drills
Anyone who has ever attempted a DIY project knows that a drill comes in handy no matter what the task. Makita seems to understand that with their high volume of powerful and affordable drills to choose from. Just take a look at the 1.5 Ah 18-Volt LXT Lithium-Ion Impact Driver Kit to get an idea of their quality.
The aforementioned drill is great for its battery life, comfortable grip, and $149 price tag. If you need to work with drywall, check out Makita's 18-Volt LXT Lithium-Ion Drywall Screwdriver. The combination of the pistol grip and lock-on capabilities make this drywall drill as ergonomic as it is effective.
If you need something affordable while still effective, check out the 12-Volt MAX CXT Driver-Drill Kit. Coming in at $99, this drill kit is basic enough that anyone can use it and precise enough to get the job done. Each of Makita's drills exemplifies the brand's attention to detail and dedication to ease of use.
Accessories
Accessories are another part of Makita's bags of tricks, and they don't disappoint. Makita provides everything from center cover assemblies and rip fences for your blades, to impact drill bit sets. Whether you need a power cable or a wall mount bracket, you can find many options from Makita.
Makita power tools come with everything that you need, but the option for accessories doesn't hurt. You never know when you'll need new drill bits or circular saw blades, but they are readily available. More importantly, Makita also sells safety accessories such as helmets and chain saw chaps.
Milwaukee Quality
Based out of Wisconsin, Milwaukee's bold inception in 1924 led to almost 100 years of quality power tools. Just like Makita, Milwaukee is among the top power tool brands alongside Ryobi and John Deere. Milwaukee's prices have always been fair and affordable, and their consistency in quality makes them the choice of many.
You can find everything from hedge trimmers and blowers to hammers, drills, and saws from Milwaukee. Their range of power tools is just as impressive as their traditional hand tools and measurement tools.
Milwaukee Power Tools
Whether you want to do yard work, fix up the house, and focus on your new woodwork product, Milwaukee has options for you. The pricing and availability of Milwaukee tools are just as enticing as the quality of their tools. Let's take a look at all that Milwaukee has to offer, and how it stacks up against Makita.
Saws
Milwaukee is a heavy hitter in the chainsaw department, and that starts with the HATCHET Pruning Saw. The 12V lithium-ion battery allows for 120 cuts with each fully charged battery. This tool is excellent for the builder-owner that takes pride in their yard and recognizes the curb appeal.
Maybe your Stihl chainsaw won't start, but that doesn't usually happen with Milwaukee. For big jobs, the M18 16" Fuel Chainsaw is a powerful and affordable option. The 16" bar is long enough for daunting tasks without being overly cumbersome.
If trimming tall branches is in your future, Milwaukee has options in that department as well. The Milwaukee M18 FUEL QUIK-LOK 10" Pole Saw Attachment is one of the best of its kind and allows for safe trimming. This tool is only $198, and it proves that chainsaws are one of Milwaukee's strong suits.
Concrete Tools
Milwaukee may surpass Makita when it comes to concrete tools. They currently offer rotary hammers and concrete saws, such as the M18 Fuel One-Key. This powerful concrete saw boasts a 9" blade and can make 3.4" deep cuts.
Milwaukee offers a Switch Tank Backpack Concrete Sprayer Kit that is battery operated and boasts interchangeable tanks. It costs $559 but is a must for any DIY or professional concrete work that may come up. You can also clean up after concrete work with Milwaukee's 4 Gallon Switch Tank Water Supply for $179.
Rotary hammers are a godsend with concrete work, and the cordless SDS-MAX Rotary Hammer is a great one. It costs $749, and the auto-stop feature is a nice safety function that Milwaukee added with care.
Drills
Milwaukee produces their drills with convenience and quality equally in mind. A great example of that is the Hawg Right Angle Drill Kit. This drill kit boasts a comfortable angle that can help you reach tricky spots, and costs $279.
Their Brushless Cordless ½" Drill Driver has a powerful brushless motor that is long-lasting. It costs only $179, and the lithium-ion batteries provide a long work time and charge quickly. The addition of strong LED light on this drill is yet another convenience and safety feature that Milwaukee added.
One niche and convenient drill that Milwaukee provides is the Hex 2-Speed Screwdriver. This affordable tool is great to have around when dealing with hex screws, and it only costs $99. Milwaukee currently offers 73 drills that all live up to their high standards.
Accessories
Similar to Makita, Milwaukee sells many accessories for almost all of their products. You can find accessories for their drills, saws, dust extractors, and rotary hammers. Besides selling accessories for their tools, Milwaukee also sells a wide variety of protective gear and apparel.
Milwaukee has Makita beat when it comes to construction and project clothing. Everything from work gloves, coveralls, and safety glasses are produced by Milwaukee. You can also make your project safer with Milwaukee's headlamps and site lights.
Bits, flat boring sets, and saw arbor adapters are all available from Milwaukee. You can find table saw stands as well to make your sawing session that much easier. Milwaukee's accessories are all practical, helpful, and increase the functionality of your tools.
What's Better Makita or Milwaukee?
If you want low prices, Makita is better, but if your focus is purely on quality, Milwaukee is superior. With that said, both brands produce excellent tools and accessories that are not far off in pricing. It seems that Milwaukee tools often last longer, and that has a lot to do with their high-quality brushless motors.
Milwaukee produces more products than Makita does, but both brands offer countless options. It doesn't hurt that Milwaukee also offers a great selection of hand tools and protective accessories that make them well-rounded. Even still, Makita provides high-quality protective gear as well as accessories for most of their tools.
Makita's selection is great for both seasoned DIY enthusiasts and people new to taking on tasks like this. However, if you are experienced and like to do bigger projects, Milwaukee probably has more options for you to look at. If you need affordable, simple tools, consider Makita, but if you want high end, long-lasting tools, choose Milwaukee.
Summing It Up
Makita offers great saws, such as the 18V LXT Lithium-Ion Circular Saw, but Milwaukee may top it with the M18 Fuel One-Key. Both Makita and Milwaukee are incredible, but Makita is generally more affordable. Even still, Milwaukee may be superior due to the durability and impressive brushless motors in many of their tools.
If you don't know how to rip narrow boards with a circular saw, then Makita may be your best bet. That's because their selection is simpler and more accessible if you are still new to power tools. However, seasoned veterans will find more to look at from Milwaukee, and that is part of why it is better than Makita.

Nick Durante
Nick Durante is a professional writer with a primary focus on home improvement. When he is not writing about home improvement or taking on projects around the house, he likes to read and create art. He is always looking towards the newest trends in home improvement.
More by Nick Durante
Published January 1st, 2021 6:00 PM