463 Views
How Much Do LeafFilter Gutter Guards Cost?
December 29th, 2021 1:34 PM
Share
LeafFilter gutter guards are an excellent way to extend the life of your gutters. Homeowners spend an average of $1,700 on LeafFilter gutter guards between materials and installation. Whether it be the materials or cost per square foot, let's take a look at how much it costs to install LeafFilter gutter guards.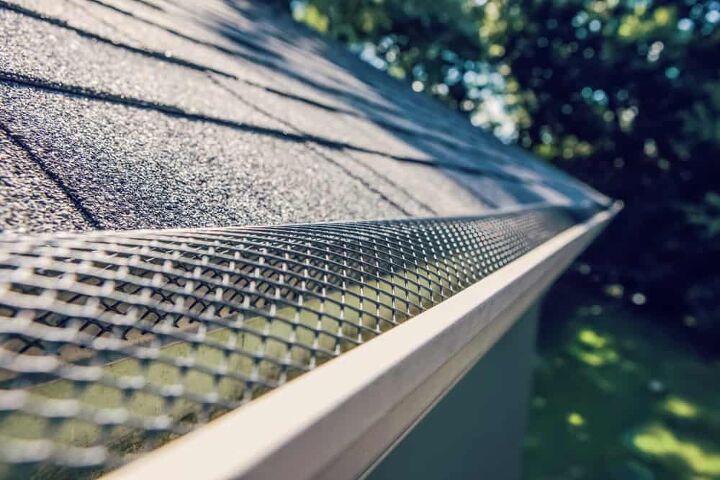 LeafFilter is one of the most popular options when it comes to gutter protection. Homeowners go for LeafFilter mostly for their long track of successful history and extensive customer satisfaction policies. But, an important consideration is what do LeafFilter gutter guards cost?
LeafFilter gutter guards cost $17 to $43 per linear foot, averaging $2,600 to $6,300 for a home with 150 to 200 linear feet of gutters. for materials and installation. Micromesh gutter screens cost $1.50 to $10 per linear foot and regular screens cost $0.50 to $5 per foot. You can spend another $2.50 per downspout filter when you install LeafLifter gutters.
Of course, the final price may vary depending on your house's size and the structure of your house. There are also alternative products you may use to protect your gutter. We will cover everything you need to know in the following sections, including LeafFilter cost. But if you don't want to wait, feel free to check out our extensive gutter guard cost guide on our website.
Do You Need Gutter Installation Services?
Get free, zero-commitment quotes from pro contractors near you.
What Are LeafFilter Gutter Guards?
LeafFilter Gutter Guards are meshed gutter guards made from high-quality stainless steel. Their micromesh design can effectively keep most debris out of your gutters. Some typical debris includes:
Pine needles
Seed pods
Shingle grits
Leaves and small branches
Since the micromesh layer is made from surgical steel, the openings are smaller than any other market products. While most gutter guards may let individual smaller particles through, LeafFilter can almost block everything and only allow rainwater to pass through, even in heavy storms.
LeafFilters have enough surface tension to pull water into your gutter system while filtering it through the screen with a uPVC pitch. This 11-angle pitch is what allows LeafFilters to last for several decades without rusting or bending — nearly double the lifespan of all other products.
LeafFilter Gutter Guard Cost Per Linear Foot
In general, LeafFilter gutter guards cost up to $12 per linear foot. Be ready to invest $570 to $1,579 on the low end and up to $2,200 on the higher end. This price fluctuates according to the amount of required coverage.
The actual price may be lower depending on the product and model you purchase. Because LeafFilter products fall in the higher price range, they offer a variety of special financing terms. You are allowed to make monthly payments for up to 12 months.
While you can estimate the per square foot cost of LeafFilter, keep in mind that professional installation is mandatory. Therefore, you won't be able to purchase the gutter guard separately.
If you want to save on installation costs, it's best to go with alternatives that allow you to either independently install the system or hire your contractors for the job.
LeafFilter Costs For Installation
When calculating the LeafFilter cost, you can't forget about installation. On average, the installation cost will fall between $1,400 to $2,000 for an average one-story home.
The only way for you to get an accurate number is by using the estimate tool on the LeafFilter website. Since their installation is exclusive, you won't be able to shop around this time.
However, LeafFilter is famous for its fair pricing. They don't provide a final estimate until a free at-home inspection. That way, they can guarantee you an accurate price. Depending on the landscape and plantation around your residence, you may get away with a partial installation. If you are in high debris areas, then a full installation would be ideal.
Installation Cost Factors
Like all other projects, a few factors can impact your installation cost. With a professional estimator, you shouldn't worry too much about these factors. However, it's good to know what plays into the final quote when you plan your budgets.
Gutter Location
The logic here is simple. If your gutter is directly underneath a tree, it receives more debris than in the open air with nothing above.
Therefore, additional, more thorough installation is necessary to cover these high-debris areas. As a result, your installation cost goes up. Debris density, or location, determines what type of material you need, affecting your final price.
Height and Accessibility Issues
An average, single-story home with a flat roof is the easiest to work with. Additional stories will cost you extra for gutter guard installation because of the extra work needed. Similarly, a steep, irregular roof increases the risk an installer faces. Therefore, they tend to give a higher quote to cover themselves.
If you have multiple stories and multiple gutters, try only to cover the ones on the top floor or from the second-story above. The gutters on the first floor tend to be the least affected by debris and leaves. They are also the easiest and the least messy to clean.
Alternative LeafFilter Costs By Type And Material
Other name-brand leaf guards come in a few types and materials. While the LeafFilter brand has exclusive, undisclosed pricing, alternative products will give you insights into the general pricing structure.
How Much Does Leaf Filter Cost? (by Materials and Types)
| | | |
| --- | --- | --- |
| Materials | Price per Linear Foot | Top Manufacturer |
| Metal Mesh, or aluminum mesh | $0.80 | E-Z Gutter Guards |
| Bottle brushes or gutter guard brushes | $3 | GutterBrush |
| Nylon | $2.50 | Flo-Free |
| Foam | $1 | GutterStuff |
Alternative brands are also more affordable than the official LeafFilter brand. If you are on a tight budget, it's best to think about using a different product instead of saving on installation.
After all, you want to make sure the guards can do their job. Thus, you should invest most of your budget in hiring a certified contractor.
Are Leaf Filters Worth It?
Do you want to clean your gutter regularly? Think about the stagnant water, unbearable stench, and rotten leaves. Now ask yourself again, do leaf filters worth it? In general, it's wise to install some type of gutter protection system to lower the cleaning frequency. It's cheaper and a lot more pleasant.
Gutter guard systems also extend your gutter's lifespan. A broken gutter can be a severe safety hazard in your home, and gutter replacement and repair can be quite expensive.
In short, LeafFilter's cost is worth it because they save you in the long run. But of course, like everything else, LeafFilters have their pros and cons. Let's take a closer look.
Pros And Cons Of LeafFilter Gutter Guards
The biggest advantage of Leaf Filters is the fact these guards can keep out almost every type of debris and waste. Meanwhile, the most significant disadvantage with them is these products must be installed by a certified professional.
Below is a full comparison table of the pros and cons of LeafFilters.
Pros and Cons of LeafFilter Gutter Guards
| | |
| --- | --- |
| Pros | Cons |
| Can keep almost everything from entering the gutterCan maintain proper function even in hefty stormsYou pretty much never need to clean your gutters, everFast installation that can be done in a dayNo restrictions on installation. Applicable to any gutterLifetime warranty | One of the more expensive productsProfessional, certified installation is required for you to enjoy a full warranty |
Can I Buy LeafFilter Gutter Guards?
You cannot "buy" LeafFilter gutter guards. For LeafFilter, the product comes with the exclusive installation, and you will only receive a final quote that covers everything.
This means you can't install them yourself either. LeafFilter gutter guards must be installed by a certified professional. Otherwise, your gutter guard system will not enjoy its transferable lifetime warranty.
The least we want to see happening is for you to lose out on the long-term maintenance guarantee because you tried to save on installation costs. To request a quote, go to the official LeafFilter website and enter your information.
If this is beyond your budget, you can choose to purchase similar products from other companies. LeafFilters are stainless steel guards with micro-mesh screens. Therefore, any mesh screen gutter guards could work for your home. They just won't be as effective as the LeafFilter gutter guards.
LeafFilter vs. LeafGuards
LeafFilter and LeafGuards are two of the most popular gutter guard system manufacturers. They also fall into close price ranges. Therefore, homeowners sometimes have a hard time choosing between the two.
Upon first glance, both companies seem to provide similar products. They serve the same purpose and may look identical for those not experienced in home improvement.
Below is a quick feature comparison chart for LeafFilter and LeafGuards.
LeafFilter vs. LeafGuards
| | |
| --- | --- |
| LeafFilter | LeafGuards |
| Installed on existing guards by a certified professionalExclusive attachment method that doesn't damage your roof shingles at allMade of surgical grade stainless steel and uPVC materialLifetime warranty | Uses liquid adhesion principles and must be created by specialists on-siteUses screws for attachmentMade of metal that's 20% thicker than the industry standard and a ScratchGuard® finish.Lifetime no-clog warranty and limited lifetime paint finish warranty. |
Since we've talked plenty about LeafFilters already, we will dive deeper into LeafGuards in the next few sections.
Are LeafGuards Worth It? Pros And Cons
LeafGuard uses an innovative reversed curve protector. It creates a water path to flow back into the gutter while redirecting leaves and debris away with a built-in hood. It's made from a single piece of metal.
LeafGuards follow the principle of liquid adhesion. Their guards are created on-site by cutting an arched cover and some holes on the surface of a full piece of metal. While their design is efficient and innovative, it also creates a few problems:
The opening in the front might collect debris, especially if in a strong wind.
May form icicles during winter seasons.
Warranty Policies
LeafGuards come with a lifetime warranty as long as you have a certified partner to do the installation. This also means you won't ever have to pay for maintenance. They will clean out any clogging for free.
LeafGuards also provide a limited lifetime finish warranty and seal your gutter system with their exclusive, patented paint finish. They will cover any chipping, peeling, or cracks as long as they happen under normal conditions.
The LeafFilter lifetime warranty doesn't provide any free upgrades. However, LeafFilters run promotions from time to time, giving you a free update or a discounted rate. Meanwhile, maintenance, repair, and full replacement are covered as long as the wear and tear happened under normal conditions.
Also, the warranty is transferable to a second homeowner, so keep this in mind when considering the LeafFilter cost.
LeafFilter vs. Gutter Helmet
Gutter Helmet is another popular alternative to LeafFilter, but quite different at the same time. They are considered a "hood-style" guard with a curved top and a frontal slot that allows water in.
Again, here is a quick comparison sheet of LeafFilter and Gutter Helmet gutter guards.
LeafFilter vs. Gutter Helmet
| | |
| --- | --- |
| LeafFilter | Gutter Helmet |
| Installed on existing guards by a certified professionalExclusive attachment method that doesn't damage your roof shingles at allMade of surgical grade stainless steel and uPVC materialLifetime warranty | Doesn't need to be installed by a certified professionalUnique horizontal stiffening ribsUses screws for attachmentTensile strength surface with innovative PermaLife coating.Lifetime warranty |
Gutter Helmet Features And Maintenance
Similar to LeafGuards, Gutter Helmet gutter guards also have a sizeable frontal opening. Therefore, debris and leaves could get in and cause clogging. To clean the gutters, you will need to remove the hood altogether. However, their warranty will cover routine gutter cleanings.
Compared to LeafFilters, Gutter Helmet has a much wider variety of products you can purchase. Since their products don't need an exclusive installation, you can buy the guard system separately and find a contractor for the installation.
Warranty Policies
Gutter Helmet provides a lifetime warranty. It covers routine maintenance and is transferable to the second homeowner. The warranty covers all performance and material issues under normal conditions.
Additional Protection: Downspout Filters
Like we've mentioned before, having a gutter guard system won't completely prevent your gutters from clogging. The smartest thing to do is using double security by adding accessories to your gutter guard system.
One of the most popular options is adding downspout filters to your home. The downspout is the vertical tube in your gutter system. It directs rainwater away from your home to prevent erosion and foundation damages.
Downspout filters or downspout screens begin at $2.50 each. They allow water to keep flowing by serving as a secondary filter system in addition to your gutter guard system.
They are also straightforward to clean, the same way you'd clean a drain filter in your kitchen.
How To Clean Your LeafFilter Gutter Guards
The answer is, you don't need to worry about it. This bit of news is nice to hear and makes the LeafFilter cost even more worth it.
LeafFilter is one of the few gutter guard systems that is completely sealed. Without any openings, it is unnecessary ever to clean them. If cleaning becomes a necessity at any point, their lifetime warranty will take care of your needs.
In short, no need to clean your LeafFilter guards. The most you'd want to do is wipe them off on the surface. That's about it.
Choosing The Correct Gutter Guard System For Your Home
Is LeafFilter the right fit for you? The answer is dependent on a few other factors:
What is your project budget?
Is this your permanent home? Or are you upgrading or downgrading in a few years?
Are you in a high-debris area?
How's the climate in your area?
What type of gutter system do you have?
Considerations For Choosing The Right Gutter Guard System
Budget — The budget question will let you know if the LeafFilter cost is even within your price range. Being one of the leading manufacturers, their patented gutter guard system is on the pricier end.
Longevity —While gutter guard systems don't add much value to your home, it is still a large investment. If you are considering moving in a few years, you may get away with a more basic guard option.
Location And Climate —If you live in a high-debris area, or if your region gets heavy rain seasons, you should opt for higher-grade gutter guards. That will save you money on maintenance, cleaning, and repair in the long run. Name brands such as LeafFilter also have proven efficiency in blocking leaves and debris.
Bottom line: know your gutters and what they go through. If you don't mind cleaning your gutters regularly, you can opt for a cheaper guard system. However, if efficiency, aesthetics, and professionalism matter to you, LeafFilter will be a great choice.
Do You Need Gutter Installation Services?
Get free, zero-commitment quotes from pro contractors near you.
---
Related Questions
Do LeafFilter gutter guards freeze in the wintertime?
Believe it or not, they don't. LeafFilter is in general weather-resistant due to its enclosed design. There are no holes or gaps, meaning only water passes through, which prevents ice damming. Besides, the surface tension is strong enough to prevent any ice from building up on the mesh grids.If you are still worried, consider adding a heated cable to your gutter. This will permanently prevent any freezing in cold weather.
What other types of gutter guards can I invest in?
The following are the most popular gutter guard categories:
Plastic PVC Screens
Aluminum Perforated
Vinyl Grid
Gutter Helmets
Steel Screens
Metal Mesh Screens
Micro-Mesh Screens, such as LeafFilters
Foam Inserts
Full Surface Tension Covers
Gutter Brushes
You will learn more from our comprehensive gutter guard guide.
Can LeafFilter Gutter Guards increase my home value?
Gutter guards don't typically increase your home value size. Therefore, there is no need to upgrade your system to prepare for selling. However, some buyers will consider a solid guard system valuable. You should always consult with your selling agent for value-related questions.
Related Guides

Xiao Faria Da Cunha
With a deep passion for content and creative writing, Xiao Faria da Cunha finds a strong sense of accomplishment in creating quality home guides that resonate with homeowners. When not writing, you can find Xiao creating art masterpieces.
More by Xiao Faria Da Cunha
Published October 16th, 2020 8:57 AM