360 Views
Kohler Choreograph Vs. Swanstone Showers (Here Are The Differences)
April 8th, 2021 11:34 AM
Share
We're committed to finding, researching, and recommending the best products. We earn commissions from purchases you make using links in our articles. Learn more here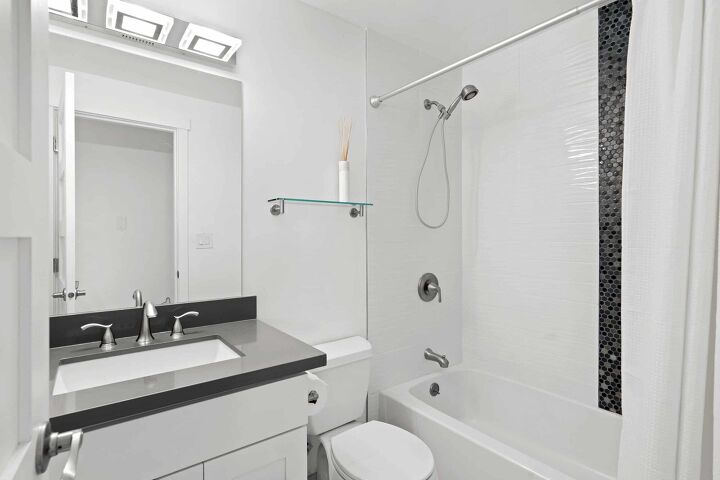 Are you remodeling your shower and looking for a beautiful and functional product? Kohler and Swan are both reputable brands with sleek and durable shower wall kits. Both of their proprietary products would be great additions to your bathroom. To help you choose, we have completed an in-depth comparison of the two options.
In a head-to-head comparison between Kohler Choreograph and Swanstone, we have to pick Choreograph for its customizability and relative affordability. Their kits run close to $1,000 cheaper than Swanstone's comparable options, and they have a wider variety of unique and stunning designs.
That said, Choreograph does not have shower pans, and their "shower stool" may leave some customers wanting. Finally, Swanstone's 30-year limited warranty is unbeatable, which might justify the higher expense for some people.
Do You Need Glass Shower Door or Enclosure Installation?
Get free, zero-commitment quotes from pro plumber near you.
An Overview of Kohler Choreograph
Choreograph is Kohler's most innovative shower collection, made from a material they created called Serica. Serica is a composite material that is made by combining crushed stone and fiber strands under extreme pressure. This proprietary mixture is said to be very durable, while also looking quite attractive.
What Pieces Are Included?
The system comes in modular pieces, so you can create exactly the shower you want, within standard sizes. There are walls, basins, and even accessory pieces, including a floating shelf, a "locker" of shelves, a metal bar, and a stool.
The collection even includes corner joists, edge pieces, and seams that you can use to cover the caulked seals of your shower. This helps the shower look more up-scale and finished. More importantly, it is much easier to clean than exposed caulk.
What Design Options Are Available?
The Choreograph collection has such a wide selection that you may have a hard time choosing. Luckily, their website features a "shower planner" so you can see your design as you go. The wall panels come in many textures and colors.
For smooth walls, you have six color options (whites, tans, and grays). All colors come in a matte finish, which is unique for showers and easy to match with any decor. Alternatively, you choose a "VeinCut" option that resembles sandstone or a "CrossCut" that has a marble aesthetic.
You can also choose to add an accent wall feature, and there are many available configurations. These come in brick, hexagon, or "stix" textures. Stix is a horizontal, rectangular pattern. There is also linen and "cord," which sports vertical lines.
An Overview of Swanstone
Swan has been making solid surface materials for more than 50 years. Their Swanstone product is made of a mixture of acrylic and natural minerals. Because the acrylic is reinforced, Swanstone is very durable and strong. The material is also completely waterproof, which makes it ideal for bathrooms.
What Pieces Are Included?
Similar to Choreograph, Swanstone is available in separate wall panels that you would install independently. However, they also have a number of prefabricated standard size wall sets that connect side panels and back panel.
This makes installation and cleaning much easier since it removes two full seams. The downside is that these sets are obviously less customizable, and all come with just corner soap shelves.
The Swanstone collection offers a wide range of accompanying products. To name a few, there are corner soap dish shelves, recessed shelves, bench and corner seats, and grab bars. There is even a window trim kit!
What Design Options Are Available?
Swan's shower wall kits come in 25 different colors, including grays, tans, and one dark blue. All are smooth panels, unlike Choreograph, though some of the colors create the appearance of texture.
Some of the Swanstone standard shower sizes also offer "Crystal colors." These have a bit more texture visually but are still finished smooth. The pricing of these color options is right in the middle of Swanstone's range.
Pricing Comparison
Below is a chart comparing prices across the two brands for some standard size shower units and accessories. Please note that these prices were taken directly from each brand's website. You may find cheaper options available through a third-party dealer or during a sale.
| | | |
| --- | --- | --- |
| | Kohler | Swanstone |
| Shower Wall Kits | | |
| 36" x 36" x 72" | Not available. 72" height only comes in 32" x 60", 36" x 60" or 42" x 60" | $1,657 – $1,977, depending on color |
| 36" x 36" x 96" | $1,125.65 – $1,739.70 | $1,977 – $2,373 |
| 36" x 60" x 72" | $1,008.30 – $1,714.05 | $2,179 – $2,566 |
| 36" x 60" x 96" | $1,375.90-$2,126.35 | $2,542 – $3,101 |
| Floor Pans | | |
| 34" x 60" Floor Pan | The Choreograph collection does not have any shower pans. Shower pans in other Kohler collections range from $536.90 – $1,314.15. | $782 |
| Accessories | | |
| Shelving | Choreograph offers two floating shelves (14" for $165.10, and 21" for $170.50). They also have two "shower locker" options: the 9" width one is $346.55, and the 14" option is $601.95. | Soapdish shelves range from $101 – $248. Recessed shelves range from $172 – $287. |
| Grab Bars | The 24" option is $105.50, the 36" option is $124.05, the 40" option is $186, and the 54" option is $272.70. | The 24" option is $105, and the 48" option is $329. |
| Seating | The freestanding shower stool is $341.65. | The bench seat is $237, and the corner seat is $477. |
Analysis of All Factors
While Swanstone does have more standard sizes available, especially at the 72" height, Kohler has more customization. Since their wall panels are separate, they can easily be cut to any size. There are also many more exciting customizations of designs, thanks to Choreograph's accent panels.
You will also see that while Kohler definitely wins out on storage options, their "shower stool" is not for everyone. Swanstone's options for built-in shower seating may be the deciding factor for folks who need seating and prefer their design. Finally, Kohler offers shower pans in other collections, or you could choose to tile the shower base instead.
Installation
Both products have similar and simple installations, and both companies sell installation kits. Like most showers, they can be installed easily with shower adhesive and caulk sealant. For odd sized showers, Kohler panels are easy to cut down on-site to make sure they fit perfectly. For easier installation, Swanstone's pre-constructed, one-piece wall sets will save a good deal of time.
Longevity
Both products boast durable, waterproof materials. However, Kohler Choreograph has a 10-year limited warranty for residential uses (3 for commercial). Swan offers all of their products a 30-year limited warranty, which is truly unbeatable.
Do You Need Glass Shower Door or Enclosure Installation?
Get free, zero-commitment quotes from pro plumber near you.
---
Related Questions
What is the best material for walk-in showers?
Acrylic is the industry-preferred option since it is so durable. It is also relatively lightweight when compared to other shower solutions. It is the easiest to clean since there are fewer seams than tile. Finally, acrylic products are extremely resistant to moisture, which will keep mold and mildew away.
How do I make my shower floor less slippery?
You could use an anti -slip shower mat or adhesive shower treads to increase friction at your feet. For even more protection, shower grab bars help you to catch yourself if you start to slip. Grab bars and shower seating are both recommended for people with fall risks. There are plenty of attractive, modern options available, so you do not need to sacrifice style for safety.

Benjamin Panico
Benjamin is a freelance writer and graphic designer. He is passionate about DIY projects and finding creative ways to upcycle things headed for the landfill. Based in Oakland, CA, Benjamin enjoys playing guitar and gardening.
More by Benjamin Panico
Published September 12th, 2020 6:58 PM