37 Views
How Much Does A Kitchen Island Cost? (Average Rates)
December 20th, 2021 3:45 PM
Share
We're committed to finding, researching, and recommending the best products. We earn commissions from purchases you make using links in our articles. Learn more here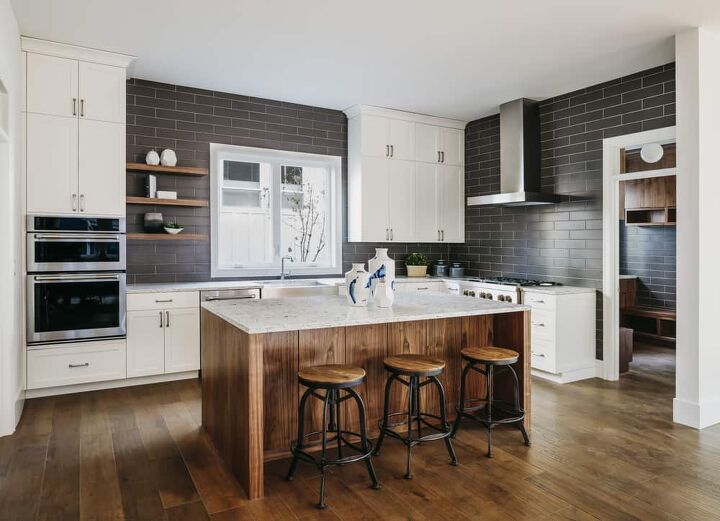 If you take a look at most home renovation sites these days, they'll tell you that a kitchen island is the new must-have accessory. It's easy to see why. Kitchen islands are stylish, offer more cooking space, and are allegedly much cheaper than most other upgrades. Though the reputation for being affordable is great, it can be hard to know what that really means…
It costs an average of $2,750 to install a kitchen island including materials and labor. Homeowners can spend an additional $8,800 on custom countertops depending on the material. The average custom kitchen island cost is $11,200 with custom trim at $14 per foot and $1,800 per island appliance.
Kitchen islands are a major investment in your home. You shouldn't march in blindly, so you might want to read our guide on the costs of kitchen islands of all types.
Want the costs broken down even more? Take a look at our chart!
| | | | |
| --- | --- | --- | --- |
| Type of Kitchen Island | Low-End Cost | High-End Cost | National Average Cost |
| Pre-Built Kitchen Island | $100 | $2,000 | $500 |
| Custom Built Mid-Range Kitchen Island | $1,000 | $10,000 | $4,000 |
| Custom Built High-end Kitchen Island with Appliances and other Features | $3,000 | $12,000 and up | $9,000 |
Need to Hire a Kitchen Remodel Contractor?
Get free, zero-commitment quotes from pro contractors near you.
Typical Kitchen Island Prices
There are several different ways that you can examine the price of a kitchen island, primarily because there are different genres of kitchen islands to choose from. The ones we're going to take a look at are as follows:
Ready-Made Kitchen Island
Custom Built Kitchen Islands
Appliance Islands
Pre-Built Kitchen Islands
Depending on the size and layout of your existing kitchen, a pre-built kitchen island maybe your best option. You can purchase a pre-built kitchen island for as little as $100 or spend as much as $1,000 for other models. The cost depends on the size, features, and quality of the materials and construction.
Many existing kitchens don't have enough floor space to accommodate a larger permanently installed kitchen island. However, a smaller island can provide an additional workspace that can change the way your kitchen functions. Some of these smaller pre-built kitchen islands come with wheel kits. Generally, these smaller kit-style kitchen islands cost between $100 and $500.
On the upper end of the scale, purchasing a pre-built and finished kitchen island from a home improvement store can be an option if your kitchen has the space. Manufacturers of pre-built kitchen cabinets offer various styles, finishes and sizes of pre-built kitchen islands. Typically, these pre-built larger models cost from $1,000 to $2,000 for the kitchen island cabinet base.
The Cost Of A Ready-Made Kitchen Island
Ready-made kitchen islands, or "prefabs" are the most inexpensive types of islands. These islands don't usually have appliances and come in a small variety of different styles. Some have wheels, others don't. Regardless of which type you choose, you will need minimal labor for installation.
Here's what to expect:
| | |
| --- | --- |
| Type | Price |
| Small Rolling Cart | $100 to $2,500 |
| Large Rolling Cart | $100 to $2,500 |
| Table | $200 to $3,500 |
| Countertop With Cabinet | $400 to $4,500 |
Are Prefabricated Kitchen Islands Worth It?
Here's an issue that seems to be solely relegated to pre-made kitchen islands: the value issue. Many people feel leery of getting a mass-produced kitchen island out of fear that it will not be as high-quality as it should be. Truth be told, this is an unfounded worry. The bigger worry is that you will not be able to get a perfect match with your other decor.
If you are persnickety about your island's ability to match your decor, then you may want to skip the prefab look. It probably isn't going to be a good match for you.
The Cost Of A Custom Kitchen Island
Having your kitchen island custom built is a good strategy if you want special features or need to match your existing cabinets. If your budget will allow, having a custom kitchen island built by a local cabinetmaker or cabinet shop gives you more options. The opportunity to have exactly what you want on a kitchen island is certainly attractive.
In general, custom-built cabinetry costs between $3,000 and $10,000. As you budget, remember that this price doesn't include the countertops or other amenities you need to complete the installation. Countertops can add an additional $40 to $150 per square foot.
| | |
| --- | --- |
| Type | Price |
| Table | $1,000 to $10,000+ |
| Countertop With Cabinet | $3,500 to $10,000+ |
Cost to Add Cabinets to Your Kitchen Island
Cabinetry can be far more expensive than a quartz countertop. Believe it or not, this is actually one of the most expensive parts of a custom kitchen island's creation—if it's included. A standard kitchen island with custom cabinetry will typically cost $4,300, but it can easily reach prices as high as $18,100.
If you want to jazz it up with mold and trim, be prepared to buy more stuff. Mold and trim can cost between $9 and $19 per foot. If you want to add special storage features, such a as Lazy Suzan or any of the Lazy Susan alternatives out there, then you will need to pay a little more.
Adding Amenities to Upgrade Your New Kitchen Island
Very few people who go to the expense of a custom-built kitchen island don't add amenities to their new cabinetry. As you begin to design your new kitchen space, there will be many accessories and other additions that you want to include in the design. These are usually the items that inflate budgets rapidly.
Adding Electrical Service to your Kitchen Island
Many homeowners intend to use their new kitchen island as an additional workspace. In that case, you will want to have at least one electrical outlet on the kitchen island. Tapping into an existing circuit in the kitchen may be a possibility. Still, in most instances, a new electrical circuit must be run from the circuit breaker box.
In either case, a licensed electrician is required for the job. Typically, electricians charge by the hour, plus the cost of materials needed for the job. Typically, licensed electricians charge between $50 and $100 per hour. In some areas, adding an electrical circuit requires a permit and an inspection. Your electrician will know if this is necessary for your area.
Water and Drains
It is not uncommon on larger kitchen islands to find a sink. Installing a sink in a new kitchen island can become an expensive project in a hurry. The expenses mount if your home is built on a concrete slab that must be broken open to install the new drain line and water supply lines.
Nationally, plumber's charge $50 to $150 per hour. The average cost to add additional plumbing to serve a kitchen island ranges from $500 to over $2,000 to bring waste and water pipes to a new kitchen island installation.
Appliances and Built-Ins
At the upper end of the scale in kitchen islands are full-blown working cook spaces. Many homeowners elect to install cooktops, ovens, microwaves, or dishwashers in their new kitchen island if they have the space. Many of these homeowners want to cook at the kitchen island while their guests sit across the countertop and become part of the experience.
Creating a cooking space at your kitchen island requires designing the kitchen island cabinet to accept the new appliances, purchasing the appliances, and properly installing the appliances. In some situations, the cost of the appliances exceeds the cost of the new kitchen island and countertop.
| | | |
| --- | --- | --- |
| New Kitchen Appliance | Low-End Models | High-End Models |
| Electric Oven | $350 | $15,000 |
| Gas Cook Top | #350 | $3,000 |
| Electric Cook Top | $600 | $1,300 |
| Range Hood | $300 | $3000 |
| Dishwasher | $325 | $500 |
Installation of these appliances can cost from $100 to $600. This may not include any electrical or plumbing installations that are required.
Other Options and Amenities
What you can add to your new kitchen island is limited only by your imagination and your budget. The range of accessories and options now available from kitchen designers and manufacturers is staggering. Consider just a few of the options that you may install on your new kitchen island.
Slide Out Shelving- If you install a kitchen island for the additional storage it provides in your kitchen, slide-out shelving is one amenity worth the price. Kitchen island cabinets tend to be deep, and the back of the under cabinet space is often hard to reach and see. Installing slide-out shelving brings that space into easy view and reach. Typically, steel slide-out shelving costs between $55 and $140 for each sliding shelf you install.
Hanging Pot Racks – If you don't install a range hood over your kitchen island, this space is great for a hanging pot rack. This puts your cooking pots and pans within easy reach. Many cooks delight in displaying their expensive cookware. Expect to pay between $75 and $400 for a hanging pot rack.
Lighting – Good lighting over your kitchen island is important. If your kitchen island is primarily a workspace, good lighting makes working at the countertop more enjoyable. A sit-at kitchen island needs lighting designed to enhance the experience of your guests. Depending on the design and style of the lighting, expect to pay between $100 and $600 for the right lighting.
Wine Cooler – For the wine aficionados, adding an undercounter wine cooler is a favorite option. Some avid wine collectors elect to put the glass front wine cooler at counter height. Adding a wine cooler to your kitchen island costs between $250 and $700, depending on the size, style, and location.
Mixer Lift – Avid bakers will appreciate the addition of a mixer lift to their kitchen island. The ability to quickly and easily raise the mixer to work height and then just as easily stow it away under the cabinet is popular. Adding a mixer lift to a kitchen island typically costs between $370 and $500.
This is just a sampling of the possible additions, options, and amenities you can add to your kitchen island if your budget can handle the additional costs.
What Should I Budget for a Kitchen Island?
A lot of the cost of installing a kitchen island hinges on the kitchen island style and the materials you want to include. Options range from a simple rolling cart-style kitchen island to a sit-at kitchen island with a cooktop and rangehood. These examples of kitchen island options allow a better understanding of how to budget for a kitchen island installation.
| | | |
| --- | --- | --- |
| Type of Kitchen Island | Dimensions of the Island | Cost Ranges |
| Pre-built or kit style rolling cart | 42" x 18" x 38" | $100 – $2,500 |
| Pre=built non-rolling | 42" x 22" x 38" | $100 – $3,500 |
| Table Style Kitchen Island | 60" x 18" x 36" | $200 – $2,000 |
| Base Cabinet with Countertop only | 48" x 30" x 36" | $325 – $4,000 |
| Kitchen Island with electricity and a sink | 60" x 30" x 36" | $3,000 – $15,000 |
| Sit-at Kitchen Island with cooktop and sink | 90" x 30' x 42" | $6.000 – $20,000+ |
How Much Does It Cost to Install these Appliances?
How much it costs depends on what you want to get installed, plus the area where you live in. Here's what you should expect to pay when you hire a contractor to install appliances as well as the fixtures they need in order to function:
| | |
| --- | --- |
| Appliance | Cost |
| Electrician | $50 to $100/hr |
| Plumber | $50 to $100/hr |
| Appliance + Sink Installation | $150 to $400 |
| Kitchen Island Debris Removal | $400 |
| Gas Pipe Installation | $500 |
| Duct Installation | $500 to $2,200 |
Important Notes About Kitchen Island Installation Labor Costs
In many cases, companies that make custom kitchen islands (or even just sell prefabricated ones) will offer installation as a portion of their services, lumped into the overall cost of the cabinetry. It's best to ask the potential company if this is going to be the case with your estimate. With that said, even most bundled installations will not cover all of the costs of installing a kitchen island.
Some of the most common portions that you may need to pay out of pocket when you have a bundled installation include:
Kitchen Island Removal. If you already had a kitchen island in the area and are looking to replace it, you may need to pay someone to remove it. This will include breaking down the old island and removing the scraps. If the island in question had wiring or plumbing, it may take some specialized care.
Duct/Plumbing/Electricity/Gas Installation. Do you want to install an island vent? Maybe you want to add a sink to your kitchen island? If you don't already have the fixtures for this, you will need to get those independent from the cost of installing your kitchen island. These will require specialized labor that cabinetry companies will not be able to do.
Floor Repair Costs. Most kitchen islands that are rooted into the ground will need to have tiles broken in order to properly install them and "hook them in," so to speak. If you have to remove tiling from your floor, this will cost extra. Moreover, you will also have to set aside money for repairing the floor around your island once it's done.
Can You DIY Your Own Kitchen Island?
Believe it or not, there are quite a few people who make their own kitchen islands or just install a prefabricated island on their own. This can significantly cut down on the labor costs that are associated with making a kitchen island. If you are able to source materials affordably and also piece them together, then you may be able to cut down on costs in ways that most others wouldn't.
However, all of the savings come with a lot of snags. In order to get good results with a DIY kitchen island, you will need extensive knowledge about carpentry. Should you want to include appliances, you may also need HVAC, plumbing, or electrical knowledge in order to make it possible.
Of course, it's also important to remember that adding a kitchen island is also a lot of work. It is not a single-day project by any means. In fact, you will need several weeks to put together a more complicated island. If you are not willing to put in that amount of time, it's far smarter to just hire a pro.
Need to Hire a Kitchen Remodel Contractor?
Get free, zero-commitment quotes from pro contractors near you.
Do I Need a Kitchen Designer for My Kitchen Island Project?
This is a good question. Unfortunately, there is no simple answer. The major consideration is the scope of the project. You don't need a kitchen designer if you consider a simple rolling cart-style kitchen island to add additional space. However, if your plan involves moving or removing walls, re-locating major appliances, or creating new cooking spaces. In that case, a kitchen designer may be a good investment.
Hiring a kitchen designer can add to the overall budget of your project. In general, kitchen designers charge between $4,000 and $20,000 to create a kitchen plan. The cost depends in large part on how involved the project becomes. Large projects may require professionally prepared architectural or engineering plans to get permits for the work. This adds additional cost to the project as well.
Don't Forget the Countertops
If you are contemplating a custom-built kitchen island, you must also consider the countertop for the cabinet. You may want to attempt to match the current countertop on your existing cabinets. This can be hard if the cabinets are more than a few years old.
Many homeowners see installing a new kitchen island as an opportunity to upgrade the countertops in the rest of the kitchen. Depending on the material you choose, these are some of the average costs you can expect.
| | |
| --- | --- |
| Countertop Material | Average Range of Costs |
| Granite (Natural Stone) | $3,350 – $4,750 |
| Soapstone (Natural Stone) | $7,250 – $12,250 |
| Slate (Natural Stone) | $7,950 – $11,050 |
| Corian (solid surface manufactured) | $2,450 – $5,250 |
| Quartz (solid surface manufactured) | $6,150 – $14,250 |
| Concrete | $8,750 – $10,250 |
| Laminate | $3,250 – $4,250 |
| Ceramic (tile) | $3,250 – $5,250 |
| Wood (traditional) | $3,250 – $6,250 |
| Butcher Block (pre-manufactured) | $1,950 – $4,200 |
Your countertops are the most visible aspect of your kitchen. The style and type of countertop you choose can affect the appeal of your kitchen and the overall value of your home.
Related Guide: Rubberwood vs. Birch Countertops
Kitchen Islands – A Range of Options and Possibilities
Adding a kitchen island to your home opens a world of change and opportunities. Your project may involve a small rolling kitchen island that gives you enough extra space to make your kitchen more functional.
On the extreme other end, adding a kitchen island as part of a much more involved kitchen makeover can add thousands of dollars to the value of your home and change the feel of your home's interior.
In the end, the ultimate goal of adding a kitchen island to your home is to increase your enjoyment of your kitchen workspace. No matter the scale or complexity of the project, creating an inviting and efficient kitchen should be the result. Your kitchen is often the center of your family life, and the space should reflect that importance.
---
Related Questions
Does a kitchen island add value to your home?
Adding a kitchen island absolutely adds value to your home, and in fact, it's one of the better investments that you can make. When compared to other similar kitchen upgrades, adding a kitchen island can increase your home's value more than other options. Since kitchen islands are increasingly popular, this trend is not expected to stop any time soon.
Do you have to match the kitchen island to the cabinets?
It all depends on the look that you want to create. While most homeowners love the cohesive look of a kitchen island that matches with the cabinets, the truth is that matching isn't a requirement. A kitchen island can be a perfect tool to create a stark contrast, even going so far as to become a striking focal point in an otherwise overly-matched room.
Do I have to attach my island to the floor?
For the most part, it's a good idea to do so, especially if you have a smaller island. This ensures that you will not have to deal with an island that tips over. If you have a wheeled island, you obviously don't have to worry about this. Even so, having a little weight to the bottom of the island can help provide stability, even if you're using the floor fairly vigorously.

Ossiana Tepfenhart
Ossiana Tepfenhart is an expert writer, focusing on interior design and general home tips. Writing is her life, and it's what she does best. Her interests include art and real estate investments.
More by Ossiana Tepfenhart
Published January 1st, 2021 6:00 PM