811 Views
Will A King-Size Comforter Be Too Big For A Queen Bed?
January 16th, 2022 6:35 AM
Share
We're committed to finding, researching, and recommending the best products. We earn commissions from purchases you make using links in our articles. Learn more here
It's no secrete that king-size comforters are not an ideal fit for a queen-size mattress. King-size comforters come with an excess of material at the sides and ends of a queen-size mattress. Follow along as we explore the difference in dimensions that make king-size comforters a poor choice for a queen-size mattress.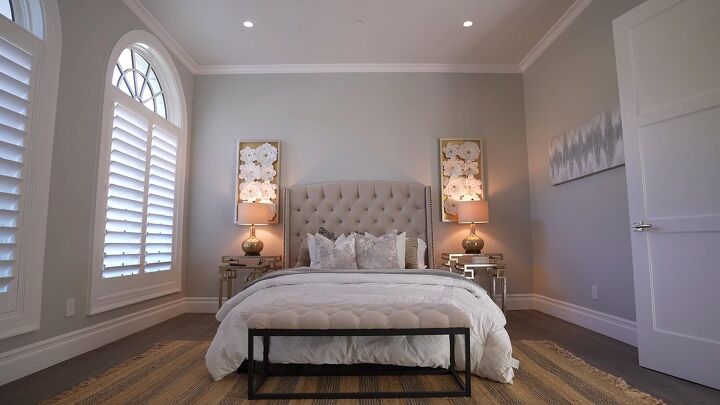 The comforter on your bed is essential, and it brings warmth to the bed and ties together the room. This is why when you find a comforter that you love, it can be hard to let it go. But what happens when you find a comforter that is a bit too big for your bed? Should you buy a whole new mattress or try to find a new comforter?
Although they may be considered the same size, comforter sizes vary by manufacturer. Standard king-size comforters are supposed to be 106 inches wide by 92 inches long, while Queen comforters should be around 60 inches wide by 75 inches long.
A king-size comforter is too large to put on a Queen bed. The king comforter will extend 23 inches past the sides of a standard queen-size mattress and box spring. Ideally, your comforter should only reach just past the mattress on both sides of your bed and halfway down the mattress at the foot of your bed.
Will a King Size Comforter Fit a Queen Bed?
A king comforter would reach 23 inches past the bed's sides and 17 inches past the foot of the bed. On the sides of a typical queen-size mattress and box spring, the comforter would be almost to the floor and 6 inches shorter at the foot of the bed.
The size of a comforter varies depending on the maker. A king-size comforter is typically 106 inches broad by 92 inches long, and the dimensions of a queen-size bed are 60 inches wide by 75 inches long.
These aren't aesthetically pleasing proportions. To ensure perfect proportions, the comforter must be the same length across the sides and foot of the bed. As a result, it is not advisable to use a king-size comforter on a queen-size bed.
How Much Bigger is a King Comforter than a Queen Comforter?
The difference in size between a king and a full queen comforter is remarkable. The king comforter is broader than the queen comforter, while the queen is longer.
The queen comforter measures 96 to 100 inches in length, while the king comforter measures 86 to 88 inches. A queen comforter measures 86 to 88 inches in width, whereas a king comforter measures 102 inches.
Can You put a Full-Size Comforter on a Queen Size Bed?
Queen-size mattresses are normally 6 inches wider and 5 inches longer than full-size mattresses, and a comforter measuring 86 x 86 inches may suit both a full-size and a queen-size mattress. If you lay one on a queen-size mattress, though, the sides may be too short.
How Should Your Comforter Fit?
Typically you want your comforter to extend down the sides and the foot of your bed in equal distance. If your bed has a mattress and box spring, the comforter should go past the mattress and over the bed skirt.
The length of the comforter should either end right below the mattress, one-third of the distance between the top of the box spring and the floor, or two-thirds of that distance. You may consider whether or not your larger comforter will fit on a smaller bed by the message it suggests.
Additionally, you will want the bottom of the comforter to reach about 1/2 way down your mattress while the top of it reaches the top edge of the head of your mattress. However, it doesn't always have to be a perfect fit.
Account For Mattress Thickness
One aspect that might affect whether or not you can use a king comforter with your queen mattress is thick. Some mattresses can be thicker due to being either newer or a pillow-top. Check out the dimensions for a queen size air mattress.
This means rather than being 9 to 12 inches of thickness, you might have 14 to 20 inches. This will require a wider comforter already. Therefore if you are using a king comforter, you may have a better chance to use it with your thick queen mattress.
Comforter Size Chart
Although comforter sizing has a general standard, typically, there will be a variation within the same size category. There are standard sizes and lengths; view them on the chart below.
| | | | |
| --- | --- | --- | --- |
| Bed Size | Full measurement | Width | Length |
| Crib | 28 inches x 52 inches | 28-36 inches | 48-52 inches |
| Twin | 38 inches x 75 inches | 66-68 inches | 86-88 inches |
| Twin XL | 38 inches x 80 inches | 68 inches | 90 inches |
| Full | 54 inches x 75 inches | 81-84 inches | 86-88 inches |
| Queen | 60 inches x 80 inches | 86-88 inches | 96-100 inches |
| Standard King | 76 inches x 80 inches | 102 inches | 86-88 inches |
| California King | 72 inches x 84 inches | 107-110 inches | 96-98 inches |
Can I Use A King Duvet For A Queen Bed?
Place a king-sized duvet insert (down or down equivalent) in a queen-sized duvet cover. Because of the larger duvet insert placed inside the cover, the look will be fluffier, without the extra heat and weight.
Convert A King Duvet Into A Queen Duvet
Add 2 inches to the breadth of the comforter when measuring it. This is the new width of the cover. Invert the duvet cover and turn it inside out. From hem to hem, measure the breadth of the cover. Take the new width and subtract it from the cover width. This is the width that has to be reduced. To figure out how much to subtract from each side, divide the total by two.
Add 1 inch to the length of the comforter. This is the new cover length for you. From the bottom hem to the top edge where it shuts, measure the length of your cover. Subtract the length of the new cover from the width of the original. This is the quantity of cover that needs to be removed from the bottom edge.
Measure in from each side to the new cover width. To make the cover this new width, cut off the surplus fabric.
Measure from the top down to the new cover length you calculated. Only cut off the excess fabric at the bottom to give the fabric its new length.
Sew around all three cut sides after pinning the two pieces together. All seams should have a 1/2-inch seam allowance. Insert the queen-size comforter into the duvet cover, right side out.
How Big Should a Comforter be for a Queen Bed?
If you have a queen-size bed, a comforter labeled "full/queen" might not be long enough to cover the mattress's sides as it's great for a full size, but not quite for a Queen.
Those with full beds should choose a comforter that is between 81 and 84 inches wide. Those who have queen beds should look for one that is between 86 and 88 inches wide. A full/queen is typically 80 inches wide, but the extra 8 inches makes a huge difference.
How Do You Make A King Comforter Work For Your Queen Bed?
Typically your comforter would be almost to the floor on the sides of a regular queen-size mattress and at least 6 inches shorter at the foot of the bed. This is not pleasurable and would cause the blanket more chance to fall off the bed.
There are a few ways to get around this and make it work.
Bed raisers: These are around $15 and allow you to make your bed higher to avoid your comforter hitting the ground.
Use two box springs: This will again make your mattress higher off the ground. 
Use a bed with a full footboard: This allows the comforter's length to be hidden by the footboard.
Alter your comforter: Remove 6 inches from each side. 
---
Related Questions
Should I sell my Queen mattress to fit my King comforter?
Whether or not you sell your queen mattress to fit your king comforter is entirely up to how attached you are to your comforter. If you cannot sell your mattress and purchase a new one, you may need to come up with a better option. Instead of selling your mattress, it can be better to try and make it work with one of the ideas below.
Can I use a king comforter on a queen bed?
As long as you do not mind having your comforter hang off the side of the bed, then it should be no issue. It is all based on preference.
What is an oversized comforter?
Be aware that some bedding is considered "oversize." This is important because it is made for mattresses with pillow tops and additional comfort layers. Oversized comforters usually have more width. If you happen to have a king-size comforter and it is considerable, then you will have even more trouble attempting to fit it on your smaller, queen-size mattress. 
Our Takeaway
The conclusion most of you have come to regarding whether or not a king comforter would be too large for a queen bed is that yes, it will be. You should not put a king-sized comforter on a queen bed in ordinary circumstances because it is too large and can cause more of an issue than anything.
However, if you have recently changed beds and the only comforter you have is a king-size one, it is okay to use it until you can get a comforter of the correct size. Just make sure the comfort edges aren't on your floor so that you don't trip over them.
Related Guides

Chloe Meltzer
Real estate agent and copywriter, originally from California. Chloe brings her real estate expertise into her writing to create effective and helpful home guides for you! When not writing or selling homes, she spends her time as a digital nomad traveling the world.
More by Chloe Meltzer
Published July 23rd, 2020 1:31 PM