394 Views
How To Hide Bed Risers (5+ Ways To Do It!)
September 8th, 2021 4:41 PM
Share
We're committed to finding, researching, and recommending the best products. We earn commissions from purchases you make using links in our articles. Learn more here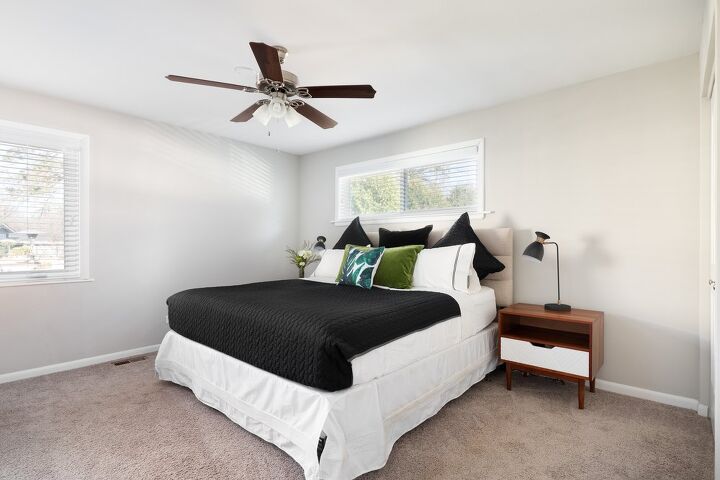 Organization is key when it comes to having a space look and feel the best. Having enough storage is one of the most important factors when organizing. Studies have shown that the more organized your space is, the more organized your brain is. But what happens when you just don't seem to have enough room for all of your stuff? You have to get creative with where and how you store things.
Adding bed risers to your bed frame is an excellent way to accommodate more storage. While handy, they can often be an eyesore.
To hide bed risers, buy a bed skirt long enough to touch the floor. Using an oversized bedspread is another option that will overflow to the floor on all sides and conceal the bed risers entirely. You can also hide risers by simply painting them a darker color or a color that matches your decor.
Combining function and style when it comes to organization can often be a challenge. With these four easy tricks, you'll be able to add more storage to your space without sacrificing aesthetics.
Do You Need an Interior Decorator?
Get free, zero-commitment quotes from pro contractors near you.
What Are Bed Risers?
Before we jump into how to hide bed risers, it's important to go over what, exactly, a bed riser is and the different types you can buy.
Bed risers are furniture accessories you attach to the feet of your bed frame to lift your bed higher off the floor. They come in all different shapes, sizes, and colors. They can measure between 1-12 inches tall and can be either rectangular, square, round, or triangular.
If you're looking to utilize that often overlooked space under your bed, bed risers are a perfect choice. Depending on the height you're going for, you can store as much or as little as you like under your bed. I myself store my off-season shoes under the bed in plastic bins. Find out if a king size comforter is too big for a queen bed.
Different Ways to Hide Bed Risers
You definitely don't have to sacrifice the overall look of your room to use bed risers. They can be a little clunky and ugly, sticking out like a sore thumb when it comes to how the rest of your space is decorated. Any of these four methods are sure to hide your bed risers from view.
Option 1: Buy A Bed Skirt Long Enough To Touch The Floor
When you add bed risers to your bed frame, you might find that your current bed skirt or dust ruffle is too short. Not only are bed skirts decorative, they also have a functional purpose. In this case, to hide what could be chunky and awkward bed risers.
A proper bed skirt wraps around your box spring and touches the floor. You're going to want to measure how far it is from the top of your box spring all the way to the floor. With the addition of bed risers, you're looking at adding at least a few inches to your bed skirt.
Not only will a longer bed skirt hide your unsightly yet handy bed risers, it will also hide the skeletal frame of your bed as well as the storage space beneath. Don't worry, the fancy frills and ruffles often associated with bed skirts and dust ruffles are a thing of the past. You'll have no issue finding one to match your aesthetic however opulent or simple that might be.
Option 2: Spring For A California King
While a little unconventional, using a California King bedspread instead of a regular sized bedspread to match your bed size is a totally viable option. This option is especially ideal if you have a queen sized mattress.
Because a California King is slightly longer than a king size bedspread and significantly longer than a queen, you can actually turn it so it hangs off the bed somewhat evenly on all sides. This, of course, depends on the pattern of the bedspread. If it's possible, this is a quick and easy way to hide whatever's under your bed, including bed risers.
Option 3: Purchase A Bed Riser Set To Match Your Decor
A little obvious, perhaps, but a totally viable option. Finding a set of bed risers that match the rest of your furniture might be a little bit tricky. Most bed risers are functional rather than decorative. It isn't impossible, though, to find a set that is both.
This might require a little searching. If you're someone who likes to shop, both in person and online, finding a bed riser set to match your furniture won't only be easy, it might also be fun. If you find bed risers that match, you won't have to bother hiding them!
Option 4: DIY Bed Risers To Match
For those do it yourselfers out there, this is going to be the best option when it comes to hiding bed risers. You can save a little bit of money by not having to purchase a new bed skirt or bedspread. With just one trip to the craft store, you can add charm and personality to your bed risers. By the time you're finished, they won't even look like bed risers!
Option 5: Paint Your Risers
An inexpensive option is to paint your pre-purchased bed risers so they match your decor. With a little creativity, you can hide your bed risers in plain sight. You can paint them a solid color to go with your furniture, or you can take designs from your current bedspread and duplicate them on the bed risers.
Really, you can paint them however you like using whatever colors, textures, or finishes you'd like.
Option 6: Make Wood Block Bed Risers
If you want to get a little more creative, you can make your own bed risers. Here's what you'll need:
4 5" by 5" wood blocks
Auger drill or hole saw to bore holes in the wood blocks
Sandpaper
Wood stain
Follow these simple steps to make your very own DIY wooden bed risers:
Step 1: Measure the center of the blocks to accommodate your bed legs (measurements depend on the size of your legs).
Step 2: Drill holes into your wood blocks to accommodate the legs of your bed frame (the depth of the hole will depend on your bed frame).
Step 3: Use sandpaper to smooth the wood.
Step 4: Stain or paint your wooden blocks to match your bedroom decorations.
Other Bed Riser Alternatives
If you're not excited about bed risers and are looking for something similar that will be both functional and decorative, take a look at a few of these alternatives:
Bookshelves
Using two long bookshelves laid flat, you can turn your bed into a captain's bed. Not only will your bed be lifted, now you have some unique storage right at your feet. Place some easy grip shelf liners on top of the book cases before the boxspring to prevent the bed from slipping around.
Cinder Blocks
Use cinder blocks to elevate your bed. This will give your bedroom an overall industrial feel and still allow for some storage. You'll need at least 10 cinder blocks for a queen-sized bed.
Pallets
Wooden pallets are a sturdy alternative to bed risers. Wooden pallets are a great way to raise your bed a few inches. It will give your bedroom a sleek, modern look and won't move around.
---
Related Questions
Are Bed Risers Sturdy?
Yes, very. You'll want to carefully look at weight limits before purchasing a bed riser set. They are reliable and easy to use. They offer a broader and more stable base than bed legs themselves.To make them extra sturdy, you can add rubber furniture cups to the bottoms of your risers to keep them from sliding across hardwood floors.
How Much Weight Can Bed Risers Hold?
Most bed risers can hold between 1,000 to 10,000 pounds. This includes the weight of the furniture and the people sleeping in the bed.
Do You Need an Interior Decorator?
Get free, zero-commitment quotes from pro contractors near you.
Summing It Up
Bed risers are a great way to create more storage in your room. They are easy, affordable, and quick additions. Hiding your bed risers is extremely easy as well! With just a few tweaks here and there, you won't have to sacrifice fashion for function. Whether you decide to buy a longer bed skirt or you jump into the DIY way of doing things, your bed risers won't be a bother any longer!

Paige Hanawalt
Paige is an elementary school librarian with a passion for writing. Her hobbies include reading an exorbitant amount of fantasy, slowly teaching herself to draw, and home decor. While she isn't the most talented artist or interior designer, what she lacks in skill she more than makes up for in enthusiasm. When she's not curled up with a book, you can certainly find her curled over the keyboard.
More by Paige Hanawalt
Published July 21st, 2021 2:15 PM