55 Views
Is 2 Inches of Asphalt Enough for a Driveway?
December 20th, 2021 1:01 PM
Share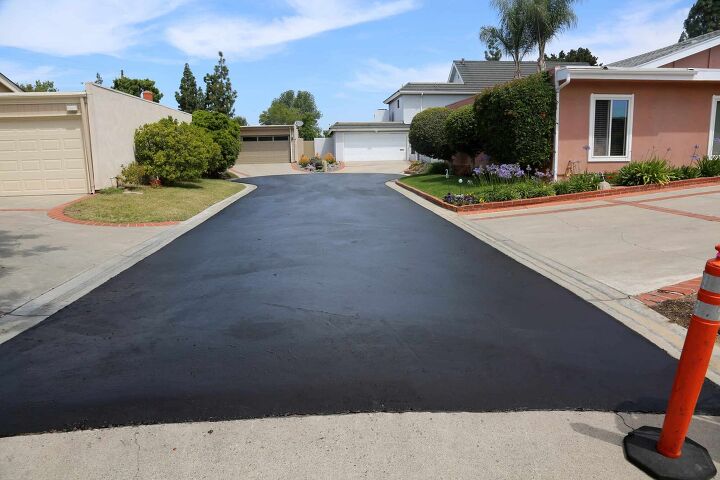 There may come a time where your existing driveway can become worn, cracked, and chipped. While there are some fixes that can be implemented, this generally means that you need to have it replaced at some point, the sooner the better.
Two inches of asphalt is more than enough for a driveway when you're using it for cars, motorcycles, and lightweight trucks. However, for heavier vehicles you will need thicker asphalt, or a stronger material from which to build your driveway.
Below, we will talk more about the thickness of the driveway as well as the other steps that can lead to a particularly successful asphalt driveway installation.
Do You Need Asphalt Paving Services?
Get free, zero-commitment quotes from pro paver near you.
Is Two Inches Of Asphalt Enough For A Driveway?
Again, if your driveway is only going to handle normal traffic – cars, motorcycles, foot traffic, bicycles, etc. – 2 inches should be thick enough to handle the job. This is the standard activity that most homes will deal with during most of their tenure there.
But if you want something a bit sturdier or are going with a stone surface that requires a good bases, try going a little thicker. Going up another inch should be enough to not only cover up the stones as well as provide a good base, it will stand up to additional wear and tear.
Keep in mind that this doesn't mean that the pavement won't incur damage over years of usage. You may need to resurface every few years in order to keep the driveway in good condition for a longer period of time.
Does The Thickness Of Your Driveway Matter?
You may be asking yourself why the thickness of your driveway matters. The fact of the matter is that, without the proper subbase or effective thickness, the asphalt can crack and break apart under pressure. This will require repaving and even can facilitate the need to have your driveway reinstalled.
The 2-inch depth is meant for residential use. These are areas where traditional traffic – cars, trucks, SUVs – and foot traffic are most common.
Asphalt that is 2 inches thick will hold up to the wear and tear just fine, though a resurfacing may be needed within a few years to prevent any further cracks or damage from occurring.
Does A Driveway Need A Drainage System Installed?
One thing that can get overlooked because it is not immediately visible is proper drainage. Drainage plays an integral role in the overall construction of a properly laid asphalt driveway. Water needs to drain off completely before any paving can begin, meaning there is absolutely no moisture allowed.
A good idea is to make sure that there is a slop in the pavement so that the water can use gravity to drain down successfully. There are also things known as French pipes that can direct the water to areas other than the driveway.
Any water should eventually get drained off of the surface. The sub-grade should also remain free of excess water, this will make the driveway last much longer than when it has to deal with constant exposure to moisture.
What Is The Right Asphalt Mix For A Driveway?
If you plant to pave your driveway, it isn't as simple as grabbing some asphalt and paving. There is a lot that goes into the paving process and getting one of the steps wrong can not only set you back in the paving, but in overall costs.
The right asphalt mix is absolutely necessary. There are different types of asphalt mixes and there is a chance that you could pick out the wrong mix for your driveway situation. This can be a little different if you hire a contractor, though.
Even though they are professionals, sometimes contractors and pavers can wind up using the wrong asphalt mix. They can get their mixes from a plant where the mixing may not be right. They can also layer up asphalt thin; make sure you are aware of how they are paving and what mix they are using.
Generally speaking, the right mix should be something that has a higher percentage of binder to it. Other mixes can have air voids and may not adhere quite as well, though it all depends on your driveway specifically.
Heavy Use Commercial Driveways
If you have a commercial driveway or parking lot that you expect to have a substantial amount of traffic, there will need to be a 2-inch finish laid over top of the 2-inch binder. This brings your paving job to a total of 4 inches in thickness.
Significant traffic can include a larger number of regular vehicles while also including loading docks and larger, commercial trucks.
For the really heavy-duty lots that are used for commercial purpose, a hot asphalt mix of 7.5 inches will wind up being poured over the subgrade in order to provide even more stability and durability.
Light Duty Commercial Use
Not every commercial parking lot gets that kind of heavy-duty use, however. For lots that aren't going to see that kind of heavy traffic, it will need a 6-inch aggregate base and 3 inches of the hot asphalt mix will wind up being put to use.
This is in contrast to the heavy-duty industrial lots where a 6-inch thick layer of hot asphalt mix over top of a 3-inch aggregate base layer are required.
It is important to ensure that the proper base has been laid down to prevent cracking, chipping, and stave off the need for repaving for longer.
Can You Use Gravel For A Driveway?
There can be a focus on how thick the driveway needs to be but that isn't necessarily indicative of how durable it will be. Sure, you want a thickness that will help to stand up to frequent use for a long time to come, but there is a greater source of strength at play: the base.
When having a driveway installed, talk to contractors and make sure to ask them how thick and what type of gravel that they plan to lay.
Asphalt is very similar to concrete. It has stone, sand, and liquid asphalt. It ultimately binds all together to create a waterproof material. That's why driveways and roadways can hold up to years of abuse at a time.
The bad thing is that it can move whenever there is pressure applied. That is why there is a need for a sturdy base. If the asphalt is allowed to shift and move, it could lead to issues with the asphalt cracking and shifting.
Crushed Gravel Base
Because of that shifting and the need for a sturdy base underneath of the asphalt, that is where gravel can come into play.
Angular gravel that has been crushed can be laid down cheaply to provide that base, though it needs to be about 6 inches for commercial or light vehicle traffic.
It is also imperative that the soil beneath the layer of gravel be of good quality. The soil has to be compacted before installing the gravel and needs to be free of moisture. If the ground is wet, it may not adhere to the gravel evenly and that can create distortion when installing the asphalt layer.
You should also consider using a geotextile fabric between the soil and the gravel prior to installation. The fabric is meant to keep silt particles and the soil from causing the gravel to lose any of its strength and integrity.
Do You Need Asphalt Paving Services?
Get free, zero-commitment quotes from pro paver near you.
Our Takeaway
Because there are so many different qualifications that are required when installing an asphalt driveway, it can be all too easy to go awry. Consult a professional first even if you plan on doing the paving yourself.
By consulting the professional, you can know what materials you need to use and the best techniques possible. Do a little research online as well to see how others in your position handled the entire experience. All of this should add up to a more reasonable installation and one that goes the way that it should.
If all else fails, getting your driveway professionally paved is always an option. It might run you a little more in the end, but peace of mind can be worth the costs of paying for a professional service to do the job.

Ryan Womeldorf
Ryan Womeldorf has more than a decade of experience writing. He loves to blog about construction, plumbing, and other home topics. Ryan also loves hockey and a lifelong Buffalo sports fan.
More by Ryan Womeldorf
Published August 3rd, 2020 12:27 AM