240 Views
How To Reset Your ADT Alarm After Power Outage (Do This!)
November 24th, 2021 2:14 AM
Share
We're committed to finding, researching, and recommending the best products. We earn commissions from purchases you make using links in our articles. Learn more here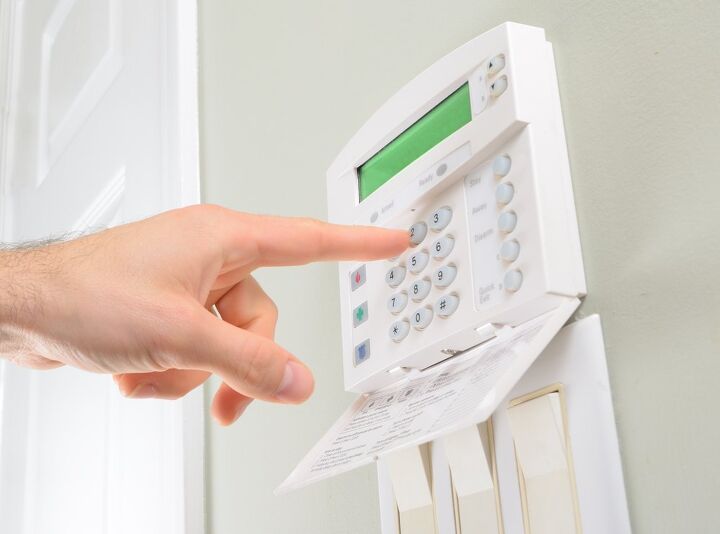 Home security systems like ADT are designed to help homeowners and renters feel safe and protected against dangers of the outside world. When you lose power for one reason or another it is important to reset the system to ensure your ADT system works continuously.
First check your panel to see if there are any alerts then locate your ADT security reset code. Read the keypad manual for instructions specific to your model. You may need to reboot the system, which involves completely unplugging the system, waiting, then plugging everything back in. If you still have issues, contact ADT as soon as possible.
When your alarm system is down, it can be stressful. By following the reset steps in the correct order, your system should be back online quickly, and you can resume a life feeling safe and secure.
Do You Need Alarm or Security System Repair?
Get free, zero-commitment quotes from pro contractors near you.
About ADT and Power Outages
When it comes to security companies, ADT is often the first name people think of. It's no surprise, as ADT has been around since 1874. With all those years of experience, it is no surprise their systems are equipped to handle power outages.
Every ADT system comes with a backup battery that should maintain its charge in case of a power outage. Once your system switches to battery power ADT is alerted. When power is restored, there are steps you will need to take in order to restore your system to its normal functionality.
Check Your System Status
When the power comes back on in your house, your ADT alarm may have been affected. Sometimes there is a beeping sound, and sometimes there is a status or code flashing on the control panel. Check the panel for information as the code may give you information on how to proceed.
Locate Your Manual
There are a variety of ADT security systems, and several types of control panels. Each version may have slightly different specifics on how to perform a reset. A manual should have been provided to you when your ADT system was installed. Read your manual for instructions specific to your model.
Note: If you can't find your manual, you should be able to find it easily online with a quick internet search – but this will not help you find your reset code.
Locate Your ADT Security Reset Code
Within your provided manual, or other ADT paperwork, you will find your reset code. This code will likely be different than the alarm code you use frequently and can change easily. You will need this reset code to complete your ADT system reset using the control panel.
Locate your reset code within your manual. Have it with you at the control panel.
Enter the reset code. It is very important you enter the code correctly so as to avoid a phone call or home visit.
Wait for the system to reboot. This may take a minute.
Use your personal Code to disarm the alarm.
If You Type the Wrong Code
If you input the wrong code somehow it is important to remain calm. You will most likely receive an immediate phone call and/or home visit as entering the wrong code registers as a security breach. Simply explain the situation clearly and calmly. This issue occurs more frequently than you might think.
Meanwhile, you can take this time to enter the code correctly. Press the "#" button to restart the process. Now you can correctly enter the reset code.
If You Don't Have The Reset Code
You can't reset the system using the control panel without the reset code. Your next option to reset your ADT system is performing a manual reboot by cutting off the power supply.
Resetting Your System To Factory Status
You have forgotten your passcode or for some other reason need to reset the entire system and panel. There are steps you can follow to do so before you need to call a technician.
1. Find And Remove The Power Source To Your ADT Control Panel
Find the power source that connects directly to your ADT control panel. Most models are plugged directly into a wall outlet via a transformer. Typically the transformer is a white, beige or black box-shaped plug. In order to unscrew and unplug your transformer from the wall you will need to use a phillips head screwdriver.
2. Check Battery Status and Disconnect Battery
After you shut off the power source you must disconnect the backup battery. You will see a black wire connecter and red wire connecter attached to the battery. Remove both connectors, first the black wire and then the red wire.
Note: You may need to wiggle the wire connectors slightly in order to disconnect them. Do not use excessive force or yank the connectors. This may cause the wire to break, creating a larger issue.
3. Wait several minutes
Be sure to give the system several minutes without power. Several sources say wait up to 5 minutes before reconnecting the power source. This allows the system to fully reset.
4. Reinsert Battery and Connect Wires to Reconnect
Reverse the process from step 2 by reconnecting the black and red connectors. Then reinsert the transformer in its plug and screw it securely back into the wall. This will reconnect the ADT alarm to its power source.
5. Check Alarm Status
Once the system is powered up, go to your control panel. At this point, the system should be reset to its original state, and you should be able to arm or disarm it accordingly.
Still having Trouble?
You may still be unable to restart your ADT system after a power outage. The next step will be to use the ADT customer support hub to receive personalized support. There are multiple home security systems to choose from. ADT is particularly known to have multiple customer service options including online and telephone support to resolve your reset issue after a power outage.
---
Related Questions
Why Won't My ADT Alarm System Stop Beeping?
If your ADT alarm system is beeping, the odds are it is related to the battery. A complete power outage can result in the beeping. This beeping alerts you that the system is running on backup power. The beeping could be a result of the backup battery failing to maintain its charge properly. If this is the case, you may need to consult ADT to replace the battery.
Is My ADT Alarm Working When I Lose Power?
Your ADT alarm system comes with a backup battery. This battery will immediately activate in case of a power outage. It will keep your security functional for at least several hours once your power goes out. Additionally, if the battery begins to run low a low-battery alert is sent to ADT's Customer Monitoring Center.
Why is My ADT Alarm Going Off When It Isn't Activated?
There are multiple reasons why your ADT alarm is going off abnormally. One reason is sensors. Sensors may be improperly placed or overly active. Other possible causes are battery issues or problems with the motion detectors. If the problem persists you should call ADT.
Do You Need Alarm or Security System Repair?
Get free, zero-commitment quotes from pro contractors near you.
Concluding Thoughts
After a power outage, the odds are you will have to reset your ADT security system to some degree. The first step is to check your control panel as it may tell you the exact issue. Regardless, you will most likely have to reset your system.
Resetting your ADT system can be done quickly if you have your system reset code that came with your system manual. Otherwise, you will need to reset the system manually by unplugging all power sources and then restoring them. If none of these techniques work, contact ADT. They will help guide you to resetting the system and restoring security to your home.

Tom Gaffey
Tom Gaffey is an expert writer who currently resides in Washington D.C. Tom has a passion for real estate and home improvement writing, as well as travel and lifestyle writing. He lived the last twelve years in Hawaii where he worked closely with luxury resorts and event planners, mastering his knowledge of aesthetics and luxury products. This is where he found his passion for home improvement and a keen interest in DIY projects. Currently, Tom resides in Washington D.C, and also working on his debut fiction novel.
More by Tom Gaffey
Published September 18th, 2021 6:57 PM