414 Views
How To Keep Water Out Of A Sliding Glass Door Track
November 18th, 2021 3:46 PM
Share
We're committed to finding, researching, and recommending the best products. We earn commissions from purchases you make using links in our articles. Learn more here
Sliding glass doors are more common than ever, and that means that so too are some of their pitfalls. One such problem is water getting stuck in the track, and you can get it out in several ways such as cleaning the track and weatherstripping it. Whether it be identifying leaks or installing weatherstripping, let's explore how you can keep water out of your sliding glass door track.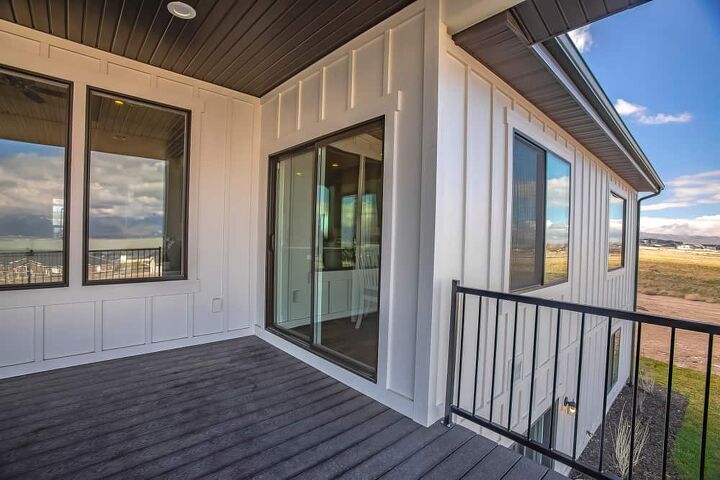 When rainwater finds its way underneath a sliding glass door, the result can be extensive and expensive damage. This is why it's so vital that you do your absolute best to keep your track in great shape. But, how exactly do you do that? How can you keep water out of the track of your sliding glass door?
Remove debris from the track and rollers, clean them with soap and water, and install weatherstripping to keep water out of the track. Add screws to the sliding glass door frame if it is uneven or there is a leak at any point. Adjust your wheels and rollers and replace the track if it is completely bent or damaged to prevent leaks.
This article will help to explain how you can keep water from leaking into your door track. In addition, it will go over some of the common causes for water in your track, and how you can fix them. Although, keep in mind, prevention is the most critical step overall.
Do You Need Sliding Door or Tracks Repair?
Get free, zero-commitment quotes from pro contractors near you.
How To Keep Water Out Of Your Sliding Glass Door Tracks
You can keep water out of your sliding glass door tracks by following a few simple steps. The first thing you need to do is inspect your door. Take the time to check its components, as this will pinpoint precisely what's going on so that you can fix the problem.
Afterward, you will need to clean out your track in case debris buildup is your primary problem. If it's not, it's still important to clean the track before applying new weatherstripping. Below, we explain these steps in more detail.
Step 1: Inspect Your Door
Take some time to inspect your door. It will help if you ask yourself these questions during the process:
Is your door sliding back and forth efficiently?
Do you have dirt or debris in the tracks?
Does the weatherstripping look like it might need to be replaced?
Can you see any water dripping from a particular area near the track?
Is your frame sealed?
By thoroughly inspecting your door, you will know what's going on. Understanding the problem is essential for taking care of the situation.
Step 2: Fixing The Leaks
Once you've got a picture of how the door operates, bear in mind that the simplest way to avoid leaks is by cleaning the tracks and rollers regularly, ensuring they are free of dirt. If the tracks are blocked with debris, it results in poor alignment and water infiltration.
You can use a broom or a vacuum to clean the debris out. Also, if you have a leaf blower, you can take that and blow all the dirt and debris out of the track. After all the dirt and debris is out, wash the track with hot water and soap. Then, dry the area so that you prevent the growth of mold.
Step 3: Install New Weatherstripping
Although properly installed and maintained sliding glass doors don't typically have water infiltration problems, it may be a good idea to think about adding some weatherstripping. This will help avoid any seepage caused by the rain, especially during storm season.
The sides and top should be weather-stripped with one continuous piece. Once installed, the strip will compress slightly when you close the door if the seal is correct.
Step 4: Ensure The Frame Is Fully Intact
A poorly intact sliding glass door frame can cause the track to move, which means that the door will not be aligned with the track properly, and it will allow water to leak in. It's a good idea to check the framing to make sure it's intact with the home structure.
If you notice that it's not, you can remove the door from the track and check to see what's going on. In this case, add a few additional screws to the frame to secure it to the structure of your home.
Why Is Water Coming In The Track Of Your Sliding Glass Door?
Take a moment when there is no sign of rain to look at your glass door's construction and inner workings. Sliding glass doors and impact windows are incredibly weighty. They glide along metal tracks at the top and bottom of the frame.
Generally, when water leaks occur, the bottom track of the door is usually the problem. So, while you're inspecting, check the bottom track first to find the issue quickly and save yourself on time.
Plugged Weep Holes
Weep holes are small slits in the outside part of the track used to assist in draining whenever water comes up against the glass door. These gaps sometimes get blocked with dust and other detritus. However, you can clean them out with a tool for crevices, a small screwdriver, or with compressed air.
To create a more effective drainage system, it may be a good idea to add more slits using a drill. However, if you observe that your weep holes are positioned on the inside of the track, it is a sign that the track was not installed correctly. If this is the case, then it needs to be adjusted.
Improperly Sealed Door Frame
Due to its age and the detrimental effect of the weather, caulk will eventually start to disintegrate. Remove the old caulk with care, and replace it with a new product to ensure no gaps remain between the door and frame.
You can also add some spray foam to the areas to help seal it even more. However, make sure when you're applying the spray foam insulation, you don't do too much, or it'll expand and won't seal properly.
Poor Framing
A sliding glass door is only as good as the frame which holds it. When a frame is not straight, the result can be that water leaks into the spaces between the door and the frame.
Try taking the time to fix the frame with a few additional screws. However, if you can't fix the frame, it may have warped over time. If this is the case, you will need to install a new door and frame.
Damaged Door
Even the tiniest cracks can result in water entering your home. It is possible that the door suffered damage during the installation process, so if it is still under warranty, contact the supplier. As soon as you notice water seeping into the house, take immediate action to keep it from worsening.
If you live in an area with tropical storms, you will know that these storms can produce rainfall inches within a very short time. Eventually, this can cause a slew of issues if you haven't taken the time to weatherize your door correctly.
What Would It Cost To Replace A Sliding Glass Door?
In the event that you would need to replace your sliding glass door, it's essential to know the costs associated with that. Depending on whether you do it yourself or hire a professional, the price will significantly vary.
If you decide to do this on your own, then you will only pay between $350 to $1,300 for the door alone. However, if you want to hire a professional, then you will pay around $80 to $200 an hour for labor. Some professionals may even charge a flat rate for door installation.
---
Related Questions
How much does it cost to replace a sliding glass door track?
You can expect to pay anywhere from $150 to $350 to replace your sliding glass door track. However, if you take this on as a DIY project, you would pay around $65 to $108 for materials.
How long does it take to replace a sliding glass door?
If you hire a professional team, then your door will be fully installed in about one day in total. This also includes the cleanup and the prep work. However, if you do it yourself, you should allow a total of 3 whole days for completion.
Do You Need Sliding Door or Tracks Repair?
Get free, zero-commitment quotes from pro contractors near you.
Wrapping It Up
It's essential to take the necessary steps in preventing water from leaking into the track of your sliding door. Eventually, that water will work it's way into your home, causing the need for expensive repairs. By taking the time to inspect and fix the leaks, you will save yourself from the hefty prices of water damage.
While you can hire a professional to fix the leak, it's much more efficient for you to do this yourself. It's a great DIY project that's relatively easy to do. Just make sure if you do this as a DIY project, you have someone there to help you.
Related Guides

Heather Robbins
Heather is a passionate writer who loves anything DIY. Growing up, she learned everything from home repairs to design, and wants to share her tips with you. When she's not writing, she's usually hiking or searching for her next DIY project.
More by Heather Robbins
Published February 9th, 2021 8:49 AM