18 Views
How To Install Allure Vinyl Plank Flooring On Stairs
April 20th, 2021 5:26 AM
Share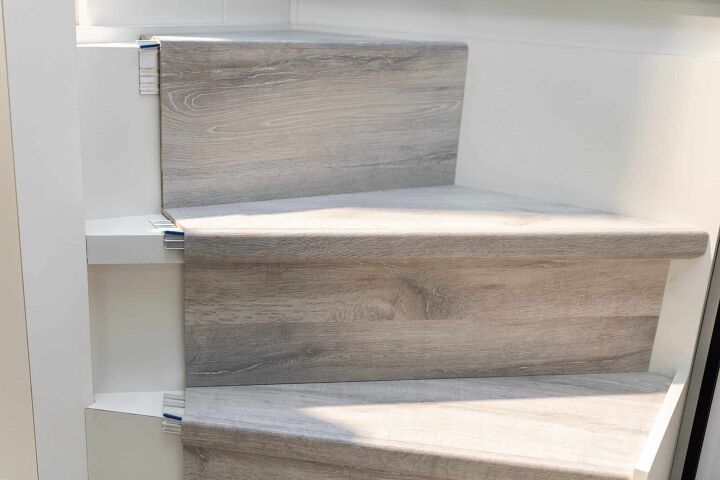 Installing vinyl plank flooring in your home is an affordable way to make it a bit more stylish. If you love this kind of flooring, you may be ready to install it on your stairs. Doing so is easy enough for most DIYers to accomplish without professional assistance.
To install Allure vinyl plank flooring on your stairs, start by preparing the surface it will cover. Wait at least 48 hours for the adhesive to acclimate to your home. Join the planks together and use a hand roller on the seams to create proper bonds. Finish by rolling the entire floor with a 100-pound roller.
Installing vinyl plank flooring isn't very complicated. However, there are several hard-to-spot mistakes that could ruin the flooring entirely. That's why you should continue reading to get an in-depth look at how to install Allure vinyl plank flooring on stairs.
Do You Need to Hire a Flooring Contractor?
Get free, zero-commitment quotes from pro contractors near you.
What Are the Benefits of Allure Vinyl Plank Flooring?
If you're looking for a flooring that's easy to install yourself, Allure's vinyl plank product is a good option. It floats over your subfloor, which means you won't have to do any invasive or time-consuming preparation work before installing it.
Additionally, Allure vinyl plank flooring is super easy to maintain and includes a 25-year limited warranty. However, this warranty is based on proper installation. Keep reading to make sure you get the job done right and maintain your floor's warranty.
What Tools Do I Need to Install Allure Vinyl Plank Flooring?
The first step in any home improvement project is gathering the tools you need for the job. There's not much you'll need to install Allure vinyl plank flooring. Here's what you should have on hand:
A measuring tape
A utility knife
A hand roller
A 100-pound roller
Once you've gathered up all of these items, you're ready to get started with this home improvement project.
How to Install Allure Vinyl Plank Flooring on Stairs
Measure and plan to figure out the best way to lay down your flooring. To do this, you'll need to know the measurements of your planks and the stairs where you plan to put them. Determine whether each stair will require one or multiple planks and whether you'll need to cut any planks to create a snug fit.
Prepare the subfloor with a thorough cleaning. Your goal is to create a clean, uniform surface that won't negatively affect the adhesive on your vinyl planks. Since Allure vinyl plank flooring floats above the subfloor, you don't need to take any extreme measures to prepare it.
Wait for 48 hours before beginning installation. Allure vinyl flooring features an adhesive that needs about 48 hours to acclimate to its environment. Spread your flooring packages out, stacking them no more than three high. Make sure there is at least four inches of airflow around each package to ensure a proper acclimation process.
Test two planks before installation to ensure that the adhesive is working properly. You should join them, roll over them, and then pull them apart. When you do, you should spot a continuous bond along the whole strip with an adhesive transfer going from one side to the other. If you pass this test, you're ready for installation.
Begin laying the planks and joining them together. As you work, roll over each seam with the hand roller. This will create a strong bond that binds the planks together.
Once finished, roll the entire floor with a 100-pound roller in both directions. This is a required part of the installation process. Failing to complete it could void your warranty.
Does Allure Flooring Needs Underlayment?
Many brands of flooring need a pre-approved underlayment before installation. However, Allure isn't one of them. The company's vinyl flooring products are sturdy enough to stand on their own.
That being said, you may still opt to add an underlayment based on your own preferences. If so, keep in mind that there's only one kind of approved underlayment for Allure flooring. You'll need to use a 6-mil vapor barrier, such as a SimpleSolutions Moisturbloc Vapor Barrier Underlayment.
You can use a different type of underlayment if you want. However, keep in mind that doing so would likely void your warranty.
Can I Install Heat Under Allure Vinyl Plank Flooring?
More and more homeowners are opting to install heated flooring. You may be interested in doing the same — especially if you live in a colder environment.
However, you need to be careful about doing this underneath your Allure vinyl plank flooring. When installed improperly, heat can ruin the adhesive on your Allure flooring and may void your warranty.
You can use a radiant heat system with your Allure flooring. However, it needs to sit at least 1/2-inches below the planks. It also should never exceed 85 degrees Fahrenheit. As long as you meet these specifications, you can install heat underneath your Allure vinyl plank flooring.
Where Should I Install Allure Vinyl Plank Flooring?
One of the benefits of choosing Allure vinyl flooring is its ability to float on a variety of subfloors. This means you can install this kind of flooring virtually anywhere you want in your home. You could so in your kitchen, living room, stairs, and even bathroom.
Allure also says that its vinyl flooring can be installed in the basement. However, you shouldn't try to do this on your own.
The company specifies that its flooring can only be installed in basements once a series of tests have been carried out. You would need to determine the level of concrete slab vapor emissions in your basement as well as its hydrostatic pressure.
These tests are very difficult to carry out properly if you've never done them before. That's why professionals generally recommend that DIYers skip using Allure vinyl plank flooring in their basements.
Can Allure Vinyl Plank Flooring Support Lots of Weight?
For many homeowners, it's important to choose flooring that's capable of supporting large amounts of weight. This should matter to you if you plan on placing heavy pieces of furniture on top of your Allure vinyl plank flooring.
The good news is that, yes, you can put heavy furniture on vinyl plank flooring. Vinyl floors can handle up to 600-pound pieces of furniture.
However, if you have furniture that's this heavy, make sure you purchase heavy-duty felt pads to place it on. These will protect your Allure flooring from the damage it could sustain from improperly placed furniture.
Do You Need to Hire a Flooring Contractor?
Get free, zero-commitment quotes from pro contractors near you.
---
Related Questions
Who makes Allure vinyl plank flooring?
Allure flooring is made by a manufacturer called Metroflor, which is based out of Darien, Connecticut. The Allure brand is sold under one of that company's subsidiaries, called Halstead New England Industries, LLC. Currently, Allure is a private-label flooring brand, which is only available at the Home Depot.
Can mold grow under vinyl plank flooring?
Allure vinyl plank flooring is resistant to moisture. However, mold can still grow underneath your flooring if you fail to clear away standing water before, during, or after the installation process. That's why you should take special care to prepare your subfloor before beginning your installation.
Can I add a sound barrier to Allure vinyl plank flooring?
Yes, you may need to install a sound barrier if one is required by your HOA or apartment complex. You can add one to your underlayment as needed.

Upgraded Home Team
We are a team of passionate homeowners, home improvement pros, and DIY enthusiasts who enjoy sharing home improvement, housekeeping, decorating, and more with other homeowners! Whether you're looking for a step-by-step guide on fixing an appliance or the cost of installing a fence, we've here to help.
More by Upgraded Home Team
Published September 5th, 2020 7:55 PM