22 Views
How To Decorate Dining Table When Not In Use
August 10th, 2022 1:45 PM
Share
We're committed to finding, researching, and recommending the best products. We earn commissions from purchases you make using links in our articles. Learn more here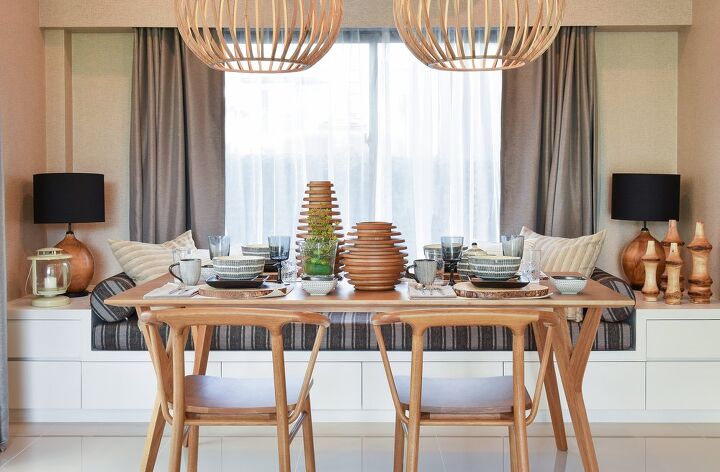 When you first design your dining room, you likely envision hosting large gatherings at the dining table all the time. Your busy life with its many obligations, however, likely eat into your entertaining time, and you may find that you aren't able to use your dining table as often as you may like. This may have you wondering the best way to display your dining room table when it is not in use.
Some of the best ways to decorate your dining table when it is not in use include displaying fresh flower arrangements, holiday decor, decorative vases, or even candles. Another option is to display your finest china or table cloth, as it will not risk damage when it is not in use. You can also take a more practical approach and create a home office, craft area, or gaming area.
There are all sorts of ways to decorate your dining table when you are not using it for eating or entertaining. You should see what kind of materials you have already in order to know what way is best for you. Your normal day-to-day lifestyle, interests, and family life should also play a role in how use this large tabletop space in your home when it isn't used for dining. Here are 10 popular ways to decorate and use your dining table when it is not in use.
Ten Decorating Ideas For Dining Tables When Not In Use
1. Flower and Plant Arrangements
One of the most beautiful and eye-catching ways to decorate your dining table when it is not in use is through flower or plant arrangements. The most luxurious and decadent way of doing this is with a freshly cut flower arrangement. Plants and flowers bring life into the home and offer a sense of tranquility and relaxation. You can purchase a bouquet from a local florist or even pick fresh stems from your own garden and orange them yourself.
If you are on a tighter budget and require something that lasts longer, consider something with roots. There are all sorts of blooming plants you can purchase and place in a decorative pot. Remember to choose a plant that does not require direct sunlight, and preferably something easy to maintain. This will ensure you have a lasting plant arrangement without having to constantly spend money.
2. Match The Table To The Holiday Or Season
One popular method of dining table decoration is to match the table to the time of year. This means decorating your dining table area for the nearest holiday. Believe it or not, nearly every month or two there is a new holiday to gear up for.
Sure, there are only a handful of major holidays, like Thanksgiving, Christmas, Easter, July 4th, and so on. However, there are many minor holidays that are also fun to decorate for, like Valentine's day, St. Patrick's day, and others.
If you don't want to decorate for patriotic or religious holidays, consider decorating your dining area according to the season. Spring, summer, fall, and winter all have specific and dramatic looks that can elevate your dining table's appearance when it is not in use.
3. Artistic Display
Another option for your dining table when it is not in use is to find one or more eye-catching centerpieces to put on display. Your dining table is a large table and it often sits in the center of the room. This makes it a perfect place to display a piece of artwork you particularly enjoy.
Placing an artistic work in the center of your dining table is the perfect way to display it. It will catch the eye of any passerby, but it is also in the middle of the table. This makes it a safe location, and unlikely to be damaged by mistake.
4. Candles and Candelabras
Candles and candelabras can be an understated yet dramatic way to elevate the look of your dining table when it is not in use. There are all sorts of candles and candle holders to choose from. This makes it easy for you to navigate your own aesthetic.
You can choose gaudy brass or silver candle holders with long thin candles, or shorter holders made of marble or even wood. Regardless of the theme you choose, a candle arrangement looks great along the length of a dining table. When you light the candles, the dining table takes on a whole new level of glory, and can be a real "wow" for your guests passing through.
5. Display A Fine Tablecloth
As time goes on, we accumulate things. The odds are at some point you will purchase or inherit one or several elegant looking table clothes. Whether you purchased one on vacation or otherwise, it makes little sense to keep it hidden from view your whole life.
Sure, you might not want anyone to spill on it and stain it, but that is why it is a great idea to display these types of fine tablecloths when you are not using your dining table. Have these clothes out when the table is not in use, and replace it with a less valuable cloth when you set the table for dining.
6. Create a Home Office
While a home office might not sound like the most beautiful way to decorate your dining table when it is not in use, it might be a necessary practical decision. As many jobs continue to have a "remote" component, you might need to find a way to conduct your normal business from home.
A dining table provides ample space to act as an office desk. If you are worried about the way it will look to your company, consider having photographs and books displayed as well. This will make the table and surrounding area look less like a makeshift desk and more like a prominent and cozy study.
7. Decorative Vases
One problem homeowners often have after years of collecting household items is they have so many vases and nowhere to put them. It's a strange phenomenon, but vases have a way of finding their way into your home. They appear as gifts, in arrangements and are a common item purchased on vacation.
Regardless of how they made their way into your home, consider displaying several of them on your dining table when it is not in use. Use your eye and judgment to determine which vases look best together. You may even consider finding a few flower stems to liven up the vases themselves.
8. Card Or Game Table
If you are rarely inclined to cook, but frequently invite friends over for poker, you might want to rethink how you decorate your dining table. Just because a room is classically called a "dining room" does not mean you have to pretend to dress it up as one. You can also decorate the table as a gaming or card table of sorts.
Purchase a gaming table top or cloth, and have some of your favorite games (or poker chips) on display. There is a way to make the room look elegant, almost like a Monte Carlo room, rather than a cigarette stained back room.
9. Craft Area
If you have a family with one or more small children, your dining table is bound to get overtaken by children's projects. It might be a wise idea to plan ahead for this whenever possible. Try to decorate your dining table as a craft area whenever it is not used for dining.
If you are worried about mess, consider buying a large spool of butcher paper, and using this as a tablecloth. This is a fun way to make a large area for you and your kids to color and craft while minimizing the cleanup. Set up little stations on the table to keep the area looking like a craft area rather than a war zone.
10. Display Fine China or Decorative Place Settings
One final and classic option for decorating your dining table when you are not using it is to display your best settings at all times. In other words, when your dining table is not in use, have it displayed as though it were about to be in use for the most important guests.
This is a great way to make your dining table and the entire room look its best. Having the room staged for company allows the room to maintain an elevated look at all times. It is also a great way for you to show off your finest china all the time. It certainly beats keeping it boxed up out of site, and never used.
Final Ideas On Decorating Your Dining Table When Not In Use
There are all sorts of ways you can decorate your dining table when it is not in use. You can opt for the classic ideas of flower arrangements or setting out your finest table cloth or place settings. You can also opt for a more festive decor, by decorating the area with candles and candle holders. Perhaps you can even theme the table with an upcoming holiday or season. There are practical approaches you can take as well. Consider setting up a home office, a gaming table or even a craft area for your children.

Tom Gaffey
Tom Gaffey is an expert writer who currently resides in Washington D.C. Tom has a passion for real estate and home improvement writing, as well as travel and lifestyle writing. He lived the last twelve years in Hawaii where he worked closely with luxury resorts and event planners, mastering his knowledge of aesthetics and luxury products. This is where he found his passion for home improvement and a keen interest in DIY projects. Currently, Tom resides in Washington D.C, and also working on his debut fiction novel.
More by Tom Gaffey
Published August 10th, 2022 1:45 PM