434 Views
How Much Weight Can Closetmaid Shelves Hold?
October 18th, 2021 1:18 PM
Share
We're committed to finding, researching, and recommending the best products. We earn commissions from purchases you make using links in our articles. Learn more here
Closetmaid shelves have made it easier to maximize storage and make the most of the space in your closet. There are several different types of Closetmaid shelves with different weight capacities, and their standard closet shelves hold 35 pounds per linear foot. Whether it be their ShelfTrack Hardware or traditional shelves, let's take a look at how much weight Closetmaid shelves can hold.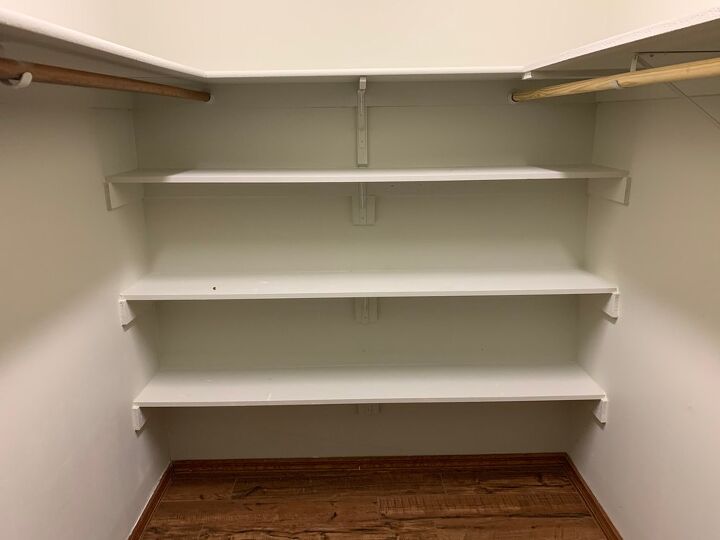 One day, not too long ago, I was at my mom's house when I heard a loud crash. I ran to my closet where the noise was coming from and quickly noticed that the shelves had collapsed. Since then, we got Closetmaid shelving. We installed it in hopes of making sure we don't see shelving topple again, but was it a good idea? Moreover, how much can these shelves hold?
For their closet shelving, you can typically expect to hold around 35 pounds per linear foot, unless you get the shelving with the ShelfTrack Hardware. Then, you can hold a very respectable 75 pounds per linear foot. If you get their Maximum Load Standard Shelving, you can expect to carry up to 600 pounds per unit.
There are other important things to think about when you're trying to figure out whether or not your shelves will be able to handle the required weight. If you aren't sure which shelving unit to use, this guide will help.
Do You Need Room or Closet Organizers Installed?
Get free, zero-commitment quotes from pro contractors near you.
How Much Weight Can Closetmaid Shelves Hold?
If nothing else, Closetmaid knows how to make a sturdy bnch of shelves. The max weight limit on each shelving type is as follows:
Maximum Load Standard Shelving. This kind of shelving can carry up to 600 pounds per unit, depending on the installation method. This type of shelving is usually used in garages, much like wooden freestanding garage shelves.
Closetmaid Wire Shelf With Mounted Hardware. This carries up to 35 pounds per linear foot. So if you have a seven foot long shelf, you can carry up to 210 pounds.
Closetmaid Wire Shelf With ShelfTrack Hardware. This hardware reinforces your wire shelving, giving you a maximum weight of 75 pounds per linear foot.
Are Closetmaid Shelves Stronger Than Most Others?
There's a reason why people tend to trust Closetmaid over other shelving units. Closetmaid is known for having high-quality shelves that are made of durable material capable of carrying more than a typical weight. That's why you shouldn't worry about your Closetmaid wire shelving, even if wire shelving has a shaky reputation.
What If I Can't Find The Type Of Shelving I Have From Closetmaid On That List?
We were able to find a bunch of the most popular shelving systems from Closetmaid, plus their maximum weight limits. The thing is, this is one company that is known for producing an extremely wide range of different shelves. They're always designing more, too. So, if you find a shelf you like, you should check the product's specifications.
How Much Does Closetmaid Shelving Cost?
Price is always an issue, isn't it? Closetmaid is known for being relatively affordable. Closetmaid wire shelving can be as low as $30, plus the price of mounting hardware. If you are looking at their wooden shelving, then you should expect to pay a minimum of $50. Mounting hardware can cost between $6 to $10 a pop, depending on what you choose.
Does Closetmaid Offer A Warranty On Their Shelving?
Due to the nature of shelving and the tendency people have to overload their shelves, Closetmaid can't feasibly offer a warranty on their wares. However, this is actually fairly standard when it comes to wall-mounted shelving.
Shelving Isn't The Only Thing That Can Break
The thing you need to remember when choosing shelving is that the actual build of the shelves is only one portion of how much it can carry. If you are using a wall-mounting system, you need to think about how much weight your wall studs can hold. Here's what you need to know before you snap up shelving:
Shelves are only as strong as their mounts. Regular, fixed mount hardware will not do much in terms of providing security on the walls of your home. If you have standard wall mounts, then you should err on the side of caution and assume that your shelving will support the lesser amount of the two.
If you need heavy duty support, choose specialty mounting. Specialized wall mounts are the easiest way to increase the maximum load of the closet shelving you want to get. If you want to stick to the Closetmaid series, then you should look into getting ShelfTrack Hardware.
Closetmaid mounts have to match the type of shelving you have. For example, you might not be able to get a Max Load mount to work with their wire shelving.
Should You Get Wall-Mounted Shelving?
Wall-mounted shelving is the most popular type of shelving for closets and garages, and it's a good option for people who need to save space. As one can see, a good wall-mounted shelving unit can easily carry several hundred pounds of clothing, which makes it a good choice for most storage-hungry people.
The thing is, this amount of storage is great if you want to carry regular household items. However, there is a limit to how much your studs and shelves can hold. Even Closetmaid has its limits. That's why you should strongly consider getting floor-based shelving instead of wall mounts for heavier loads.
When Should You Look For More Heavy-Duty Storage?
Though Closetmaid is a reliable brand, there's a lot of truth in their brand's name. Closetmaid is a brand that is generally focused on closet storage solutions. If you are seeking out shelving for your garage or workshop, there's a good chance that Closetmaid won't have what you need outside of their Max Load series.
To make sure you don't hear a loud crash in the middle of the night, you may need to look into companies that make specialty garage storage shelving. Some of the brands that are known for this category of shelving include NewAge (for complete garage storage systems), Honey-Can-Do, and HDX. You can also get custom garage shelving capable of storing high amounts of weight if you're willing to make the splurge.
Another option that you should consider is storing your heaviest items on your floor, then using your Closetmaid shelving for lighter loads. This helps reduce the amount of space you need to store everything but also prevents you from stressing out the structure of your shelves and causing a break. Your walls and shelves will thank you for that.
Are Closetmaid Shelves Worth It?
Closetmaid shelves are wonderful, but they're not for everyone. If you're looking for a heavier duty type of storage system then Closetmaid may not be the ideal one for you. However, that's not to say that you can't use them. You can take some extra steps to reinforce the shelving so that they can support more. Also, make sure you're installing them into a solid area of the wall, such as inside of the wall studs.
If you don't install them correctly, then they're not going to be helpful to you and may end up falling down potentially breaking your things depending on what you're storing in that area. However, Closetmaid is one of the top brands out there. So, it's ultimately up to you to find out exactly what you need and compare your needs to the Closetmaid shelves to see if they're the right fit for you.
---
Related Questions
How much weight can wire shelves hold?
Wire shelving is made to hold about 80 pounds of storage. However, if you got something like the EZ shelf, it is tough and made of steel. This shelving can hold up to around 200 pounds without securing the shelf to the wall studs. Not to mention, the EZ shelf heavy-duty garage shelves can hold up to 250 pounds total!
Is Rubbermaid or Closetmaid better?
Rubbermaid is great if you want easy installation, as they are easier to install than Closetmaid. The Closetmaid shelves snap in but they're very tight and hard to fit in just right. The Rubbermaid, on the other hand, are easier to slide in and they also lock into place. the downside is that Rubbermaid is more expensive than Closetmaid.
How heavy can a shelf be?
A shelf can be anywhere from 25 pounds to over 300 pounds depending on the type of shelf. For instance, a shelf you install in your closet probably won't be any more than 10 pounds. Whereas something like an industrial size shelf will be between 200 and 300 pounds.
Do You Need Room or Closet Organizers Installed?
Get free, zero-commitment quotes from pro contractors near you.
Our Final Take
If you are looking for quality wall-mounted shelving for a closet or pantry, then you can rest assured that Closetmaid will have you covered. Their standard shelving kits allow you to store hundreds of pounds with standard mounting kits.
If you want to get better storage capacity, we strongly suggest getting the company's specialized mounting kits. They help shoulder more of the burden than a typical mount.
As much as we're fans of Closetmaid, we have to admit that garage storage isn't their forte. If you are looking for heavy duty garage storage picks, then you're going to have to go with another brand.
HDX and Honey-Can-Do both offer some pretty awesome storage devices made specifically for workshops and tools in mind. With that said, most people will find that Closetmaid will do the trick just fine for most things in their home.
Related Guide

Ossiana Tepfenhart
Ossiana Tepfenhart is an expert writer, focusing on interior design and general home tips. Writing is her life, and it's what she does best. Her interests include art and real estate investments.
More by Ossiana Tepfenhart
Published August 7th, 2020 12:43 AM