742 Views
How Much Do Hunter Douglas Blinds Cost?
August 18th, 2022 12:08 AM
Share
We're committed to finding, researching, and recommending the best products. We earn commissions from purchases you make using links in our articles. Learn more here
Hunter Douglas is one of the best names in blinds. Prices vary based on what size of window you have, but it costs an average of $28 per square foot. Follow along as we explore how much you can expect to pay for Hunter Douglas blinds.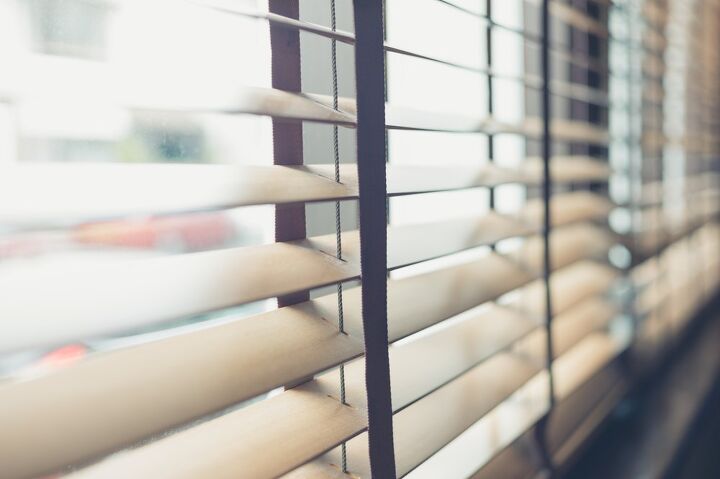 Hunter Douglas is one of the premium providers of window shading in the world. If there is one thing they do well, it's burying their products' cost behind a consultation. With this in mind, how much do Hunter Douglas blinds cost?
Hunter Douglas blinds cost $300 for a standard size window, and they charge $20-$36 per square foot. You can expect to spend an extra $50 or more if you choose light-diffusing Hunter Douglas blinds. Hunter Douglass offers Precious Metal horizontal blinds that can cost up to $4,000.
It is easy to feel ripped off when shopping for premium blinds. Given the heavily competitive environment in this area, having some awareness of competitive cost is imperative. Below, we will dig into the Hunter Douglas brand and some tips you can use to help in your search.
Related Content: Norman Blinds vs. Hunter Douglas | Types of Window Blinds | How Much Do Blinds Cost? | Alternatives To Blinds
Do You Need Window Blind and Shade Installers?
Get free, zero-commitment quotes from pro contractors near you.
A Closer Look At The Hunter Douglas Line Of Blinds
Under their vertical blind selection, they offer the following products at the time of this writing:
Skyline
Cadence
Somner
Vertical Solutions
They also have a robust line of horizontal wood and metal blinds:
Parkland
Everwood
Modern Precious Metals
They offer a variety of other options, which include shutters, rollers, and sheers. For this article, we will be focusing on the blinds.
Comparing Their Available Vertical Blinds
You can find the information referenced by browsing the Hunter Douglas website. To simplify things, we've produced this table below:
| | | |
| --- | --- | --- |
| Brand | Design Focus | Material |
| Skyline | Large windows | Fabric |
| Cadence | Luxury, drapery appearance | Fabric, vinyl, |
| Somner | Custom | Fabric, vinyl, aluminum |
| Vertical Solutions | Minimalistic | Fabric, vinyl |
All of the above stylings come in various pricing options, although the Vertical Solutions option is the most simplistic. As a result, it would be easy to assume that the minimalistic option would be the most inexpensive.
However, it would help if you did not look to Hunter Douglas for cheap products. Instead, their area of focus will be in the production of premium products.
Choose your preferred option based on what you would like your design. For example, Skyline is incredible for broad-styled blinds. They are especially useful for those who have windows that can reach the floor.
Another example, Candence, is produced to mimic drapery. As a result, it is to be a luxury model that fits in with any room.
Somner is the option that has the most flexibility. Therefore, you can expect these blinds to be heavily customizable. As a result, they can quickly add up to having an entire house full of windows being anywhere from $1500 to $3000.
Comparing Their Available Horizontal Blinds
| | | |
| --- | --- | --- |
| Brand | Design Focus | Material |
| Parkland | Wood | Wood |
| Everwood | Long-lasting solid colors | Faux wood |
| Precious Metals | Modern | Aluminum |
Their horizontal options are slightly more limited, but they do have just as much style. As you can down the table, they continue to go from classic to modern.
The deep oak to light cedar shades that come from the Parkland model is very appealing. Given that they do not advertise any exceptional treatment resistance, they are most likely to be the most inexpensive model.
Everwood is a product that is "guaranteed not to fade, yellow, warp, or bow." This statement comes from their website, which is an impressive claim. Given that they are faux wood, they will require specific cleaning instructions.
Precious Metals is a brand by Hunter Douglas, which is the only metal option among their horizontal blinds. They can also withstand a great deal of wear and tear in a modern look, making sense for metal blinds.
You can expect these also to be in the same price bracket as the vertical blinds. In some cases, you can see costs go as high as $4000.
Powerview Hunter Douglas Blinds
Another potential cost impact that Hunter Douglas has is the inclusion of smart blinds. You can control some blinds using a remote. More popularly, they are known to have an iOS application.
Using the iOS application, you can program your blinds to activate at certain times of the day. This programmable feature means that the blinds can turn on as soon as the sun is in the worst possible position. It can be noon to 2 p.m., depending on the location of your windows.
With a remote, you can directly control how your blinds open and close at any time. You can do all of this without fidgeting with that string you are probably familiar with on your standard blinds.
Light Diffusing Blinds
Another feature that comes with Hunter Douglas Blinds is light diffusion. You have no choice but to choose between using your inside lights or the sun in many cases. With light-diffusing blinds, you can reduce the amount of light, not eliminate it.
The result of choosing blinds that diffuse the sun, rather than eliminate it, can drive up the cost by $50. However, that will depend on whether or not you include this with Powerview options.
Where To Buy Hunter Douglas Blinds?
Hunter Douglas allows you to look for certified retailers using an online tool found on their site. This page can determine your location using data from your browser.
If you are not comfortable with that, they allow you to insert your general location with a zip code. Given that Hunter Douglas's primary audience is people who have money, you can expect a more significant deal of them in large cities.
Hunter Douglas does not typically cater to rural locations. Still, there is no harm in looking to see if you have a local dealer.
Is Hunter Douglas Worth It?
That is a question that we cannot answer. It will be up to you, but we have a couple of items you can ask to narrow this question down.
Are you looking for inexpensive or cheap blinds? If the answer is yes, Hunter Douglas will not cater to your needs. They specialize in customizable solutions that are not inexpensive.
Do you want custom blinds? If the answer is yes, Hunter Douglas may be a solution for you. However, don't be afraid to shop around so you can compare pricing in the area. Compare pricing with customer service reviews, and you will find a happy balance.
Do You Need Window Blind and Shade Installers?
Get free, zero-commitment quotes from pro contractors near you.
---
Related Questions
Does Costco Sell Hunter Douglas Blinds?
While you can set up consultations through their website, they do not sell these blinds directly. Instead, they will recommend a local third-party dealer for you to work through.In the future, Costco will have zero involvement with your blinds purchase. Customer service and other issues are to be handled by the third-party group. So Costco does not sell Hunter Douglas blinds directly.
How Does Hunter Douglas Compare To Graber Blinds?
Both Graber and Hunter Douglas sell premium blinds. The two companies are remarkably comparable in their pricing strategy. To get an accurate price for your home, you will need to acquire a consultation.Depending on who you ask, Graber may be considered higher-quality. However, it always depends on the people operating the story. Always shop and ask around locally before making a decision.
How Do They Compare With Bali and Levolor?
Springs Window Fashions own both Bali and Levolor. Both of them are US-based companies who offer various shades, but neither of them falls behind.Interestingly, Levolor is a company that was purchased by Hunter Douglas in 2016. As a result, you may already be using Levolor or Hunter Douglas, depending on which one you bought first.
Can Blinds Improve Energy Efficiency?
Provided that you use them properly, blinds and shades do have the capacity to save you money on your energy bill. In combination with the Hunter Douglas application, you can program your blinds to help.During winter, you need to keep your blinds open during sunny days. It brings in the sun's solar warmth, allowing your inside house to combat the cold air outside. Close the blinds when you have cloudy winter days.During spring and summer months, do the opposite. Close the windows during hot sunny days to save the energy of your air conditioner. During the night, you can open your windows to allow the cooler air inside.In either case, getting natural light into your house is a good idea. Just go outside if you want to save money.
Related Guides

Eli Smith
I'm a guy who becomes the expert of whatever I stumble upon, writing-wise. I've written tons about cool home products, home improvement, and smart technology in the home. I'm also the proud father of a kiddo born on new years, making my holidays very busy.
More by Eli Smith
Published October 5th, 2020 5:29 PM