66 Views
How Much Do Blinds Cost? [Per Window Pricing]
August 26th, 2021 12:31 AM
Share
We're committed to finding, researching, and recommending the best products. We earn commissions from purchases you make using links in our articles. Learn more here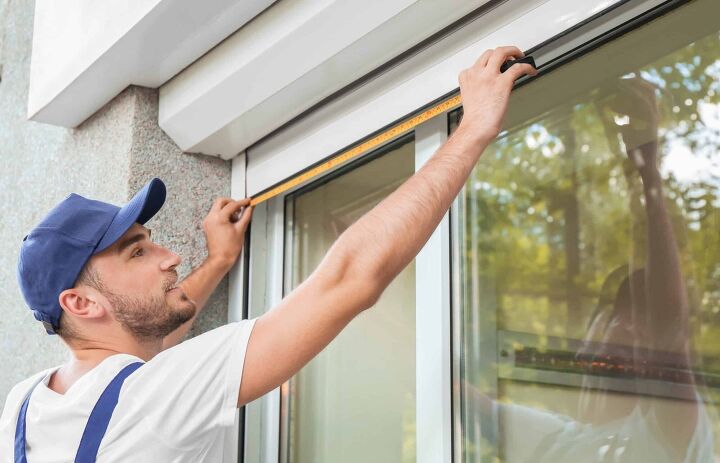 Window blinds are a type of window covering that allows you to control the light coming through windows. They can add privacy by allowing you to control the degree of visibility, both inside and out. They also provide decorative appeal and are an integral part of any harmonious room design.
The average cost of blinds is $700, and professionals charge $15 per window for installation. Wood blinds cost an average of $122, faux wood costs an average of $62, and $55 bamboo blinds. Homeowners can save money with vinyl blinds, and they cost an average of $11 per window.
This guide takes you through some of the many options you'll have when selecting your blinds. It will also help you gain an idea of the overall costs involved and any hidden expenses that you may need to consider so you can budget accurately and avoid any last-minute shocks.
Do You Need Window Blind and Shade Installers?
Get free, zero-commitment quotes from pro contractors near you.
Blinds Installation Costs

Low End

Typical Range

National Average

High End

$200

$400 – $1000

$650

$4,950
Blinds Vs Shades
Thanks to their adjustable slat design, blinds allow for more control over how much light and air can be let through the windows. You can have the blinds pulled down and still enjoy a view, along with plenty of light and air.
Since shades are typically reliable, the only way to control the light, air, and view they permit, is to pull them closed, open, or partially open. Fabrics are often used for shades, adding insulation value.
Different Types Of Blinds
There are many different types of blinds to choose from. You can see the differences below and select which best suits your needs.
How Much Do Blinds Cost Per Window?

Types Of Blinds

Best Used For

Cost Per Window

Slat

Most windows

$11 – $215

Vertical

$50 – $115

Roller

$8 – $140

Cordless

Large Windows, Bedroom, and Bathroom

$12 – $135
Slat Blinds
These are more commonly known as Persian or Venetian blinds. With rows of adjustable horizontal slats, they can be opened at an angle to provide more light or closed for total privacy. The whole blind can be lifted, concertina fashion. Suitable for most windows, the cost can range from $11- $215.
Vertical Blinds
These have vertical slats, which can reach from the top edge of the window to the floor if required, giving the feeling of a full-length curtain. Tilting slats allow varying amounts of light to come in. They can also be pulled back to uncover the door or window behind them. Typical costs range from $50-$115.
Roller Blinds
Particularly suitable for bedrooms and offices as they provide a reasonable degree of privacy, these can cost anywhere between $8 and $140. They lie flat against the window and are usually made from a fabric such as PVC or a grass weave.
Cordless Blinds
Cordless blinds are most suitable for rooms where light control and privacy are essential. For example:
TV rooms
Bathrooms
Offices
Cords on standard blinds can represent a safety hazard to children and pets, and cordless blinds are a great alternative. They are simple to adjust, by just lifting or pulling them.
Usually, they cost in the range of $12 to $135. More sophisticated (and expensive) versions are remote controlled. The price will depend on the type and design of the material used.
Prefabricated Vs Custom Blinds
Prefabricated VS Custom Blinds

Prefabricated

Custom

Budget-Friendly

More expensive

Fits standard windows

Custom-fit to any window

Range of materials

Higher quality materials

No warranties

Comes with warranties
What is the difference between prefabricated and custom blinds? Which one you choose depends on several factors such as:
Price
Size
Materials
Whether they have a warranty
Prefabricated blinds are the less expensive choice. But on the downside, they only work for standard window sizes, so if yours are different, they won't fit. Custom blinds, on the other hand, can be made to fit any size of the window.
Let's consider the materials used to make the blinds. With prefabricated blinds, you'll have a limited choice of fabric and designs. However, having your blind made to your specifications offers you almost unlimited options.
Finally, prefabricated blinds rarely come with a warranty, so you'll need a replacement if they break. Custom blinds more often come with a guarantee against defective quality or materials.
Materials
Blinds can be made of various materials, and each has its pros and cons.
Materials For Blinds

Material

Price

Pros

Cons

Aluminum

$20 – $70

Cheaper than most
Easy to damage

Fabric

$50 – $100

Aesthetic appealAllows light
Acquires stains/mold

Vinyl

$11 – $120

Affordable
Low durability

Bamboo

$30 – $80

Aesthetic appealEco-friendly
Warps or fades

Faux Wood

$30 – $95

Aesthetic appealDurable
Not real wood

Wood

$30 – $215

Aesthetic Appeal

ExpensiveHigh maintenance
Aluminum
If you're looking for a tough and cost-effective window dressing, with a cost somewhere between $20 and $70, aluminum blinds are a great choice. With reliable cord-locks and chip-proof finish, they are built to look good for years.
As they are one of the lightest blinds, they're simple to install and easy to use. One caveat is that they can be easily bent or damaged.
Fabric
Roman blinds are a traditional style of window covering. They come in different types, but their essential feature is that when they are raised, they fold in on themselves, in the same was as a Venetian blind.
With the great visual appeal, and using sheer fabrics to allow light to penetrate, they typically cost between $50 and $100. The only downside is that they can be stained or become moldy.
Vinyl
Vinyl blinds are the most affordable option. They come in a vast range of materials, including grasscloths and weaves stenciled designs and slats with texture. They give a contemporary feel to any room, at an affordable price, starting from $11.
Bamboo
Eco-friendly natural shades, aka bamboo shades or woven woods, are a stylish way to filter light and protect furniture against fading. They complement floor coverings made from raw materials as well as hardwood floors and minimalist styling.
Reasonably priced at between $30 and $80, you should expect some variation in color and texture, and they may warp or fade over time.
Faux Wood
Top of the range faux wood blinds are a long-lasting, economical, and easy-to-maintain alternative to blinds made from real wood. Great for kitchens and bathrooms where there is a lot of humidity, as they don't warp. Made from high-quality composite PVC, they are a good investment at $30-$95.
Wood
Surprisingly, wooden blinds weigh less than faux wood blinds. This makes them more suitable for large windows. They can warp or crack, though, so they're unsuited to bathrooms and kitchens.
However, wood is not only beautiful to look at, but it also absorbs more heat and cold than faux wood, so it's ideal if you're in an area with significant temperature variations. Wood shades are the most expensive choice, between $30 and $215, and you'll need to look after them, so they retain their beauty.
Labor
Before you install your blinds, decide whether they will hang inside or outside the window frame. This is important to take the correct measurements and ensure a perfect fit.
A professional will typically charge $10-$20 per window to install a blind. For a single-story house with 8 x 27" windows, labor cost would be $80-$160.
Many installation professionals will measure for you before you order. The cost typically includes any screws and fittings required.
Average Window Size For Blinds
The average windows measure to be 36 to 72 inches. The standard width ranges from 24 to 48 inches. Make sure you measure your windows before purchasing blinds.
Outside Mounts
If you hang your shades outside the window frame, your window and the blind will appear more prominent. For external mountings, measure from the outer edges of the casing. If there's a window sill, measure from the top edge of the case, down to the sill.
Inside Mounts
To give the room a neat appearance, hang your shades inside. This also allows more light to shine through. To measure for an inner hanging, go from the window glass edges where it meets the casing.
Enhancement And Improvement Costs
Motorized Blinds
Remote-controlled motors can be added to many types of blinds. A motor is needed for each blind. Depending on your level of DIY skill, motor rods can be installed easily. Motorized shades are cordless, which is safer in homes with small children or pets.
Depending on the model you choose, a timer can be programmed, opening, and closing at set times. If your windows are hard to reach, they are a practical option.
Leading Brands Of Motorized Blinds
Somfy Blinds
EzWAnd
Simu Motors
Somfy blinds can be controlled via remote or wall switches. The cost of each window treatment from Somfy will be at least $220, including installation.
EzWand is an option that can be incorporated into existing blind fittings. Blinds use a remote with a battery-operated motor. Kits by EzWand start from as little as $100 per blind.
Simu motors add extra features to existing blinds. Motors use wireless technology and can be controlled via smartphones as well as remotes. Simu systems cost from $380 per window, including the installation.
Eco-Friendly Window Blinds
Wood blinds ($30-$250) are the most environmentally friendly because they use renewable materials. Look out for brands that use wood from sustainable sources.
Energy Efficient Blinds
For the best insulation, choose thicker fabrics and slats, which close altogether. Wood blinds are the best choice for this, with faux wood and fabric following closely behind.
Additional Considerations and Costs
Removal And Disposal Of Old Blinds
Old blinds are removed by dismounting them from the brackets. Aluminum blinds can be recycled, providing all non-aluminum parts, including cords, are removed first.
Second And Third Story Windows
If you decide to add blinds to each additional story of windows, this will logically increase the total cost by 100%. Upper stories are usually warmer than lower ones, so you may want to choose more energy-efficient blinds for these levels.
Unusually Sized Or Shaped Windows
If your windows are non-standard shapes or dimensions, you'll probably need to have your blinds made-to-order. Having blinds custom made to fit the size of your windows can increase overall costs by 30%-300%.
Buying In bulk
Some window blind providers offer price deals if you purchase multiple blinds simultaneously, or even if you buy blinds for the entire house. Ask about what they can provide you with.
Skylight Blinds
Skylight blinds are a unique item for window treatment designers. They need to be custom made. Skylights are not typically easy to access, so motorized blinds are the best option. The cost will typically be $200 each.
Make Your Own Window Blinds
If you are into DIY and want to take on this project, you'll need:
tape measure ($3-$35),
spirit level ($16-$115)
power drill with attachments ($25-$115)
screwdriver ($1-$35)
Bracket sets ($1-$5) per window.
DIY Wooden Blinds
If you don't know what blinds to get, you can always make your own! The cost of the blinds is about the same as the cost of materials. The great part about making your own is that you can customize them any way you want!
Where Can I Buy Blinds For My Window?
All home improvement stores have different kinds of window blinds that you can purchase. Each store has a wide variety of materials and blind sets that might fit your preferences. Both Home Depot and Lowes offer services for inexpensive custom blinds.
Window Blinds Lowes Vs Home Depot
Home Depot and Lowes are both great stores, although they both cater to different target groups. For instance, Home Depot is a great place for professionals to shop, while Lowes is very DIY friendly. We recommend you get your materials for the DIY wooden window blinds at Lowes.
Do You Need Window Blind and Shade Installers?
Get free, zero-commitment quotes from pro contractors near you.
---
Related Questions
How much does it cost to have a professional install blinds?
Professionals typically charge $10-$20 per single window for horizontal blinds made of wood or vinyl. Expect to pay around $100 for the installation of 8 windows.
How much does a typical window treatment cost?
Window treatment can be as little as $20 for aluminum or $200 for the same size window if you go for luxury materials such as wood or designer fabric.
How much does it cost to have vertical blinds installed?
Expect to pay an hourly rate of $40-$50 to install a single-blind or around $500 for ten blinds.
How far should blinds be from the window?
In most cases, 2.5 inches of space is sufficient for mounting purposes.
How much are electric blinds?
Every project is unique, but you can expect to pay between $35 to $75 to have a basic motorized shade installed and programmed. Some things that can increase the installation cost are high windows, difficult to reach windows, complex motor systems, or smart programming.

Heather Robbins
Heather is a passionate writer who loves anything DIY. Growing up, she learned everything from home repairs to design, and wants to share her tips with you. When she's not writing, she's usually hiking or searching for her next DIY project.
More by Heather Robbins
Published September 17th, 2020 5:38 PM