200 Views
What To Plant In September
September 21st, 2023 8:55 AM
Share
We're committed to finding, researching, and recommending the best products. We earn commissions from purchases you make using links in our articles. Learn more here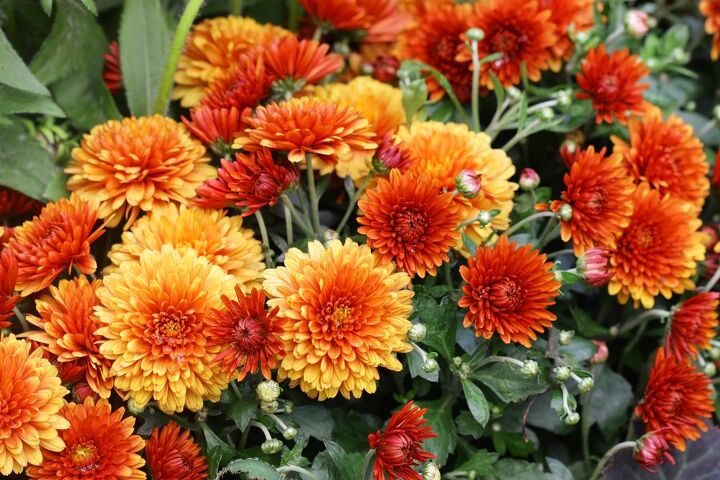 Many homeowners mistakenly give up on planting new flowers when summer comes to an end. You can plant flowers as late as September and even October. Follow along if you struggle with what to plant in September.
The best flowers to plant in September are tulips, peonies, mums, euphorbia oblongata, and pansies. You can also plant calendula, zinnias, chamomile, spinach, and daffodils in September with great success. If you plant flowers in September, don't worry if they stop growing once it gets too cold. They most likely aren't dead, but they may be dormant.
Most flowers that you can plant in September require full sun, but partial shade is okay for plants like peonies. Follow along as we explore what to plant in September.
Can You Plant Anything In September?
You can plant many flowers, herbs, and even vegetables in September. The key is to find hardy annuals and perennials that can survive temperatures as low as 30 degrees. Depending on where you live, some plants will go dormant once it gets cold, but they should bloom again in spring.
Let's look at the best flowers to plant in September and highlight everything you must know to take care of them.
1. Euphorbia Oblongata
Euphorbia oblongata is the perfect flower to plant in September. That is because euphorbia oblongata can grow and thrive in the low 50s. However, euphorbia will stop growing and go stagnant once the temperature drops below 50 degrees in the winter.
Luckily, euphorbia oblongata will quickly bounce back in spring. The unique, green flowers will be the perfect way to welcome spring after a long fall and winter.
2. Daffodils
Daffodils are iconic spring flowers, but they will only bloom quickly if you plant them in September. This gives them plenty of time to take root, and it will ensure they have a great foundation for the following spring. Make sure to plant your daffodil bulbs at least 3" to 6" underground for the best results.
However, the depth varies based on the size of the bulb. The general rule of thumb is to plant the bulbs at a depth that is two to three times its length. Just be careful and avoid planting them too deep or the bulbs may rot and won't bloom when spring comes around.
3. Tulips
Tulips are among the best flowers to plant in September. You can successfully grow tulips if you plant them in October, but it's best to start early and plant them in the first few weeks of September. Some homeowners plant tulips in late August, but that's only necessary if the temperature quickly drops at the beginning of fall in your area.
Simply plant some tulip bulbs in September and wait for them to bloom in spring. Ideally, you should plant each bulb 8" deep so they can take root. Water the tulip bulbs once per week until the temperature drops and leave them alone until spring.
4. Spinach
Spinach is one of the most practical plants to plant in September. Part of the Amaranth family, spinach can grow in fall and winter. While the growth may slightly slow down, spinach can thrive if you plant it in September.
Whether you live in a warm or cold climate, spinach is quite durable and can survive harsh conditions. Spinach can even survive temperatures of 20 degrees Fahrenheit. It typically takes just over a month for spinach to mature, so you can harvest it all fall and winter.
5. Chrysanthemums
When I think of fall flowers, I think of chrysanthemums. Chrysanthemums, or mums, have instantly recognizable, colorful flowers that stand out during the fall. Whether you plant them in early or late September, mums should take root and start to flower quickly.
However, you should only plant pre-grown mums in September, as the seeds won't have enough time to germinate and take root. Don't worry if your mums slow down and appear stagnant when the temperatures drop quickly. They are perennials and are known for their durability, so they will grow again when it warms up.
6. Peonies
You may think that you can only plant peonies in the spring, but they can also thrive if you plant them in September and October. Depending on the climate where you live, you can even plant peonies in early December if it isn't too cold. They will grow in early the spring and summer, but they will have the advantage of already having taken root.
Ideally, you should plant peonies in a spot where they can get at least 6 hours of sun per day. They can tolerate partial shade, but they won't grow to their full potential.
7. Pansies
Pansies are the perfect way to add color and character to your garden throughout fall and winter. Plant some pansies in September or the first week of October so they can take root. If you wait too long, they won't have roots that are strong enough to survive cold weather.
Carefully trim your pansies and remove dead leaves throughout fall, so new flowers will grow. This will also put less stress on the root system. The flowers will come back stronger than ever in the spring.
8. Chamomile
Chamomile makes a delicious tea, and the flowers look beautiful in any garden. Whether you plan to use chamomile for tea and cooking or want to look at the flowers, make sure to plant them in the spring or in September. Ideally, you should plant chamomile at least 5-7 weeks before the first frost of the year, otherwise, the flowers won't be able to survive the winter because they won't have an established root system. You only need to plant chamomile seeds roughly ½" deep, and they love plenty of sunlight. Luckily, chamomile can also thrive in partial shade, and they are low maintenance.
9. Calendula
Calendula is one of the most colorful flowers to plant in September. Whether you sow seeds or plant pre-grown flowers, calendula will grow quickly if you give it 1" to 2" of water per week after planting them. After that, you can simply water them as needed, but be careful not to not water them more than once or twice per month during a cold winter.
Calendula does best in full sunlight, but it can tolerate partial shade. They come back every year in most cases, so you can look forward to the vibrant flowers year after year.
10. Zinnias
Planting zinnias in September is the perfect way to enjoy some colorful flowers throughout the fall and winter. They may go dormant for a while when it gets too cold ,depending on your climate zone, but they will start growing again in spring. It only takes 6 weeks for zinnias to bloom if you water them enough.
However, if you sow seeds too close to the first frost of the year, you must wait until spring to see blooms. The seeds will germinate, but there won't be enough time for the flowers to bloom. Make sure to plant zinnias in a spot with as much sunlight as possible so they grow quickly.
Summing It Up
Daffodils, tulips, mums, pansies, and peonies are some of the best flowers to plant in September. Plants like spinach, euphorbia oblongata, and zinnias can also take root and grow in September. Don't worry if the flowers you plant in September slow down and go dormant when it gets cold in late fall. They will bounce back and bloom again in the spring!
Related Guides

Nick Durante
Nick Durante is a professional writer with a primary focus on home improvement. When he is not writing about home improvement or taking on projects around the house, he likes to read and create art. He is always looking towards the newest trends in home improvement.
More by Nick Durante
Published September 21st, 2023 8:55 AM