146 Views
Grohe Vs. Hansgrohe: Who Provides Better Home Fixtures?
April 26th, 2021 4:17 PM
Share
We're committed to finding, researching, and recommending the best products. We earn commissions from purchases you make using links in our articles. Learn more here
Speaking of showerheads, faucets, and other bathroom and kitchen products, most have heard of the two leading manufacturers: Grohe and Hansgrohe. But which one is better? In general, Hansgrohe remains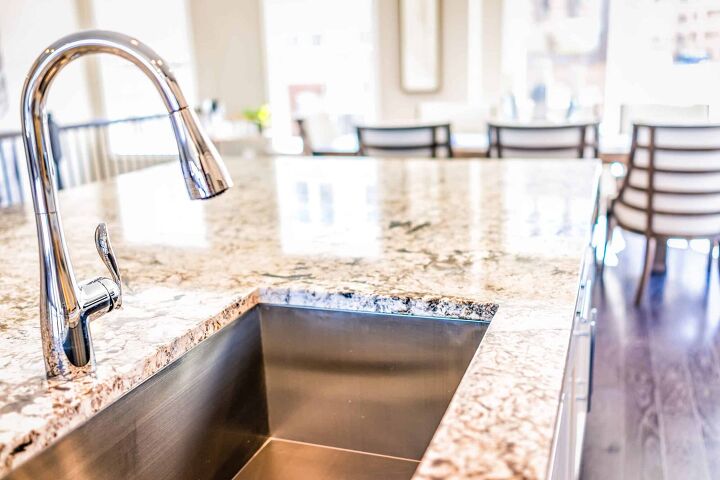 Speaking of showerheads, faucets, and other bathroom and kitchen products, most have heard of the two leading manufacturers: Grohe and Hansgrohe. But which one is better?
In general, Hansgrohe remains the more affordable option with more variants compared to the global giant Grohe. However, it is best to familiarize yourself with both brands and their sub-brands before making a decision.
In this guide, we will go over both Hansgrohe and Grohe to help you see why we chose Hansgrohe over Grohe for who provides the better home fixtures. Understanding both companies will help you choose the best for you.
Do You Need Appliance Installation or Replacement?
Get free, zero-commitment quotes from pro contractors near you.
Hansgrohe: The Pioneer & Industry Leader
After all these years, Hansgrohe is still the doubtless industry leader and pioneer with 37 branches worldwide. As of 2017, Hansgrohe now makes approximately 1 billion dollars in sales. With over 2,500 registered patents, there is no doubt that Hansgrohe remains an industry leader.
Grohe: The Worldwide Giant
If you think Hansgrohe has made remarkable achievements, wait till you look at the even wider global footprint Grohe has. There is no doubt that this company founded by the son has surpassed its parent.
Also, Grohe is now a part of the Japanese Lixil Group and was awarded the Honorary Prize for Corporate Design and Design Management — if that doesn't speak volume and quality, what does?
Why We Prefer Hansgrohe
Hansgrohe is still the master of metal riveting. Most of their products focus on your bathroom, and many of them have an innovative touch. Their sub-brand "Axor" provides a different collection of faucets and shower fixtures as well.
Their products are manufactured in the USA, Germany, China, France, and the Netherlands, and their pricing isn't too crazy at all.
Signature Products
The most signature line of products at Hansgrohe is their trademarked "Pharo" series. This trademark covers a wide variety of bathroom fixtures, including a full bathroom wellness system, shower panels, steam cabins, and even hydromassage baths.
We've also gathered the top 3 best-sellers of Hansgrohe and their prices for your reference:
Top 3 Bestsellers Of Hansgrohe
Product

Price Range

Raindance Downpour AIR Showerhead

$530-$550

Allegro E Premium Stainless-Steel Kitchen

Faucet with Pull Down Sprayer

Under $300

Talis S Tall Bathroom Sink Faucet

Under $150
Hansgrohe is famous for their ergonomic designs used on their products and the modern and minimalistic visuals. Ever since the first generation, all owners of Hansgrohe have tried to stay ahead of their time and come up with creative solutions for different needs in the bathroom and the kitchens.
The brand pays attention to bringing the highest aesthetic into your kitchen and bathroom while at the same time taking care of the user experience. For those who are willing to invest a little bit more, their product line under the sub-brand Axor can satisfy the luxurious high-end taste without any sweat.
Pricing Point
In general, Hansgrohe is at an affordable price when it comes to bathroom fixtures and kitchen faucets.
In general, Hansgrohe faucets range from $199 to $858, depending on the line and design you are going with, but the majority of them are priced around $200 – $400.
In the meantime, Hansgrohe showers are all below $2,000, and they have some extremely affordable options that fall between $300 to $500 — a stealing price for a name brand product.
However, their products are second to none when it comes to easy installation and durability; therefore, you can rest assured that your investment will be a worthy one.
Warranty
Hansgrohe offers a manufacturer's warranty on all their products. This means that the products you purchased are guaranteed to be free from design defects, manufacturing faults, and material weaknesses.
On top of the manufacturer's warranty, buyers will also receive a general warranty from the retailer/seller from which they purchased the fixtures.
Learning About Grohe's Products
When it comes to Grohe's products, the narratives are slightly different. For example, Grohe provides more than showerheads and faucets and automatic and electronic mixers and items needed for suspended plumbing.
Most of their products are made from the three production sites located in Germany, but Grohe also leverages their other three plants located in Europe and Thailand. On the sales side, over 85% of its products are exported.
Signature Products
Grohe has a vast range of products and many more sub-categories under each line. For example, they have over five different subcategories for faucets: gooseneck, traditional, wall-mounted, single handle, and faucets for commercial kitchens.
For your comparison, we've gathered the top 3 best-selling Grohe products in the table below:
Top 3 Bestsellers Of Grohe
| | |
| --- | --- |
| Product | Price Range |
| Concetto Single-Handle Pull-Down High Arc Kitchen Faucet | $380-$420 |
| Grohe Shower Set Pressure Balance Valve, Starlight Chrome | $400 |
| Eurosmart Cosmopolitan Widespread 2-Handle 3-Hole Bathroom Faucet | Under $200 |
Key Features
Besides high quality and modern design, Grohe has a particular focus on clean drinking water that is unlike any other brands. That is why they also provide state-of-the-art water systems that could quickly produce pure water and even sparkling water.
Grohe also pushes ergonomic design to a new level. For example, most of their faucets are equipped with a 360-degree swivel and backflow protection.
Pricing Point
Compared to Hansgrohe, Grohe is definitely on the higher end of the price spectrum. They branded themselves as the leading giant of kitchen and bathroom solutions, and their price tags certainly don't shy away from that narrative.
In general, Grohe kitchen faucets range from $469.20 to $1,272, whereas their bathroom sink faucets range from $296 to over $1,700. They provide both residential and commercial solutions.
Also, their retro-fit showers go from somewhere around $440 to $720; replacing a rain shower head (one of their best products) starts at least $300. If you are going with their smart control shower system, you'd be quickly facing an additional $500-$700 cost at the lowest.
Warranty
Grohe offers a limited lifetime warranty for all their products. With the kitchen faucets, this warranty also extends to all mechanical parts.
The only restrictions are the product must remain under the original buyer/owner, and also, it must be used in standard terms. Excessive use or abuse will immediately make your warranty invalid.
Other Things To Consider
Nowadays, we always find ways to save, and a good way of saving is mix-and-match. But can you mix faucets and shower accessories from different manufacturers?
Unfortunately, while the answer can be yes in most cases, it takes a ton of extra work for that to work. Especially if you've got an entire system set up from one of the manufacturers, you've pretty much built an exclusive environment only suitable for that brand.
Mix and match can be done with professionals. But in general, you got to be extremely careful if you are already using a faucet that comes with a built-in unit, which is how most products from both Grohe and Hansgrohe come as.
Grohe vs. Hansgrohe: Top 3 Faucets
Top 3 Grohe Faucets
Grohe faucets have long dominated the kitchens and bathrooms. Here are their top 3 bestsellers in one glance:
Product Name
Price
Features
Concetto Kitchen Faucet
$249.95
Pros: easy to clean because of the simple design; a high-arch faucet with a pull-down spray handle

Cons: Only has one spray preset

K7 Medium Semi-Pro Standard Kitchen Faucet
$648.00
Pros: Pull-down spray-hose with two settings plus two different available heights make it super flexible; scratch and stain resistant

Cons: The design makes it much harder to clean

Parkfield Kitchen Faucet
$220.00
Pros: Two settings on the pull-down spray hose with multiple finishing options; tarnish and scratch-resistant

Cons: Much shorter height makes it difficult to clean certain items.
Top 3 Hansgrohe Faucets
Similarly, we pulled the three best-selling faucets from Hansgrohe for a quick comparison as well:
Product Name
Price
Features
Allegro E Premium Kitchen Faucet
$251.79
Pros: Pull-down spray with two presets and 150-degree swivel meets all your basic washing needs; comes with a hose for easy DIY installation

Cons: Spray comes out at a certain angle, which takes some adjustment to get used to.

Talis S² Premium Kitchen Faucet
$326.00
Pros: Pull-down spray with two presets plus magnetic spearhead retrieval; Ceramic Cartridge extends lifespan; unique silicon nozzles are easy to clean

Cons: The spray hose is easily worn out and may need replacement sooner than expected

Focus Premium 1-Handle Kitchen Faucet
$269.99
Pros: Polymer sprayhead and silicone nozzle makes it safe to work with hot water; bass construction and ceramic cartridge ensures an extended lifespan

Cons: Swing angle is more extensive than other products thus requires a larger sink; otherwise, it may cause splashes
Do You Need Appliance Installation or Replacement?
Get free, zero-commitment quotes from pro contractors near you.
The Final Conclusion
In conclusion, Hansgrohe is the more affordable solution to your faucet and shower needs, whereas Grohe does have its own advantages with the high-end design and unique smart technologies they provide.
To make things easier, we've put together a comparison sheet below:
Grohe vs. Hansgrohe In A Glance
| | | |
| --- | --- | --- |
| | Grohe | Hansgrohe |
| Brand Reputation | The global dominant, with 80% of its product exported. | The innovative leader and the most established pioneer in metal fixtures. |
| Factory Location | Germany, the rest of Europe, and Thailand | USA, Germany, China, France, and the Netherlands |
| Product Features | Smart control and pure drinking water initiative are the biggest kick. Besides that, they also have rain showerheads and other more customized items. | Innovative bathroom and kitchen solutions with ergonomic designs and modern, clean, metal aesthetics |
| Pricing | Much higher. Definitely in the luxury relaxation category. | An affordable alternative. But their sub-brand Axos goes the luxury route. |
| Warranty | Limited lifetime warranty | The regular warranty offered by seller + manufacturer's warranty |
Remember, it is best to stick with one brand for all your faucet, kitchen, and bathroom needs, not only for appearance consistency but also for simplicity. Hansgrohe products are easy to install and much more affordable, but Grohe should be your go-to if you want the highest standards for your home.

Upgraded Home Team
We are a team of passionate homeowners, home improvement pros, and DIY enthusiasts who enjoy sharing home improvement, housekeeping, decorating, and more with other homeowners! Whether you're looking for a step-by-step guide on fixing an appliance or the cost of installing a fence, we've here to help.
More by Upgraded Home Team
Published July 30th, 2020 7:30 PM